True Bravery #4: The Medic Who Fought A War Without A Weapon
Dear Hivers,
It's been too long, it has been about 16 days since I made my last post here and honestly it feels like forever.
Well, I'm back and in this article, I bring to you another special episode of True Bravery series: A Hive exclusive series where I share with you stories that will inspire you to be courageous!
Today we're looking into the life of Desmond Doss; a medic who fought in a war without a weapon, he did not just survive the war but also received medals of honour...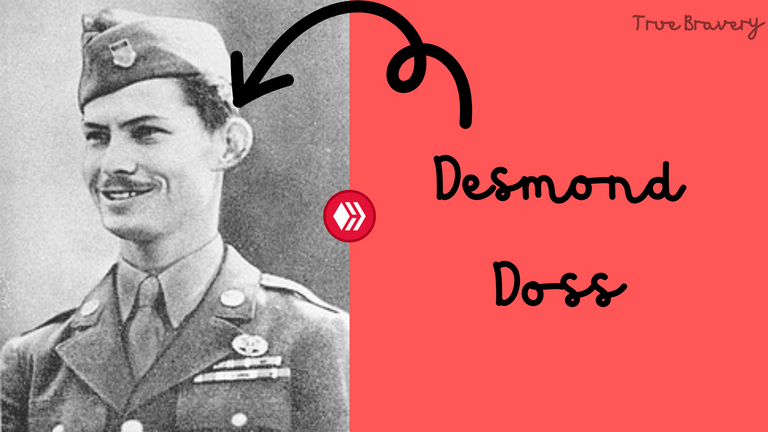 Here is his story:
---
Who is Desmond Doss?
Desmond Doss was born in 1919 in Lynchburg, Virginia. He was raised to be a devout Seventh-day Adventist — a Christian denomination that believes that Saturday is the sabbath and that the second coming of Jesus Christ is imminent; they also believe strongly in non-violence and a vegetarian diet.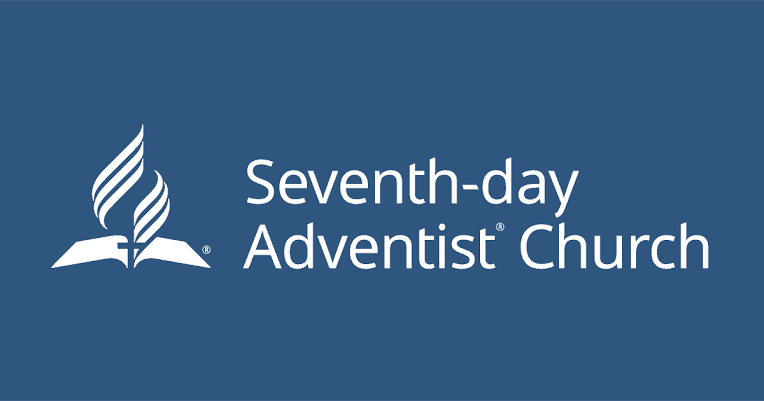 Photo Source
Doss was raised with a strong belief in the bible and when it came to the 10 commandments, he took them to be the core value of how he led his life.
When world war II broke, Doss was initially employed as a joiner at a shipyard in Newport News, Virginia. But He chose military service.
The war created a conflict in him as he felt it was a just war but believed it wasn't right to take the life of another human being regardless of what the reasons might be.
He was assigned to an infantry unit, the 77th division and presumed that his classification as a conscientious objector will prevent him from carrying a weapon. For Doss, one of the commandments stands out to him; Thou shall not kill, Doss was determined to stick to that commandment no matter what.
But, he was assigned as a rifleman and not in a medical role. Yet, he insisted he would not carry a rifle, his commanding officer tried to pressure Doss into carrying a weapon as they thought he would be more of a liability if he doesn't.
But Doss refused!
The regimental Chaplin; Captain Stanley understood Doss's protest and help him transfer from rifleman to medical training.
Doss later joined the medic, but interestingly, it was common practice for medics to carry a gun for self-defence. —
---
Things were pretty rough for Doss as even his fellow soldiers began to resent him. They mocked his religious beliefs when he was reading the bible daily and strictly observing the Seventh-day Adventist tradition of attending church every Saturday.
Doss continuously requested to be allowed to have Saturday off instead of Sunday.
Again, Captain Stanley took this up to the headquarters and Adventists followers
were allowed to have Saturday off instead of Sunday.
All these contributed to making his fellow soldiers resent him. They even made him do a lot more extra duties for having Saturday off.
Also, Doss had a vegetarian diet which was very unusual at the time. It made his peers view him with distrust and hostility.
Doss eventually became an army combat medic, saying: " when others will be taking lives, I will be saving it."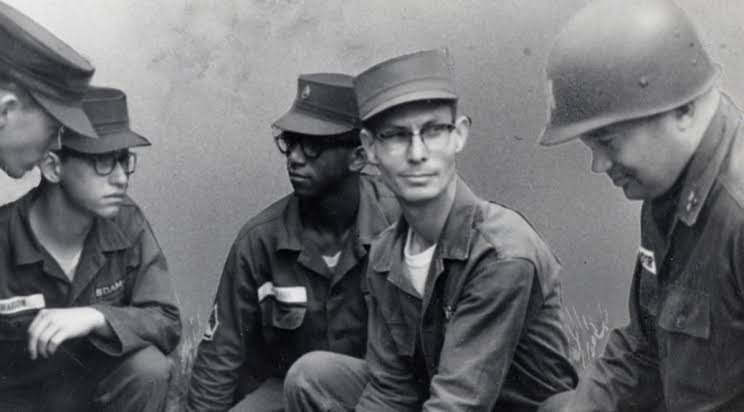 Doss with his comrades | Photo Source
---
Then, the turning point of the relationship between Doss and the other soldiers came during their first 25-miles match with a full field pack and rifles. The others thought it would be easier for Doss as he didn't carry a rifle or ammo, but his 2 canvas medical bags were just as heavy and much more tricky to carry than the riffles.
During the match, a lot of the soldiers started to suffer from exhaustion and blistering feet, and all the while there was always Doss there to give a helping hand. Even at the end of the march, e insisted to check all soldiers' legs and offering medical aid when needed.
At the end of that day, his tireless devotion to his duty won him the respect of the entire unit and for the first time, he was treated as one of them.
Dos was now a qualified combat medic of the unit and was responsible for providing first aid and frontline trauma care on the battlefield. He would be assigned to follow his unit into the warzone and be there with them at the front line at all times.
---
Battle of Guam, 1944
Doss's first taste of combat was in the battle of Guam, a bloody battle fought from July 21st to August 10, 1944.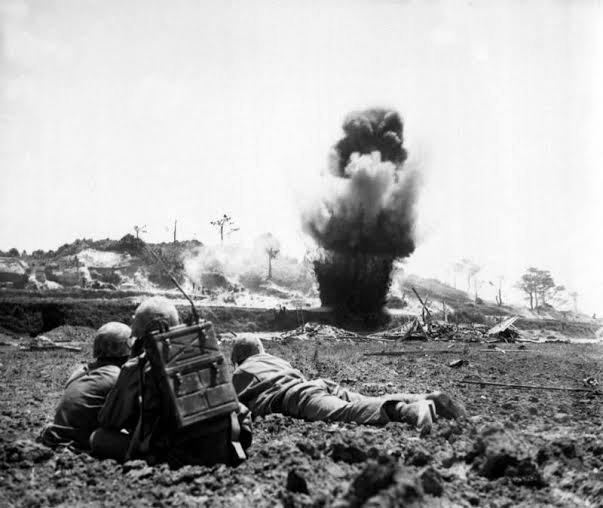 Photo Source
---
According to the Geneva convention, knowingly firing at a medic wearing a clear insignia is a war crime.
But the Japanese fought dirty, their snipers and machine gunners tend to ignore this and saw combat medics as easy targets to gun down. So the medics were told not to wear the insignia as it will make the more or less of a target.
Doss was under fire, every day of the battle but was busy doing his job-saving lives.
Guam showed Gauss how cruel war could be. As his unit was pushing forward through the jungle on their first day, a fresh recruit fell for a fountain pen trap. He saw the pen and when he reached for it a grenade exploded, injuring the soldier severely, deep wounds on his chest with blood pouring out. Doss however was able to help the soldier as well as 3 others that were wounded be evacuated.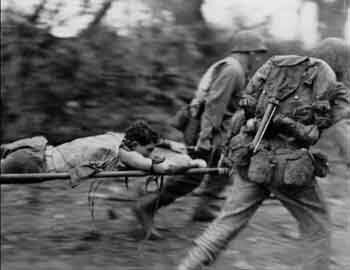 Photo Source
---
This was Doss's first taste of war combat casualty but only the beginning.
The U.S casualties were appalling, one in every six was either wounded or killed.
---
The Battle of Leyte, 1944
Next, Doss's team was involved in the battle of Leyte in the Philippines. The battle ran from October 17th through December 26 1944. It was a vicious battle.
During the battle, a fellow medic; Clearance Glenn got hit when trying to attend to a machine gunner.
Glenn was Doss's friend from back home. Doss went on to find the 2 wounded and dealt with them separately.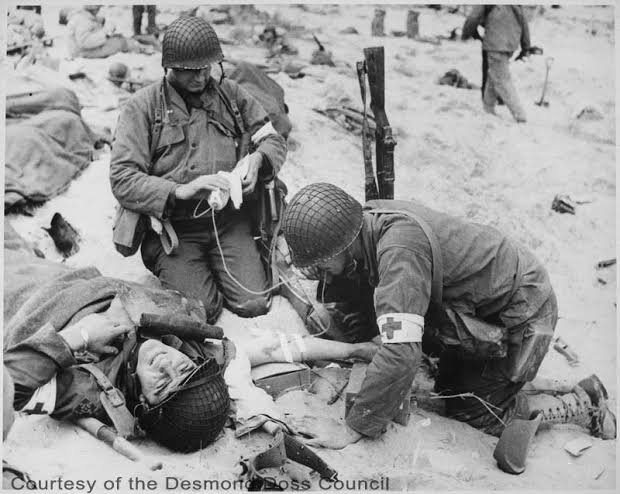 Photo Source
---
Doss was attending to the machine gunners while bullets whizzed overhead. He made a carrier with tree branches to drag them back to the aid station, but Doss's friend died before they could make it back to the station. It was a heartbreaking moment.
On top of losing his friends, Doss was constantly hungry as the meats in the rations conflicted with his vegetarianism.
---
Battle of Okinawa, 1945
Lastly, for Doss and the 77th infantry was the battle of Okinawa. It was to be the bloodiest of the war in the Pacific.
The U.S objective was to secure the island as a base as it was just 350 miles south of the Japanese Mainland.
The battle started on April 1st, 1945 and lasted for 81 days.

Hacksaw Ridge | Photo Source
---
Doss was assigned to the first battalion as their combat medic and on April 29, 1945, the 77th division was tasked with assaulting a 400-foot high cliff nicknamed by the Americans as Hacksaw Ridge.
Before they climbed the cargo, Doss said a prayer for his comrades. Upon climbing, they came under intense Japanese artillery; Small arms and machine gun fire, inflicting severe casualties on the assaulting American troops
A large Japanese counterattack overwhelmed the American soldiers causing them to panic and run back to the edge of the cliff, despite this Dos refused to cover and was tending to the injured soldiers while constantly under heavy fire from the enemy.
Despite being exhausted, he spent hours carrying the wounded one by one to the edge of the cliff.
Then, to get the more severely wounded down, he tied a rope to a tree stump and lowered them down the cliff on a rope-supported stretcher to safety.
Doss standing at the edge of the cliff, exposed to enemy fire seem praying as the men were being lowered down. Each time, he kept praying to the Lord saying one more.
It turned out he had saved over 75 soldiers.
---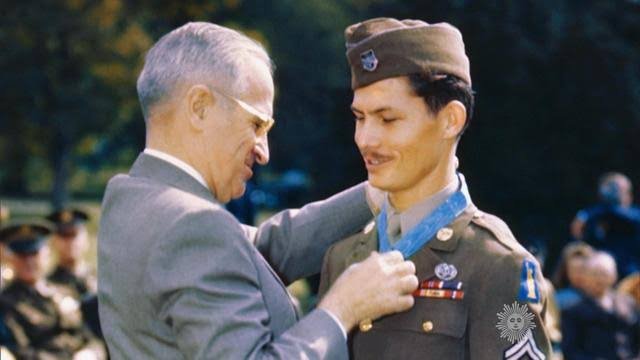 Doss given medal of honour | Source
---
The US Army recognised Doss's extreme Bravery and he was awarded the Medal of Honour for his heroic and selfless actions at Okinawa.
Because of his Heroic actions many men made it back home.
Desmond Doss went on to run a small family farm with his wife Dorothy and lived till the age of 87.
---
There you have it!
Doss's story shows True Bravery in its purest form!
His ability to stick to his beliefs regardless of adversaries and his courage to wield tireless devotion to his duty was indeed remarkable.
---
What are your thoughts on Desmond Doss? Let me know in the comments below.
Thank you for reading!
---
More From True Bravery Series:
---
---