CyberCode: making and selling old backpacks to become a multi-millionaire —eng/esp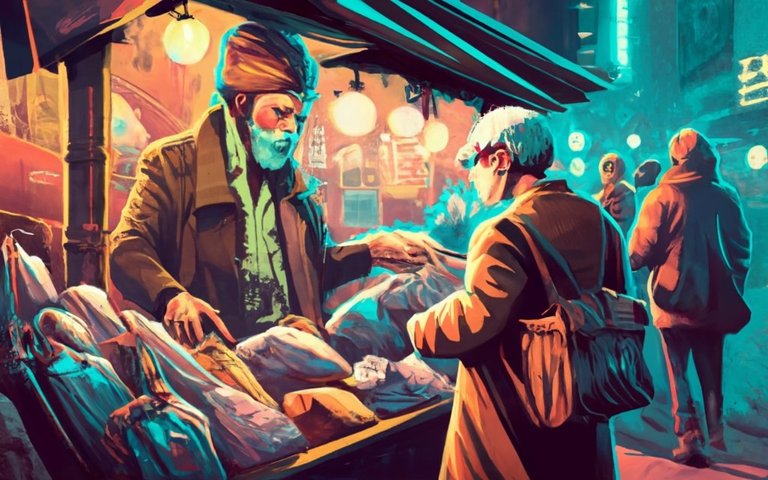 VERSIÓN EN ESPAÑOL (click aquí)

Buenos días, tardes y noches, damas y caballeros. Últimamente he seguido inmerso en este maravilloso mundo de los MMORPGs, haciendo amigos y es que la comunidad de CyberCode es muy bonita, algo que se aprecia bastante quizás sea porque el juego no tiene PvP y eso fomenta a que los usuarios se traten bien entre ellos, no sé si el desarrollador tenga planeado implementarlo en algún futuro pero lo veremos próximamente porque según tengo entendido varios usuarios saben cuándo hay actualizaciones, supongo que se mencionarán en el Discord, aunque no estoy muy enterado porque no estoy dentro del mismo. A lo que me he enfocado en cuerpo y alma dentro del juego es un reflejo claro de mi personalidad, por lo tanto, si me conoces muy bien, ando explotando el mercado creando mochilas viejas y vendiéndolas para conseguir millones de BTC, una experiencia que aunque suene sencilla es más laboriosa de lo que pudiese llegar a sonar, hay que darle muchas horas al juego y si están lanzando skips debes estar muy al tanto para no perderte uno debido a que esto puede acelerar tu producción, cosa que es muy beneficiosa. Así que sin más dilación hablemos un poco de este proceso además de algunas historias y consejos interesantes que me han contado.
Good morning, afternoon and evening, ladies and gentlemen. Lately I have been immersed in this wonderful world of MMORPGs, making friends and the CyberCode community is very beautiful, something that is appreciated quite perhaps because the game does not have PvP and that encourages users to treat each other well, I do not know if the developer has planned to implement it in the future but we will see it soon because according to I understand several users know when there are updates, I suppose they will be mentioned in the Discord, although I am not very aware because I am not inside it. What I have focused on body and soul within the game is a clear reflection of my personality, so if you know me very well, I am exploiting the market by creating old backpacks and selling them to get millions of BTC, an experience that although it sounds simple is more laborious than it could be to sound, you have to give many hours to the game and if they are releasing skips you must be very aware not to miss one because this can accelerate your production, which is very beneficial. So without further ado, let's talk a little about this process as well as some interesting stories and tips that have been told to me.
| | |
| --- | --- |
| | |
VERSIÓN EN ESPAÑOL (click aquí)

Técnicamente el proceso ya lo había comenzado desde el post anterior, comencé con muy poco vendiendo Hash (material que sirve para hacer minería) hasta que obtuve mi primer millón, luego pensando un poco y buscándole la vuelta a las cosas me di cuenta de que si compraba partes médicas (material para hacer analgésicos o otros medicamentos para curarse) y las reciclaba podía obtener chatarra tecnología que sirve luego para hacer mochilas viejas, las cuales son muy cotizadas por los altos rangos del juego, no importa la cantidad, si ven que las vendes por un buen precio te las van a comprar tarde o temprano, además de que supongo que prefieren saltarse el tedioso proceso de hacerlas ellos mismos, así que las compran. Durante mi proceso de compra de partes médicas van los usuarios me llamaron la atención, prácticamente me regañaron porque pude haber comprado muchísimas más o algo así usando un mercado diferente al mercado negro comunitario, en este se comunican por chat pero simplemente no lo manejo muy bien y es un poco confuso porque no usan la moneda del juego, usan las IAs (material que se usa para subir de nivel sin entrar en mazmorras o pelear con monstruos) como moneda, así que desconozco totalmente los precios, igual era muy tarde para echarse para atrás, ya había comprado las partes médicas y procedí al reciclaje, porque sabía que igualmente tendría ganancias.
Technically, the process had already started in the previous post. I started with very little, selling Hash (material used for mining) until I got my first million. Then, thinking a little and looking for a way around things, I realized that if I bought medical parts (material for making analgesics or other drugs to heal) and recycled them, I could get scrap technology, which is then used to make old backpacks. These are very sought after by high-ranking game players, no matter the amount. If they see that you are selling them at a good price, they will buy them sooner or later. In addition, I suppose they prefer to skip the tedious process of making them themselves, so they buy them. During my process of buying medical parts, users called my attention. They practically scolded me because I could have bought many more, or something like that, using a different market than the black market community. In this one they communicate by chat but I simply don't handle it very well and it is a bit confusing because they don't use the game's currency, they use IAs (material used to level up without going into dungeons or fighting monsters) as currency. So I totally don't know the prices. But it was too late to back down. I had already bought the medical parts and proceeded to recycle them because I knew I would still make a profit.
| | |
| --- | --- |
| | |
VERSIÓN EN ESPAÑOL (click aquí)

El reciclaje es tedioso porque solo reciclar 1000 partes médicas toma 4 horas de tiempo real y durante ese tiempo no puedes hacer mucho durante el juego, solo hablar en el chat con otras personas, por lo que tienes que estar pendiente más bien es de los Global Time Skips (es un boost que beneficia a todos los jugadores, acelerando la tarea que estés haciendo actualmente) que lanzan los jugadores avanzados, no necesariamente debes estar dentro del juego, recibirás una notificación al teléfono y allí entras y fácilmente reclamas lo que estabas haciendo de forma inmediata. Ahora imagínense que no existiera eso, sería un acto insufrible hacer lo que estoy haciendo, porque técnicamente invertí 23 millones de BTC en 41 mil partes médicas, sí, una auténtica barbaridad y que si sigo planeando hacer lo mismo seguiría aumentando la cantidad de partes médicas y la cantidad de tiempo, tardaría muchísimos días sin esa función. Al final del día convertí esos 23 millones en 40 millones por lo que quedé totalmente satisfecho por mi labor, creo que me tomaré un descanso para subir de nivel o algo, si llego a hacer reciclaje no lo haré con cantidades industriales, sería un poco cansino, aunque en cierta parte me resulta divertido. Teniendo apenas nivel 21, tengo más dinero que mucha gente con mayor nivel que yo, me parece asombroso, deberían poner un ranking para ver quién tiene más BTC, aunque obviamente no estaría ni cerca de estar entre los primeros, he visto gente con más de 400 millones de BTC.
Recycling is tedious because recycling 1000 medical parts takes 4 hours of real time and during that time you can't do much during the game, just talk in the chat with other people, so you have to be more careful with the Global Time Skips (it's a boost that benefits all players, accelerating the task you're currently doing) that the advanced players launch, you don't necessarily have to be in the game, you will receive a notification on the phone and there you enter and easily claim what you were doing immediately. Now imagine that it didn't exist, it would be an unbearable act to do what I'm doing, because technically I invested 23 million BTC in 41,000 medical parts, yes, a real barbarity and if I keep planning to do the same I would continue to increase the number of medical parts and the amount of time, it would take many days without that function. At the end of the day I turned those 23 million into 40 million so I was totally satisfied with my work, I think I'll take a break to level up or something, if I get to recycle I won't do it with industrial quantities, it would be a bit tiring, although in a certain part it's fun for me. Having only level 21, I have more money than many people with a higher level than me, it seems amazing to me, they should put a ranking to see who has more BTC, although obviously I wouldn't be anywhere near the top, I've seen people with more than 400 million BTC.
| | |
| --- | --- |
| | |
VERSIÓN EN ESPAÑOL (click aquí)

Es chistoso que incluso varios usuarios se hayan puesto a pensar que soy un usuario nuevo pero con una cuenta alternativa cuando en realidad no conozco ni un 1% del juego y cuando hablan con abreviaciones me pierdo por completo, incluso de que no conozco en absoluto la historia de diversos usuarios. En mi estadía en el chat lo que más me llamó la atención es la historia de un usuario llamado Zetoga, quien es el líder de la banda en la que estoy actualmente, que por cierto tiene un nombre bien egocéntrico pero eso no viene al caso o quizás sí, ese usuario técnicamente se enfrentó al desarrollador del juego y quedó en empate con él, haciendo que su banda sea la única que haya cambiado de nombre o eso me dicen los otros usuarios, también lo tienen muy en la mira por decirle a otras personas si quieren ser esclavos suyos lo que le trae problemas pero bueno, no hay que temerle a nada, un baneo de unas semanas no es nada a lo qué temer. Diría que el chat también es parte fundamental del juego, los usuarios más experimentados a veces lanzan tips y consejos que un nuevo obviamente no sabría, debido a esto aprendí a cómo rushear mazmorras para la obtención de recursos pero aún no lo pongo en práctica, puede que próximamente lo pruebe. Les estaré informando después de lo que vaya haciendo, así que sin más nada que decir, me despido.
It's funny that even several users have started to think that I'm a new user but with an alternate account when in reality I don't know 1% of the game and when they talk to me in abbreviations I get completely lost, even of the fact that I don't know the history of various users at all. In my stay in the chat what caught my attention the most is the story of a user called Zetoga, who is the leader of the band I'm in right now, which by the way has a very egotistical name but that's not the point or maybe it is, that user technically faced the game's developer and ended up in a tie with him, making his band the only one that has changed its name or so I'm told by other users, they also have him very much in their sights for telling other people if they want to be his slaves, which causes him problems but well, you shouldn't be afraid of anything, a ban of a few weeks is nothing to be afraid of. I would say that the chat is also a fundamental part of the game, the most experienced users sometimes throw tips and advice that a new one obviously wouldn't know, because of this I learned how to rush dungeons for the obtaining of resources but I haven't put it into practice yet, maybe I'll try it soon. I'll be informing you of what I'm doing, so without anything else to say, I say goodbye.
---
The screenshots are my own.

Traducido con ChatGPT / Translated with ChatGPT via https://hivetranslator.com
---
---
---