Mis nuevas alegrías en Hive [ESP/ENG]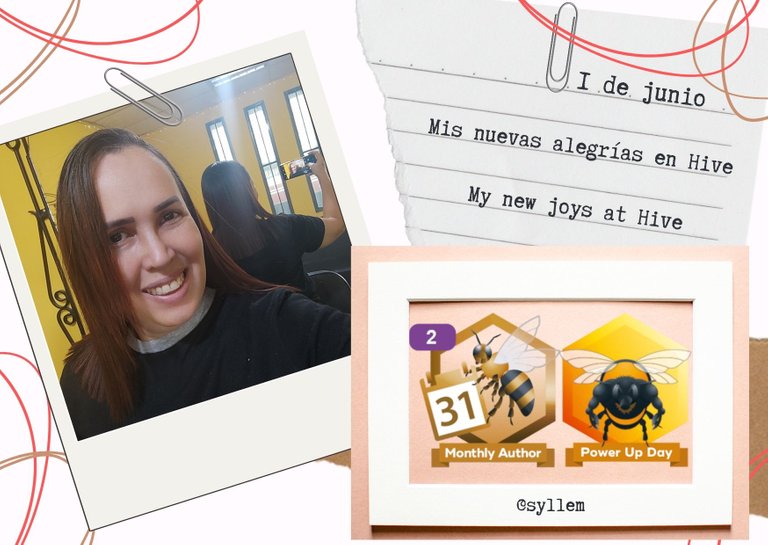 La mejor parte de plantearse una meta, es lograr alcanzarla y poder ver los resultados.
Hace un mes me propuse escribir cada día durante un mes y ya he recibido mi insignia de autor del mes, lo que me llena de alegría, porque me gusta cumplir lo que me propongo, creo que es una manera de forjar mi carácter.
Además también estoy contenta por mi nuevo power up, en ocasión al HPUD, lo que me trae de regalo otra insignia.
The best part of setting a goal is achieving it and being able to see the results.
A month ago I decided to write every day for a month and I have already received my author of the month badge, which fills me with joy, because I like to accomplish what I set out to do, I think it is a way to forge my character.
I am also happy for my new power up, on the occasion of the HPUD, which brings me another badge as a gift.
---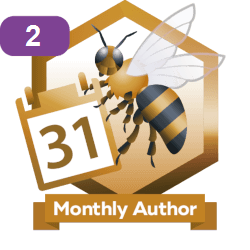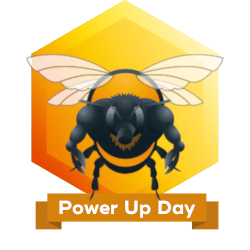 ---
Como mi ánimo ha ido mejorando, decidí regalarme un tratamiento para el cabello, llamado cirugía capilar, por el que me cobraron 10 dólares, llevando yo los materiales a utilizar, además de un corte de cabello, que tuvo un costo de 5 dólares. Lo mejor fue que lo pagué gracias a Hive. Tenía mucho tiempo que no me daba un gusto así.
Estoy intentando ahorrar tanto como puedo para hacer crecer mi cuenta, pero no saben lo bien que me hacen sentir que de ven en cuando puedo consentirme, aún cuando sea algo que no entra en mi presupuesto formal, porque tengo a Hive que me consiente.
As my mood has been improving, I decided to treat myself to a hair treatment, called hair surgery, for which I was charged 10 dollars, taking the materials to use, plus a haircut, which cost 5 dollars. The best part was that I paid for it thanks to Hive. It had been a long time since I had a treat like this.
I'm trying to save as much as I can to make my account grow, but you don't know how good it makes me feel that once in a while I can pamper myself, even if it's something that doesn't fit in my formal budget, because I have Hive to pamper me.
---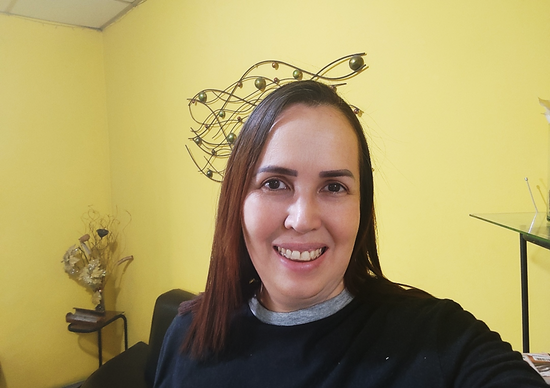 En la peluquería / At the hairdresser's
---
Aunque la verdad de la historia, es que yo había llevado a mi hija para que se hiciera ese tratamiento y una peluquera me insistió para que me lo hiciera también.
En la mañana, la fisioterapeuta también me había dicho que me arreglara el cabello, que siempre lo tenía recogido, entonces lo vi como una señal y lo hice.
Mi hija estuvo muy contenta con el resultado del tratamiento capilar que le hicieron y yo más, porque me hace feliz verla feliz.
The truth of the story, though, is that I had taken my daughter to have this treatment and a hairdresser insisted me to have it done as well.
In the morning, the physiotherapist had also told me to fix my hair, which was always tied up, so I saw it as a sign and I did it.
My daughter was very happy with the result of the hair treatment and I was even happier, because it makes me happy to see her happy.
---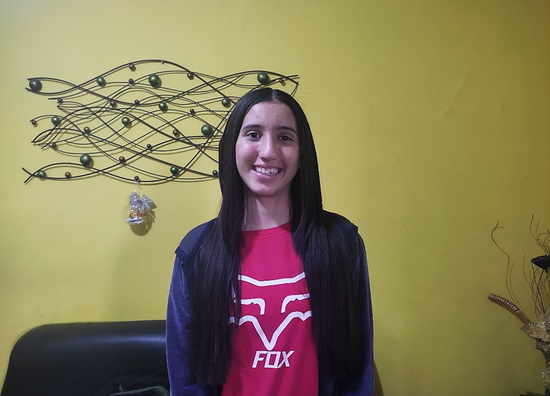 Mi hija en la peluquería / My daughter at the hairdresser's
---
Otra cosa genial que pasó hoy, fue que mi esposo estuvo explicando matemáticas en la escuela, a los niños que irán a las olimpíadas matemáticas de este año y debo decir, con mucho orgullo, que mi hijo es uno de ellos.
La maestra de mi hijo le pidió ese apoyo a mi esposo y gracias a Dios fue una gran experiencia para él y para los niños, porque sorprendentemente no se querían ir, le decían a mi amado que les diera media hora más de clase y cuando los fueron a buscar, se fueron tristes, algo que me impresionó, son unos niños muy aplicados.
Another great thing that happened today, was that my husband was explaining mathematics at school, to the children who are going to the math olympics this year and I must say, with great pride, that my son is one of them.
My son's teacher asked my husband for this support and thank God it was a great experience for him and for the children, because surprisingly they did not want to leave, they told my beloved to give them half an hour more of class and when they went to pick them up, they left sad, something that impressed me, are very dedicated children.
---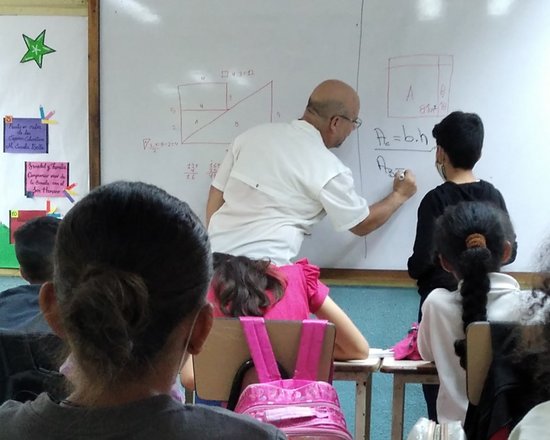 Mi esposo explicando matemáticas / My husband explaining mathematics
---
Mi esposo me cuenta que los niños son muy inteligentes, entendían todo a la primera explicación y eso que era contenido que ellos no habían visto todavía en las clases de sus respectivos grados, porque habían niños desde 4 hasta 6 grado. También todos querían pasar a la pizarra a resolver ejercicios, fueron muy participativos.
Al salir de allí, mis dos amores fueron a buscarnos a la peluquería, a mi hija y a mí, que ya estábamos listas, así que el tiempo cuadró perfectamente, para que todos cumpliéramos nuestras tareas de la tarde.
My husband tells me that the children are very intelligent, they understood everything at the first explanation and that it was content that they had not yet seen in the classes of their respective grades, because there were children from 4th to 6th grade. They also all wanted to go to the blackboard to solve exercises, they were very participative.
When we left there, my two loves went to pick us up at the hairdresser's, my daughter and I, who were already ready, so the time was perfect for all of us to complete our tasks for the afternoon.
---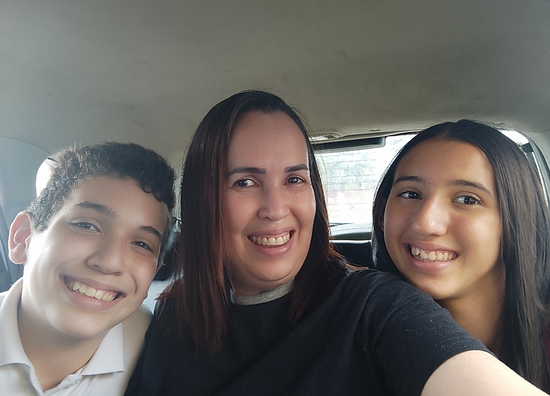 Listos para regresar a casa / Ready to return home
---
En fin, fue un gran día y me siento agradecida porque estoy viva, porque puedo ver a mis hijos sanos y felices, porque como padres, podemos estar junto a ellos apoyándolos y compartiendo sus momentos importantes.
Además, me siento contenta por este espacio, que poco a poco he aprendido a valorar, haciéndose cada vez más valioso e importante para mí. Agradezco a cada uno de ustedes, que lo hace posible.
In short, it was a great day and I feel grateful because I am alive, because I can see my children healthy and happy, because as parents, we can be with them, supporting them and sharing their important moments.
In addition, I feel happy for this space, which I have gradually learned to value, becoming more and more valuable and important to me. I thank each one of you, who make it possible.
---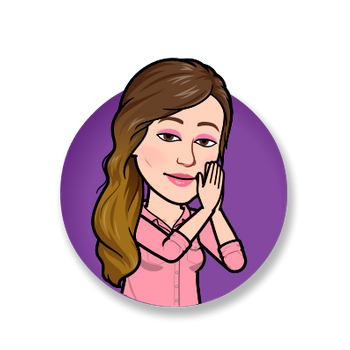 A ustedes, gracias por haberme acompañado en esta lectura.
To you, thank you for joining me in this reading.
---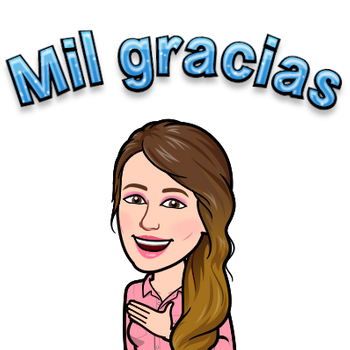 Thank you very much


Portada diseñada en Canva.
Fotografías de mi propiedad.
Emoticones de Bitmoji.
Separadores elaborados en PowerPoint.
Traducción cortesía de deepl.com.
Cover designed in Canva.
Photos of my property.
Emoticons from Bitmoji.
Separators elaborated in PowerPoint.
Translation courtesy of deepl.com.
---
---