THE IRRESISTIBLE INGREDIENT FOR SUCCESS
It's common to hear that the most important requirement for success in any career is having natural talent. But practically every prominent instance of a major accomplishment takes some level of effort.
---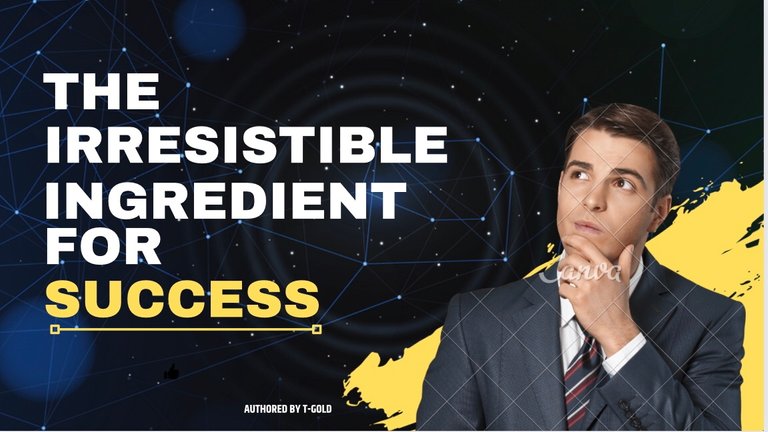 𝖣𝖾𝗌𝗂𝗀𝗇𝖾𝖽 by me 𝗎𝗌𝗂𝗇𝗀 𝖼𝖺𝗇𝗏𝖺
---
While talent is a hidden asset and a kind of wildcard that can be leveraged as a competitive advantage, it is worthless without hard work. Working hard is what keeps you going and producing at a high level for extended periods of time.
Therefore, you will always need to work hard regardless of your talent. In addition, talent is something that either one has or one does not. But you may cultivate a work ethic as a habit that will advance you significantly in life.
A man who works hard will succeed more than a man with talent but is unwilling to put in the effort necessary to use that talent.
---
Hard work is necessary for success but talent isn't.

Talent requires hard work in order to shine brightly and remain vibrant. In other words, you need to put in a lot of work if you want to be relevant in whatever area you're in!
Talent is truly a gift because it gives you a head start on what to do. However, you cannot stop there; you must continue to put in the work to advance.
You could be the most talented person in the universe. However, if you do not put up the effort to keep it alive and demonstrate it to others, you will pass up chances to succeed to the degree that you are capable of.
When you have a talent but don't put in the effort, you are essentially cheating yourself by letting your potential go dormant. It's like shooting yourself in the leg.
If you don't put in a lot of effort, that talent will remain dormant and will eventually burn out slowly, like a candle without a flame.
---
For talent to be effective, it must be honed.

Simply put, having talent is insufficient unless it is developed further. Talent can only be put to good use if its owner takes the required steps to develop it, in addition to working hard.
If your only skill is guitar playing, for example, there are many other individuals who are also proficient with the instrument, thus your skill will only take you so far.
How will you differentiate yourself from the competition and move up the list of candidates for gigs? You would achieve this by figuring out ways to improve your guitar-playing abilities, whether that entails discovering new finger tricks, honing a specific strumming style, or mastering several guitar models.
Now, the reason I picked that example is because I have two close friends who have become my brothers and who play the guitar so well: @starstrings01 and @olujay. I've watched them practice with their guitars innumerable times, always with complete dedication and fervour.
They may already have the talent to play the guitar so well, which is fine, but they didn't stop there. Instead, they continued to hone their skills by putting themselves through rigorous training, picking up new finger tricks, and perfecting a specific strumming technique. This process can last for hours.
I spend a lot of time with them, so I've observed them working on a single skill for hours at a time. When they are practicing, they do so diligently. I mean, I have observed them remain fixated on their instruments until they achieve their goals.
Most of the time, I think to myself, "Why do they go through all of these demanding trainings?" I'll add, "These are men who have recognized the value of "hard work" in honing their talent and setting themselves apart from their colleagues."
Regardless of your level of talent, hard work is a necessity for achieving and maintaining success.
Talent gives us a spark, but hard effort enables us to build a flame that will endure for a very long time. Talent can attract interest and exposure.
Your inherent talents can help you gain initial attention and open doors to prospects.
Hard work, on the other hand, is what equips you with the means to seize such chances or opportunities and then mold them into reality.
Hard work maintains your existence whether your talent is great or your innate ability is average.
This enables you to reach your full potential and perform above expectations.
In Conclusion 

To be clear, there is nothing wrong about having talents. Even if you have not yet discovered your unique talent, everyone is born with the ability to be good at something. However, it takes a lot more than talent to succeed at any level and in any industry.
Working hard is the Irresistible ingredient for success.
Thanks for reading my blog, see you in the next.
---
---