656 days later
No, not a new Zombie apocalypse movie but instead the length of time it's been between me attending a cricket games in person!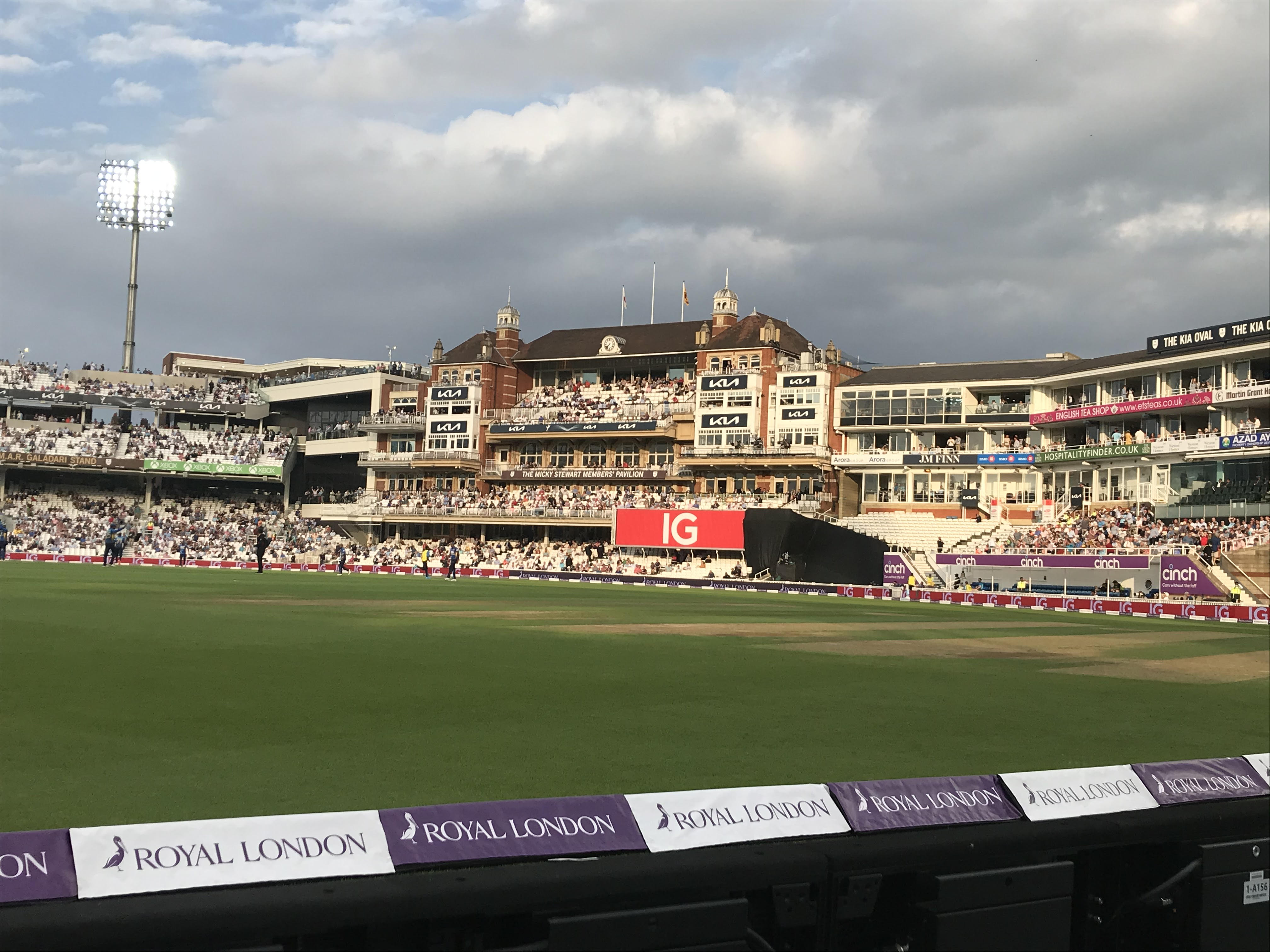 Even the sun decided to make a welcome return to the cricket this summer!
14th September 2019, Day 3 of the 5th Test of the Ashes at the Oval a game which England had to win and did win to level the series at 2 - 2 and ensure that our unbeaten run at home against the old enemy stretched over 20 years was the last time I'd been allowed into a stadium to watch a game of cricket live.
I'd had big plans for 2020 including tickets for 2 days of the Oval Test against the West Indies. The Hotel was all booked so that we could stay near the ground overnight because while the Oval is only about an hour from where I live we wanted to make an event of it, have a few beers in the evening and not have to worry about getting home!
That match was, of course, played behind closed doors at an entirely different venue and my previous attempts to attend a game in 2021 were thwarted after the government put back its roadmap out of lockdown meaning that I was unable to go to two t20 blast matches I had tickets for in June which were limited to 25% capacity with priority given to members of which I am not.
It seemed inevitable then that something similar would occur with the tickets I had to watch the ODI between England and Sri Lanka again at the Oval which under government restrictions would only be able to take 25% capacity.
However, Surrey CCC managed to convince the ECB who in turn managed to convince the Government that this match should be used as a 'test event' to see whether live sporting occasions could be run safely in the midst of a global pandemic with the capacity, therefore, increased to 50%. My guess is that Surrey told the ECB that if they couldn't increase the capacity to point where they could turn a profit that they wanted a refund on the millions they'd paid for the rights to host the match and the ECB similarly went to the Government and said they'd need financial help if once again they lost out on revenue in such a manner.
While at this 50% capacity priority was still given to members, it was also given to guests of members too and fortunately for me, my dad who I went with, is a Surrey CCC member! Finally, after the best part of 2 years, i was going to the cricket.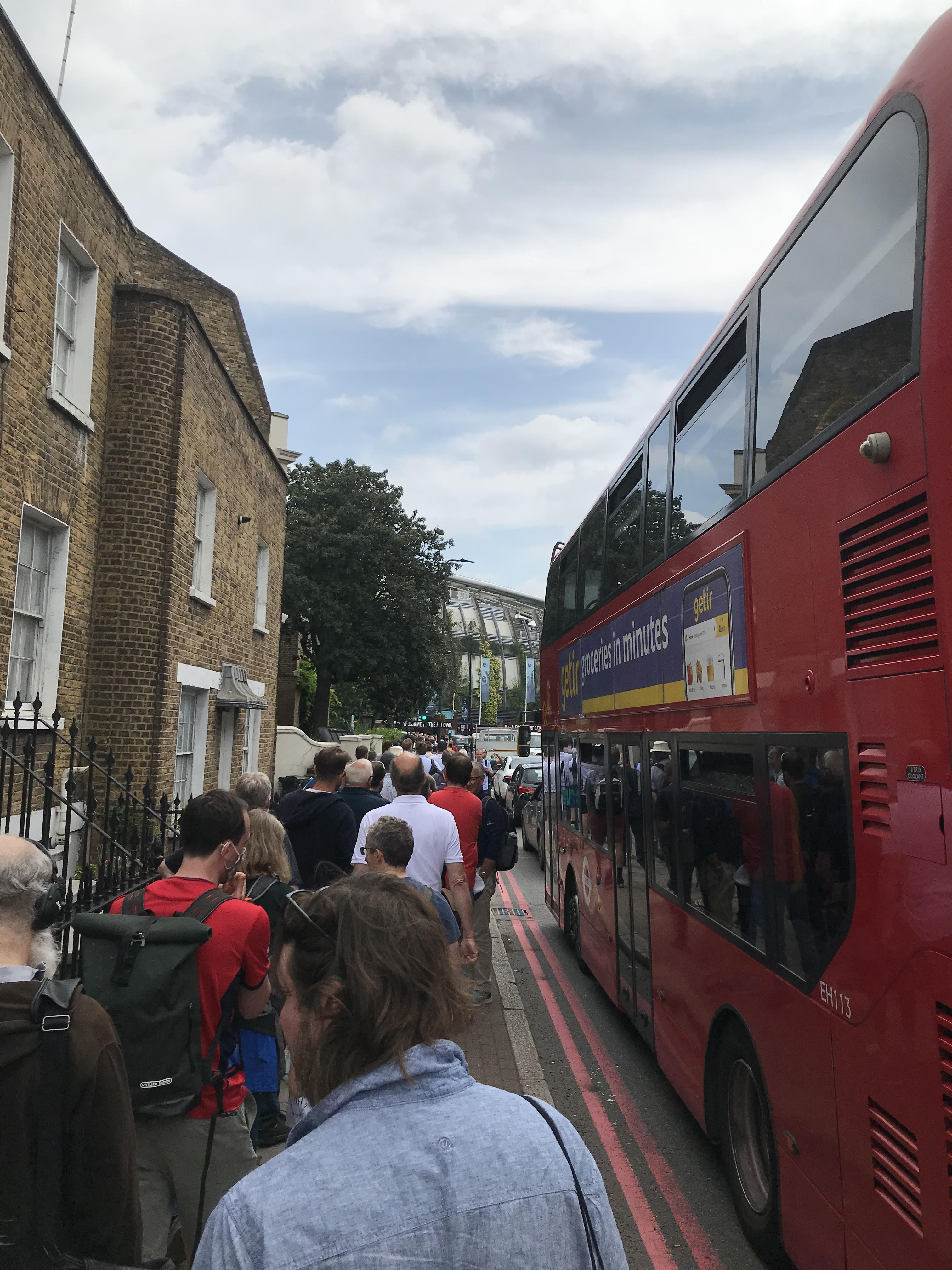 Long but fast moving queues to get through the Covid checks and into the ground
Having been through the Covid protecals we entered the ground and found our seats which were right at the very front. While it meant being close to the action, this wouldn't be my first choice of where to be seated as it's generally nicer to be able to be back a bit with more of a view over the whole playing surface. I wonder if we'd have been so inclined whether we'd have gotten away with simply moving to a seat a dozen rows back given that it was only 50% capacity and no one was really checking that we were sat in the correct seats. However, like good law abiding citizens we stayed where we'd be placed.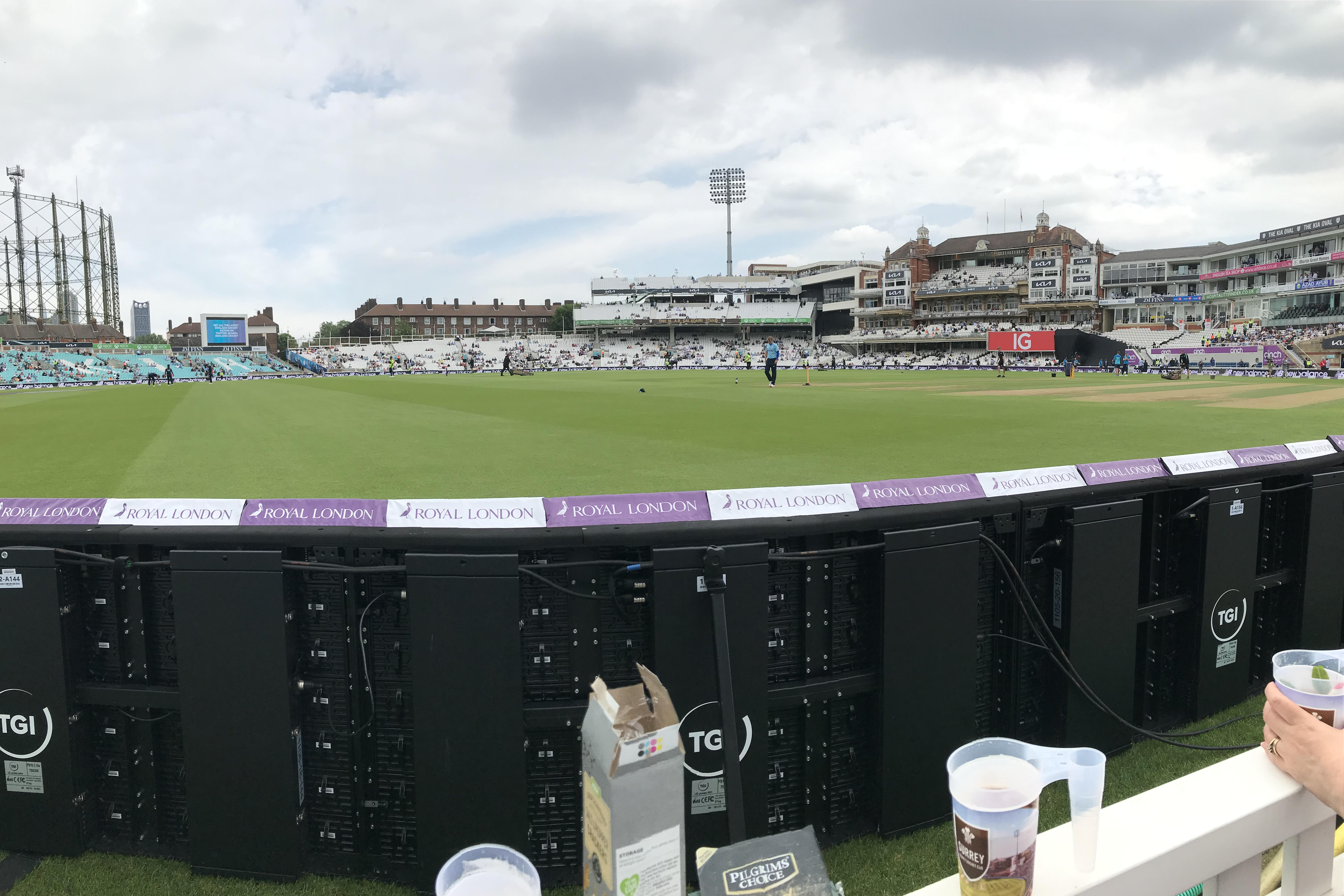 Sam Curran goes through his warm-up. Whatever he did worked as he took his first 5 for in England colours in any format
The game itself was a bit of a onesided affair but given Sri Lanka's struggles in the 4 games prior to this one that didn't come as much of a surprise!
Eoin Morgan doesn't seem to win the toss very often as England captain expect it would appear when we play India because Virat Kohli has even worse luck when it comes to calling the toss of a coin. However, on this occassion he finally managed to win one and despite the partizan crowd's desire to at least get the chance to watch us pumpel the Sri Lankan bowlers around the Oval for 50 overs, Morgan opted to field first a decision that prompted a collective groan from those already at the stadium.
With Sri Lanka 21-4 in the 7th over, it looked as though my long awaited return to cricket would be a fairly short one as the visitor's top order fell apart to some gentle swing on what was otherwise a belter of a wicket. Local boy Sam Curran did the early damage doing nothing more than bowling full and straight with his opening 3 wickets all either coming LBW or bowled.
As the steady stream of Sri Lankan batsmen trudged back to the pavillion, you couldn't help but feel that this was a team that couldn't wait to get on a plane back home. However there was to be some resistance in the form of Dhananjaya de Silva who batted beautifully for his 91 and looked largely untroubled against all of the English attack before suffering from the nervous 90s as he holed out to Joe Root on the boundary.
The Sri Lankan right hander got a standing ovaitition as he dragged himself off, clearly disappointed to have let a golden chance of a first ODI century pass him by. De Silva was given decent support by first by Wanindu Hasaranga who looks like one of the few players in this Sri Lankan team who really has some fight about him with both bat and ball and then by Dasun Shanaka who despite looking ill at ease against Mark Wood's 90mph rockets managed to ride his luck for 47.
I don't think it would be an exageration to suggest that for much of those 2 partnerships the predominately English crowd was very happy to see the visitors at least throw a few punches back even though it was likely to be in vein following that disasterous start.
As for Sri Lanka, I'm sure that they entered the halfway point on something of a high having fought back from such a precarious position to manage to get to 241-9 from their 50 overs. Indeed, had they not have lost wickets at key moments including de Silva in the 36th and Shanaka in the 46th over then they might have added another 20 plus runs and really given themselves hope.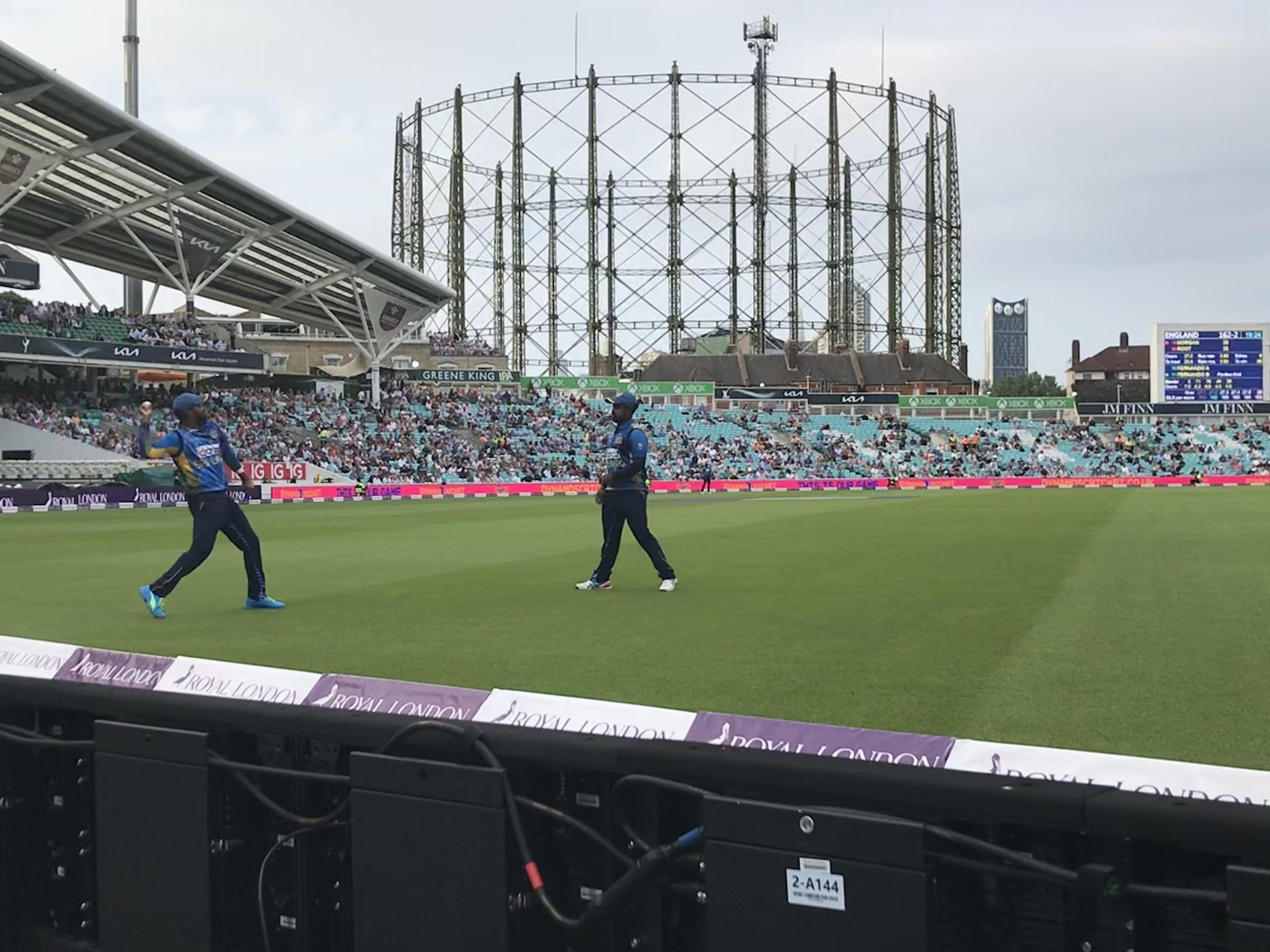 Sri Lankan fielders gather the ball after Jason Roy hits a boundary to mid wicket
As it was, that hope and any momentum they thought they may have gained from the fight back quickly evaporated as England's batsmen demonstrated just what a good wicket this was. Both Roy and Bairstow looked set and capable of making a big score if they wanted it but both gave away their wickets to fairly rash shots. Bairstow in particularly had 2 big heaves at the leg-spinner immediately prior to his dismissal and was out to the 3rd one as he looked to accelrate the scoring even further.
Sri Lanka's only real hope was to dismiss Joe Root a man who now averages over 51 in ODI cricket and had already seen England home with a unbeaten 77 in the first ODI. With Eoin Morgan out of form and England without the likes of Jos Buttler and Ben Stokes, the middle order does look a little more fragile and therefore the wicket of Root becomes even more crucial. However, his knock of 68* was chanceless and with the damage already done by the openers he never really needed to get out of second gear.
My surprise was that the Sri Lankans just let him milk them for singles all afternoon. While the likes of Roy and Bairstow might give you a chance out of sheer boredom, Root gave no indication that he was willing to give his wicket away so cheaply and therefore the only chance that Sri Lanka had was to bring everyone up on the one and try and make Root hit over the top, a skill that he's not renowned for. The fact that they didn't try this tactic again shows why they are now at the bottom of the elite rankings and potentially facing the prospect of having to qualify against some of the associate nations for the next World Cup, quite a significant come down for a side that 25 years ago were World Champions.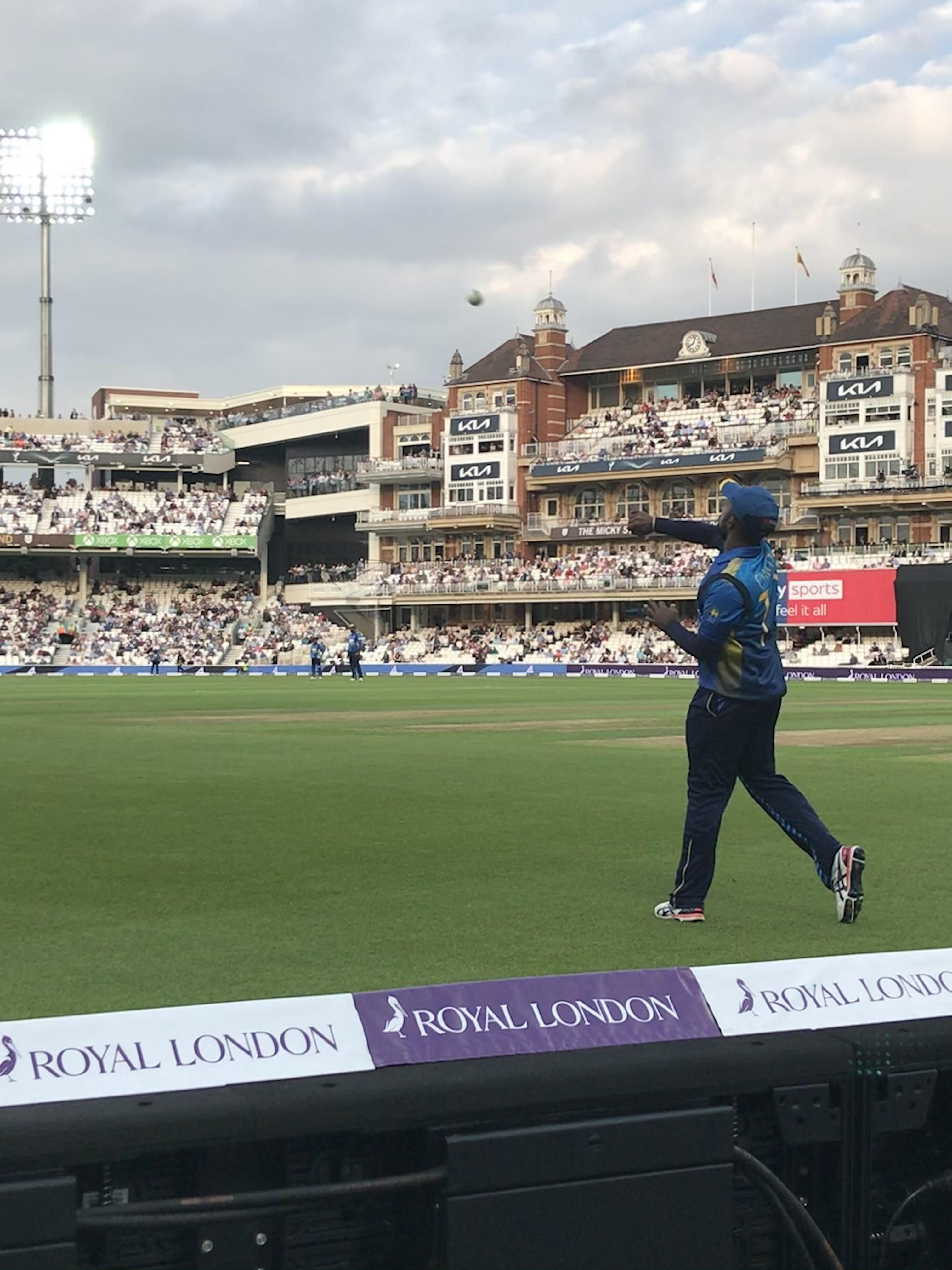 Sri Lanka worked hard in the field but lacked any imagination or cutting edge
England captain Eoin Morgan took advantage of the game situation to give himself some much needed time in the middle and end a 15 match run of white ball games in which he'd failed to score a 50 for his country. There is no reason to believe that Morgan's place in the side is under pressure such is the esteem with which his leadership skills are rated but with a T20 World Cup just around the corner, it was probably the biggest plus for England following this match that their captain had returned to form.
In general then it was a good day out and one that I've been waiting for for a long time and one that I'll hope to emulate a few more times before the summer is out!
It's tempting these days with the kind of money that major sports make from TV deals and sponsorship to forget about the importance of the fans who attend live sporting contests. However, even if we do just consider sport in the same light as the money men, then the "product" is really nothing without the atmosphere that supporters at the ground produce.
I've seen a lot cricket in the intervening 656 days but I've never had the same kind of buzz watching on TV as I get when I'm at the ground and of course even when you are watching on TV the experience is nothing without the atmosphere produced by having genuine supporters there.
The same is true (perhaps even more so) for football. I've struggled to really watch any of the Premier League since fans were not allowed in the stadium because no amount of synthetic crowd noise can replace the real emotion and excitement that a stand full of supporters can provide. I enjoyed the recent England win over Germany for obvious reasons but the biggest plus was that it took place in front of 40k supporters who added something that special effects just can't.
In these days of break away super leagues and multi-millionaire sports stars who are increasingly detatched from their fan base, I hope the break in being able to attend live sporting events in person and the impact that has had on all teams, leagues and sports around the world has woken the administrators up to the fact that having an established fan base that is willing and able to attend in person is a must for the long term health of all sports even where they alone may no longer be the driving factor behind turning a profit.
---
---