Conte's acid test
Asked during a recent press conference what a successful season for Spurs would be this year, head coach Antonio Conte quipped that winning the Premier League or Champions League were his aims.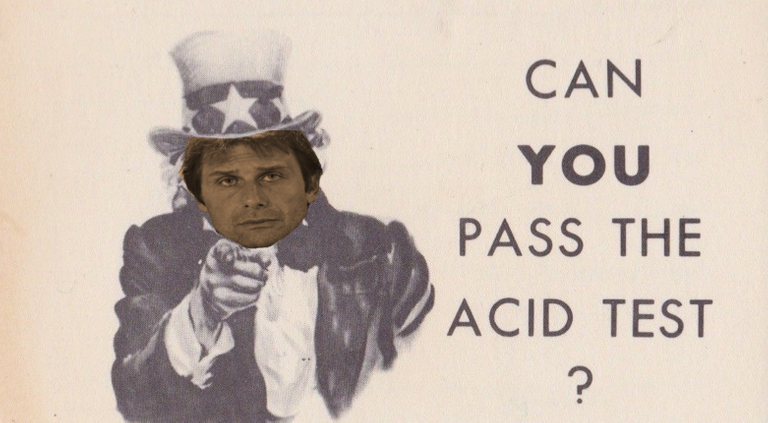 image sources 1, 2 shared under CC license
I'm happy to be proved wrong but I can't see (and I doubt Conte does either) Spurs winning either of those trophies this year. For one, the gap between Liverpool and City and everyone else is huge and while Spurs (amongst others) can claim to have closed that gap over the last 6 months I don't think they've done enough yet to be within striking distance.
Furthermore, is the difficultly of having 2 elite clubs in the same league at the same time. One of those teams might have an off year allowing the chasing pack to gain on them but the chances of both City and Liverpool dropping their standards to the extent that a challenger might have a chance at the title seems unlikely.
Spurs have had a good transfer window but it's worth remembering that it follows a significant number of years without sufficient investment in the footballing side of the club. There is so much deadwood at spurs that a mass overall was entirely necessary and is nowhere near finished.
When you listen to the rhetoric of Conte's press conferences since his arrival at Spurs this much is true. He has been quick to highlight the amount of time it took Klopp and Guardiola to establish their squads and footballing identity not to mention the amount of support that Arteta has received across the road at the Emirates despite a relative lack of managerial experience and some ropey results. You don't need to work particularly hard to read between the lines when it comes to the message he is sending to Levy - back me if you want the same results!
What then is Conte's aim for this season? Well for one it will be to establish a Spurs side that is capable of competing week in week out in multiple competitions and secondly, it will be to bring Spurs spending on a par with the clubs they are competing with.
Arguably the low point of Conte's reign to date was in January and February 2022 where following a busy Christmas schedule, the club was required to play 8 games in 5 weeks including home and away fixtures in the league cup semi-final against Chelsea as well against the same opposition in the league.
Spurs were comfortably beaten by their West London rivals in all 3 fixtures also losing home games against Southampton and Wolves and generally struggling to bring in the necessary reinforcements until the very last day of the January transfer window. It would be fair to say that Conte at that time cut an increasingly frustrated figure and one who many fans felt wouldn't even see out his 18 month contract at the club.
Comparatively speaking, Conte seems far happier and more at ease during press conferences than he did 6 months ago
While today's match with Chelsea doesn't come off the back of a hectic schedule, the heat and Conte's desire for his players to impose themselves physically on the opposition will surely test just how far this squad has come in terms of resources.
When they lost the equivalent fixture 2-0 last season, Spurs had a bench without players who could come on and really impact the game. Compare that to Chelsea who had the luxury of leaving full internationals like Havertz, Werner and Pulisic with their feet up and you can see why Conte was very quick to highlight the gulf between the sides.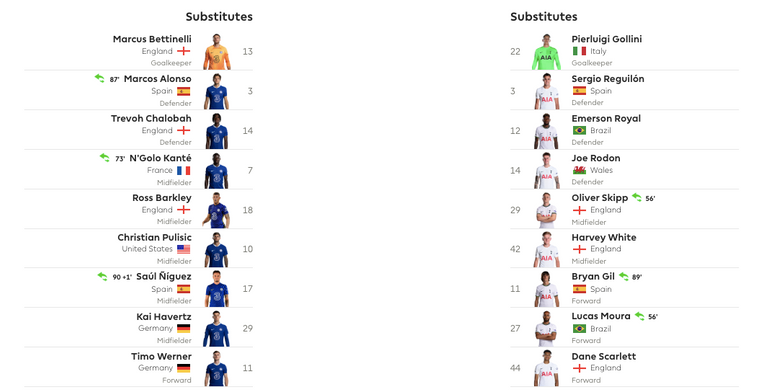 benches from the Chelsea v Spurs Premier League match January 2022 source
In today's match, Conte should be able to call upon the likes of Richarlison, Bissouma and Perisic amongst others to come on and influence the game in the 2nd half. This is a dynamic that Spurs lacked not just last season but arguably for the last 15 years! In fact, Conte has had first hand experience of just how costly a lack of squad depth has been for Spurs after his Chelsea side were crowned league champions in 2017 against what I believe was a superior Spurs starting XI who simply didn't have back-up to get them over the line.
It's far too early in the season to draw any conclusions regardless of the result today but this match does provide an acid test for Conte and can demonstrate just how far he and the squad have come since the dark days of last winter.
The job though as alluded to above is nowhere near done. Spurs remain, in my opinion, at least 3 high quality players short of where they'd like to be.
At right wing-back we appear to have plenty of options but little genuine quality. At centre-back, the club has failed to attract a really world-class operator which was deemed a priority at the start of the summer and in the midfield we look short of depth still particularly with Oliver Skipp injured and Bissouma not yet match fit.
No one is quite sure how much of the £150 million injection that the club received from ENIC will be available for player transfers but to date, it's looking like we'll come out of this window with a net spend of around £50-60 million prompting the question as to where and when the remaining funds will be spent?
At present, Spurs spending this summer is on a par with the likes of Brentford, Wolves and Southampton and well behind most of the clubs who we will be challenging for the top 4 with including Arsenal (net spend £100 million), Chelsea (net spend £150 million), Newcastle (net spend £60 million) and West Ham (net spend £85 million).
How much further investment is made in the footballing side of things over the next 2 weeks is yet another acid test for Conte and will go a long way to determining how successful the club can be this season not to mention whether he will stay on beyond the expiry of his contract in 10 months time.
---
---