IPL 2023 CSK vs GT Preview - The Final
Key match stats
IPL records at the Narendra Modi Stadium
Average first innings score: 193
Average first innings winning score: 197
Average powerplay score: 50
Win % batting 1st vs batting 2nd: 63% /37%
Team form CSK vs GT
CSK: WWLWW
GT: WLWWL
Recent matches: CSK won by 15 runs, GT won by 5 wickets
Preview CSK vs GT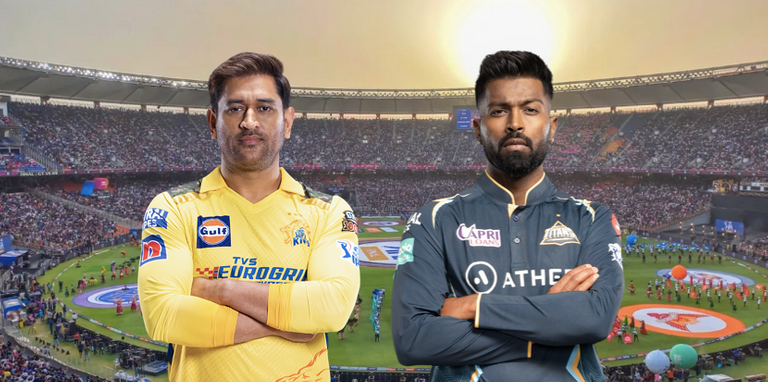 Here we are then, the final of IPL 2023, a match to be contested by the 2 sides that have undoubtedly been the most consistent performers and strongest squads of the tournament in Chennai Super Kings and Gujarat Titans.
They'll be playing in front of over 100k fans at the Narendra Modi Stadium in Ahmedabad and we don't need to imagine what the atmosphere will be like, instead we simply need to cast our minds back to 31 March when these 2 met at the very same venue for the opening ceremony and first match of the tournament.
Gujarat ultimately ran out comfortable winners in that game but CSK had their revenge in the qualifier earlier in the week and have therefore had significantly greater rest and time to prepare for this match. In fact, for GT this is their 4th game in a week and may mean that they are a little tired both physically and emotionally and as such, the captain and coaches initial challenge will be to rally the troops for one last push at back to back titles.
On paper, there is very little to choose between the 2 sides and we'll get into greater detail of the potential key match-ups below. However, as a broad assessment, I'd say that CSK have the better squad this year while the Titans have the better individuals.
I'll probably write a blog after the conclusion of this match on the IPL 2023 'Team of the Season' and not to provide too many spoilers but I think that most would agree that Shubman Gill, Rashid Khan and Mohammed Shami would all deserve a place in the XI. That being said, I'm not sure anybody else within the GT squad even merits discussion which is in contrast to CSK who probably have at least half a dozen players in the mix. Whether the likes of Gaikwad, Conway, Rahane, Dube, Jadeja, Pathirana and Deshpande make the final cut remains to be seen but their consistency across the season can't be ignored.
Ultimately then, this final might well come down to whether 1 or 2 of GT's star players in IPL 2023 can fire vs whether CSK's greater collective strength can see them over the line.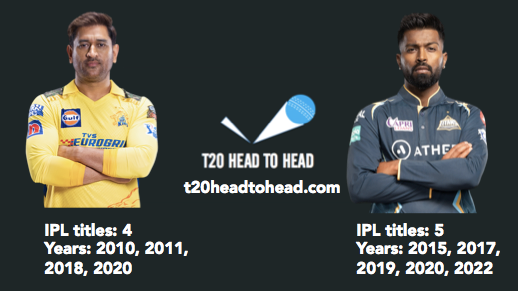 Dhoni vs Hardik IPL titles
What we do know is that both sets of squads are stacked with serial winners both in this competition and T20 cricket around the world. The 2 captains alone have won 9 IPL titles between! While only one of those came as captain for Hardik Pandya he can point to the fact that he's had his hands on the trophy in 3 out of the last 4 seasons and has never been part of a squad that has lost a final to MS Dhoni (MI beat CSK in 2015 and 2019). What's more, you have to go all the way back to 2016 to find a final that at least one of these guys wasn't playing in!
If that does provide GT a slight psychological advantage then so too must playing at home where we have seen the likes of Shubman Gill and Mohammed Shami really dominate sides. That being said, home advantage in IPL finals hasn't historically proved advantageous and we know that wherever this Chennai team travels they are sure to get incredible support.
| Year | Venue | Result |
| --- | --- | --- |
| 2022 | Narendra Modi Stadium | GT won |
| 2016 | M Chinnaswamy Stadium | RCB lost |
| 2012 | MA Chidambaram Stadium | CSK lost |
| 2011 | MA Chidambaram Stadium | CSK won |
| 2010 | DY Patil Stadium | MI lost |
Previous IPL finals contested at the home ground of one of the finalists
If the conditions that we saw here in the MI match are anything to go by then we should be in for a high scoring thriller, albeit that you never quite know how the pressure and emotions of a final will influence the teams. Buckle yourself in for what promises to be roller coaster ride!
CSK vs GT head to head
GT bowling vs CSK batting
I noted in my last preview between these sides, the wonderful record that Ruturaj Gaikwad has against GT. In the qualifier on Tuesday, he made it 4 half centuries from 4 innings vs the Titans albeit that he was helped out by a dropped catch in that game. However, the 92 that he scored here in the opening game of the season, gives a taste of what might be to come in this match. While he's flown somewhat in the shadow of Shubman Gill this season, there would never be a better moment to eclipse his Indian colleague than today...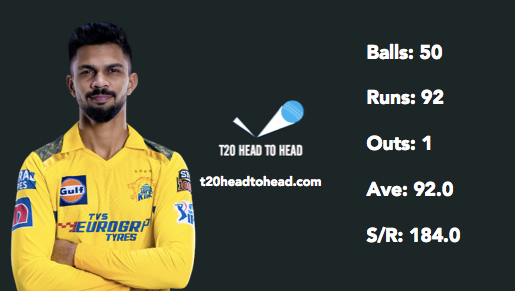 Gaikwad scored a majestic 92 on his only prior visit to the Narendra Modi Stadium
At the other end, Devon Conway looked short of fluency in scoring a scrappy 40 from 34 balls the last time these 2 sides met. It looks likely that the Narendra Modi pitch will require faster run scoring if CSK are to win this game so Conway will need overcome his personal battle with Mohammed Shami before accelerating the scoring.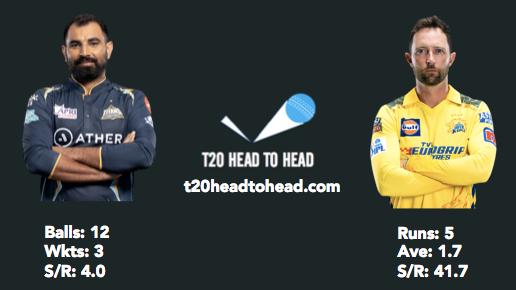 Shami vs Conway T20 head to head
Ajinke Rahane could also be key in this game. While we've seen less and less of the 34-year-old as the tournament has progressed (he's batted only 4 times in his last 7 starts), here at the Narendra Modi and against this powerful GT seam attack, he could well find himself back at number 3. The stats themselves also add up in his favour, he's actually the 2nd highest run scorer in IPL history at this ground (only Shubman Gill has more), while his strike rate of 208.3 during the powerplay in IPL 2023 is still better than anyone else (min 50 balls faced).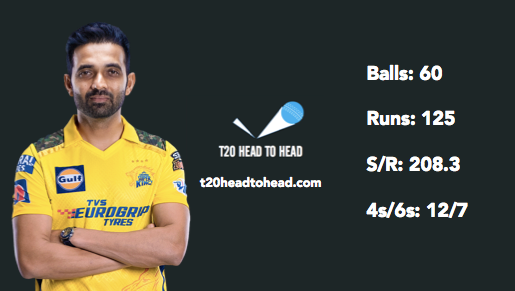 Rahane IPL 2023 powerplay stats
The return to bowling fitness of Hardik Pandya can't be underestimated for GT. As I pointed out in my preview of the MI match, GT's 3rd seamer has been a weakness since Hardik's latest injury but Josh Little came back into the side and delivered 3 very tidy overs in the context of the game, while Hardik's opening burst allowed Mohit Sharma to be held back until the later part of the innings where he has proved successful all season, especially here at the Narendra Modi.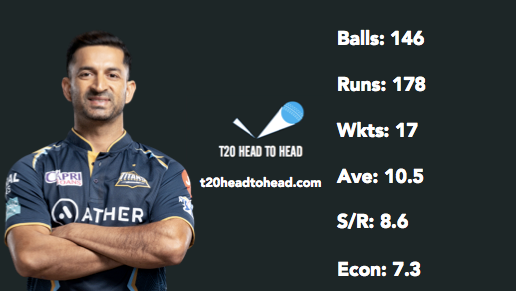 Mohit Sharma IPL records at the Narendra Modi Stadium
Mohit vs Pathirana is undoubtedely a match up between the 2 best operators at the death in IPL 2023.
CSK bowling vs GT batting
What more is there to write about Shubman Gill and his performances in IPL 2023, especially here at the Narendra Modi Stadium? His 129 vs MI on Friday night was perhaps the best T20 innings I've ever seen! Mumbai's bowlers simply didn't know where to bowl to him and Gill seemed capable of playing any shot imaginable and a few that weren't.
I guess the good news if your a CSK fan is that surely he's peaked now because if he eclipses that effort and in an IPL final then it will be definitely be the greatest T20 innings of all-time and CSK would just have to take their collective hats off to a man playing on another level.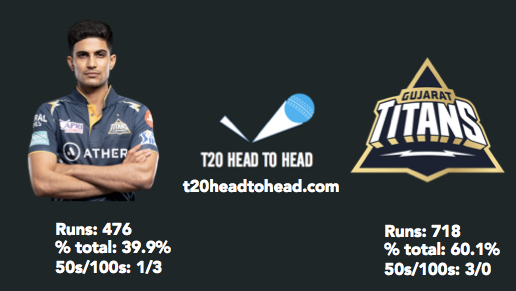 Shubman Gill contribution to GT total run scoring over their last 6 matches
Of course on the flip side, if you get Gill early then it may well send shock waves through a GT batting line-up that hasn't been performing well of late (see GT vs MI preview for stats). Over the last month, GT's middle order have either found themselves in a similar situation to Friday night where they are surplus to requirements or they've been needed but failed to score significant runs. If they are needed today (and I suspect they will be) who is going to stand up and get the runs?
GT brought back Sai Sudharsan a game too late in my opinion. Yes, the young left-hander was ultimately retired out because he couldn't quite up the scoring later in the innings but don't underestimate the contribution he made to the win against MI. If nothing else, Shubman Gill seems to love batting with him as the pair's record in IPL 2023 shows with 4 x 50+ partnerships in 7 innings.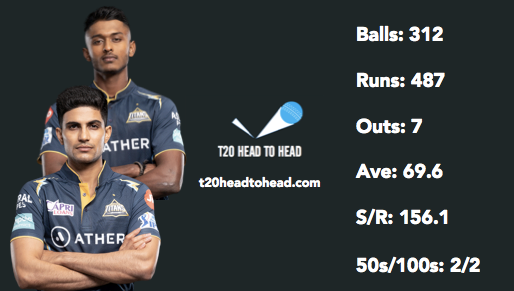 Sai Sudharsan and Shubman Gill partnerships in IPL 2023
While Sai Sudharsan is very much the junior partner here, it also can't be underestimated how important his role against Ravi Jadeja will be in this match. It's a point I argued in the preview the last time these 2 sides met and it perhaps cost GT the match as Ravi Jadeja was able to return figures of 2 for 18 from his 4 overs against a right-hand dominant Titans middle order.
I doubt that Jadeja will find conditions here quite as favourable as on his home track in Chennai but a similar spell of around 2 for 30 from 4 overs could again be a match winning effort.
In fact, it'll be interesting to see if CSK consider springing a bit of a surprise in selection for this match. Moeen Ali has remained largely unused with the bat in CSK's last half a dozen games, while he hasn't bowled at all in their 2 most recent fixtures ball despite having been very tidy in when called upon.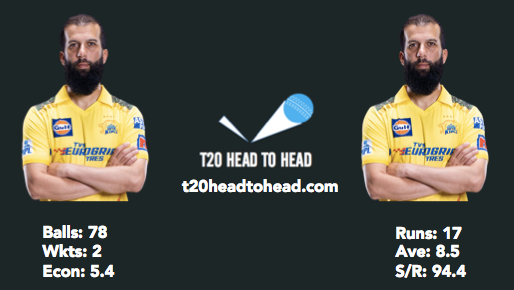 Moeen Ali IPL bowling and batting stats during May 2023
CSK may rue the fact that Moeen's England colleague Ben Stokes has returned home as he could have proven a better all-round option in these conditions, not to mention that he does have a penchant for the big occassion!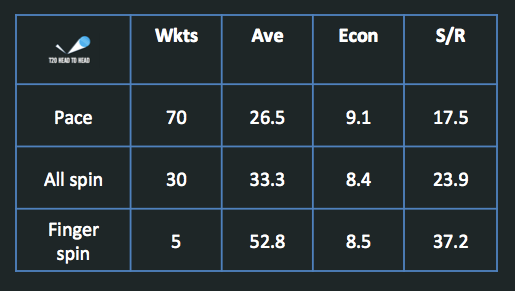 IPL 2023 bowling stats at the Narendra Modi Stadium
Without Stokes to call upon, and given the nature of the surface here the Narendra Modi, might CSK look to bring in an extra seamer? Rajvardhan Hangargekar did take 3 for 36 the last time Chennai played at this ground.
---
All stats used in this blog are from my own databases which are freely accessible below
IPL head to head player stats
IPL player stats by venue
IPL stadium statistics.
Images are my own with the exception of player profiles and highlights within GIFs which are not intended to infringe copyright- read full disclaimer. Background images are used under a creative commons license or otherwise royalty free.
---
---