IPL 2023 KKR vs LSG Preview - Do Lucknow stick or twist?
Key match stats
Pitch Stats – Eden Gardens
Average first innings score: 196
Average first innings winning score: 222
Average powerplay score: 55
Win % batting 1st vs batting 2nd: 50% / 50%
Team form KKR vs LSG
KKR: WLWWL
LSG: WWLNL
Recent meetings: IPL 2022 - LSG win by 2 runs, LSG won by 75 runs
Preview KKR vs LSG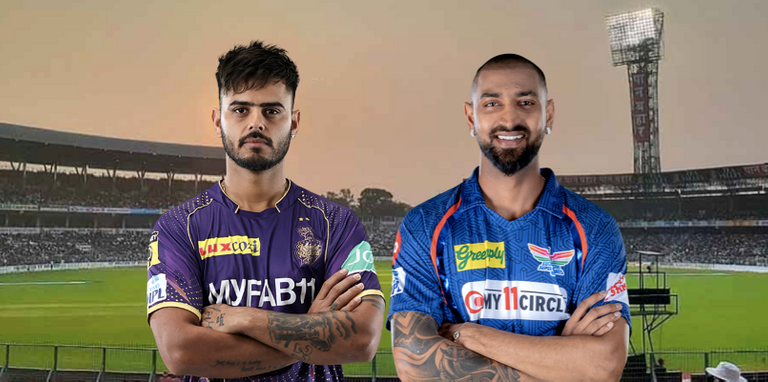 No doubt as we head into the final weekend of fixtures, we will be in for some twists and turns but for Lucknow Super Giants, the equation is pretty simple, win and they are through!
Where it becomes significantly more interesting is going to be the hunt for 2nd place and an easier route to the final. CSK play in Delhi earlier on Saturday and get first crack at reaching 17 points but even victory over DC wouldn't assure the Super Kings of a top 2 finish and instead we'd see a scenario where LSG could overhaul Chennai if they win by a big enough margin.
That would then raise the question as to whether LSG should go all out for the big win or play it more conservatively and just try to get 2 points in the bag first.
We saw yesterday in the RCB match, that these are the kind of situations where you need your big name experienced players to stand and up and be counted for. Kohli and du Plessis gave a master class of performing under pressure. Could a player like Quinton de Kock do something similar today? Remember he scored 140 not out the last the last time these 2 met.
Theoretically KKR can still reach the playoffs but it'd take a win by epic proportions followed by defeats to everyone else above them. I'd bet my house that it won't happen but that's not to say that KKR don't have anything to play for. They've won 3 out of their last 4 matches and a win here would mean they'd have taken 10 points from their fixtures in the 2nd half of IPL 2023. That would certainly be something to build on for next year!
The early part of the season saw familiar failings at the top of the order consistently costing them and only a couple of brilliant individual efforts from the lower order avoided total catastrophe. Those problems seem to be have alleviated in recent games and KKR will hope that Shreyas Iyer can return in 2024 to further strengthen their batting.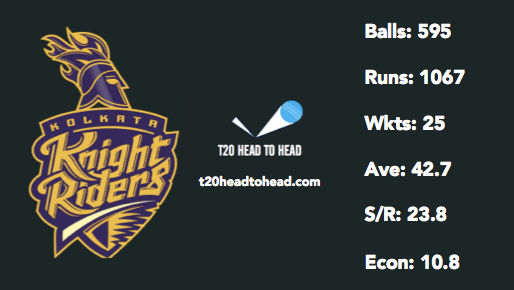 KKR fast bowling stats IPL 2023
The big issue that KKR will need to address over the close season continues to be a lack of quality fast bowling options. With 7 wickets, Andre Russel is their leading quick bowler this season and he's only managed to bowl 14 overs so far in IPL 2023. Young Harshit Rana has shown sufficient promise to suggest there is something to work with in the future but everyone else, including some really experienced names in Umesh Yadav, Tim Southee and Lockie Ferguson, have offered very little this year.
Of course it's not easy for any fast bowler on this Eden Gardens pitch. Quicks have been averaging 35.9 this season at an economy rate of 9.8 and so sides have looked to use spin more often than not. Spinners have been striking once every 19.4 balls, the 4th best spin S/R for venues used in IPL 2023. That statistic and the importance of spin at Eden Gardens is put into even sharper context when you consider that the average winning score batting 1st at this ground has been an eye watering 222.3, the highest of any venue used in this year's tournament.
KKR vs LSG head to head
LSG bowling vs KKR batting
I've mentioned KKR's fast bowling problems but LSG have struggled in that department too, particularly when it comes to penetration with the new ball. Avesh Khan who has failed to take a powerplay wicket in the 12 overs he's bowled this season, missed out on the win over MI earlier in the week and while the recently returned Mohsin Khan bowled brilliantly at the death, he failed to get that elusive break through with MI able to add 90 runs for their opening partnership before Lucknow hauled it back in the 2nd half of the innings.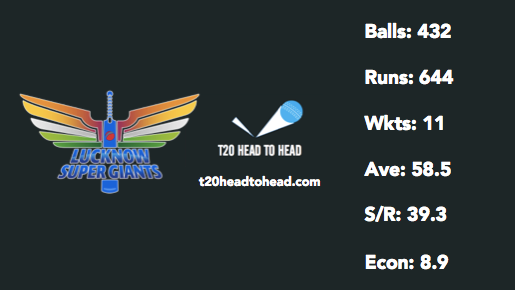 LSG powerplay bowling stats IPL 2023
LSG will hope that they'll be able to lead from the front in this match especially given that the opposition today have such a strong middle order and themselves enjoy pulling games around in the 2nd half of innings.
It was a surprise to see Amit Mishra miss out for the game on Tuesday and not even be named as one the impact subs. Swapnil Singh replaced him in the side but either way, LSG are likely to continue with 3 spinners in this fixture. To date, their 3 primary spin options this season haven't enjoyed great success here at Eden Gardens.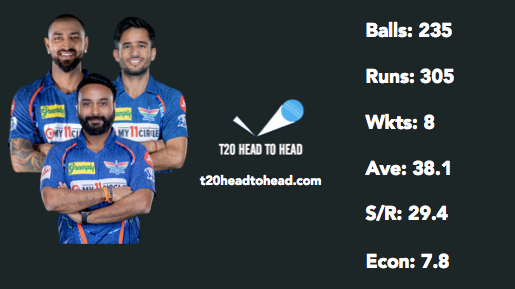 LSG spinners IPL bowling records at Eden Gardens
Mohsin Khan's return to fitness is a massive bonus for this LSG squad as we head into the crunch stage of the season. He bowled brilliantly in the 2 games these sides played against each other last season recording figures of 1 for 6 (3 overs) in a low scoring affair and then 3 for 20 (4 overs) as KKR came very close to chasing LSG's total of 210.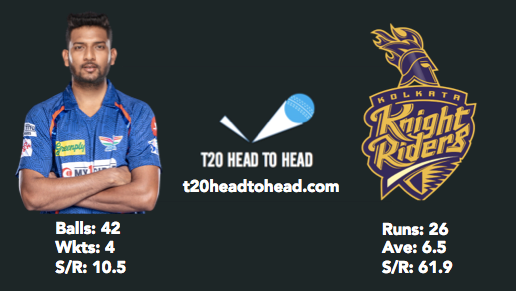 Mohsin Khan IPL 2022 bowling figures vs KKR
KKR bowling vs LSG batting
Against MI, LSG sacrificed Kyle Mayers at the top order in part to be able to play Naveen-ul-Haq as their 4th overseas player and no doubt to also add a right hand option and better player of spin in Deepak Hooda to their opening pair. Hooda has been in woeful form all season and failed again on Tuesday.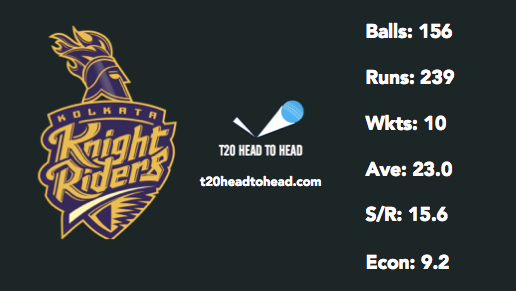 KKR spin bowling powerplay stats IPL 2023
Given what we've seen of KKR this season, they'll certainly attack with spin in the powerplay but do LSG go for the selection that on paper looks better suited to counter that threat or for the man in form?
Another consideration is the woeful record that Quinton de Kock has at Eden Gardens and in fact, he's not the only LSG batsmen to have struggled here in the past with Marcus Stoinis and Deepak Hooda having career averages of 11.7 and 21.0 in games played in Kolkata.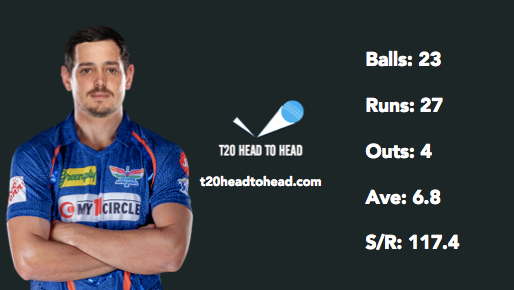 QdK IPL batting record at Eden Gardens
Varun Chakravarthy's return to form this year has been a major boost to KKR and his battle against this long LSG batting line-up could be crucial to the outcome of the game.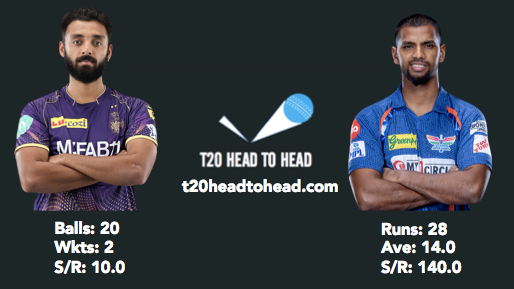 Chakravarthy vs Pooran T20 head to head
Nicolas Pooran was happy to play 2nd fiddle to Marcus Stoinis in LSG's last match but himself has made some significant scores, particularly on tracks where run making has been easier. LSG will need him and the rest of their power hitters to come off again at a venue where a six has been hit exactly once every 2 overs on average this season.
---
All stats used in this blog are from my own databases which are freely accessible below
IPL head to head player stats
IPL player stats by venue
IPL stadium statistics.
Images are my own with the exception of player profiles and highlights within GIFs which are not intended to infringe copyright- read full disclaimer. Background images are used under a creative commons license or otherwise royalty free.
---
---