IPL 2023 LSG vs MI Preview - The Eliminator
Key match stats
IPL records MA Chidambaram Stadium
Average first innings score: 168
Average first innings winning score: 186
Average powerplay score: 55
Win % batting 1st vs batting 2nd: 43% / 57%
Team form LSG vs MI
LSG: WWWLN
MI: WLWWL
Recent matches: LSG won by 5 runs
Preview LSG vs MI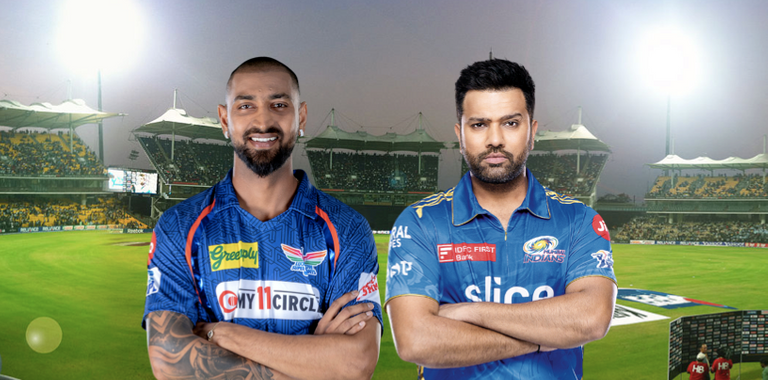 Mumbai Indians are no strangers when it comes to late season pushes for the playoffs and the worrying thing for the other 3 sides still involved in the tournament is that when they go on one of these runs, they very often end up champions!
| Year | Win % first half of season | Win % second half of season |
| --- | --- | --- |
| 2013 | 62.5% | 75.0% |
| 2015 | 42.9% | 85.7% |
| 2017 | 85.7% | 57.1% |
| 2019 | 57.1% | 71.4% |
| 2020 | 71.4% | 57.1% |
| 2023 | 42.9% | 71.4% |
MI championship winning years - win % in the first half of the season vs 2nd half of the season (round robin stage only)
After being comfortably beaten in their opening 2 games and then going on to lose back to back matches at the end of April, most pundits had written this off as a another season of rebuilding for a Mumbai franchise still trying piece together the kind of star studded squad that won them back to back titles in 2019 and 2020.
However, MI have played to their strengths, primarily with the bat and been helped by some excellent pitches at the Wankhede not to mention some very partisan support at home to drag themselves in with a chance at a 6th title.
Their opponents LSG have also staged a mini revival this season. Having won 4 out of their first 6 matches, LSG went on to win just 1 of their next 5 before finishing the season with a 3 match winning streak including victory over today's opponents.
In fact, one of the major concerns for MI is that in the 5 matches they've played against fellow playoff teams this season, they've won just once in a game against GT at the Wankhede where they've been incredibly strong all season. With home advantage no longer a factor for them, can their batsmen continue to dominate strong bowling attacks on pitches that aren't likely to support 200+ scores?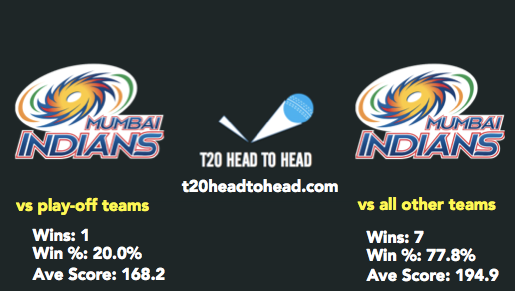 MI records in IPL 2023 vs fellow playoffs teams compared to all other teams
By contrast, LSG have performed better away from home this year with their mid-season slump coinciding with a run of 4 home games where they failed to secure victory. They also enjoy playing this MI side, with 3 wins from 3 to date, all of which have come when defending a score.
| Season | 1st innings | 2nd innings | Result |
| --- | --- | --- | --- |
| 2022 | LSG 199/4 | MI 181/9 | LSG won by 18 runs |
| 2022 | LSG 168/6 | MI 132/8 | LSG won by 36 runs |
| 2023 | LSG 177/3 | MI 172/5 | LSG won by 5 runs |
Previous fixtures LSG vs MI
Given MI's usual preference for chasing and the fact that MA Chidambaram Stadium has historically been a venue where sides batting first have been more successful, that could yet prove a decisive factor.
LSG vs MI head to head
MI bowling vs LSG batting
Jason Berendorff struck twice in 2 balls to help reduce LSG to 35 for 3 the last time these 2 sides met. Berendorff had played just 5 times in his previous 2 IPL seasons but in the absence of more established IPL stars like Bumrah and Archer, he has stepped up to lead this MI attack with 14 wickets in 10 matches. We know he's always dangerous in the powerplay where he can swing the new ball but the experienced Aussie has also introduced a couple of variations that are making him effective later in the innings too.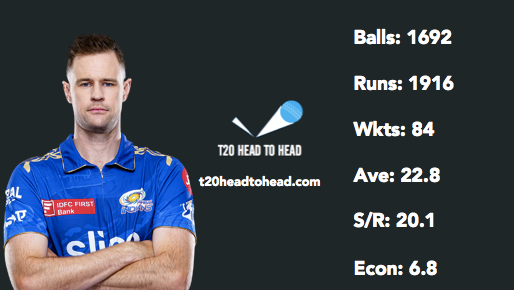 Behrendorff career T20 powerplay bowling stats
He and his fellow MI bowlers will fancy their chances against this LSG top order which has failed to really hit the heights that the other sides left in IPL 2023 have managed. Part of that is due to the unavailability of key players, firstly through Quinton de Kock's late arrival and then the injury to KL Rahul.
LSG powerplay batting stats in IPL 2023
Since then, LSG have been chopping and changing their opening pair, looking for a combination and balance that to date has alluded them. So far that hasn't cost them and despite using 3 different combinations of openers in their last 3 games and having been 3 down inside 7 overs in their last 2 round robin fixtures, LSG's strong middle order have managed to bail them out. Against the best opposition and under the added pressure of knock out cricket, how much longer can they rely on coming from behind?
Mumbai's death bowling has been a concern all season and they currently have the worst economy rate during the final 5 overs of matches of any side in IPL 2023. Granted they have played half their matches at the Wankhede where it's been raining sixes but a a general lack of control at that stage of the game could cost them against this powerful Lucknow batting line-up.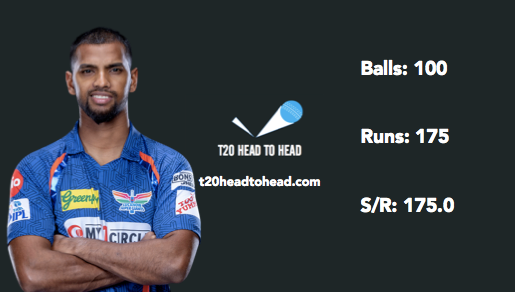 Pooran death overs batting stats
There were some signs of improvement for MI in their final game of the round robin, where Chris Jordan and Akash Madhwal helped to limit SRH to just 32 runs from their final 30 deliveries. That was against the bottom placed side in the tournament though so we wait to see whether they can repeat the trick against much stronger opposition.
LSG bowling vs MI batting
Ishan Kishan has sailed somewhat under the radar this season in comparison to a few of the other headline making openers but his 439 runs to date represents his biggest haul since 2020 when he broke the 500 mark.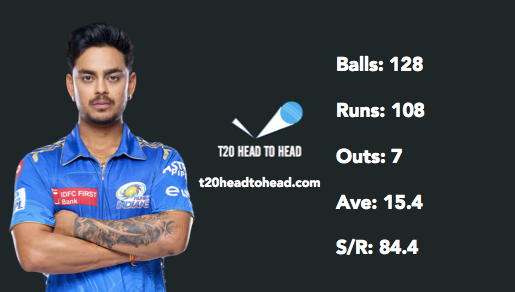 Ishan Kishan IPL record at the MA Chidambaram Stadium
While Ishan's IPL record at the MA Chidambaram Stadium is poor, the same can't be said for MI's most important batsmen in their late season charge to the playoffs in Sky.
As well as an impressive average and decent strike rate on what is usually a pitch where scoring quickly is a challenge, Sky comes with the pedigree of having hit a match winning 71 not out from 54 balls the last time Mumbai played a playoff match here in 2019. That came in a total of just 132 in a low scoring thriller and it wouldn't be surprising if conditions threw up a similar kind of situation in this game.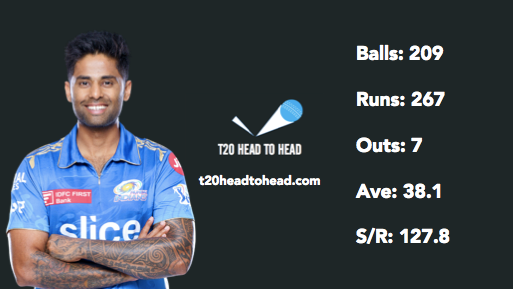 Sky IPL record at the MA Chidambaram Stadium
One area of strength that LSG will be keen to exploit especially in Chennai, will be their spin bowling attack. Amit Mishra hasn't played in the last couple of matches including the recent game against MI but you'd feel that he is a candidate to return in this game considering his record at this venue.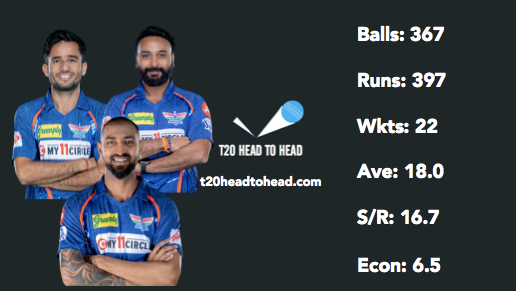 LSG spinners collective IPL record at the MA Chidambaram Stadium
Tilak Varma remains a doubt for MI in this match but if available they'd surely been keen to get him in the side given his record against spin. In his relatively fledgling career, the left-hander has an IPL average of just shy of 80 vs slow bowling and a strike rate rate of 140!
---
All stats used in this blog are from my own databases which are freely accessible below
IPL head to head player stats
IPL player stats by venue
IPL stadium statistics.
Images are my own with the exception of player profiles and highlights within GIFs which are not intended to infringe copyright- read full disclaimer. Background images are used under a creative commons license or otherwise royalty free.
---
---