Relegation Watch 2023 + win 10 HIVE
Spring is upon us and so is the run in. While there is plenty to play for at the top end of the table, the lower half is equally intriguing with just 4 points separating the bottom 9 teams.
Every time it looks as though one or two sides will get cut a drift at the bottom they rebound, while simultaneously just when you think a couple of teams will pull away to mid-table safety they sink back into the mire of a relegation fight.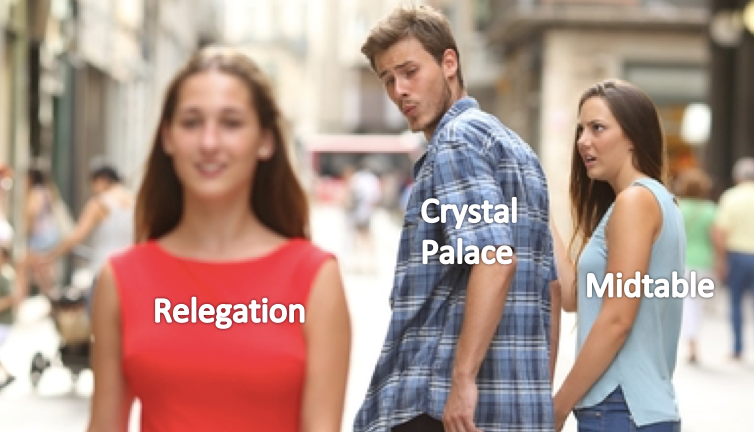 By contrast if we look at the last few Premier League seasons at the same stage, we generally have a situation where at most 5 or 6 sides are realistically in a relegation scrap for 1 or 2 places with the bottom side or two (Norwich in 2022, Sheffield Utd & WBA in 2021, Norwich 2020, Fulham & Huddersfield 2019, etc. etc.) being so far behind that they are, for all intensive purposes, already relegated.
Beyond how tight it is at the foot of the table is the calibre of team that is involved in the scrap this year. Clubs like Everton, Leicester, West Ham and Leeds are all ranked in the top 20 richest clubs in the world at present while the likes of Crystal Palace, Wolves and Southampton have all been part of the Premier League for at least the last 4 seasons during which they've generally been competing higher up the table.
Is this therefore the greatest relegation battle in Premier League history?
It certainly looks likely to be the most competitive and hardest to predict.
For the remainder of the post, I'll consider what each team's run in looks like and ask you to predict who the bottom 3 will be come May with a chance to win 10 HIVE if you can call it correctly.

Palace are sinking like the proverbial stone at the moment to the extent that their form since the half-way mark of the season is the worst in the league, with no win in their last 9 games.
That was enough to cost Patrick Viera his job and leave Palace so desperate for something "different" that they recalled old boss Roy Hodgson from retirement.
He inherits a squad that has found goal scoring particularly difficult this season especially at home, where Palace's 12 goals scored to date is equal lowest in the Premier League.
On the face of it, Hodgson's job is simple, win 3 of the remaining 10 matches and Palace will almost certainly be safe but for a side that hasn't tasted victory in 2023 that might not be so easy.
April is going to be an absolutely massive month for Palace and their chances of remaining in the top division with all 5 games coming against fellow relegation candidates. In fact, Palace still have to play every other side mentioned in this blog post between now and the end of the season.
They'll be hoping that the change of manager gives them the same kind of uptick in form that most of the other sides in the bottom half have experienced since bringing in someone new. If it does, they are likely to be fine, if it doesn't then those odds of 6.1 are going to shorten very quickly.

It's been a strange season for Wolves. They were absolutely hopeless in the early part of the campaign, have bounced back since Christmas but more recently have suffered a couple of humbling home defeats to Leeds and Bournemouth to drag themselves back into a relegation scrap.
The football under Lopetegui has certainly improved but they do remain the league's joint lowest scorers with just 22 goals to date. On the flip side, of the team's below them, only West Ham have conceded fewer.
The next 5 games look likely to define Wolves' season starting with a trip to Notts Forest before they entertain mid-table sides Chelsea and Brentford and then go up against fellow relegation candidates Leicester and Palace.
Wolves need at least 2 wins from those 5 matches because their last 5 fixtures are significantly harder and include away trips to Arsenal, Man Utd and Brighton not to mention a Midlands derby v Villa who would no doubt take great delight in hammering a nail into their rivals coffin if given the chance.
However, relative fixture difficulty is hard to predict with Wolves. As we've seen since their return to the Premier League 4 years ago, they are generally a side set-up to get results against the bigger sides, their problems often come when they need to make the play against perceived lesser opposition.

7 points in their last 4 games has revitalised a Leeds side that looked down and out at the beginning of the month. To be fair to Jesse Marsh, his side played some decent football at times but couldn't get results. However, when you're at the bottom of the league how the points come are irrelevant and Javi Gracia's appointment has to date given the club some much needed momentum.
The difficulty with Leeds is the expectations of their fans sometimes outweighs the reality of their situation. Those expectations are all the greater when you consider how long the club spent trying to get back to the top flight of English football last time. Another period in the footballing wilderness is just unthinkable for a side that has ambitions at the other end of the table.
Goals have been coming in recent matches for Leeds albeit at both ends of the pitch. They certainly have the quality in attacking areas to suggest that they can pick-up the wins necessary to steer clear of danger but they'll also need to stop conceeding soft goals at the other end.
Home form is likely to be the defining factor for Leeds. They return from the international break with a trip to Arsenal but then follow that up with visits to Elland Road of Forest and Palace. If they take a minimum 4 points from those 2 games then Leeds will be edging towards safety especially when you consider that they have a game in hand on the sides immediately above and below them.
However, if they do slip up in those games or in fixtures at the end of April against Bournemouth and Leicester then their final 4 matches look pretty tough and include games against Man City, Newcastle and Spurs and what could ultimately prove a crucial tie away at West Ham.

Massive credit has to go to Sean Dyche for what he's achieved so far when you consider the problems he inherited both on and off the pitch when he took over at Everton. However, Dyche will know the job is not even half done yet if Everton are to stay in the Premier League.
As you can see, the odds on the Toffees going down fall dramatically from the first 3 clubs in this list and with good reason. The Everton squad lacks any real quality with Dyche likely to have to milk every single point he can from a poor group of players, many of whom might find themselves playing Championship football next year one way or another.
Equally, Everton still have some really tough matches to come including Spurs and Man Utd on their return from the international break. While they still have 5 x "six pointer" fixtures remaining in the campaign, 4 of those come away from home with their match against Bournemouth on the very last weekend of the season the only time that Everton will entertain a fellow relegation candidate.
The fact that Everton play so many important fixtures away from home is a very real concern given that they've only won once on their travels this season. They also lost 3 of the reverse fixtures against fellow relegation candidates that they have remaining this year, so they will need to up their performances again if they are to beat the drop.

Forest looked like they might be about to put a run together that would see them pulling away from the bottom 3 but their performances have been very Jekyll and Hyde with their away form a real concern all season.
Their home game against Wolves on 1 April is going to be absolutely crucial to their chances of survival. A win would get the feel good factor up for another important clash at Leeds just 2 days later and if they come out of those fixtures with 4 points or more then the chances of staying up will be much improved, anything less and it's going to be tough to avoid dropping straight back down.
While they may only have 3 games against the current top 6 to come this season, they do also have very difficult away trips to Villa, Chelsea and Brentford not to mention a visit from Brighton. Those games all come in a 5 week spell that will also see Forest play Man United and Liverpool, a fact again that makes those 2 games mentioned above in early April even more important.
Despite being 16th at present, Forest are the bookies 3rd favourite to be relegated no doubt largely based on the fact that they haven't recorded a victory in any of their last 6 matches. At the same time, Newcastle are the only side to come away with 3 points from the City Ground since September so if they are to stay up it looks likely to be their home form that will do the job.

Given Leicester's current woes, the odds on offer for them to go down might not be a bad shout. No win in their last 5 EPL matches including a run of 4 defeats in a row has seen them enter free fall with West Ham below them having a game in hand.
Alongside West Ham, Leicester remain the only team featured in this blog to have stuck with their manager in Brendan Rodgers. At times in the Autumn that looked like a good decision as Leicester began to pick up points but more recently their form has not only dipped but they've also made a series of strange team selections which does make you wonder whether the manager has lost faith in a few of the senior players and/or vice versa.
Home form which is often so crucial for sides in a relegation battle has also been a concern for the Foxes this season with only Southampton having a worse record at their own stadium. That will be something that Leicester will have to improve on with home matches against Bournemouth, Wolves, Everton and West Ham to come.
Their strength of course remains in attacking areas where if they can get their big name players fit and even semi-firing then they should have enough to escape. However, at the back they remain a shambles having not recorded a clean sheet in the league since November. For the neutral, Leicester might well be involved in some thrilling matches later in the season. However, Foxes supporters may wish to have sedatives at hand...

On the face of it West Ham are in the advantageous position of having at least 1 game in hand on all the other teams featured in this blog. However, it is worth noting that the match in hand is an away trip to the Ethiad.
I keep hearing people also suggesting that West Ham's squad is the strongest of the teams fighting relegation and that they'll have enough to get out of trouble. Whether that is true or not depends more on the performances of players who have to date disappointed rather than on whatever subjective measure is being employed to measure 'quality'.
It's also worth remembering that West Ham are still in Europe and alongside 12 Premier League games they have at least 2 further Europa Conference fixtures. That means that they'll play 9 games in 27 days in April and their schedule could be similarly hectic in May if they get passed Gent.
Playing midweek also means that the bulk of their weekend fixtures in April will come on Sunday, giving the teams around them the chance to put points and pressure on the board the day before.
Home form again looks to be crucial given that the Hammers have won just once on their travels this season. However, they still have to entertain the likes of Arsenal, Man United, Newcastle and Liverpool at the London Stadium which means that they are likely to need to improve on the road to guarantee safety.

Bournemouth alongside fellow south coast side Southampton are both odds on for the drop this season. Given the relative strength of their squad, you'd have to say that is fair enough but every time you think that they'll be cut adrift, the Cherries find a way of picking up crucial points.
One thing that does work in their favour is the fact that only Crystal Palace have more games against fellow relegation candidates to come while Bournemouth also only play 2 of the current top 6 for the remainder of the season. That means that their fate is very much in their own hands.
Keeping the likes of Dominic Solanke and Philip Billiing fit will be crucial for Bournemouth. They haven't won a game this season in which both players haven't started and in those same matches they scored just once when their main attacking threats haven't been on the pitch. Without significant squad depth, Gary O'Neil will have to hope that injuries and suspensions don't become a defining factor.
Bournemouth have been tough to beat at home this season, conceding just 16 goals at the Vitality Stadium (a defensive record at home that is better than Arsenal's) with 11 of those coming against the current top 4 sides in the league. 4 of their 7 fixtures in April will be played at home and will include a weakened Fulham side due to suspension, a Brighton team with one eye on the FA Cup and then West Ham and Leeds.
That runs of games probably represents the Cherries best chance of getting some momentum going and if Gary O'Neil can steer his side clear of relegation then he deserves to be manager of the season in my opinion.

Southampton took a risk in investing almost purely in young, untried players at this level and to date, it looks likely that the strategy will back fire.
That being said, the Saints, like so many on this list, refuse to fade quietly away to the Championship. Of the other relegation candidates, only Wolves have won more points since the half way point of the season while new manager Ruben Selles has delivered a win against Chelsea and claimed points against Man United and Spurs since taking over.
Unfortuantely, the games don't get any easier in April with Southampton playing Man City, Arsenal and Newcastle next month. Any points extracted from those games will be a bonus and it's the games sandwiched in between those fixtures against West Ham, Palace and Bournemouth that will be crucial if Selles is to pull off the great escape.
Equally, the Saints home form has been atrocious this season with just 2 wins and 10 points overall. By contrast, they've somehow managed to win 4 matches on the road despite scoring only 9 goals away from home all season.
In fact, scoring as a whole has been a problem for Southampton this season. Top scorer James Ward-Prowse (7 goals) can't bail them out from dead ball situations in every match meaning that a player like Che Adams is going to have to find the kind of scoring form that has alluded him throughout his career to date if Southampton are to fire their way to safety.
---
Predict and Win
A simple game to finish with, simply predict which 3 sides will be relegated and what their final positions will be and win 10 HIVE.
You'll score 1 point for correctly predicting a team that gets relegated or 3 points if you correctly predict their final position (highest possible score = 9 points). The person with the highest score at the end of the season wins. If there is a tie the prize will be split. Entries must be made by the end of March 2023. 1 entry per person.
All you need to do is comment below using the following format to pick your bottom 3 and their final league position
Example comment
18th Everton
19th West Ham
20th Southampton
Good luck!
---
---