[ESP -ENG] Useful organizer made with scrap materials.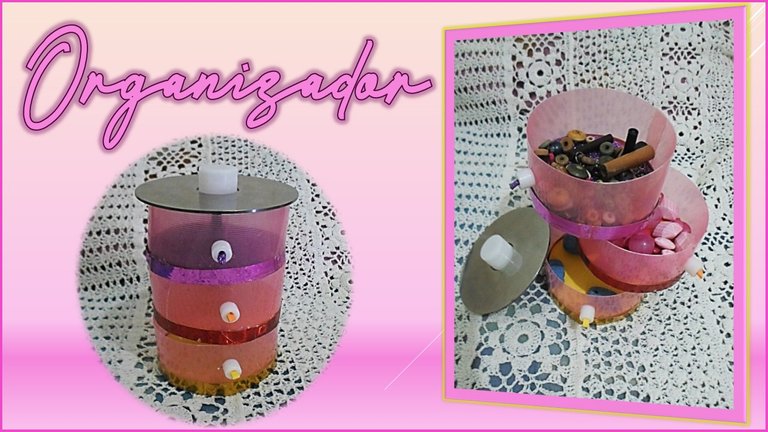 Saludos para todos en #hivediy, quiero compartir con ustedes un organizador que elabore, para recoger algunas cuentas que tenía regadas y mescladas, que decidí organizar aprovechando que tengo un poco de tiempo en casa, porque cuando comience a trabajar les aseguro que el tiempo no me alcanza jaja.
A continuación, les mostrare los materiales que utilice y paso a paso como fui elaborando este practico organizador.


Greetings to everyone in #hivediy, I want to share with you an organizer that I made, to collect some beads that I had scattered and mixed, I decided to organize taking advantage that I have a little time at home, because when I start working I assure you that time is not enough haha.
Next, I will show you the materials I used and step by step how I made this practical organizer.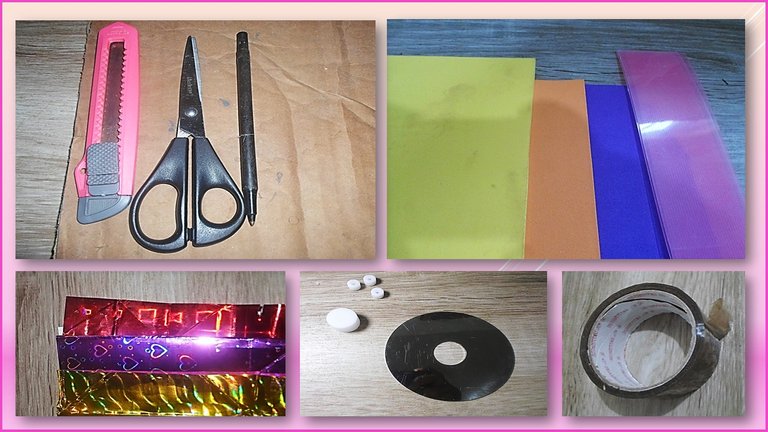 Cartón
Papel de colores de bolsas de regalo rojo, amarillo y rosado
Foami amarillo, naranja y morado
3 láminas de plástico flexible
3 cuentas cuadradas
1 tapa pequeña de un pote de peróxido
1 disco de metal
lápiz
1 bolígrafo
Tijeras
Cuchilla para maqueta
tirro


Cardboard
Colored paper from red, yellow and pink gift bags.
Yellow, orange and purple Foami
3 flexible plastic sheets
3 square beads
1 small lid of a peroxide jar
1 metal disk
pencil
1 ballpoint pen
Scissors
model knife
strap
.
.
.
.


Para comenzar, usando el disco metálico de guía, marqué en el cartón 3 círculos con un bolígrafo negro, manteniéndolo pegado al borde exterior del disco para lograr unos círculos lo más parecido posible para luego recortarlos con las tijeras y obtener lo que serían las bases de cada piso del organizador.


To begin, using the metal disk as a guide, I marked 3 circles on the cardboard with a black pen, keeping it glued to the outer edge of the disk to achieve circles as similar as possible and then cut them out with the scissors to obtain what would be the bases of each floor of the organizer.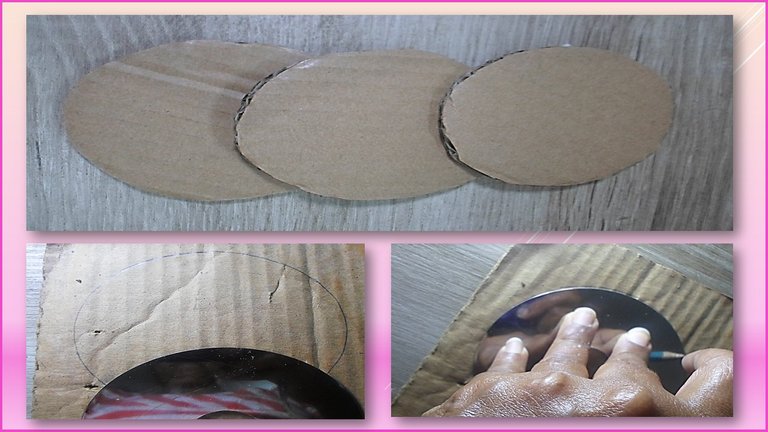 Repetí el mismo proceso con el disco, pero esta vez sobre los papeles foami para poder adornar los círculos de cartones ya creados usando estos papeles foami de colores.
I repeated the same process with the disk, but this time on the foami papers to be able to decorate the cardboard circles already created using these colored foami papers.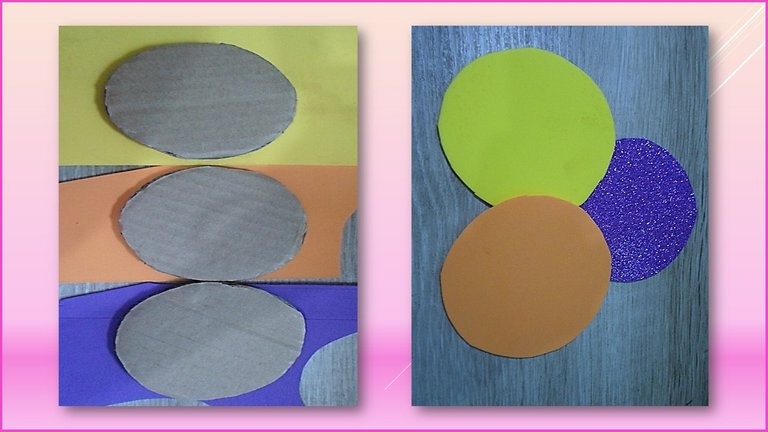 Con ayuda de la regla hice una marca a 1cm del borde del circulo de cartón para después con ayuda de un lápiz perforé en donde hice la marca
With the help of the ruler I made a mark 1cm from the edge of the cardboard circle and then with the help of a pencil I perforated where I made the mark.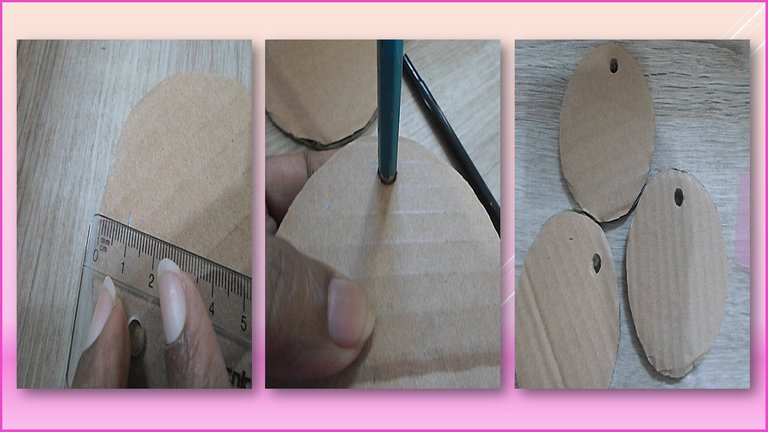 A continuación, abrí los orificios por donde pasaría el bolígrafo, para los cartones usé un lápiz mientras que, para los foami usé las tijeras.
Next, I opened the holes where the pen would go through, for the cardboard I used a pencil while, for the foami I used the scissors.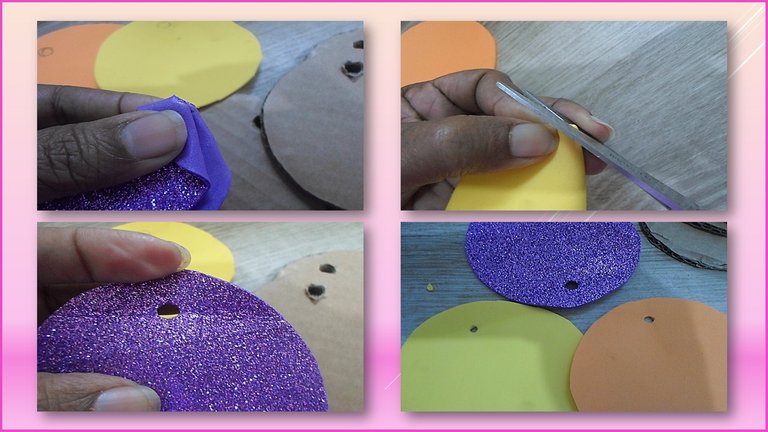 Usando el silicón líquido, uní cada circulo de cartón con su respectivo círculo de papel foami para ya culminar con las bases del organizador
Using the liquid silicone, I joined each cardboard circle with its respective circle of foami paper to finish with the bases of the organizer.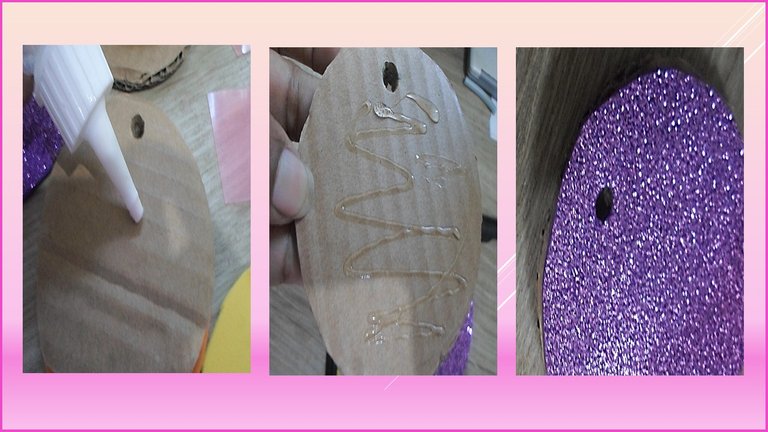 En el caso de los bordes, utilicé unas láminas de 31 cm de largo y 4 cm de ancho que me habían quedado de otro proyecto, las cuales uní a la base usando el silicón en barra y unas láminas de plástico, teniendo mucho cuidado, tanto de no quemar las láminas, como de no arruinar la base
In the case of the borders, I used some 31 cm long and 4 cm wide sheets that I had left over from another project, which I attached to the base using the silicone stick and some plastic sheets, being very careful not to burn the sheets and not to ruin the base.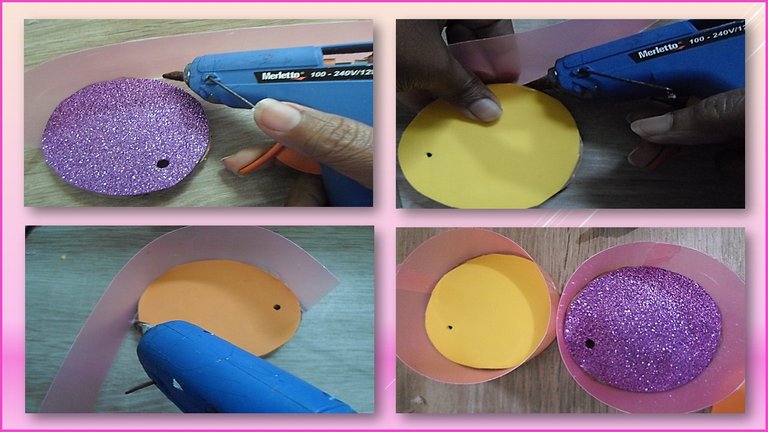 Con las bases ya creadas, me dispuse a realizar el soporte del organizador, para eso dispondré de otro bolígrafo, a diferencia del que usé para marcar los círculos, este ya tenía la tinta demasiado seca y por más que le daba, no escribía así que lo desarmé, y con el bisturí le corté un pedazo para que sirviera de soporte
With the bases already created, I decided to make the organizer support, for that I will have another pen, unlike the one I used to mark the circles, this one already had the ink too dry and no matter how much I gave it, it did not write so I took it apart, and with the scalpel I cut a piece to serve as support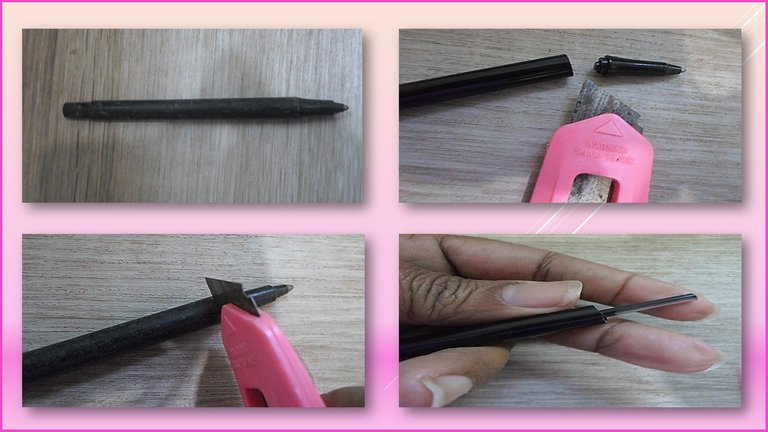 Posteriormente, uní cada pieza haciéndolas pasar por el bolígrafo para así tener ensamblado el organizador.
Later, I joined each piece making them pass through the pen to have the organizer assembled.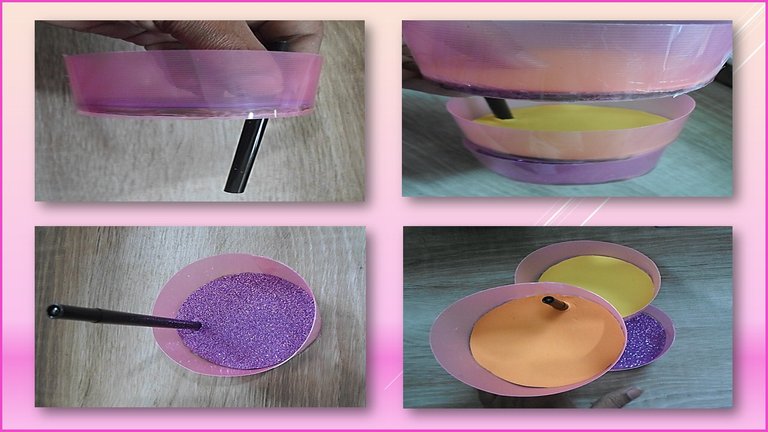 Para darle detalles y que se viera bonito, piqué unos papeles de regalo usando las tijeras y esta vez con el silicón líquido, los pegué al organizador, teniendo cuidado de que aún se pudieran abrir y cerrar el piso inferior del organizador sin dañar el papel regalo
To give it details and to make it look nice, I cut some gift wrapping paper using the scissors and this time with the liquid silicone, I glued them to the organizer, taking care that they could still open and close the bottom floor of the organizer without damaging the gift wrapping paper.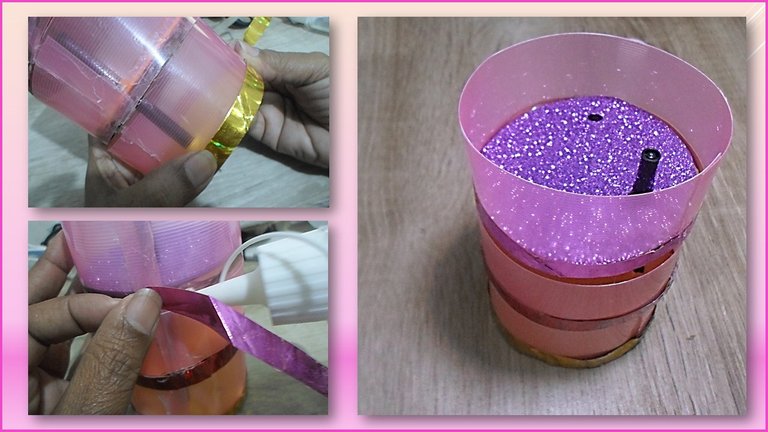 Como detalle final, usaré el disco que tanto sirvió de guía, una tapita, y 3 cuentas blancas, así como un poco del sobrante de los papeles foami. Utilicé un tirro transparente en el centro del disco para poder pegar la tapita con el silicón liquido sin que pase para el otro lado, así quedo este disco convertirlo en la tapa de mi organizador. Con las tijeras piqué los excedentes de papel foami para obtener pequeñas tiritas de colores, las cuales introduje en su respectiva cuenta, y con ayuda del silicón de barra los adherí al organizador y con esto ya pude dar por finalizada mi organizador.
As a final detail, I will use the disk that served as a guide, a cap, and 3 white beads, as well as some of the leftover foami paper. I used a transparent strip in the center of the disk to be able to glue the lid with the liquid silicone without it going through to the other side, so this disk became the lid of my organizer. With the scissors I cut the excess foami paper to obtain small colored strips, which I introduced in their respective beads, and with the help of the silicone stick I adhered them to the organizer and with this I could finish my organizer.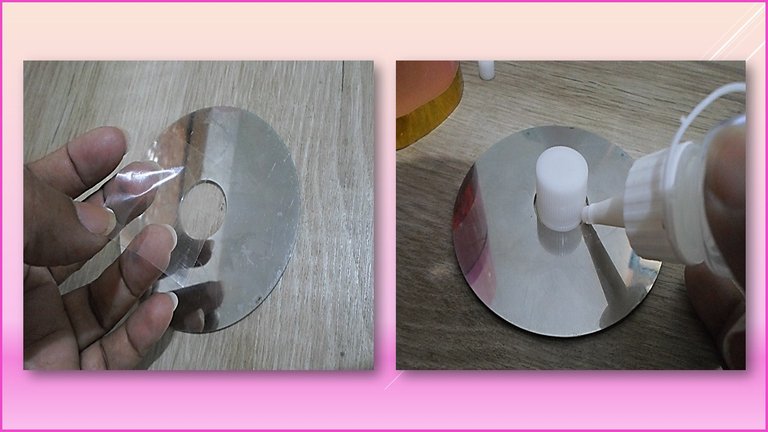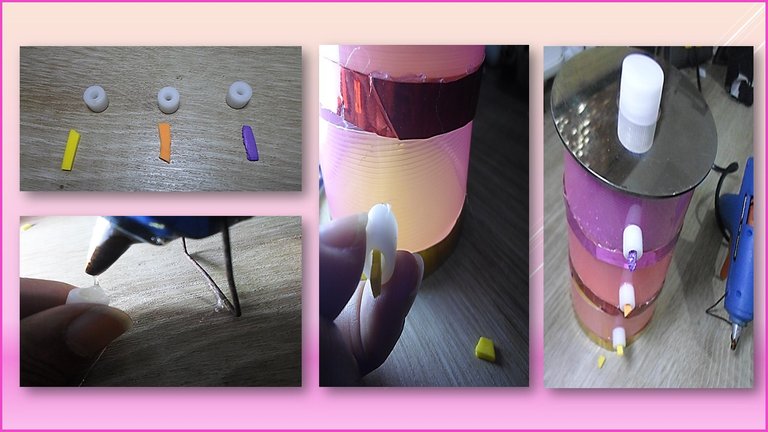 Aquí les muestro como quedó el organizador una vez termi
Here I show you how the organizer looked like once it was finished.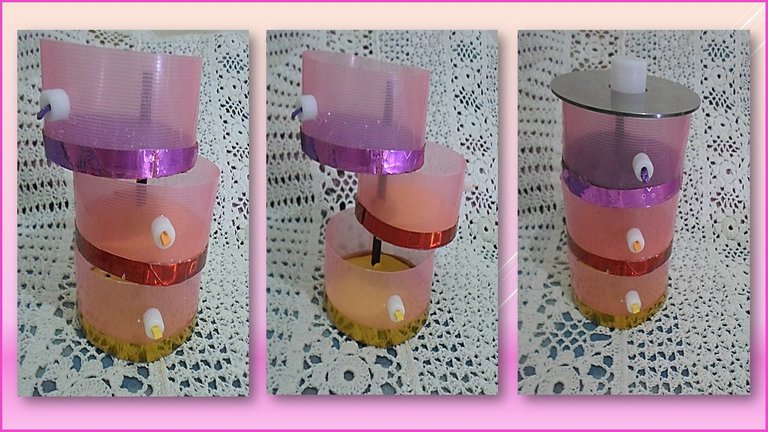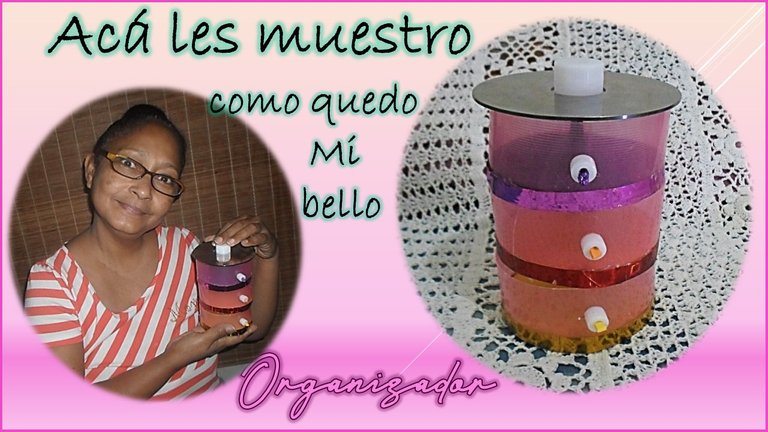 Este organizador me será útil para mantener mis cosas un poco más en orden, espero que les haya gustado y que pasen un buen día
Chaito
This organizer will be useful to keep my things a little more in order, I hope you liked it and have a nice day!
Bye


The photos were taken with a SAMSUNG F2.5 camera
Google Translate was used
Dividers made in Microsoft Power Point.
---
---