5 Reason Why Hive Will Hit $100
This was an amazing week of conversation regarding Hive. Combined, these put the future of this ecosystem in a much different light. The potential that exists before us is legitimate. What can be accomplished might be legendary.
It is a much different viewpoint than Hive being an overlooked blogging network. Anyone who believes that is all we have is missing the majority of what is being constructed. Many seem to think the future resides with better known chains. The reality is that Hive's future is brighter than most..
In this article we are going to give a number of reasons why the Hive coin is going to explode over the next few years. While we have no idea when this will happen, the long-term outlook is in alignment with this forecast. Certainly markets are their own beings, which is why we often discuss value and not price. Nevertheless, eventually the value created aligns with market thinking.
The conversation on Cryptomaniacs with Blocktrades and on Spaces with theycallmedan really shed light on the subject.
Therefore, here are the 5 Reasons Why Hive Will Hit $100.
1. Technology
Many like to point out the best technology doesn't always win. That is true and the classic example is beta versus VHS. The former was the better tech yet the latter won. Of course, this is not always the case as evidenced by Google in search.
That said, Hive is lapping the field when it comes to technology. Anyone who knows Blocktrades understands that he is not one to make over the top statements. If anything, he understates the situation regarding what is being done.
In spite of this, he was clear that Hive stands in terms of the technology being offered. Nothing in the world of blockchain is close to what we have accomplished. When it comes to having a better mousetrap, Hive is the best.
Here are a few things that sets Hive apart.
One Block Irreversibility - settlement times are now around 1.6 seconds
Hive Application Framework (HAF) - allows any developer to establish databases using most popular coding languages
50% reduction in the size of the blockchain data
the ability to move from 64 kb blocks to 2 MB (roughly 2 novels worth of data every 3 seconds)
Clean base layer with only basic operations on chain
Considering that Ethereum spent years putting together Merge, which switched them to a proof-of-stake system, we can see how far ahead Hive is. This was done to enable the blockchain to scale yet ended up creating enormous centralization problems.
A lot of Hive's future technical work can be done without hard forks. All this leads to a leaner blockchain which means it is not only more efficiency but less costly to run.
2. Decentralized Finance (DeF)
If not Hive then who?
How can you have decentralized finance is the base layer is under the control of a few individuals? This is something that we discuss on a regular basis. The events of the last couple weeks make this even more important.
Ethereum is getting a lot of attention for the flaws in coin voting with PoS system. Since the largest stakeholders have the greatest chance of block production, the network ends up in the hands of those one or two entities.
This is not the case with Hive. Here is a list of the top payouts to Hive witnesses block producers (Witnesses).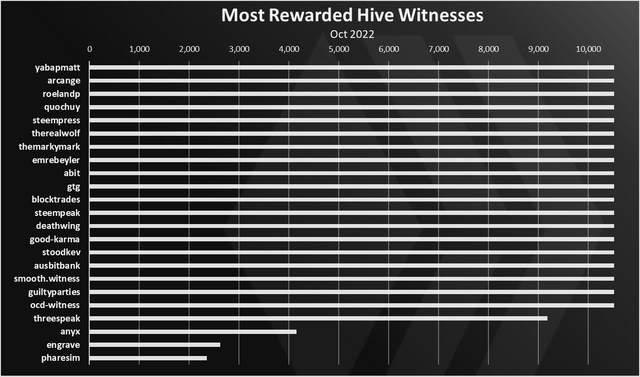 Source
With Hive's Delegated Proof-of-Stake, even though each has a different amount of stake voting for them, 19 received the same exact payout. No one entity is able to control the network. Almost all of the consensus witnesses produced the same number of blocks.
This is crucial for DeFi. Many discuss this concept yet, as we recently learned, the centralization within cryptocurrency is overwhelming. Decentralized Finance became a marketing terms since there was very little of it.
Hive can offer this. We are dealing with a couple options at the base layer. At the same time, we are seeing the construction of some layer 2 node systems that are replicating Hive. This means that they decentralized architecture will reside there, providing the infrastructure for DeFi. We already have the Decentralized Hive Fund (DHF) which incorporates the DAO concept. We could see this built on the layer 2 node system to provide DeFi in the way most talk about.
It is impossible to build DeFi on a centralized base layer. No matter what the application looks like, the underlying transactions can be altered.
With Hive, this is not the case.
3. Scaling A Decentralized Database
This is part of the technology that was referred to above. That said, it deserves its own category.
How much can the blockhcain grow? This is something that is questioned all the time. When we look at Bitcoin, we see the obvious limitations. In fact, that network is so constrained the entire premise of the Lightning Network is to move the transactions from the base to a second layer. This is the opposite of what should happen which means it could encounter other issues.
With Hive, we have a great deal more upside in terms of the amount of data that can go on-chain. This is important since the database is different from most other blockchains.
When we look at Bitcoin, we see data that is similar to a bank. It is nothing more than transactions, moving from one address to another. With Hive, the ledger is actually immutable text. This is why we can post articles and comments at the base layer.
This makes Hive a true decentralized database, providing more than just financial transactions. Obviously, this makes the ability to scale even more important.
The discussion surrounding censorship and people having their "voices" silenced brings this to the forefront. Whatever is posted on the Hive blockchain is there. Anyone who has enough resource credits is able to generate a database containing whatever information is desired.
Fortunately, we are not close to the maximum limit on this. At the same time, the system is running without smart contracts which not only can be a security threat but also bog down the entire operation. When each node has to run all smart contracts, we can easily envision the loss of efficiency. This also leads to greater cost.
This leads the processing power being mostly used to store text data. From a scalability standpoint, this provides more upside. Plus, we are also operating under Moore's Law in the fact we can benefit from the advancements of hardware over time. The intention is to design the system in such a way that someone can run a node out of the house if that is desired.
Try doing that with an Ethereum node.
For this reason, we could build Wikipedia or databases similar to that on Hive.
4. Hive Backed Dollar (HBD)
Something that is overlooked by most is the fact that Hive has two native coins. The Hive Backed Dollar (HBD) provides the potential to enhance the value of the entire ecosystem through the network effort of the simply currency usage.
We are already seeing derivatives of HBD being placed on other blockchains. This is an important feature since it is tied back to the base layer. Also, as other tentacles are created such as bonds, we can see how the demand for this coin will increase.
Hive has a stablecoin that all applications or games can integrate. At the same time, work is being done to build out DEX and liquidity pools so that we are not dependent upon centralized exchanges. We will cover the potential of HBD as a top stablecoin in an upcoming article. The key point for the moment is that Hive has a transactional token built into the base layer.
That means any other token tied to the ecosystem, including the $HIVE coin, can be used for value capture.
The stablecoin market is filled with projects that are built on certain blockchains, not native to one. Thus, any value accrued by the network effects of any single coin does not filter to the blockchain.
With Hive, HBD is part of the native code. Hence, any value created is captured by the ecosystem.
5. Everything App
This is being made famous by Elon and his recent efforts with Twitter.
Some question whether he will accomplish what he is claiming. The reality is that Musk has a vision to make Twitter the largest financial institutions in the world. That is the level of his thinking.
It is easy to scoff at this yet it is a plan he laid out 20 years ago. His background with PayPal also means he is not in completely foreign waters. He understands the payment game and probably a lot more than that.
At the end of the day, Twitter is a centralized database with front end. Regardless of what is added, everything will still feed into that back end they control.
Hive is the exact opposite. We have a decentralized database with the ability to have many different front ends. Each can incorporate any feature offered at the base layer. This means that Hive, in totality, can become the "Everything App" Elon refers to. The difference is we can do this in a decentralized manner.
Whatever is offered on Twitter will be accessible through there. Here is where the main problem resides. While the company might be hesitant to close down accounts, the fact remains it can.
Here is where the concept of "Sign in with Hive" enters.
Any application or feature tied to this ecosystem allows people to sign with using their Hive account. This is something that is not controlled by a company but, rather, the individual owner. One of the main premises of Web 3.0 is true account ownership.
Elon's creation, no matter how successful, will still be Web 2.0. That is the world he operates within and that isn't going to change. Control will not be ceded.
Hive's foundation is the exact opposite. We are building with the intention of nobody being in charge. The financial aspects tied to Hive, along with the construction of the second layer, all follow this model. Even with one's HBD in savings, the only counterparty risk is the blockchain itself.
Over the last year, we discussed ideas pertaining to the addition of more financial features. This is in keeping with the idea that social media and finance will not be separate entities going forward. The only question is whether they will be centralized or not.
With Hive, we know which direction we are concentrating.
In Conclusion
This analysis and the forecast made is based upon a bottom up approach. With most things regarding Hive, it is not sexy. There is also no hype.
The price of $HIVE hitting $100 comes from the idea that continued development in all areas is crucial. This is one of the things that makes Hive stand out. As the industry is being exposed for its nonsensical behavior, Hive keeps plugging along.
We are seeing advancement in video, microblogging, infrastructure, and finance. The foundation is slowly being put into place that will allow many of the feature long talked about to actually operate on Hive.
It is easy to scoff at the ideas put forth in here. However, someone is going to provide the solutions that are being sought. Few blockchains have the technical capabilities along with the decentralized nature to withstand the push towards regulation. That is going to open up much of the industry to a variety of nightmares that will further stifle the progress.
Hive has none of this. Due to the approach, we are operating at a much slower pace. This is common when there is no venture capital money rolling in. Nevertheless, this ends up being an advantage since we are not beholden to them either.
$100 when the price is trading at 33 cents? When we look at the growth on a long-term basis, we can see how yes, a 300x is possible.
After all, a 300x in the daily users would only put us at 3 million. Even in the world of social media, that is nothing.
---
If you found this article informative, please give an upvote and rehive.

gif by @doze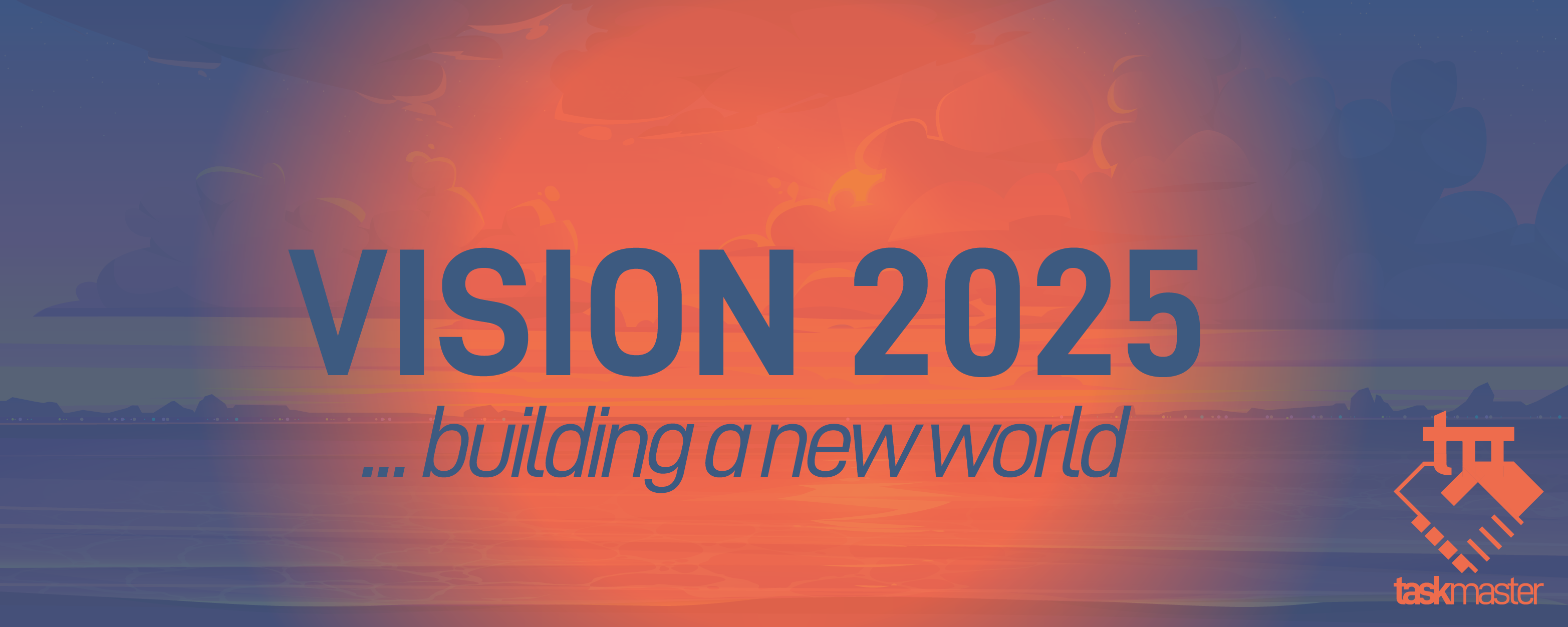 logo by @st8z
---
---