Hivestats: An Application All On Hive Should Know About
There are some wonderful tools that we often overlook. One of them is Hivestats. It makes sense since that was an application that was not getting a love from the development team. However, that changed with a most recent upgrade as a result of hiring a developer who is focusing upon it.
Dashboards can be very helpful especially for those looking to maximize their activities on Hive. Even though this is put out by the Leofinance team, it is an application that reads both Hive and Hive-Engine, compiling data.
Many love to dig into their numbers. For this reason, creating a dashboard full of all relevant information is helpful.
There was an article posted by the Leofinance account which quickly explains the updates. We will cover some of them here along with the other important features.
New Additions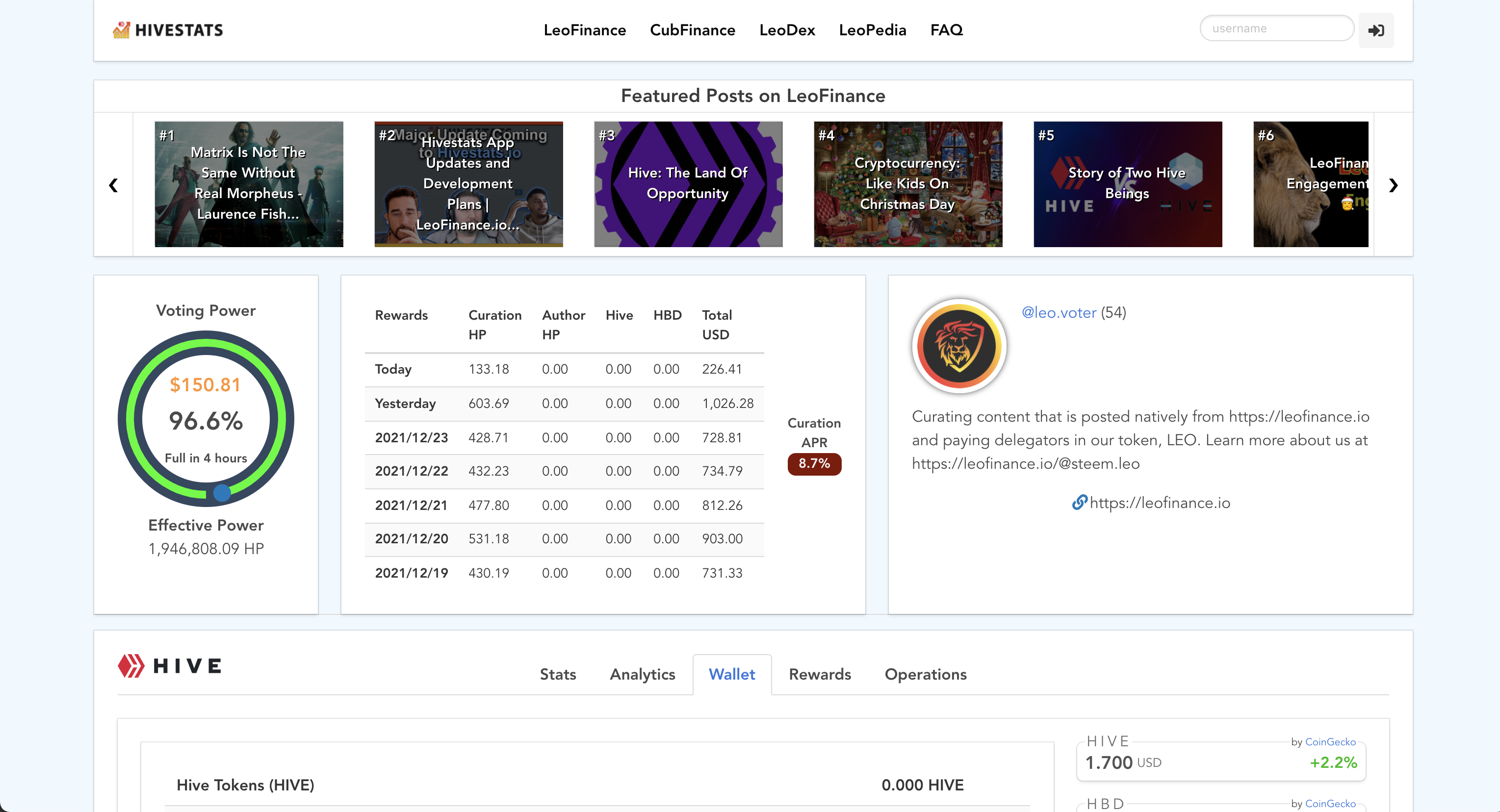 As we can see, there is a feature bar showing the trending posts on Leofinance.io. This is exclusive to that front end, making people aware of what is on that site at the moment. People can quickly scroll through to find the articles that interests them.
Another helpful addition is the price feed of HIVE, HBD, LEO, and CUB. These are the tokens associated with Leofinance so it makes sense. There are also a couple of APY from the Kingdoms added.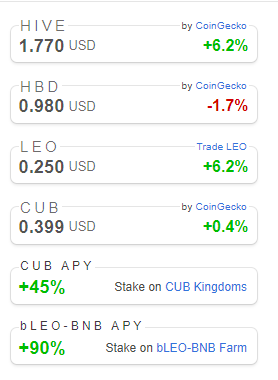 The price keeps updating so instead of heading to Coingecko or CMC multiple times per day to check the price of HIVE, we can do it right on Hivestats.
Now, before looking ahead, we should focus upon a few items that are available presently.
Existing Features
The first thing that jumps out is the payouts in Hive and HBD from posting as well as curation. This account that was used as an example did not do much posting but we see the rewards that are attributed to the account.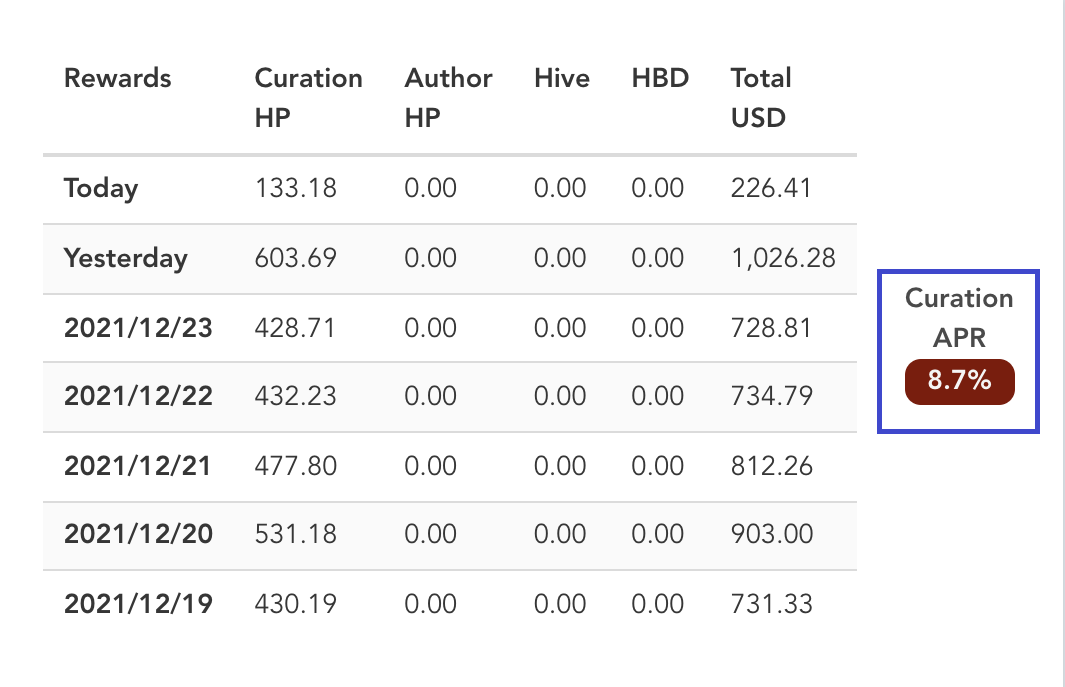 Another piece of handy information is the APR on the curating activities. This account is able to generate an 8.7% annual return based upon how it is curated. Not bad for doling out upvotes.
Many a putting forth great effort into their Hive-Engine activities. Hivestats is a great tool in that one can easily read what they are holding. Here is what that looks like.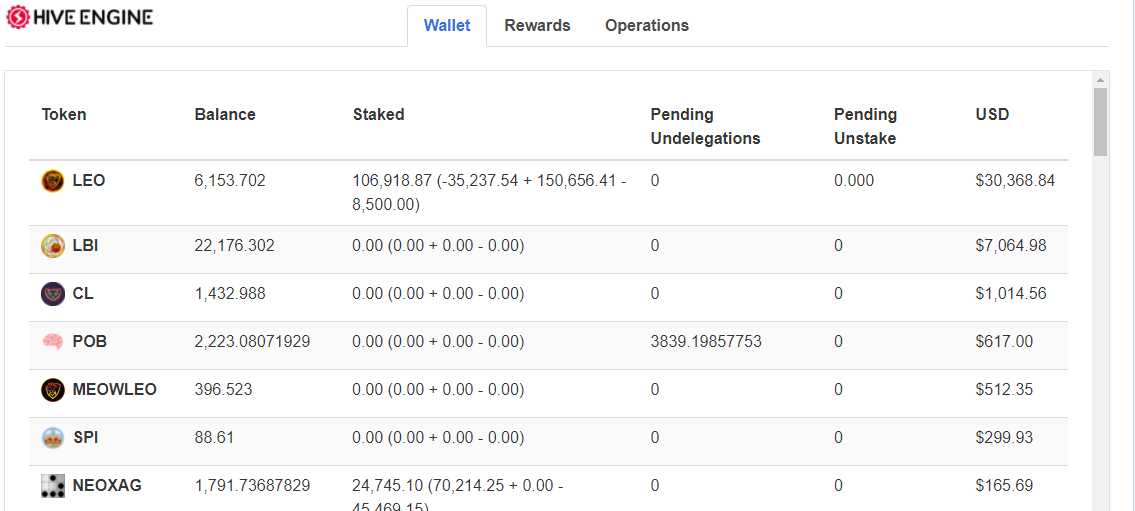 Keeping the same focus, we see the option, under the "Rewards" tab, to view our Leofinance efforts, in both LEO and Hive.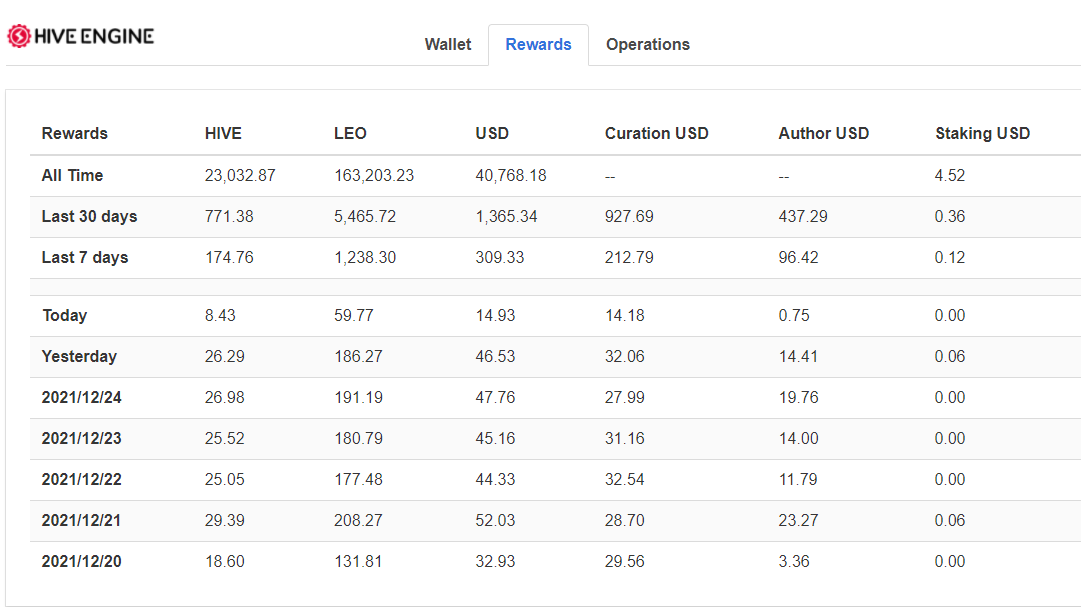 Finally, we are also able to see what operations took place.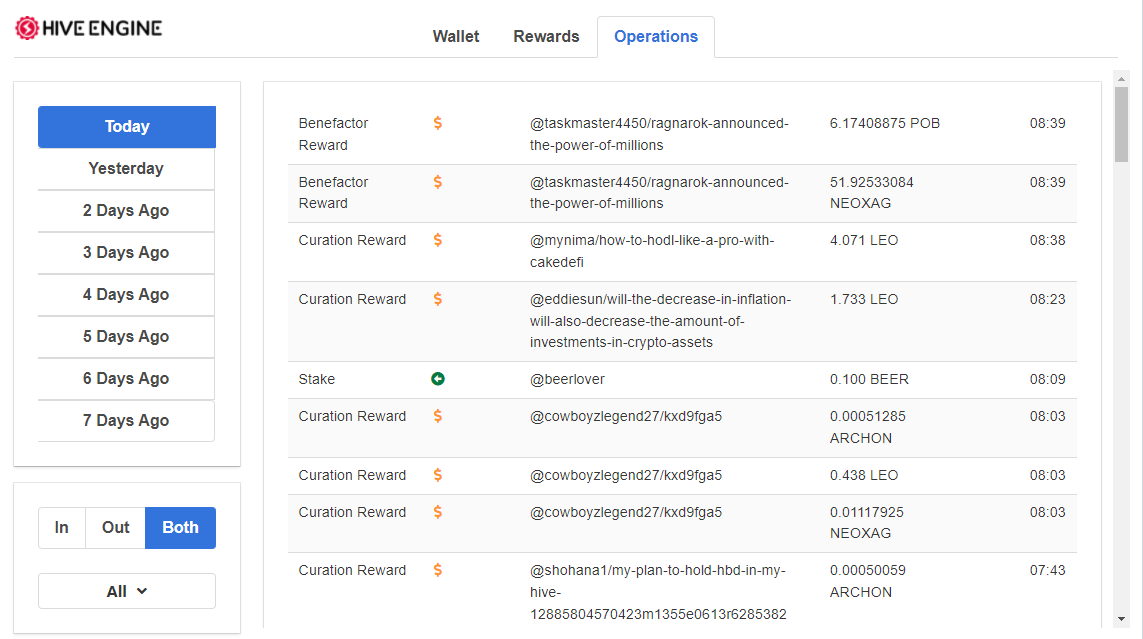 The key here is that users are able to select an individual day over the past week and target their activity. This is rather unique and helps if one is looking for a particular transaction. Many of the front ends requiring scrolling through from present moment. It is helpful since it is focused upon the Hive-Engine activity.
Did you ever wonder what Hive rewards are slated to come in? We have a way to view that under one tab also.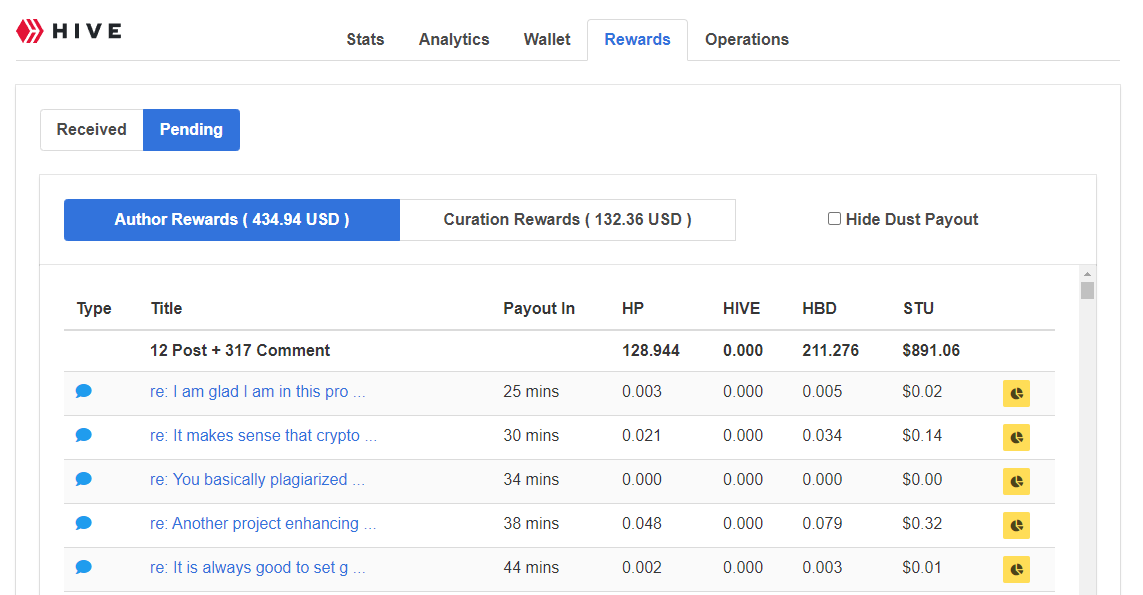 And finally, perhaps you seen some of these type of charts posted in people's articles. It shows the progression of Hive throughout the week or month.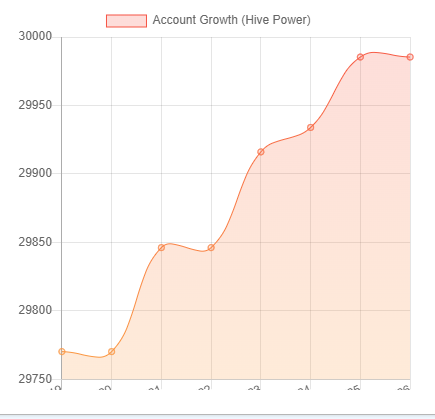 As we can see, the is a lot of information being pulled by this application. It is a handy tool to help us to understand what is taking place in regards to our activity on Hive. The fact that we can see both Hive and Hive-Engine based data is of great help.
Looking Forward
The team did not release a great deal of information. However, from their article there was something that was very interesting.
One of the next major display updates will feature an "Opportunities Tab" for various staking opportunities on the Hive blockchain. Namely, HBD savings which have recently been updated to a 12% APY.
This could be extremely helpful. If we can see what "Opportunities" are available on Hive, considering they keep expanding. it would be of great help. For example, many were not aware of the interest paid for putting HBD into savings until some mentioned the increase in rate.
We also see this:
We're adding HBD toggles and displays to the Wallet, Rewards, Analytics and new Opportunities displays to help everyone take advantage of all the new opportunities that are available today and in the future on the Hive blockchain.
A major problem with expansion is that it is easy to lose what is taking place. Nobody can keep track of it all. Having an application that has this as part of it would be of great help.
The team is obviously placing renewed emphasis on this application. In the article, they asked the community for ideas pertaining to what it would like to see. So, if you have any idea, head over to that post and drop them in the comment section.
Here we see another development that can enhance the experience people have on Hive.
Have you used Hivestats yet? What is your experience with it. Let us know in the comments below.
---
If you found this article informative, please give an upvote and rehive.

gif by @doze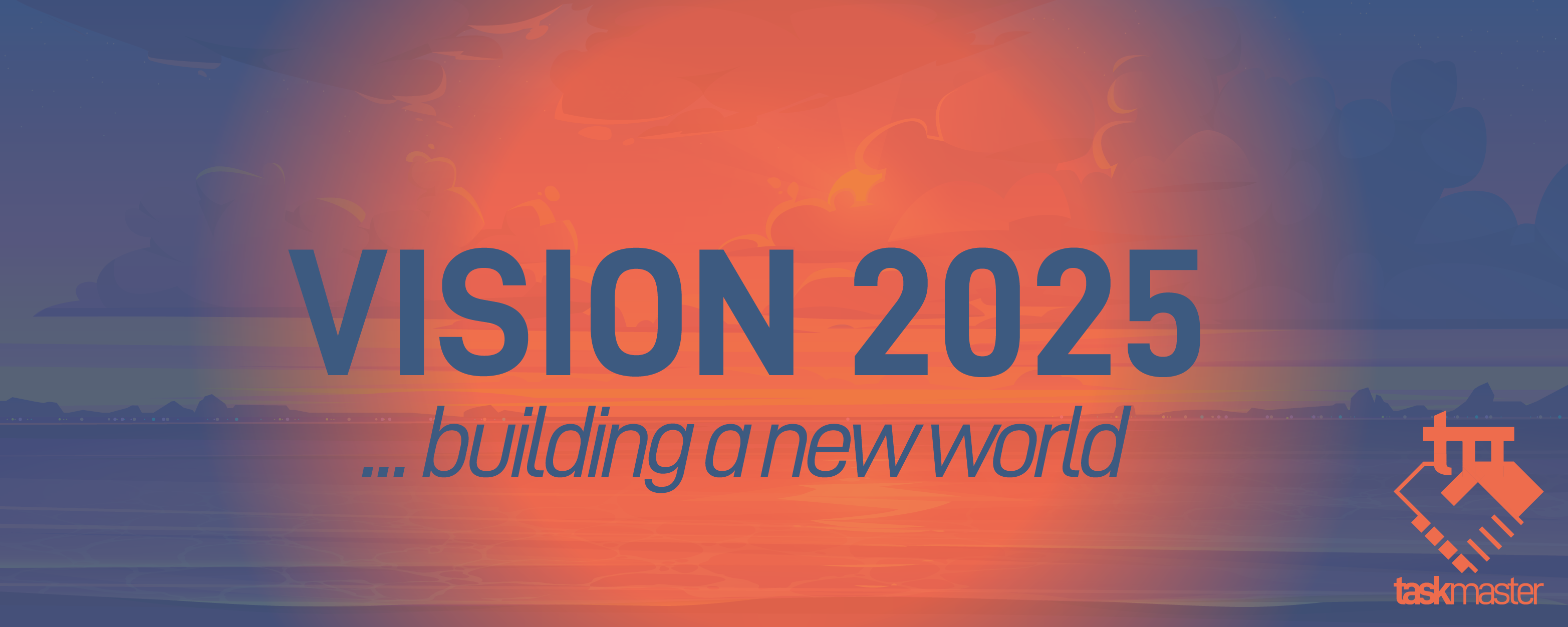 logo by @st8z
Posted Using LeoFinance Beta
---
---