Twitter, Nigeria, and 320 Million Cryptocurrency Users
There is a lot of new floating around that could bode well for Hive. We are seeing things really heating up on many fronts that spells opportunity. Remembering this is a marathon, not a sprint is vital. We are still in the early days which means the next few years could really see some massive growth.
We all know how hype is what garners attention. That said, use case and true utility is what will attract users. With them, comes money along with long term value.
With so much disarray taking place, there is a massive opportunity. Cryptocurrency seems to find itself right in the center of all this. For example, Iran is now using crypto to pay for imports as opposed to the USD or EURO. Elizabeth Warren is going to have a cow over that one.
What we said about the Eurodollar system appears to be true for cryptocurrency. It has the ability to get money where it is needed, when it is needed, no matter the circumstances. Iran shows how this is the case.
All of this equates to expansion. Each layer that we add only strengthens the foundation. The FUD that is continually spread show the potential. If blockchain and cryptocurrency were no threat, they would be ignored.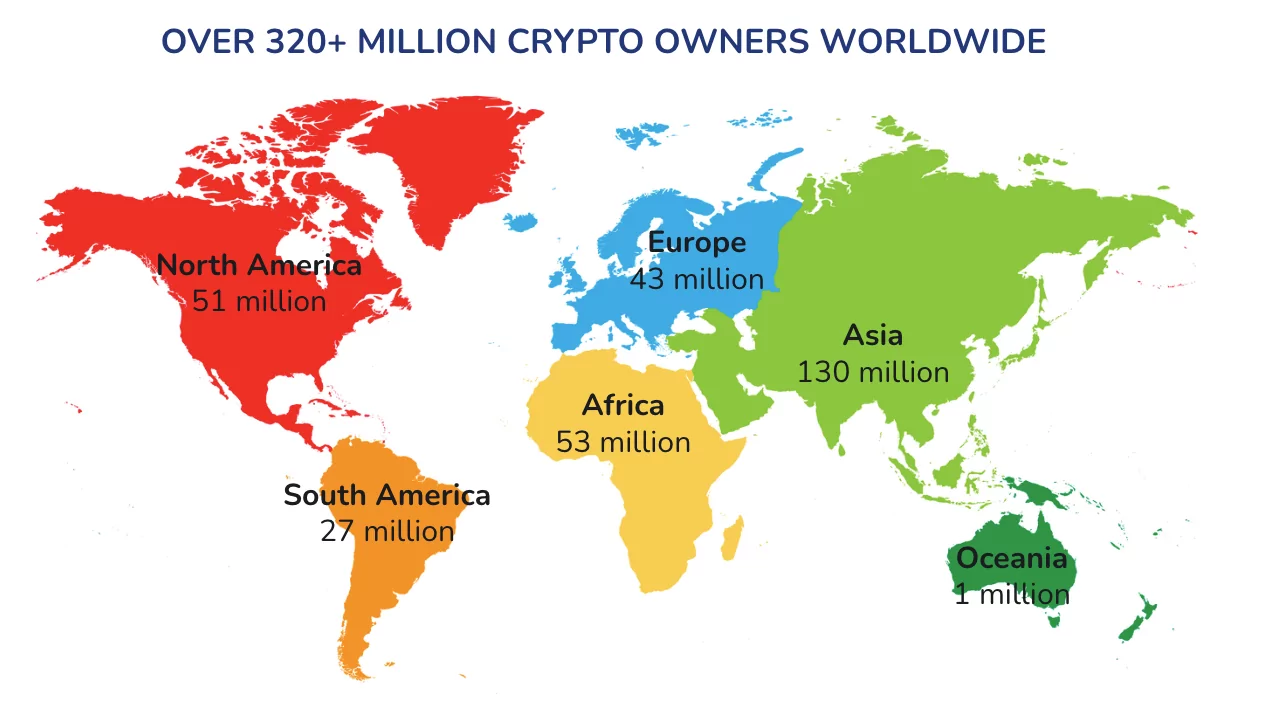 320 Million Users
Triple A, a global crypto payment system, issued a report from studies they did concerning the number of cryptocurrency users globally. They concludes there are 320 million people presently involved in cryptocurrency in come from. This is roughly 4.5% of the total world population.
Here are the top countries in number along with the percentage of the population.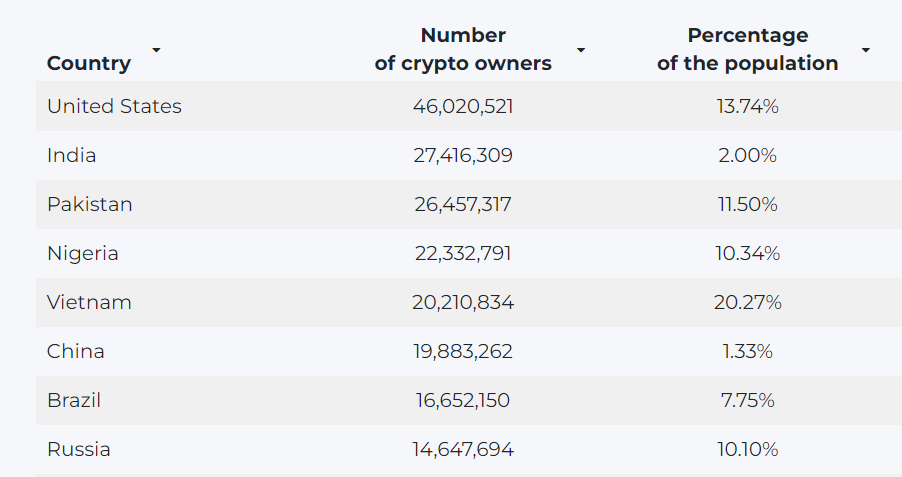 These are some fairly healthy percentages. What is interesting is that a few of the countries at the top of the list are not very crypto friendly. We know China and Russia both took hard stances against this at times. At the same time, India along with Nigeria came out with policies that were not considered crypto-friendly. Nevertheless, these countries all total tens of millions of users.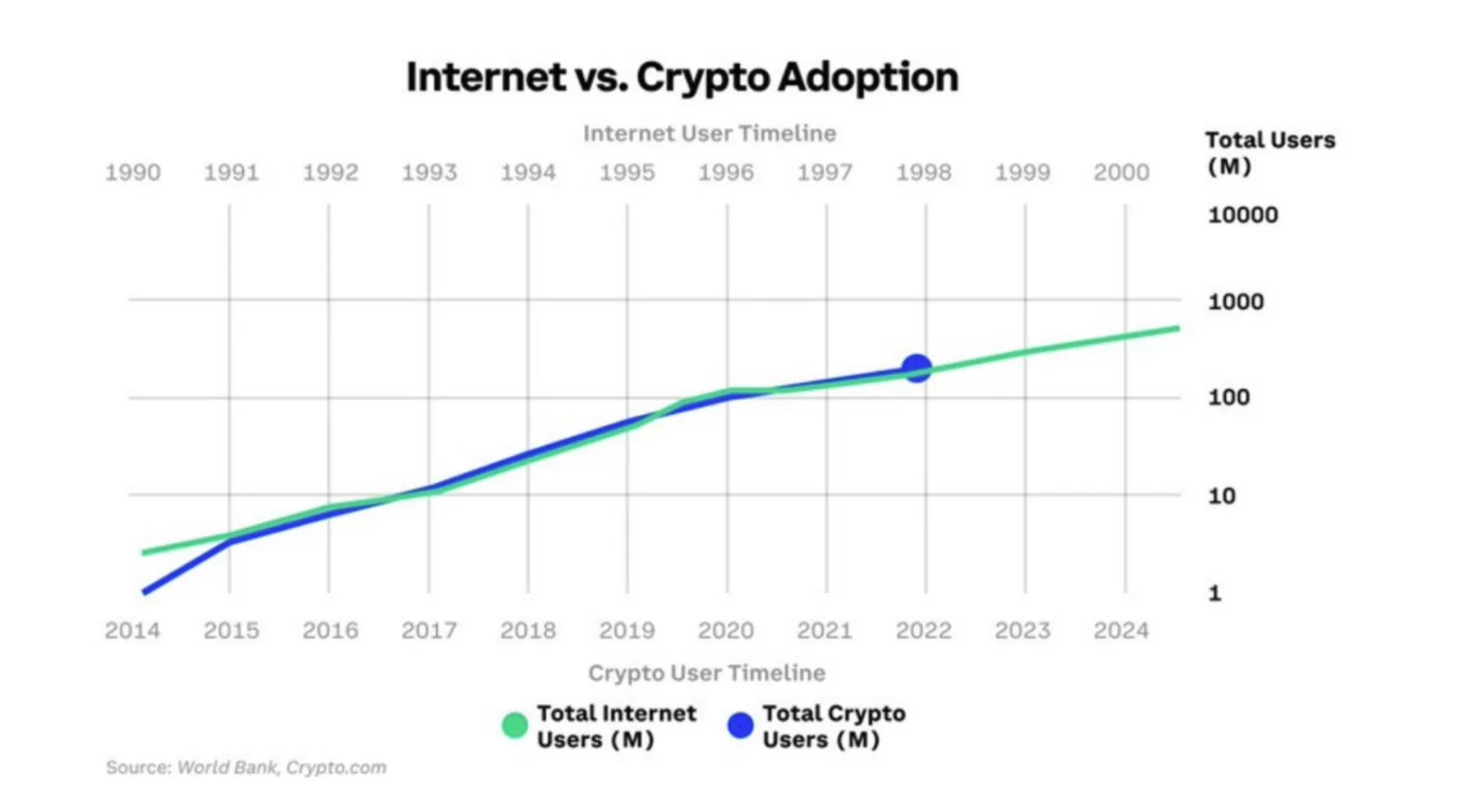 As we can see, according to the numbers from Triple A, the pace of cryptocurrency adoption is mirroring that of the Internet. This is not the first time someone made this statement.
If the pace holds true. we are going to see the number more than double in 2024, putting it over 750 million. We can only imagine what that will mean in some of these top countries where the numbers could explode.
Nigeria, with an estimated 22 million users, accounts for more than 40% of the total for Africa. This is helpful to Hive since there is a strong Nigerian community on that blockchain. Expanding in this area would be of great benefit since that country has a lot of young people who could benefit from the applications being developed. Proof-of-Brain can be a powerful mechanism for coin and token distribution.
Elon Musk And Twitter
By now all heard about the Twitter whistleblower. It seems Elon Musk might not have been full of hot air, at least on this one. Twitter has a major bot problem, something more users of the platform were aware of.
This is providing Musk with more ammunition to cancel the offer to purchase the company. It is an ongoing legal battle which will not end anytime soon.
What is resulting from all this is the name of Twitter is being tarnished. As more emerges publicly about the company's operations, the worse it looks for them. It is typical Web 2.0 stuff yet most of the public is not aware of this. This could be the start of the downfall.
Again, it is not going to happen overnight but is something to be mindful of. In the meantime, it is up to us to provide an alternative.
As was spelled out in The Way Hive Can Replace Twitter, we have a unique opportunity to step in with a much improved system.
Twitter is nothing more than a centralized database with a front end (Twitter.com) that allows people access. This is done through an account management system which provides each user account credentials. All three aspects are controlled by the company resulting in people being able to operate with Twitter's permission.
Hive is a decentralized database. It utilizes a number of front ends to access the information contained on the blockchain. The account management system is part of the base layer, putting it in control of nobody. Anyone who get an account, as long as the private keys are maintained, has access. Engagement is possible if enough resource credits are available.
While we do not know how the situation with Twitter will work out, we do know there is a lot of upheaval. Trust is going to be lost. With Hive, we are starting mostly from a clean slate there.
At the same time, we see the number of people involved in cryptocurrency growing. For the most part, we can guess, the majority of the 320 million approached it from a financial angle. They bought some crypto which is placed in a wallet, hence are a user. They are not really engaged in it.
With Hive, we have the ability to tap into online engagement. Since we can target different social media activities, the type of user can be radically different. Instead of focusing upon investors, we can see out social media users. People can utilize some of the early Web 3.0 applications for this end.
We can expect the numbers of cryptocurrency users grow at a powerful rate over the next half decade. Within 5 years, it is safe to say we will have some form of mainstream adoption. For that reason, the time to position is now.
Hive appears to be doing this. If we keep building out the applications that people will find useful, we can use some of the unique characteristics of the blockchain towards this end.
It is all a process. A marathon is not run in 45 seconds.
Images from article linked
---
If you found this article informative, please give an upvote and rehive.

gif by @doze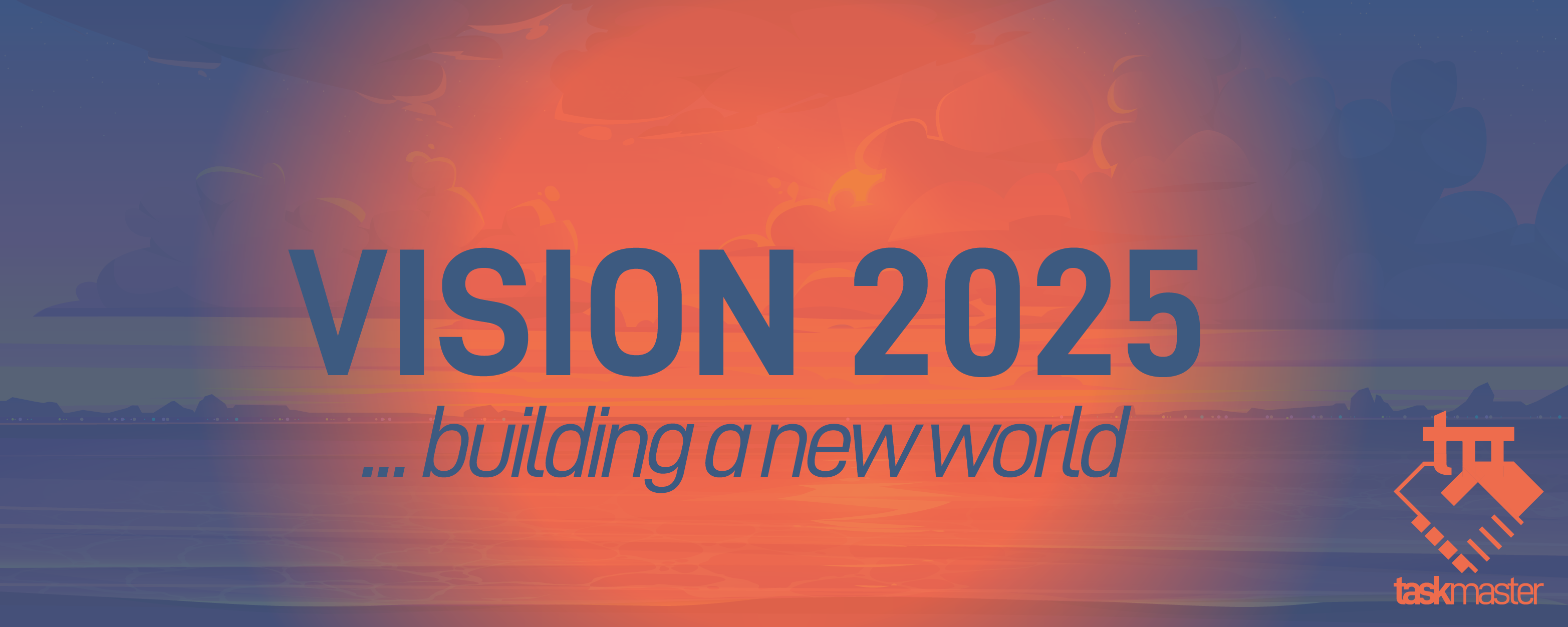 logo by @st8z
Posted Using LeoFinance Beta
---
---