Back down by the Port
Back down by the Port
Its been a while since I shared some shots taken on walks don at the port here in New Bedford, and I do like to mix up what I share, so thought I would do a down at the port post today, to be honest these are not recent shots, I haven't walked by the port for a while of recent I have been doing a lot of walks trying to get shots of birds or walking the trails in the area, so I found these shots I took last year and had not shared in a post as yet.
As Much as I like getting shots of the ships in the port, I sometimes like to get some shots of details on some of the commercial fishing boats so I will start and end this post with just that
Starting with this frame and rolled up fishing net, with some nice subtle sunrise colors in the background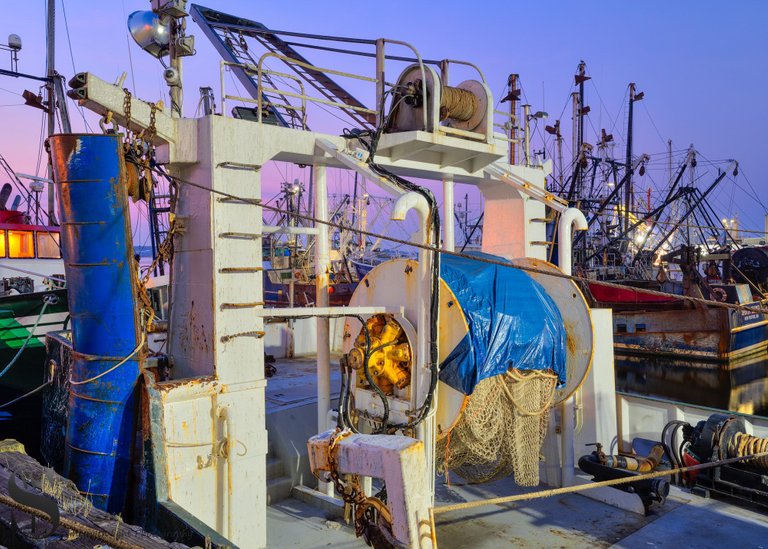 Sony A7iii 28mm F8 2 Sec ISO 100
Click here to view larger



I do plan on doing a visit down to the port soon, I am taking a break from walking the trails after the tree pollen really let my allergies flare up out of control, so since I am taking a break from the trails for a bit, even though I am feeling a lot better I will give it a few more days before venturing onto a trail, and may limit myself to one trail walk a week to start with and see how I cope, so as the sunrise is so early at the moment, a visit to the port after sunrise may be a nice change.
this next shot was early morning and I liked how the long exposure gave a cool feel to the smoke rising behind the ship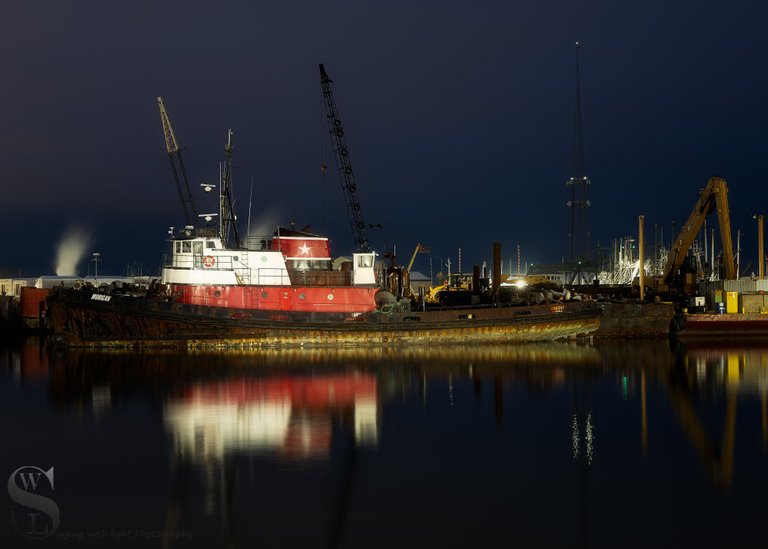 Sony A7iii 52mm F8 30 Sec ISO 100
Click here to view larger



I know I have said the red Boats seem to catch my eye, but blue is still my favorite color along with purple ( not that I have seen a purple ship yet) I had to get a shot of these two boats the K.A.T.E and K.A.T.E II only when preparing the post did I noticed the full stops between the letters I was thinking it came from the Name Kate, but I now wonder is it an abbreviation for something?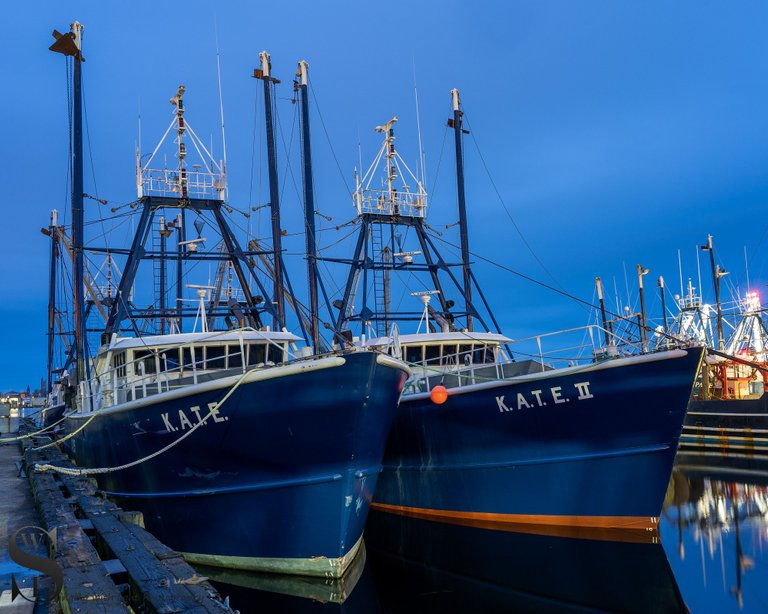 Sony A7iii 28mm F8 20 Sec ISO 100
Click here to view larger



And speaking of the blues, the morning blues with some nice reflections, now you may think the water was so still to get such a long reflection, and yes i was fairly still but the longer exposure time of 20 seconds really flattens out the water in a shot like this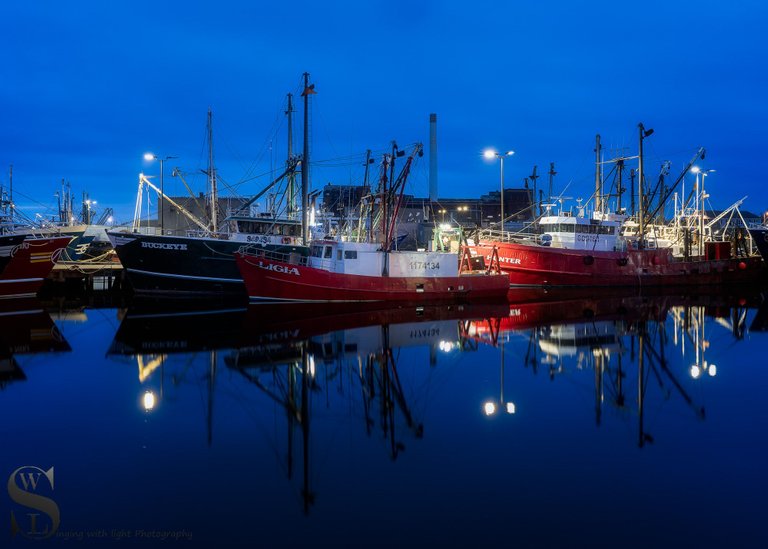 Sony A7iii 28mm F11 6 Sec ISO 125
Click here to view larger



The Rebecca Ann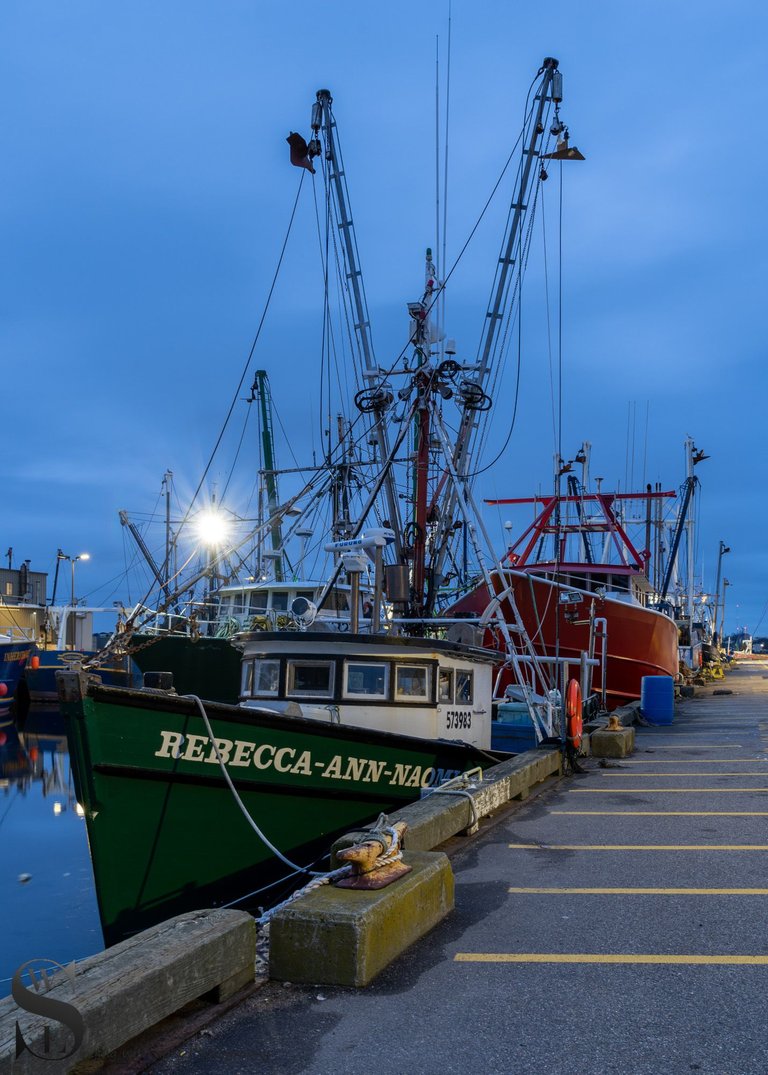 Sony A7iii 28mm F11 4 Sec ISO 100
Click here to view larger



and finishing off with another detail shot of this pulley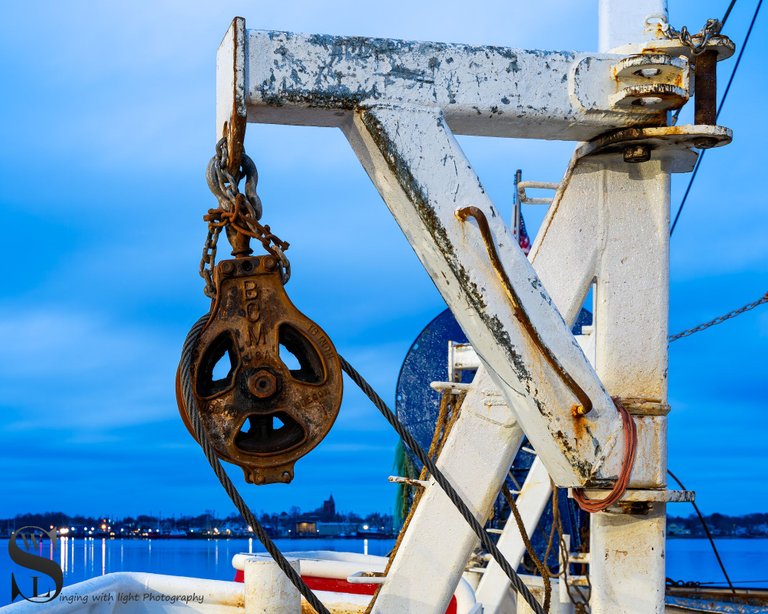 Sony A7iii 44mm F8 0.8 Sec ISO 100
Click here to view larger



And that's all folks
---
unless stated otherwise all photos used in my posts are taken and owned by myself, if you wish to use any of my images please contact me.
---

---

TeamUSA is a Community for and supporting those from of in the United States, and now is in the process of rebuilding stronger than ever join us on Discord
!pinmapple 41.635944 lat -70.920507 long Pier New Bedford MA d3scr
---
---