MONOMAD CHALLENGE : Studio portraiture of Natalie Eng-My
This is my entry for the daily #monomad challenge hosted and curated by @monochromes.
Hello everyone in the Black and White community. Its been a very long time since my last post here. I hope all of you guys still remember me. >.,<"
As always I will share a black and white portraiture to all of you. A studio portraiture of Natalie.
She was one of the finalist for Miss Cultural Ambassador 2022, a local pageant here at my hometown. I knew her from three years back before the Covid pandemic started but I never had a chance to take her photo before, because, she had a contract in one of the modeling agency here at Kota Kinabalu.
Luckily, this time I was the Official Photographer for the pageant that she was participating.
Meet Natalie.
Hello semua dalam komuniti Black and White. Sudah lama sangat sejak post terakhir saya di sini. Saya harap anda semua masih ingat saya. >.,<"

Seperti biasa saya akan kongsikan potret hitam putih kepada anda semua. Potret studio Natalie.

Dia adalah salah seorang finalis untuk Miss Cultural Ambassador 2022, pertandingan tempatan di kampung halaman saya. Saya mengenalinya sejak tiga tahun lalu sebelum wabak covid itu bermula tetapi saya tidak pernah berpeluang mengambil gambarnya sebelum ini, kerana dia mempunyai kontrak di salah sebuah agensi peragaan di Kota Kinabalu.

Nasib baik, kali ini saya menjadi Jurugambar Rasmi untuk pertandingan yang dia sertai.

Perkenalkan Natalie.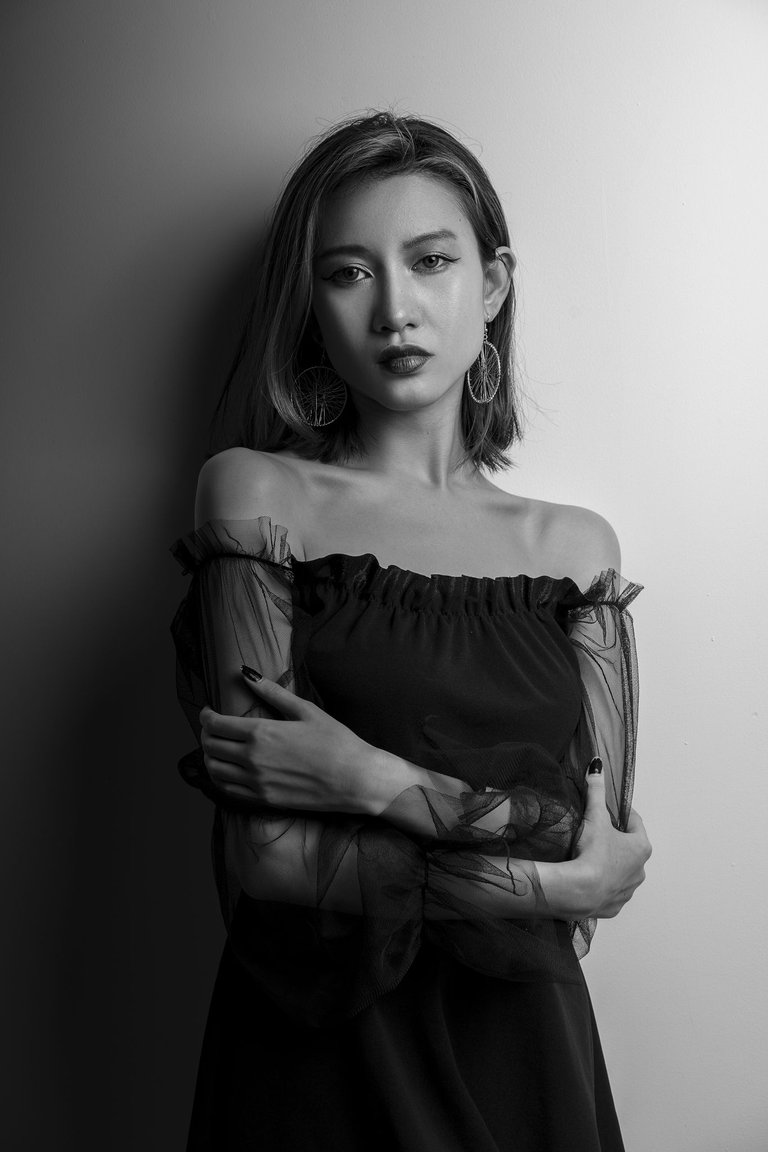 Half body shot : EXIF - ISO - 200 | f/8 | 1/160 sec | 85mm | Exposure bias 0 step
She has a unique face shape and she really nailed the expression that I describe to her. Her facial expression really made my day. I had to change my lighting setup a few time before I can get this look.
Dia mempunyai bentuk muka yang unik dan dia benar-benar memakukan ekspresi yang saya gambarkan kepadanya. Riak wajahnya benar-benar membuat hari saya. Saya terpaksa menukar persediaan pencahayaan saya beberapa kali sebelum saya boleh mendapatkan rupa ini.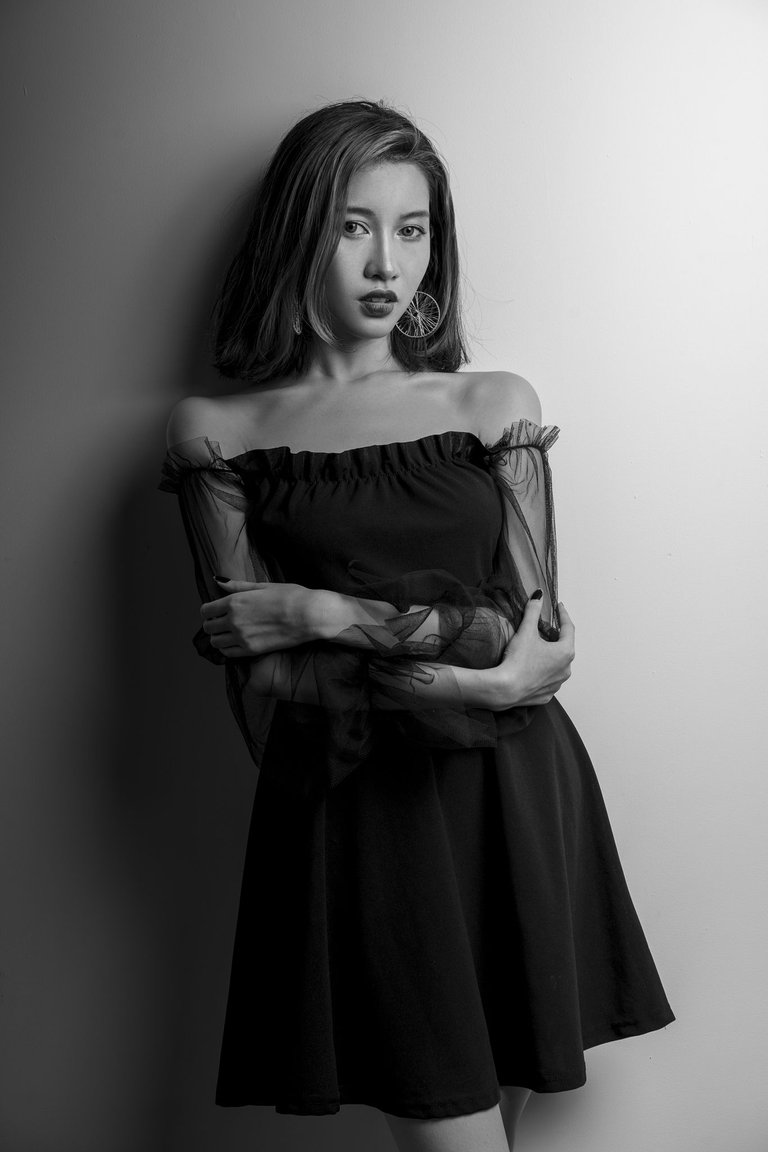 Half body shot : EXIF - ISO - 200 | f/8 | 1/160 sec | 85mm | Exposure bias 0 step
I love when she smiles but her strongest pose is when she is not smiling. She can do lots of poses which really match to her dress and her look plus the lighting setup that I made.
I used one lighting setup only with the hexagon softbox 120mm and a Godox 400watt lighting strobe.
Saya suka apabila dia tersenyum tetapi pose paling kuat adalah apabila dia tidak tersenyum. Dia boleh melakukan banyak pose yang benar-benar sepadan dengan pakaiannya dan penampilannya serta persediaan pencahayaan yang saya buat.

Saya menggunakan satu persediaan pencahayaan hanya dengan kotak lembut heksagon 120mm dan strob pencahayaan Godox 400watt.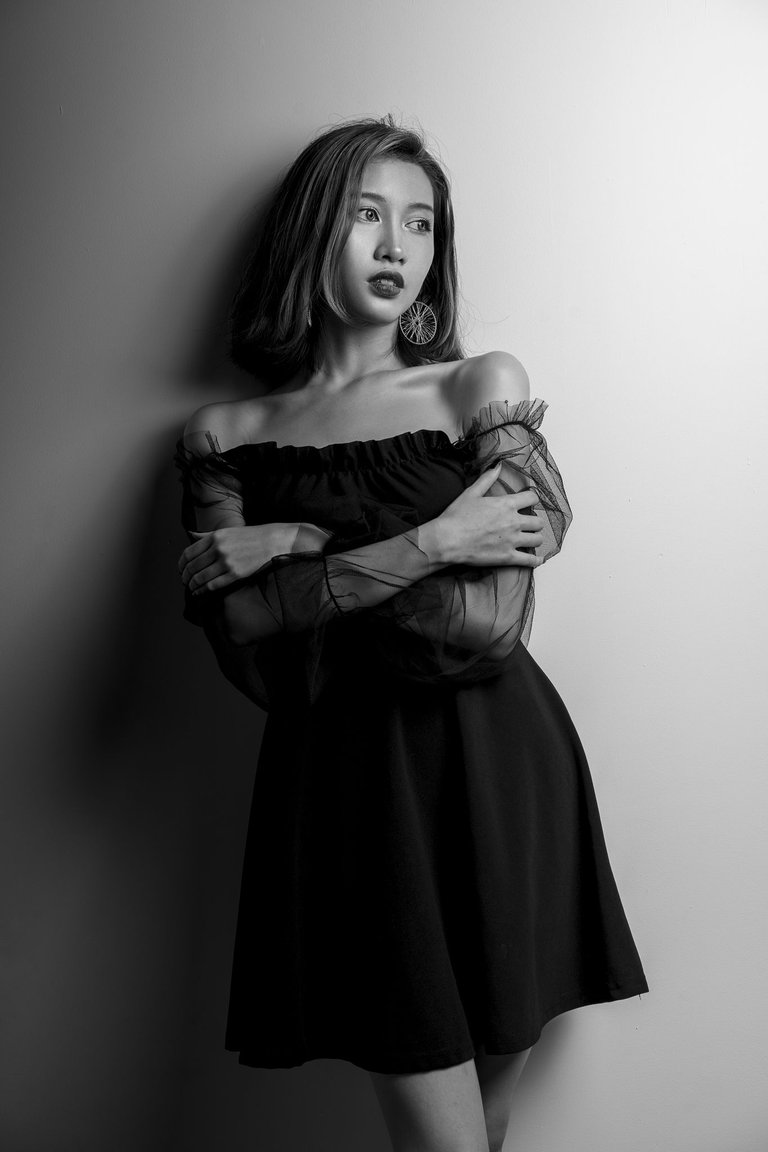 Half body shot : EXIF - ISO - 200 | f/8 | 1/160 sec | 85mm | Exposure bias 0 step
To achieve this look I had her lean on the white wall and the lighting was placed parallel to the wall with the softbox. The softbox was around three feet away from her.
In this photo, she started to smile before I pressed the shutter. I thought I had her smiling face but it turned out to be like this and it was great and I loved it :D
Untuk mencapai rupa ini saya menyuruhnya bersandar pada dinding putih dan pencahayaan diletakkan selari dengan dinding dengan kotak lembut. Kotak lembut itu berada kira-kira tiga kaki darinya.

Dalam foto ini, dia mula tersenyum sebelum saya menekan pengatup. Saya fikir saya mempunyai wajahnya yang tersenyum tetapi ternyata seperti ini dan ia hebat dan saya menyukainya :D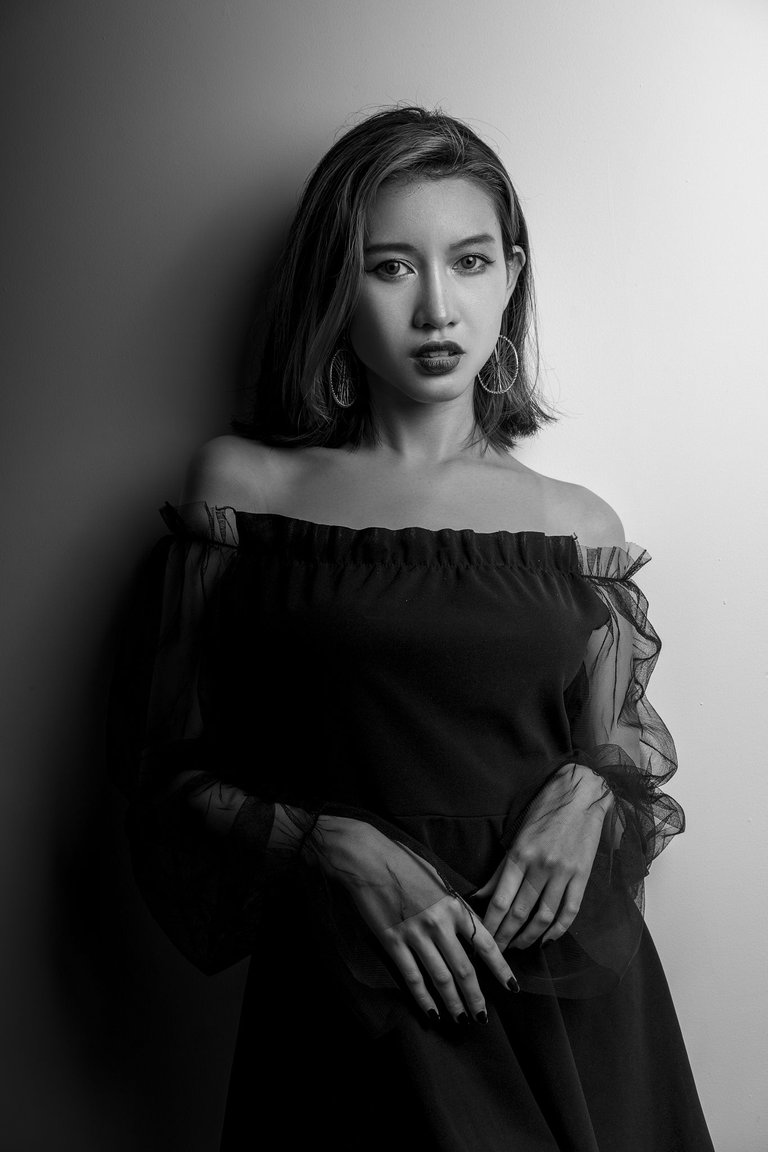 Half body shot : EXIF - ISO - 200 | f/8 | 1/160 sec | 85mm | Exposure bias 0 step
During the photoshoot session, we were having fun and laugh a lot, we exchanged ideas on poses and which facial expression for which pose. She is a happy go lucky girl, but she admit that she is an emo girl :D that explained why she easily nailed the face expression.
Semasa sesi photoshoot, kami berseronok dan bergelak ketawa, bertukar idea tentang pose dan mimik muka yang mana untuk pose. Dia seorang gadis yang happy go lucky, tetapi dia mengakui bahawa dia adalah seorang gadis emo :D itu menjelaskan mengapa dia mudah memaku ekspresi muka.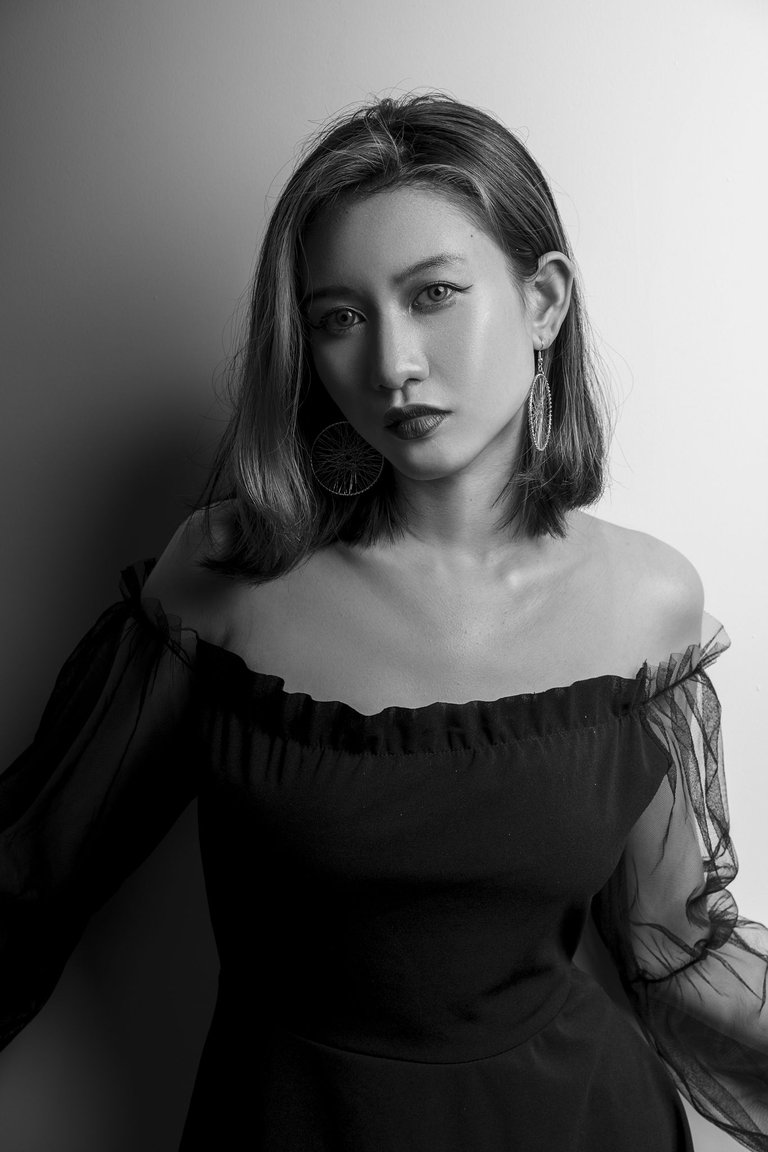 A close up shot : EXIF - ISO - 200 | f/8 | 1/160 sec | 85mm | Exposure bias 0 step
What I regret the most during this photoshoot session was I never did take a single headshot photo. I can still get a headshot from other photos by cropping it but it will never be the same if I had it as a headshot from the beginning.
Apa yang paling saya kesalkan semasa sesi pemotretan ini ialah saya tidak pernah mengambil satu pun gambar headshot. Saya masih boleh mendapatkan tangkapan kepala daripada foto lain dengan memangkasnya tetapi ia tidak akan sama jika saya memilikinya sebagai tangkapan kepala dari awal.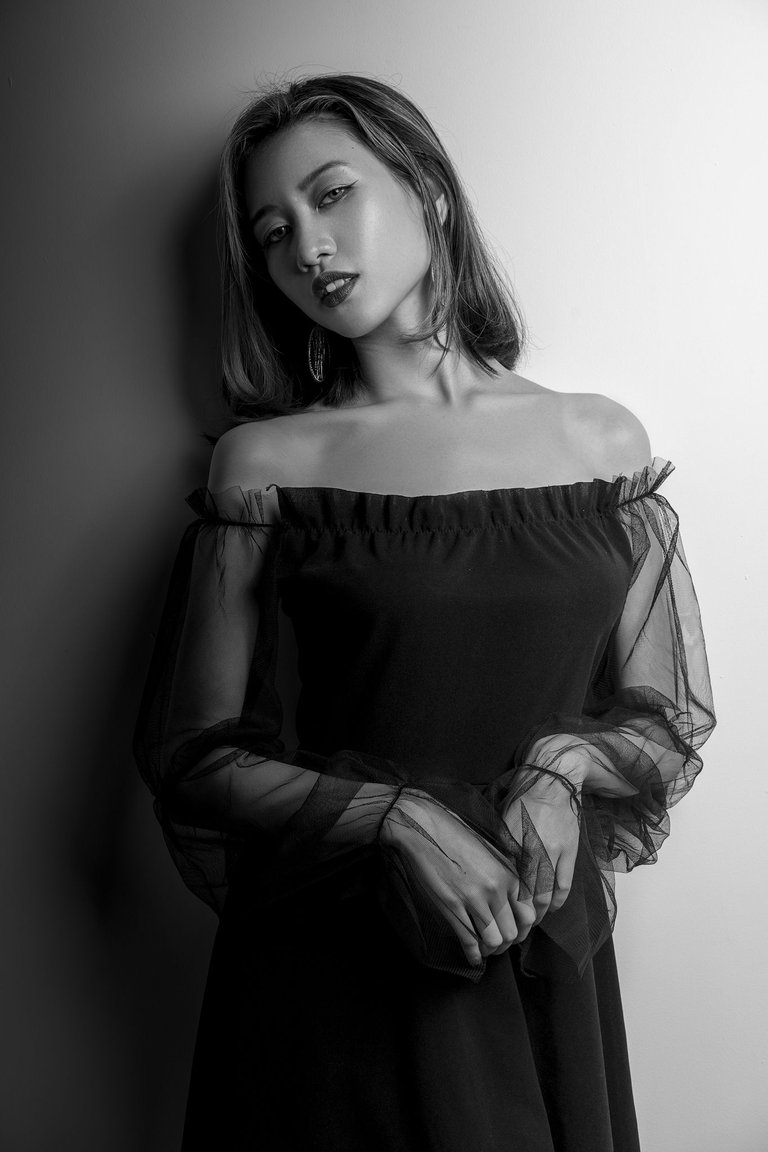 Half body shot : EXIF - ISO - 200 | f/8 | 1/160 sec | 85mm | Exposure bias 0 step
And that is all for today's black and white post. I hope you all like it.
Thank you for visiting and supporting me everyone. Stay safe and have a great day :)
Dan itu sahaja untuk posting hitam putih hari ini. Saya harap anda semua menyukainya.

Terima kasih kerana melawat dan menyokong saya semua. Kekal selamat dan semoga hari anda hari yang hebat :)
| | |
| --- | --- |
| Photographer | @tawadak24 |
| Camera | Sony A7iii | 85mm f1.8 |
| Editing Software | Adobe Photoshop CC |
---
---