MONOMAD CHALLENGE : Yohana Studio Portraiture - 6 Photos (En-My)
This is my entry for the daily #monomad challenge hosted and curated by @monochromes.
Hello again everyone. Today is a good day and I hope all of yo are having a great day too. Its another black and white studio portraiture series from me.
This photoshoot was done last year. This was before the Miss Cultural Ambassador Sabah final night. Yohana is our model today. She was one of the contestant for the Miss Cultural Ambassador Sabah. During the preparation week before the final event, all of the contestant had to do their final photoshoot with their sash. I took a chance to ask for another concept which is a black dress theme.
After finishing their official photoshoot with their dress and sash, I asked them to change to the black dress theme. Then its time for Yohana turn. She was a shy person. She can communicate good with me but during the photoshoot session she was very passive. We had to do some warm up shooting first before I guided her for a pose. She had a tattoo on her left upper chest near her shoulder. at first she was afraid to show the tattoo but after a while she was already comfortable with me and we had the photoshoot session done without a problem. She still need some guidance on a pose but she had a great potential for a model photoshoot in my opinion. She only need to do more training on her expression and posing plus more photoshoot session.
Salam sekali lagi semua. Hari ini adalah hari yang baik dan saya harap anda semua juga mengalami hari yang hebat. Satu lagi siri potret studio hitam putih daripada saya.

Photoshoot ni dah buat tahun lepas. Ini sebelum malam akhir Miss Cultural Ambassador Sabah. Yohana ialah model kami hari ini. Beliau adalah salah seorang peserta untuk Miss Cultural Ambassador Sabah. Semasa minggu persediaan sebelum acara akhir, semua peserta perlu membuat penggambaran terakhir mereka dengan selempang mereka. Saya mengambil peluang untuk meminta konsep lain iaitu tema pakaian hitam.

Selepas selesai penggambaran rasmi mereka dengan pakaian dan selempang mereka, saya meminta mereka menukar kepada tema pakaian hitam. Kemudian tiba masanya untuk Yohana giliran. Dia seorang yang pemalu. Dia boleh berkomunikasi dengan baik dengan saya tetapi semasa sesi pemotretan dia sangat pasif. Kami terpaksa melakukan penggambaran memanaskan badan terlebih dahulu sebelum saya membimbingnya bergambar. Dia mempunyai tatu di bahagian atas dada kirinya berhampiran bahunya. mula-mula dia takut nak tunjuk tatu tapi lama-kelamaan dia dah selesa dengan aku dan kami buat sesi photoshoot tanpa masalah. Dia masih memerlukan bimbingan tentang pose tetapi dia mempunyai potensi besar untuk pemotretan model pada pendapat saya. Dia hanya perlu melakukan lebih banyak latihan tentang ekspresi dan posing serta lebih banyak sesi pemotretan.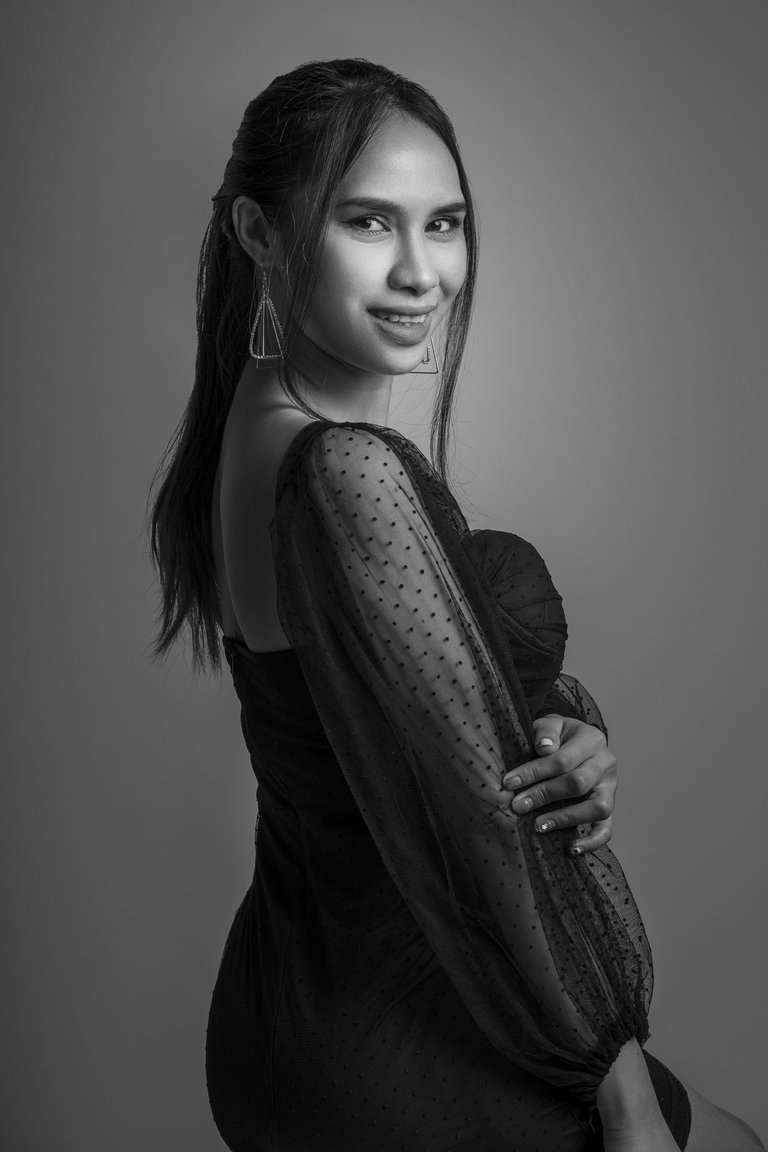 Portrait half body shoot, EXIF : ISO - 160 | f 8 | 1 / 200 sec | 85mm | 0 step exposure bias
I used a very simple studio setup during this photoshoot with her. Only one light studio setup. A Godox 400w mounted on a tripod and using ad 120cm octa softbox for the diffuser. The Octa softbox has double diffuser but without any grid. It was placed on my right side and tilted about 30 degree to 45 degree to Yohana's face and was placed 45 degree from Yohana's left side. A white wall as a background was just nice for the setup. I did try to prevent light spill to her back but it was hard because of the wall still reflecting much more light than I thought.
Saya menggunakan persediaan studio yang sangat mudah semasa pemotretan ini bersamanya. Hanya satu persediaan studio ringan. Godox 400w dipasang pada tripod dan menggunakan kotak lembut octa iklan 120cm untuk peresap. Kotak lembut Octa mempunyai peresap berganda tetapi tanpa sebarang grid. Ia diletakkan di sebelah kanan saya dan dicondongkan kira-kira 30 darjah hingga 45 darjah ke muka Yohana dan diletakkan 45 darjah dari sebelah kiri Yohana. Dinding putih sebagai latar belakang hanya bagus untuk persediaan. Saya cuba untuk menghalang cahaya tumpah ke belakangnya tetapi ia sukar kerana dinding masih memantulkan cahaya yang lebih banyak daripada yang saya fikirkan.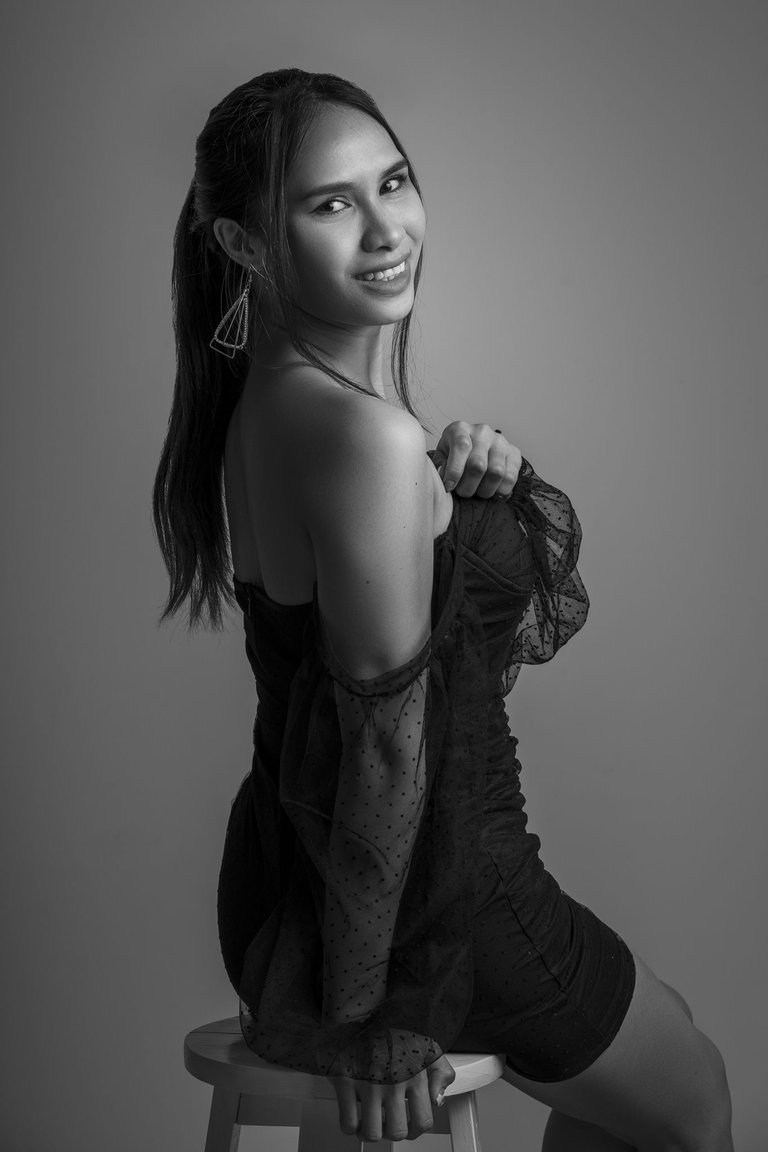 Portrait half body shoot, EXIF : ISO - 160 | f 8 | 1 / 200 sec | 85mm | 0 step exposure bias
This was one of the photo during the warm up session. I think her expression here become much better comparing on the first five minutes of the photoshoot session. I did try to ask her for a serious face but she cant really make it. A face without smile was hard for her to do during that time. But I said to her "Its alright, we do this photoshoot with you smiling".
Ini antara gambar semasa sesi memanaskan badan. Saya rasa ekspresinya di sini menjadi lebih baik berbanding lima minit pertama sesi pemotretan. Saya memang cuba meminta dia untuk muka serius tetapi dia tidak boleh buat. Wajah tanpa senyuman sukar untuk dia lakukan pada masa itu. Tetapi saya berkata kepadanya "Tidak mengapa, kami melakukan pemotretan ini dengan anda tersenyum".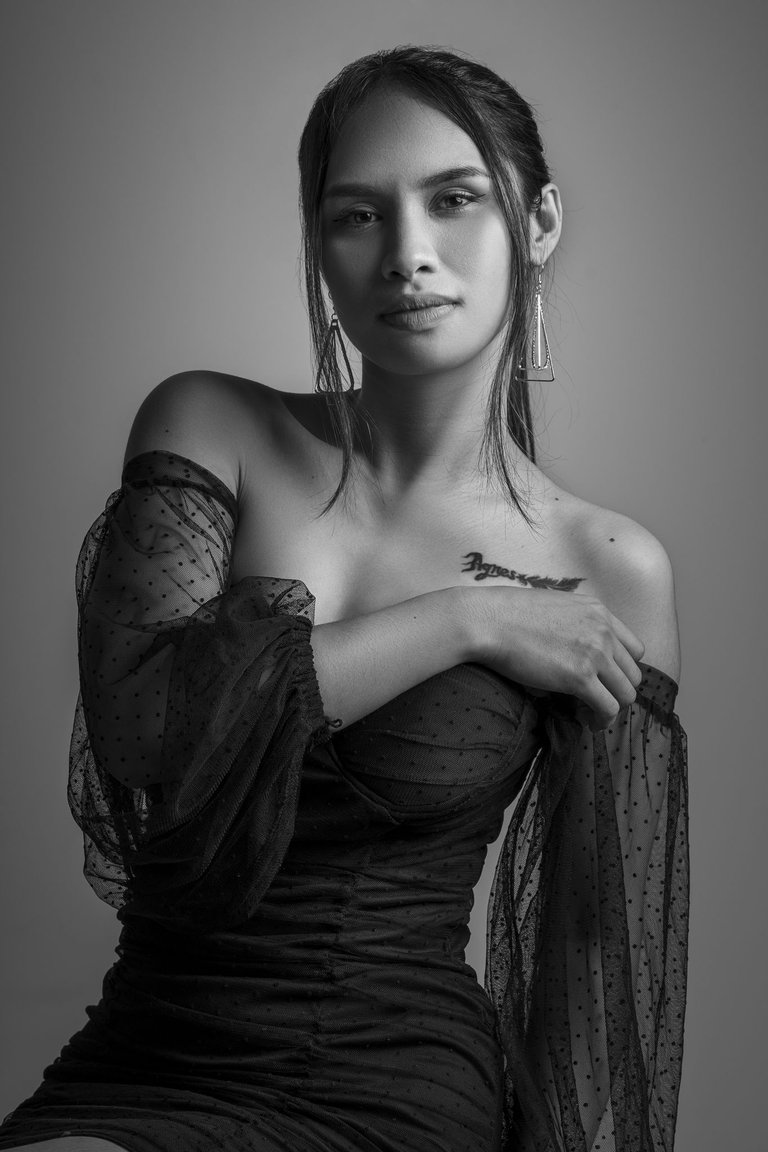 Portrait half body shoot, EXIF : ISO - 160 | f 8 | 1 / 200 sec | 85mm | 0 step exposure bias
This is her photo without her smiling during the warm up session. It was good. But this was the only one with a good expression without any awkward pose. The rest was still good but this one is much better :D
Ini adalah fotonya tanpa dia tersenyum semasa sesi memanaskan badan. Ia adalah baik. Tetapi ini adalah satu-satunya dengan ekspresi yang baik tanpa sebarang pose yang janggal. Selebihnya masih bagus tetapi yang ini jauh lebih baik :D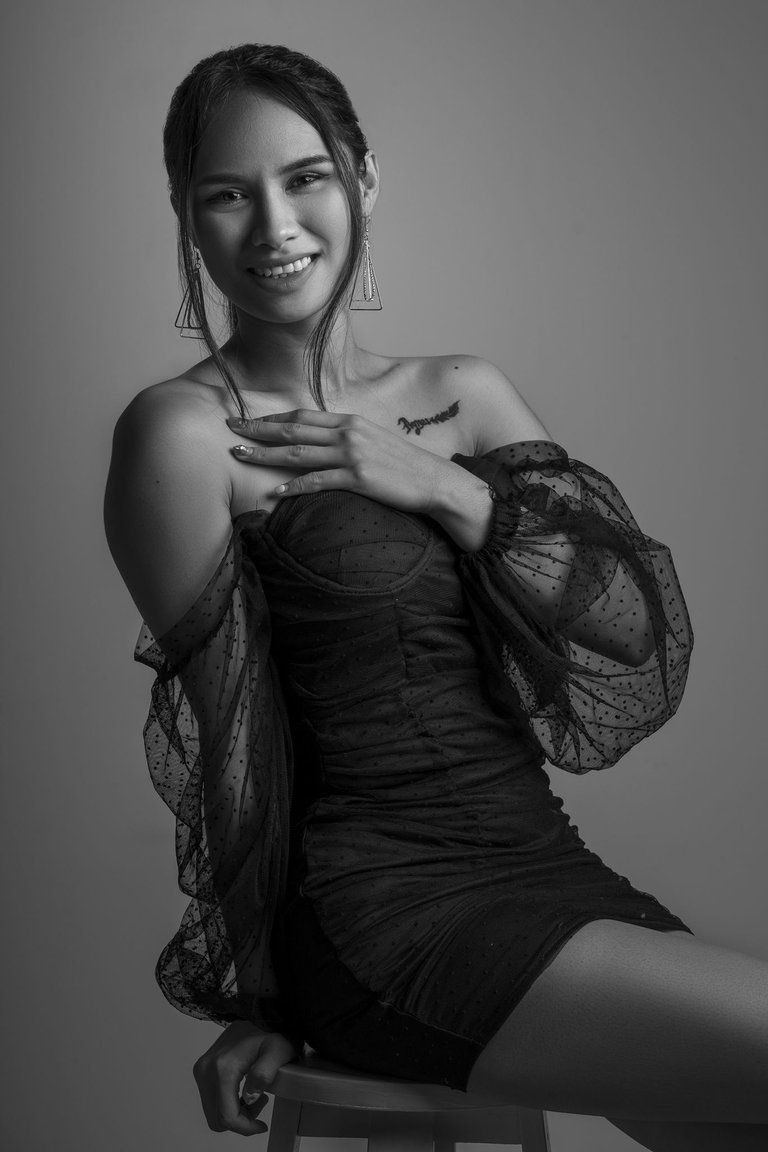 Portrait half body shoot, EXIF : ISO - 160 | f 8 | 1 / 200 sec | 85mm | 0 step exposure bias
She began to express more natural face expression. I asked her if she had a photoshoot before, and she had only two time photo shooting inside a studio and it was only a photoshoot for a cultural dress and no other concept after that. No wonder she was a little bit nervous during our photoshoot session. Still she tried her best for the photoshoot session.
Dia mula meluahkan ekspresi muka yang lebih natural. Saya bertanya kepadanya sama ada dia mempunyai sesi pemotretan sebelum ini, dan dia hanya mempunyai dua kali penggambaran gambar di dalam studio dan ia hanya pemotretan untuk pakaian budaya dan tiada konsep lain selepas itu. Tidak hairanlah dia agak gementar semasa sesi pemotretan kami. Namun dia mencuba yang terbaik untuk sesi pemotretan.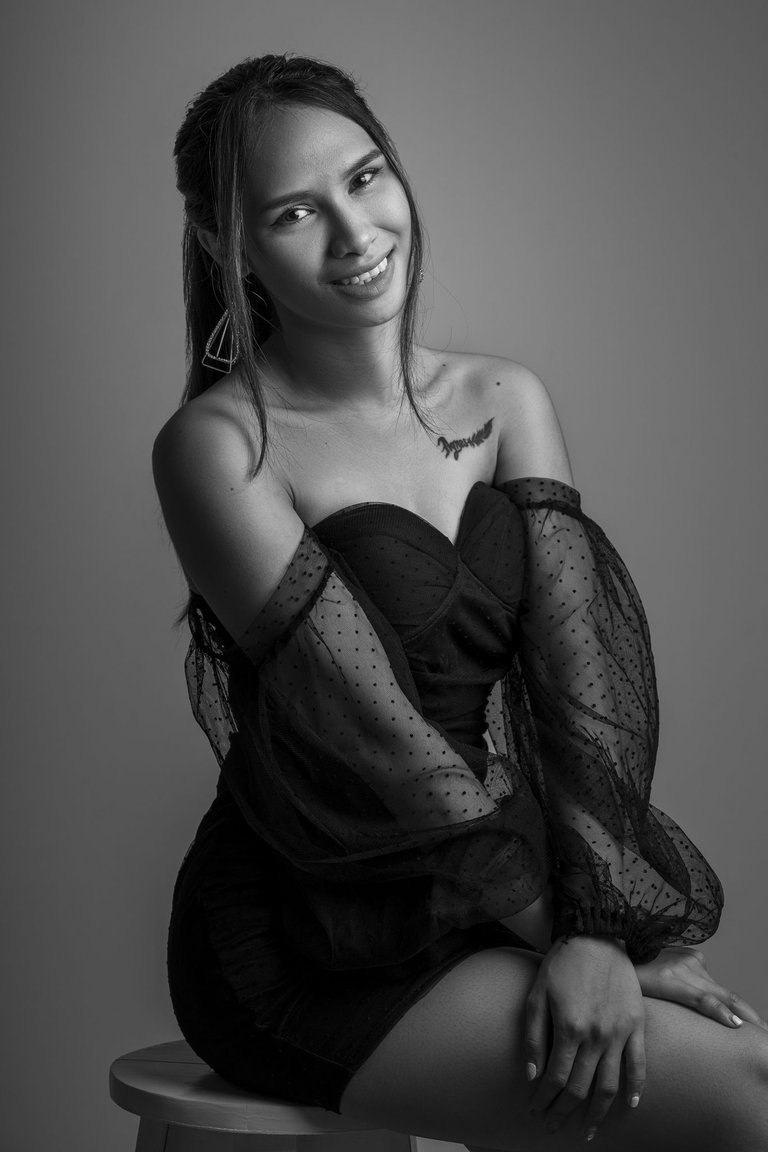 Portrait half body shoot, EXIF : ISO - 160 | f 8 | 1 / 200 sec | 85mm | 0 step exposure bias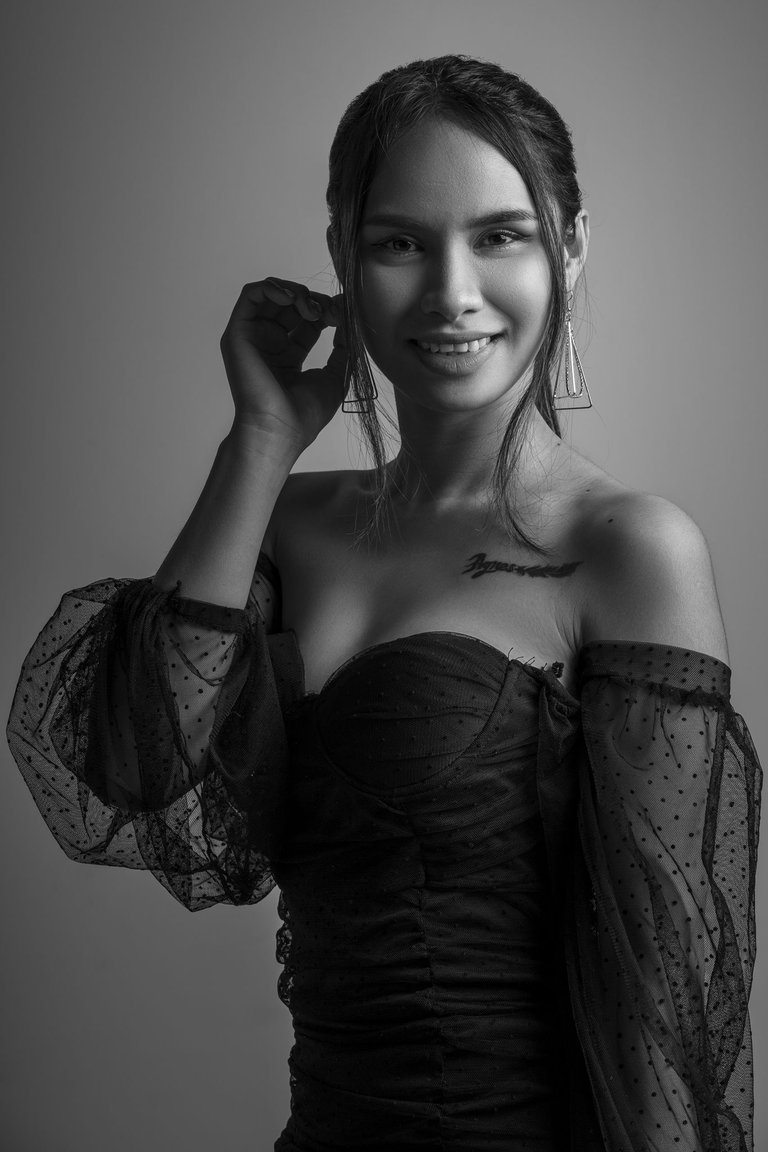 Portrait half body shoot, EXIF : ISO - 160 | f 8 | 1 / 200 sec | 85mm | 0 step exposure bias
And that is all from me today. I hope that you guys enjoy reading my post. Until we meet again on my next black and white portrait story. Have a great day and always stay safe.
Dan itu sahaja daripada saya hari ini. Saya harap anda semua suka membaca catatan saya. Sehingga kita bertemu lagi di kisah potret hitam putih saya yang seterusnya. Semoga hari anda menyenangkan dan sentiasa selamat.
| | |
| --- | --- |
| Photographer | @tawadak24 |
| Camera | Sony A7III | 85mm Song G lens f 1.8 |
| Editing Software | Adobe Photoshop CC |
| Stylus Tablet | XP Pen Deco 01 V2 |
---
---