SNR. OBI SKOLOMPIO THE TYRANT.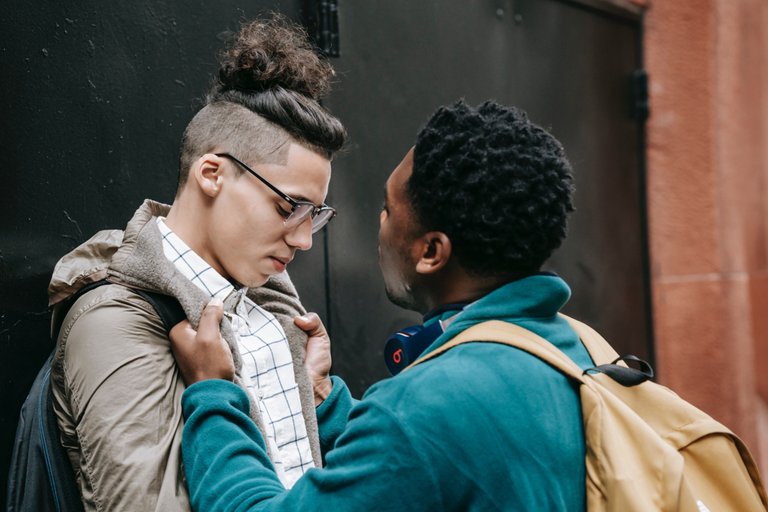 Photo by Keira Burton from Pexels
OBI SKOLOMPIO THE SCHOOL BULLY
I only feel pain, nostalgic experience and goosebumps remembering this name. This guy was like a terror to the peace of the school and the peace of my life.
I can't even explain how I feel writing this but I have to talk about it. I have been a major victim of bully, in fact this really affected my life negatively. Here in Nigeria bullying is very common and it is very rare to see anybody without an experience of bully in a lifetime.
It all started when I got admission into logos international secondary school. I was just a freshman in JSS 1 (JUNIOR SECONDARY SCHOOL 1) which is the least and youngest level in secondary school. It was a boarding school, so my parents had to take me back to school on the very first day of resumption. On arrival to the school gate, students were scattered everywhere especially the new students whom had a different resumption date from the old students. Normally old students resume school before the new students, so when I came into the school premises, they were doing clearance for new students. My parents had to help me do my clearance at the security boot first. On the other hand I noticed something weird, I saw a huge student who was handcuffed to the iron protector kneeling down with bruises all over his body at the security boot.
As my parents continued with the clearance, I starred at the student with great suprise. He was on a torn day wear, and he looked mean, so my parents asked one of the security men why the student was treated that way, then he told us that the boy was a notorious bully whom used a belt to flog a student on his testicles. The security man came and held my shoulder, telling me not to be like him. I replied to the security man with 'Okay Sir' but I noticed that this senior looked at me with a fierce face. I got scared a bit, finally I finished my school clearance and I was given a bunk number and hostel number. At this point my parents were done with everything I needed so they had to go back home.
FIRST WEEK INTO RESUMPTION:
As new students, we were treated with so much love and we had students orientation. I used this opportunity to also talk to people in higher levels than I was. Along the line I came across that same senior I met in the security boot, this time he was not under any punishment. He was sagging and moving like he had the world to himself. I had to greet him but he didn't respond. only for him to call me juboy come here! I was so scared seeing that he wasn't smiling, I walked up to him. This guy told me that I was laughing at him at the security boot because I don't know his rank in school. I denied laughing at him, only for me to receive a heavy knock on my head. God! I wanted to burst into tears, this guy held me on my shirt collar and drag me. He told me that he is 'skolompio' and he will so deal with me for laughing at him at the security boot. He told me to kneel down, which I obeyed. Tears were already rolling down my cheeks, he just left the orientation hall. Finally the senior prefect was passing and told me to stand up.
My head got swollen as a result of the knock, accompanied by a severe night headache. I asked people about that senior, they told me that his name is 'OBI SKOLOMPIO', I heard a lot about him and they told me that he was the president of a small gang in my school called NEPA 'Non Elected Prefect Association' of course he was a non prefect and was not fit enough to be given such post, so he formed his gang as a non prefect.
MY BULLY EXPERIENCE
As days went, things got tougher. This guy found out my hostel, and also visited our class at the end of every night prep, in order for him to chase us to night devotion with his belt. He would come into the class one minute to the end of night prep, then he'd close the door and tell us that immediately we heard the bell we should disappear from the classroom. The problem is that he would close the door and want us to run from the window, and immediately they rang the bell he would start flogging us with belt, causing a whole lot of stampede.
This guy trashed the hell out of me, he made my life miserable at school. I was admitted into the school clinic because of his cruelty. I had to summon courage to report him to our hostel master. He was punished by the hostel master, after which he came back for me. He bullied me like never before, reason was because I reported to the hostel master. This guy took away my money and seized some of my personal belongings, giving me his cloth to wash. He threatened to kill me if I reported to my parents. I had psychological issues, I lived in fear and had divided attention in my academics. Until the very day I decided to open up to my parents, this was when the matter was taken to the board of governors school committee. To cut the long story short he was expelled from logos international secondary school. This served as a great lesson to other seniors in the school.

My Thoughts On Bullying?
To be sincere bullying has done a lot of harm to people, me included. This has caused a lot of people to have:
Low self esteem: especially when it comes to general opinion, people get scared to share their opinions in a general meeting to avoid getting bullied.
Psychological Breakdown: This is a bad effect of bullying on people. A lot of people are going through a lot silently, they get bullied at every slightest chance. This has caused severe psychological breakdown for people.
Emotional Trauma: This is another effect of bullying within people. Emotional trauma is an aftermath effect of bullying.

How Can This Menace Be Eradicated?
Bullying is evil and must be eradicated by any means whatsoever. People get bullied physically, online and even when it comes to their opinion being rubbed to the mud. There are ways which we could help eradicate bullying like:
Students Should Learn To confide In Their Parents: When students pick up the confidence to open up to their parents about bullying in school. Believe me when I say that this will eradicate bullying, a lot of students are threatened never to inform their parents, just like I told you my experiences. The moment you tell your parents, they would either withdraw you from that school or call the immediate attention of the highest school authority. I believe our parents can play a major role in the eradication of school bullying, this has saved a lot of lives. Students should learn to speak up and easily access their parents in matters like this.

Censorship To Online Bullying: There should be rules guiding every community and social platform against offensive and bullying words or comments made by people. When proper punishment is put in place for hate comments, and social media bullying I believe people would thread in the right direction.

Encourage Psychological Therapy Sessions: This is strongly encouraged for people who are into bullying, they need to have a psychotherapy session where they get reformed and understand the psychological consequences of bullying to the life of their victims. I believe just punishing bullies will only make them more aggressive but putting in place a psychotherapy session by a psychotherapist as part of their punishment terms would help reform them into stopping bullying completely.

Schools Setting Distinct Rules And Impacting A Zero Tolerance Policy On Bullying: This is another way to eradicate bullying in schools. When a school set distinct rules on bullying like expulsion, or indefinite suspension then believe me there would be no bully case in schools. Nobody would want to be used as a scapegoat, especially after your parents pay your school fee, only for you to get expelled from the school because of bullying.

I believe with this few points I have mapped out there would be a tamed control on the case of bullying in our society and schools.

---
---