The ONE tip you need to guarantee your resume will be top of the pile! *1
If like me you are looking for a job right now, I've got an unbelievably great tip for you...
NB: Now before I present this idea and you dismiss it - I urge you to give it a chance... you don't know what will happen till you try it and I know for a fact that NO ONE who has tried this has so far failed to get a job*2
*1 WHICH pile though is not guaranteed.
*2 At the time of writing a total of 0 people out of the 0 people that have tried it have failed to get a job in the subsequent 100 years.
Ok is your mind open?
Then it's time for the big reveal... you only need one tip to take your resume to the next level and get ahead in your career and here it is...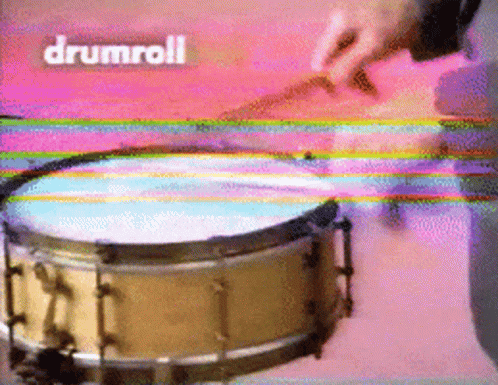 INCLUDE RISING STAR STATS ON YOUR RESUME!*3
*3 Resume = CV or Curriculum Vitae in UK
Not playing @risingstargame yet? Get started here: https://www.risingstargame.com?referrer=tdctunes
Ok so you are an existing player or just signed up with the above link. Read on for the beyond belief plethora of benefits from putting your RS stats on your resume...
Demonstrates dedication
Proves without a shadow of doubt that you are competent at clicking buttons on the internet. Research*4 shows that this skill is used in 90% of jobs in the UK!
Helps you stand out from the crowd! (as long as you are quick off the mark before everyone reads this!)
Avoid subjective statements on your CV - Rising Star give you hard stats!
Not only are they stats but they are blockchain backed*5 so independently verifiable by a 3rd party. Accountability!
Job hunting is not just a one way process! Use the RS stats to weed out employers who would be boring to work for at this early stage saving you time and effort to work on the job applications that actually matter.
Provides a great source of references. Recruiters can easily come to the Rising Star Discord and get a feel for whether you would be a good team member.
Demonstrates you are definitely not a bot. Bots are not allowed on Rising Star, nor are they allowed to apply for jobs.
I could keep going but as you can see the synergy between a great resume and a Rising Start profile is inconceivably mind blowing!
*4 Research carried out in Feb 2023 by thinking of a number (but it's probably not far off).
*5 Not all RS stats are actually blockchain backed, but any based on your NFT cards and their stats are... I think.
The ideas in this post are also not new and are backed up by genuine references! See: reference material - point 10
Convinced yet?! Can't get enough of this idea?! Then take it to the next level and...
MAKE YOUR ENTIRE RESUME RISING STAR BASED!
Here's an example...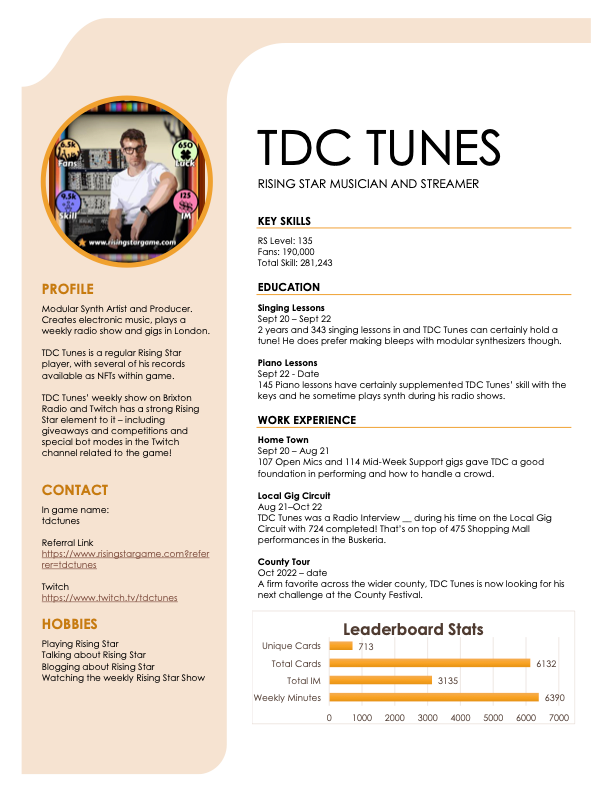 This resume could be yours!
Get a custom and utterly unique*6 personalised Resume similar to the above for just 5 HIVE or the equivalent in Starbits or Starpro - send to @tdctunes. And HURRY before everyone else has one too!
*6 Actually it uses a standard Microsoft Word template - but seriously - who in their right mind would use a Word template to make their resume? Right - no-one so I think it is definitely (probably) unique.
Finally, have a great day Hive and Rising Star communities and I wish you all the best in your careers (both in Rising Star and elsewhere!)
---
Check out my original electronic music via:
https://linktr.ee/tdctunes
❤️ Thank you! ❤️
---
Disclaimer:
Obviously this article is tongue in cheek! Play for fun, play if you actually think it might help your career, to just pass the time or for whatever else you get out of the game be it the amazing community or (shock horror) making a bit of fairly passive crypto! Above all read and understand the terms and conditions (they aren't that long and are well written).
Finally - there are quite a few bits of small print in this post. You would do well to read them. Furthermore the author reserves the right to add additional and retroactive small print at any time.
---
---