The Real Desert Rose And A Cloudy Weekend
Well Hello There Fellow Hivers
I discovered something this weekend or well should I perhaps say that my knowledge was broadened by a old man.
Whatever one may call it whether it's discover, learn or just realize it because you've never really thought about something in a particular way.
So what did I "learn" did weekend?
About two weeks ago, maybe more me and my grandfather had a chat while driving home, nothing majorly important only about random events in life and such. Well somehow we got to the topic of lightning strikes and he asked me.
"Do I know what it looks like when lightning strikes sand? Specifically desert sand or beach sand."
Naturally I say no because it's clearly something that I would remember. He then proceeded to tell me that I should ask my grandmother. They call it a "Desert Rose," he then said that she always had one in a display cabin. (Keep in mind they have been divorced for almost 40-50 years, have been before I was born.)
Negative me thought to myself, meh what's the chances that my grandmother would still have that? Next to none obviously.
I thought to myself can it possibly look like a rose? Can it possibly look anything like a mangled and melted mess of sand?
It never occurred to google it, and it also slipped my mind for a few days. Until this weekend. I was asked by my uncle if I would be able to sleep over at the Grans because she recently had a knee operation and might need some help over the weekend because they would be leaving town. Of course I do agree to that, the Grans can really cook up a good meal!
One night before I went to bed, I remembered this rose my grandfather spoke of. I then asked her "Ouma," Grandpa told me about this desert rose thing? Something about when lightning strikes the sand? Because it was late she said we'd be on the search for it the next day, well she knew exactly where it was. It was sort of hidden. No doubt I'd also hide it.🤣
To my surprise the next day when I woke she showed it to me over a cup of coffee enjoying the sun on our faces.
Believe me I had no idea what to expect but this was certainly not what I expected at all, truely a desert rose. As you can see it grainy, all that is, is rock solid sand. I know it looks fake but there is no way in hell someone could have glued that or whatever of the sorts.
The Desert Rose + A Short Video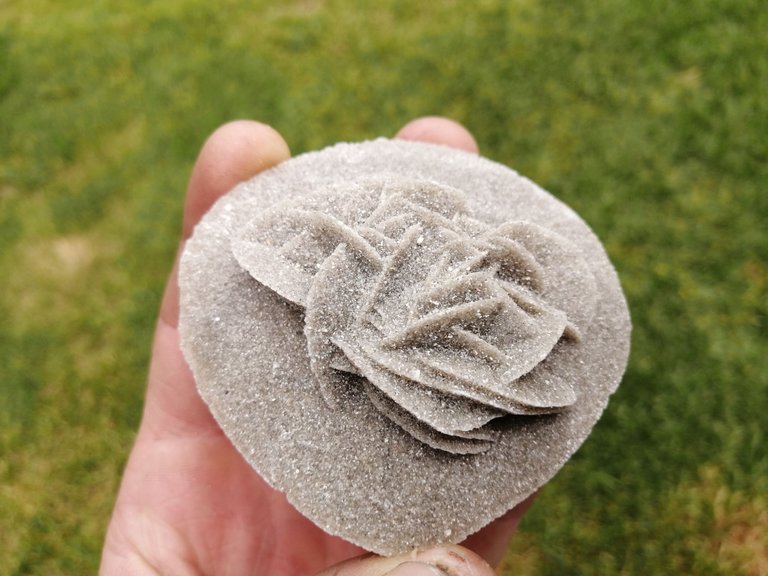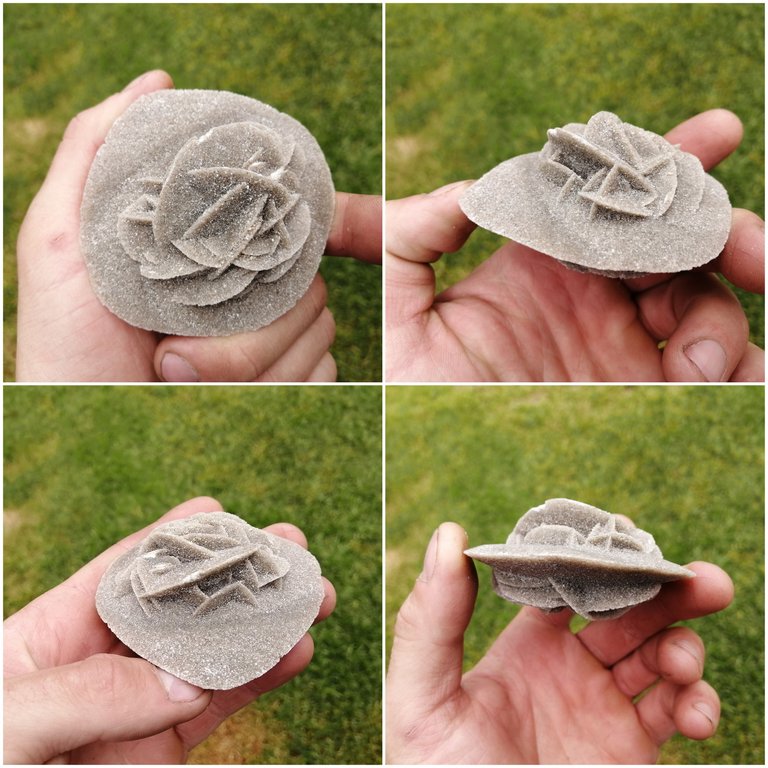 ---
---

The Weekends For Stormy Clouds
It's Sunday afternoon and we were all too lazy to make anything for dinner, the Betty jumped up and announced we are going to buy pizza. I would never say no for a slice of pizza. We got up, slapped our shoes on and got in the car on the way to Romans Pizza a short drive away.
The morning I washed my car and there was not a cloud in sight so I thought hey my car can stay clean for a few days. Well I was wrong, oh so wrong. See the rain doesn't bother me at all, it's driving a muddy road home and ending up with an extremely dirty car and the fact that the car is white, well that doesn't help at all, does it?
Okay lets fast forward again, we were on the way to go buy pizzas and we noticed this wonderfull view of the sun glaring through the clouds. I couldn't help but take a photo while driving.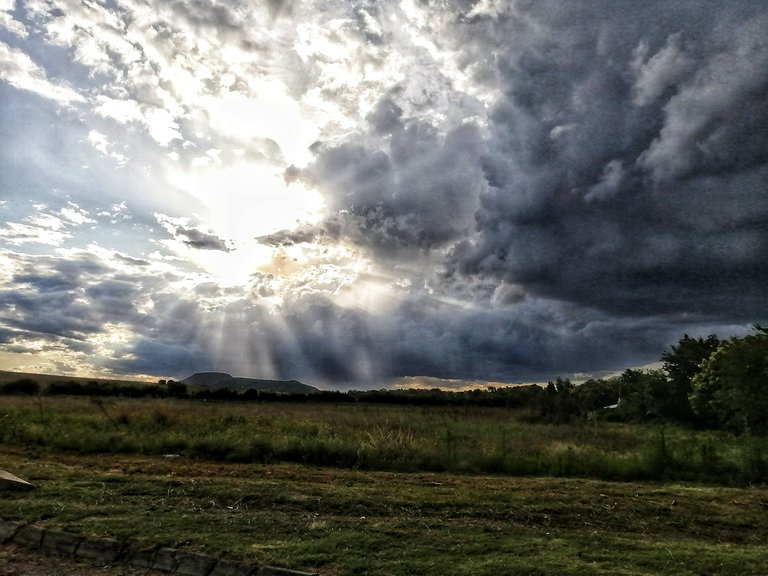 By the time we got our pizza and left the shopping centre it was a chaotic mess of clouds, wind and small rain drops.
Needless to say the small rain drops soon turned into hella big ones, it was more of a storm then we first realized. That sudden gush of hard rain. As I said I do like the rain, but now my car would be exposed to a muddy road and well yeah, I don't have no 4x4 vehicle. But I do manage just fine driving the road, getting stuck is no worry of mine.
Oh I did give them a good editing to make them look a lot meaner, as always a standard photo never does come out quite the way as intended.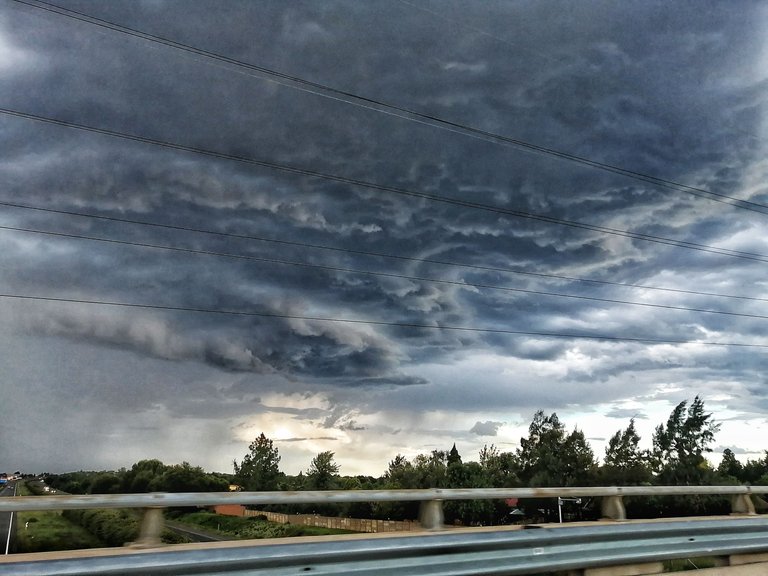 A small collage of the clouds I slapped together, nothing special.
Anyways folks! It's Sunday night by the time I am writing this post! I wish everyone a great week ahead of them with a lot of blessings! Stay safe folks. Much Love!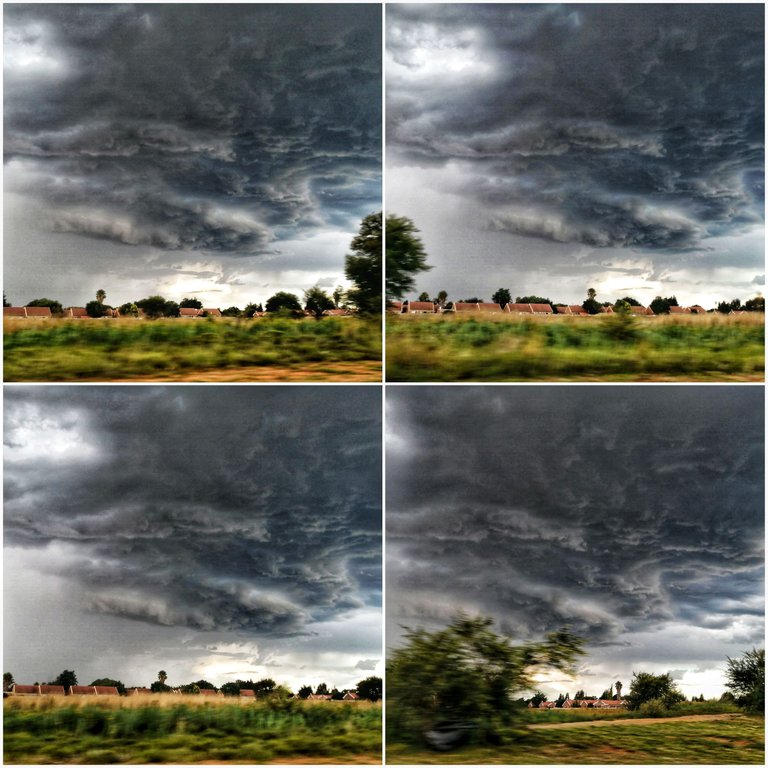 To everyone who made it this far into my post Thank you for the read and the support.
If you found this entertaining or educational please consider a re-blog and up-vote.
Most of all please leave a input in the comments below, whether is good or bad critic I would like to know, whether its your opinion or your way of doing things in a different manner I would like.



Connecting the people of #HIVE across South Africa. #hive
---
---