HashKings: First Harvest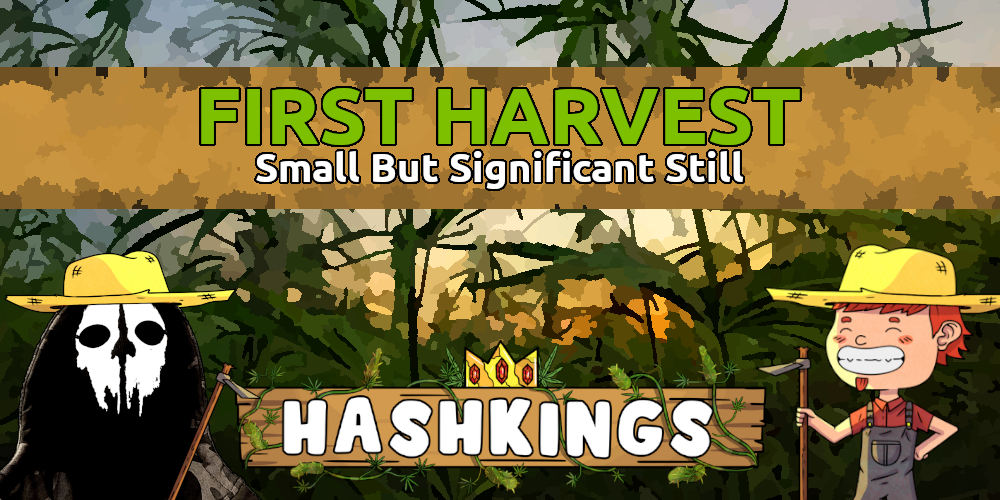 I recently harvested my first BUDS in HashKings! Another milestone I my crypto weed farming journey reached.
Three of my first planted seeds had matured and was ready for harvesting. My first harvest consisted of one Panama Red that yielded 285 BUDS, and two Mazar I Sharif that yielded 623 and 620 BUDS respectively.
A total of 1528 BUDS was harvested! This is a very small amount, but it's only the first of many. I already have more lands than when I started out, and all of them are fully planted and slowly maturing beautifully as I write this post.
From these proceeds I invested in a few news seeds to replace the harvested ones. I've also invested in a bit of MOTA and I'm aiming to become self-sufficient in seed production from my staked MOTA. This is to make sure that I don't need to buy all of my new seeds from the market in the long term. But for now, I'll buy them from the marketplace.

I bought two new Mazar I Sharif at 225 BUDS each. That cost less than half of what they are guaranteed to produce, so I'm keeping a lot of my earnings in the bank. I also bought two Acapulco Gold for 240 BUDS each.
These are for my land plot in Mexico, and for my new Mexican land plot, which I happened to pick up in a small market dip. Yes, the Acapulco Gold was both more expensive to buy and produce less than my Afghani seeds, but I have two Mexican plots that I don't want to stand empty. A small profit is better than no profit.
I'm still in the undecided state regarding what role I'd like to aim to fulfill in the long term. Right now, I just want more of everything!
After harvesting, I want more land plots to that I can plant and harvest even more. This means that I need more MOTA to receive more seeds to plant in these land plots. To get more MOTA I need more BUDS to burn, and to get more BUDS I need to plant and harvest more seeds. The seeds need water too.
This is one thing that I love with the HashKings economy. An endless cycle of resources that are dependent on each other and all of them requires players to produce.
Really a great economy!

Disclaimer
This is not financial advice. Do your own research. You are responsible for your own personal decisions and your own personal economy.
Hive SBI
If you would like to support my work, you could consider supporting me (and yourself at the same time) by including my username in a Hive SBI purchase. Read more about Hive SBI here.
Blockchain Gaming
If you're interested in Hive blockchain gaming, here are some games that I'm having a blast with. You could check them out through my referral links:
Splinterlands
Rising Star
---
---