Rising Star Self-Made Millionaire 200,000 STARBITS!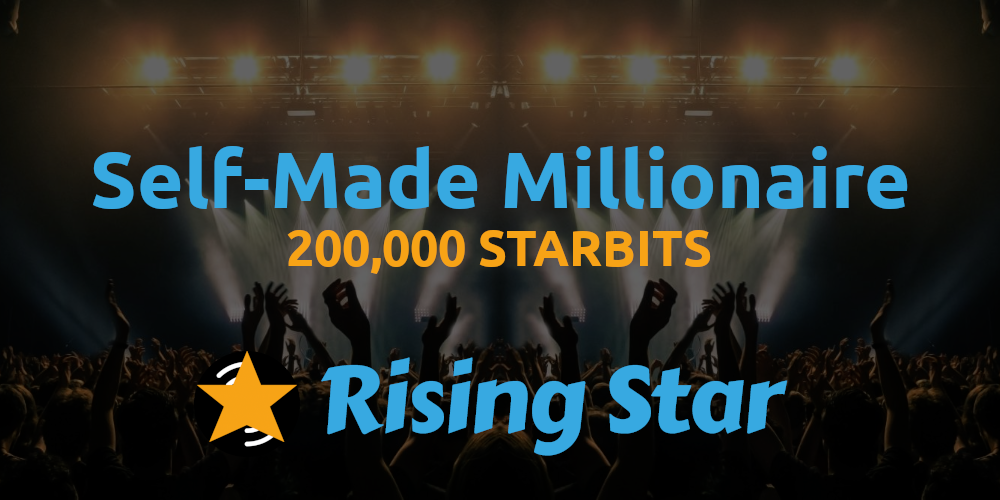 This is a series of shorter posts mainly for myself. I'm going all in trying to become a STARBITS Millionaire and these posts will keep me accountable to myself and are mainly to be thought of as journaling my journey for my own archives. You can follow along if you want to. No hard feelings if you choose not to!
My Progress
Today I reached another milestone on my way to becoming a millionaire (at least in terms of STARBITS). I have earned 200,000 STARBITS from doing missions and from a few giveaway wins. I was lacking a few thousand and some odd numbers, so I picked them up on the Hive-Engine, just to satisfy my "OCD" regarding big whole nice and round numbers!
As I'm mainly grinding for cash and bits currently I'm not posting everyday about Rising Star. I just want to make clear that me enthusiasm for the game has not waned in any way.
I'm just in full on grind mode doing the same few missions over and over again so there are very few updates of interest currently. Once I reach 1,000,000 things will start to heat up!
So far my energy booster set up is proving to be sufficient. I have five cold pizza slices and three pizza boxes. So far, so good.
I'll keep grinding and see if my energy set up remains sufficient or if I need more boosters!
My Stats Today
Level: 50
Starbits: 200,000
Permanent Fans: 1945
Luck: 475
Skill: 8232
One day closer to reaching my goal of becoming a STARBITS Millionaire!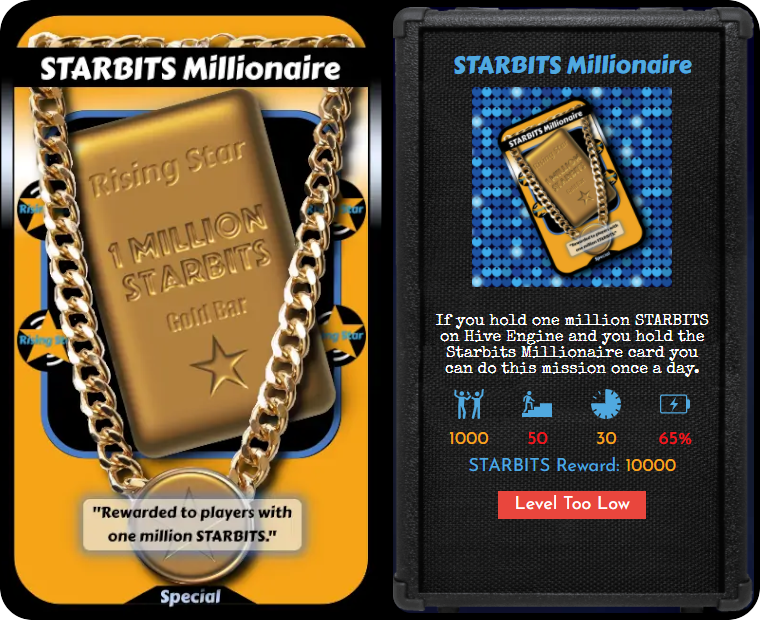 If you haven't yet, you can sign up here: Rising Star
Rock on!
Disclaimer
This is not financial advice. Do your own research. You are responsible for your own personal decisions and your own personal economy.
Hive SBI
If you would like to support my work, you could consider supporting me (and yourself at the same time) by including my username in a Hive SBI purchase. Read more about Hive SBI here.
Blockchain Gaming
If you're interested in Hive blockchain gaming, here are some games that I'm having a blast with. You could check them out through my referral links:
Splinterlands
Rising Star
---
---