Rising Star Self-Made Millionaire Level 50!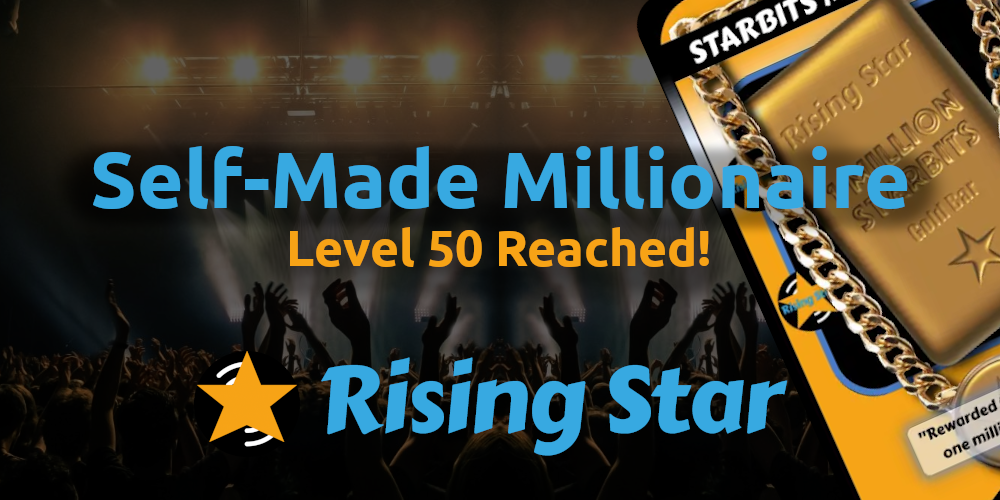 Today is a day for great celebration! I reached another very important milestone on my Rising Star journey.
I've reached level 50!

This means that I now have reached the level requirement for becoming a STARBITS Millionaire!
Now I'll completely shift my focus to accumulate STARBITS. Basically no more music lessons, and only highly rewarding missions in terms of STARBITS.
So far I've accumulated 166,923 STARBITS, so I'm 16.69% done. It's a fair bit left to go, but diligence and hard work will pay off. It always does.
I'll be running mainly acoustic tent missions as they are the mission with the highest STARBITS reward compared to time taken and energy spent that I currently have access to.
Whenever I have a decent amount of energy left I'll be running lower tier missions to spend that energy on something productive rather than wasting it by activating energy boosters too early.
Most likely I'll be running illegal busking and radio interview as I can run a lot of them in a short time frame, and running a lot of missions increases my chances of finding discarded pizzas that I'll store in my pizza boxes for later activation.
I still have the goal of reaching level 55 to unlock the local mini tour support mission as it'll pay even more, but I don't want to waste anymore time leveling up. I want to accumulate 1,000,000 STARBITS.
When that's done I'll reevaluate the situation and make changes accordingly. I believe that I can reach level 55 as a byproduct from getting that amount of STARBITS.
As I've said, I might need to invest in a few more energy boosters to make sure that I'm never out of energy. We'll see if that turns out to be necessary. If I can avoid getting more cold pizza slices that means that I'll have more STARBITS in the bank.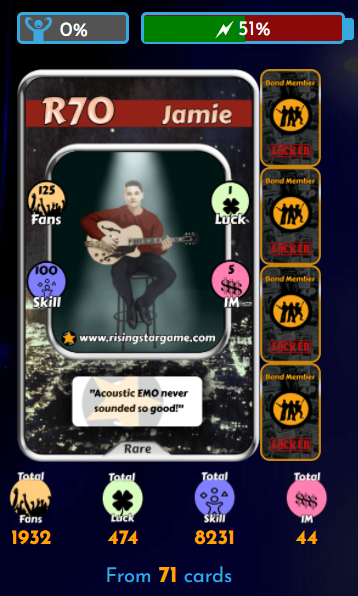 The image is from a few hours ago, stats might have changes a bit due to more missions completed and boosters found or activated.
My Stats Today
Level: 50
Starbits: 166,923
Permanent Fans: 1925
Luck: 474
Skill: 8231
One day closer to reaching my goal of becoming a STARBITS Millionaire!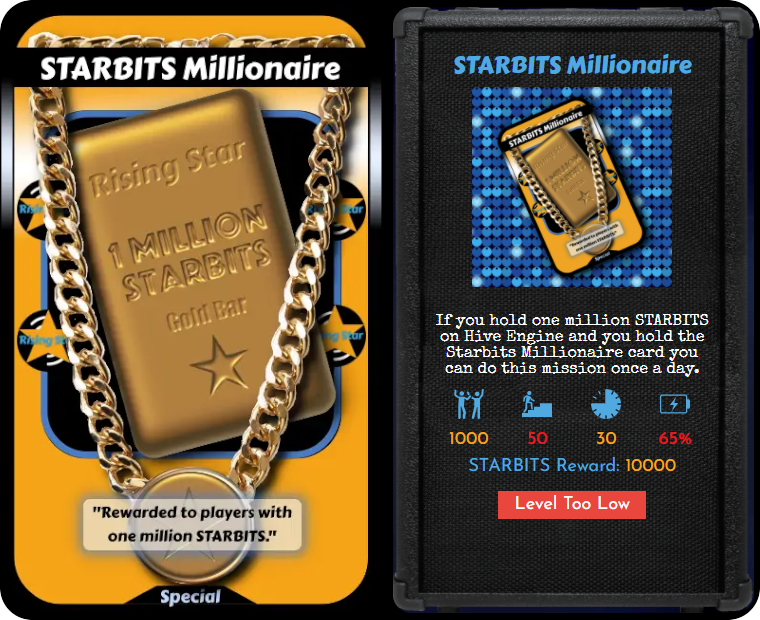 If you haven't yet, you can sign up here: Rising Star
Rock on!
Disclaimer
This is not financial advice. Do your own research. You are responsible for your own personal decisions and your own personal economy.
Hive SBI
If you would like to support my work, you could consider supporting me (and yourself at the same time) by including my username in a Hive SBI purchase. Read more about Hive SBI here.
Blockchain Gaming
If you're interested in Hive blockchain gaming, here are some games that I'm having a blast with. You could check them out through my referral links:
Splinterlands
Rising Star
---
---