Room Makeover 2022 [Better Room = Better Perspective] <3 <3 <3


The year has changed, so I wanted to have an obvious change as well. I have been planning on re-painting my room for ages but I just didn't have enough time given that the last month of last year was crazy.

I love my room despite it being small. I consider it my safe haven... my sanctuary. My friends call it an otaku room since I have a lot of anime posters on my wall which I have been collecting and hanging when I was a student. Yes, they're a decade old and some of them have already torn. So I though I don't want my posters to suffer anymore and let them rest.

I took the opportunity to finally repaint my room and do a makeover mainly because I can't work and got nothing to do. hahah And so, it finally happened. :)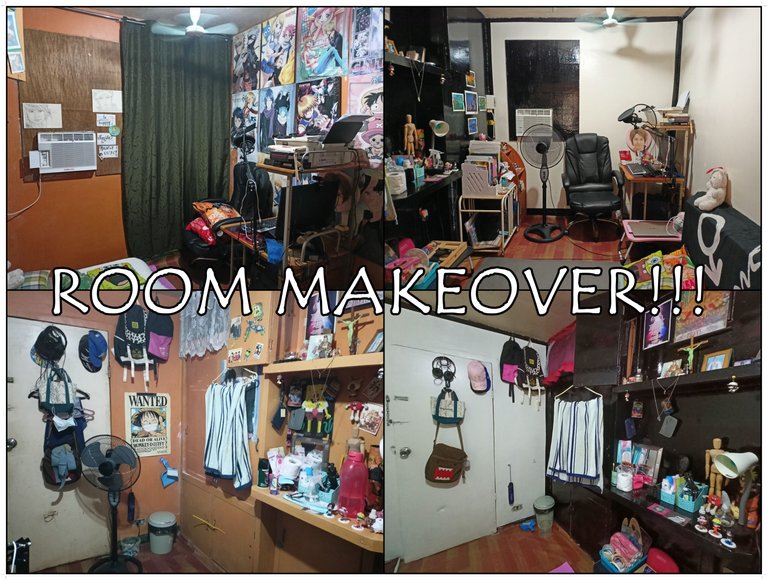 The day after I and papa made our DIY PROJECT, I woke up really early to take a shower and get myself ready for the long day. Around six in the morning, I started taking pictures of my room and getting rid of all my things to place them in the living room. :)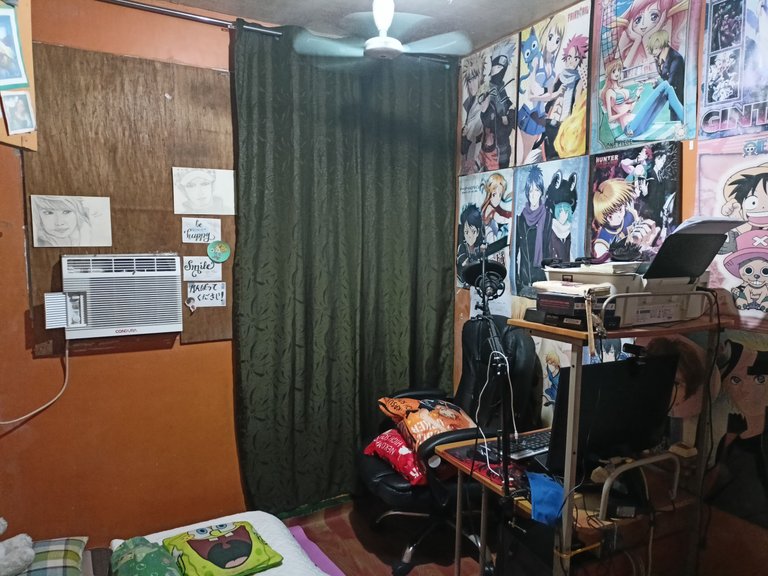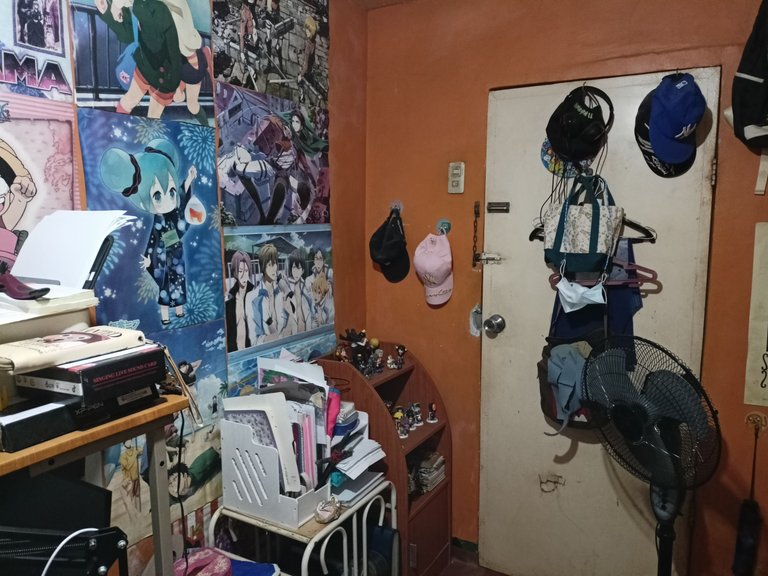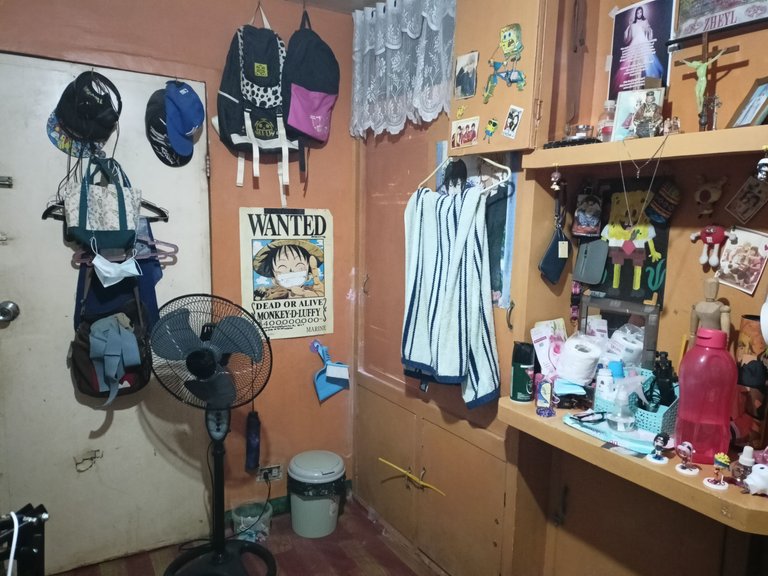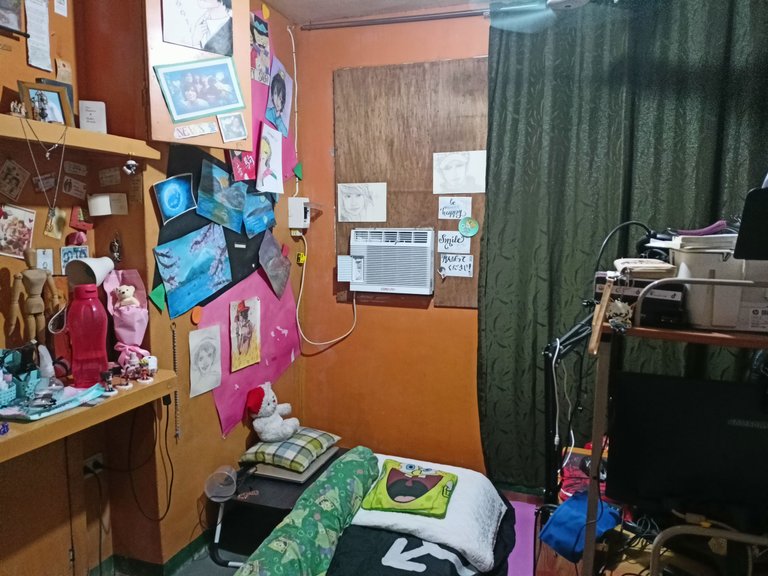 I do have quite a lot of things because my bedroom is also my office since I have been working from home for around 8 years now. I also have anime-related stuff as well as art materials because you know how I love painting or drawing. One thing that I lack in my bedroom is the bed. I prefer sleeping on the floor, so I just put some foam/mattress every night and just clean it up in the morning so I have a bigger space.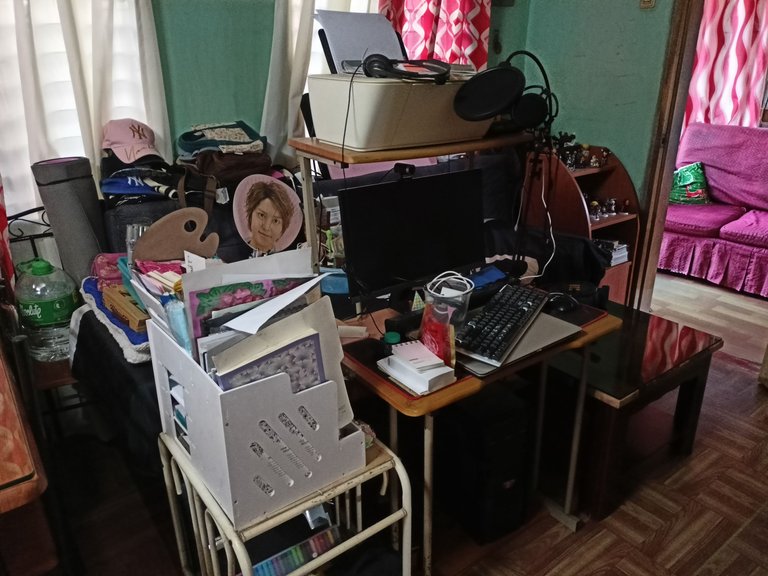 My stuff fit in the living room! hahaha Mama and Arashi had to stay in their room or in the receiving area you see in the corner of the picture above. Our living room was paralyzed for a whole day and a half. :)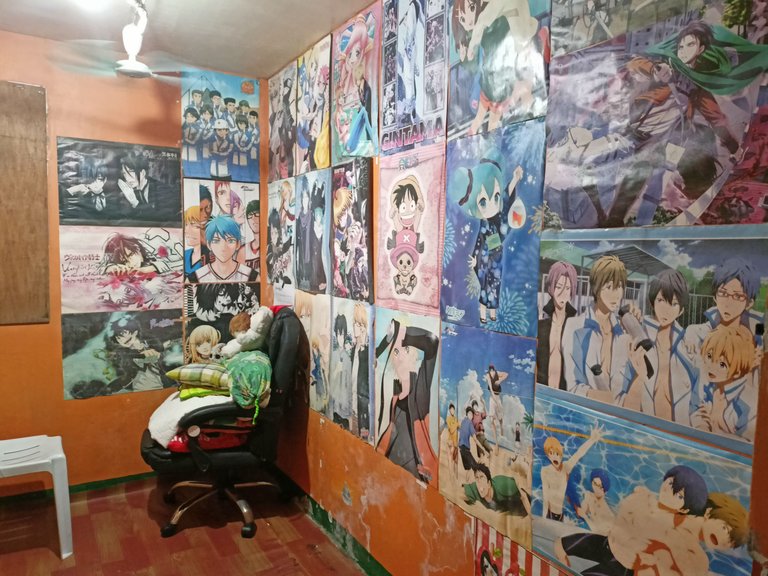 One last glimpse of my babies. I'm going to miss them so much! We've been together for more than a decade. T_T Papa and I took them off the wall as carefully as possible so they won't tear even more. The kids in our community were waiting for them. They plan to maybe just cut out some of the characters. Yes, I gave them away. At least, they'll be taken care of instead of just sleeping somewhere in my storage.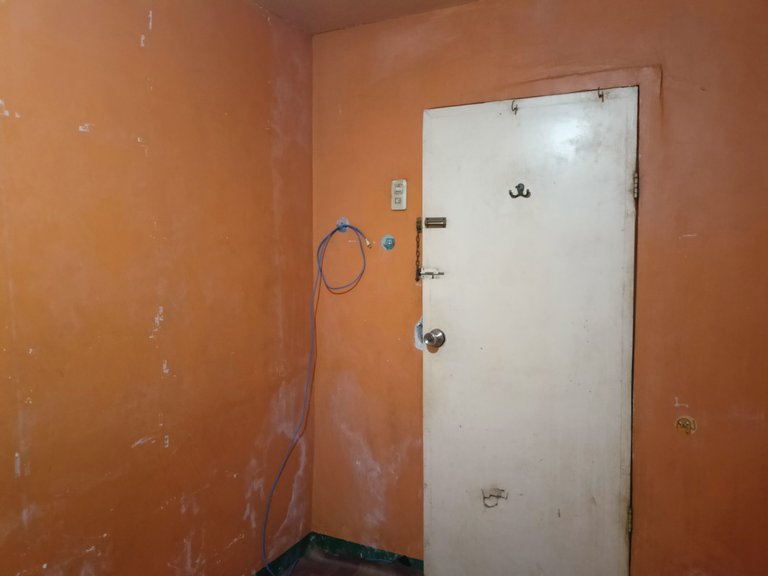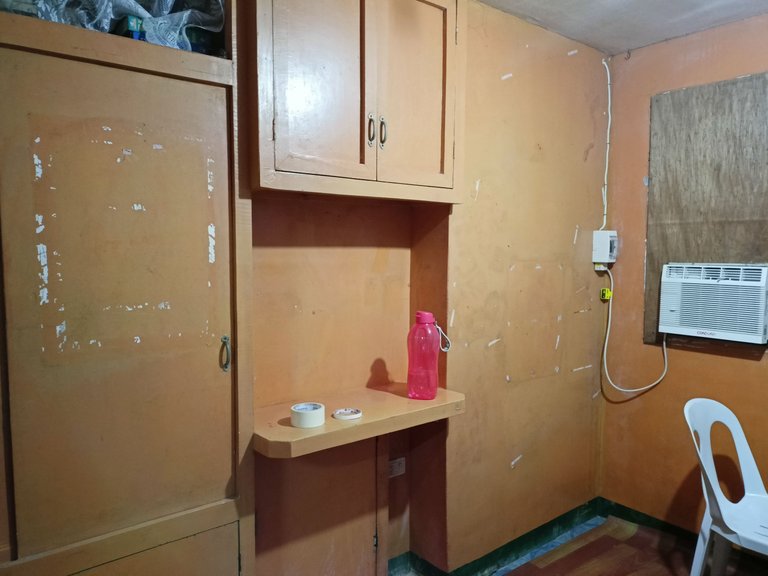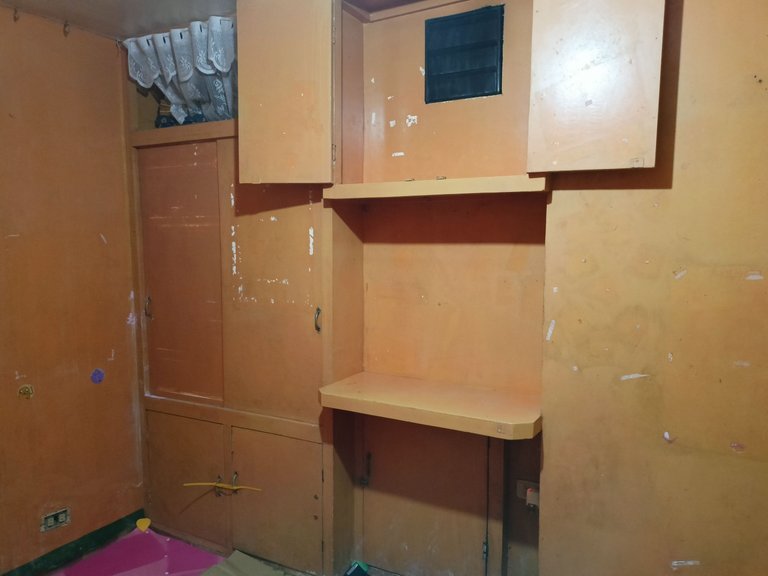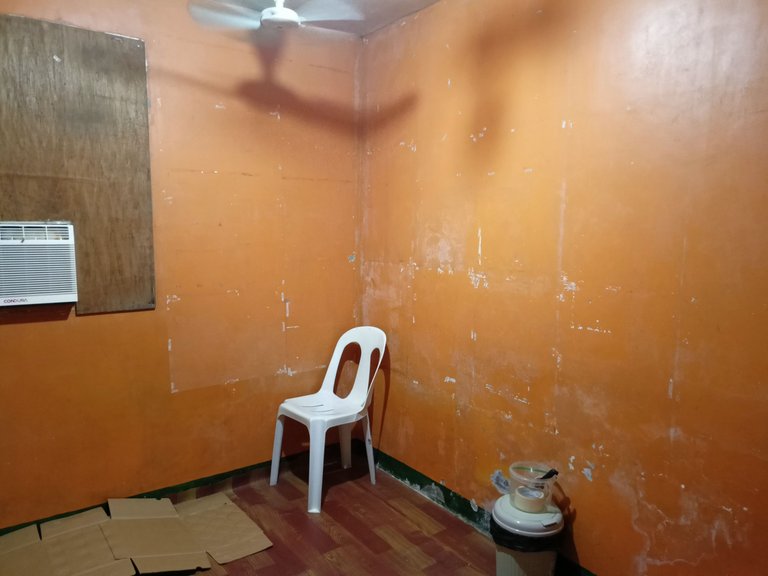 To be honest, I don't really like orange (for the wall) but it was already like this when we came. We're just renting this place but we've been living here for more than a decade now. The owner is also really kind and gave us permission to do whatever improvements we have in the house. She always tells us how happy she is that we're taking good care of her house and to treat it as our own. :) (Also allowed me to repaint the room... and soon the whole house!)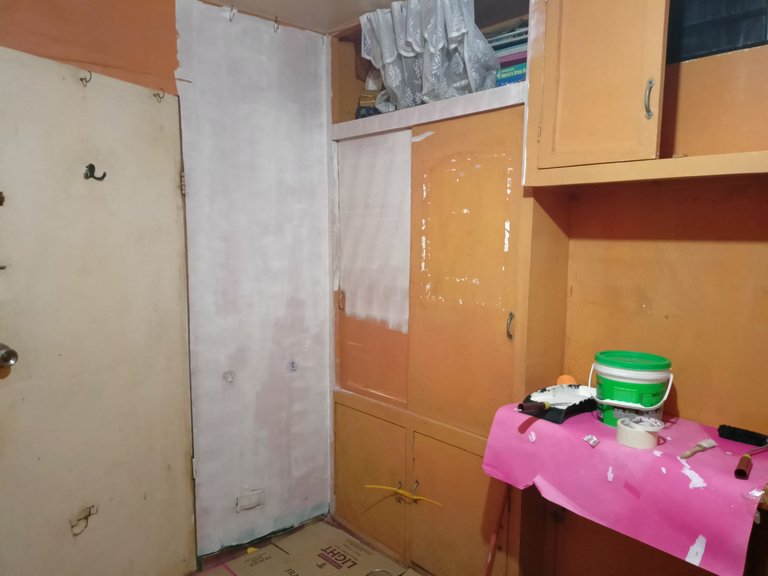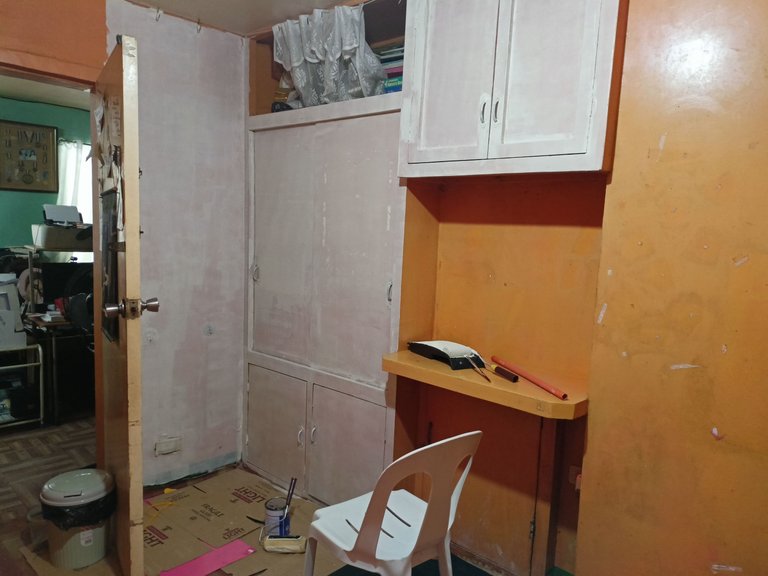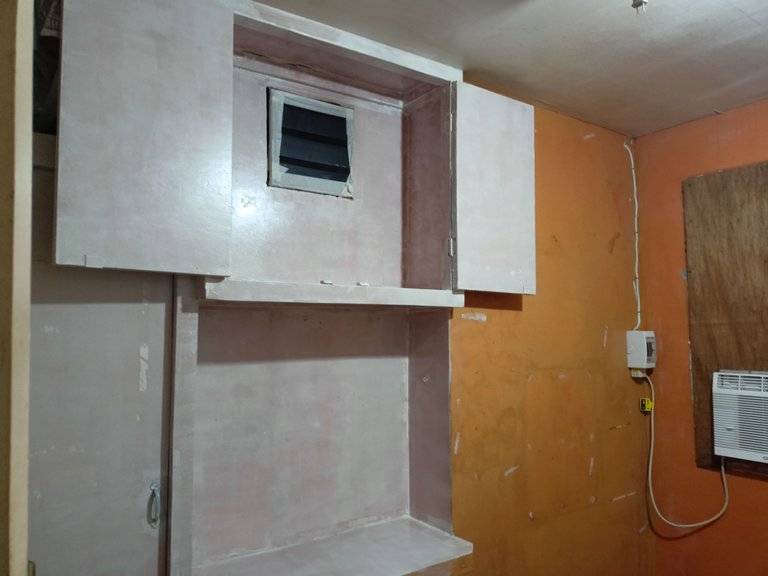 I wanted my walls to be white and my cabinet or this side of the room to be black. I love black so much... it seems so comforting for me and white would make the room look bigger. Of course, I painted the cabinet with white as base paint first. Also, I didn't paint the upper part of my cabinet (behind the curtain). I have all my Nursing books there and it's a hassle to take them out... too heavy. T_T So, it'll stay hidden... shhhhh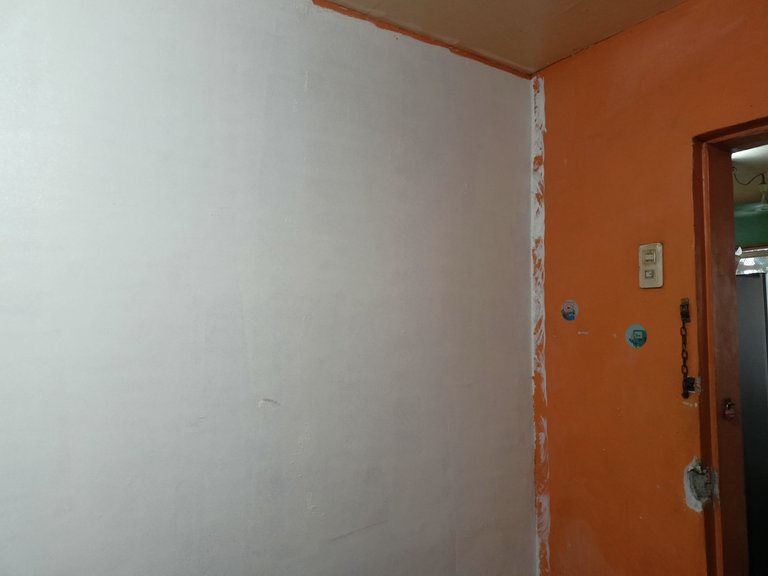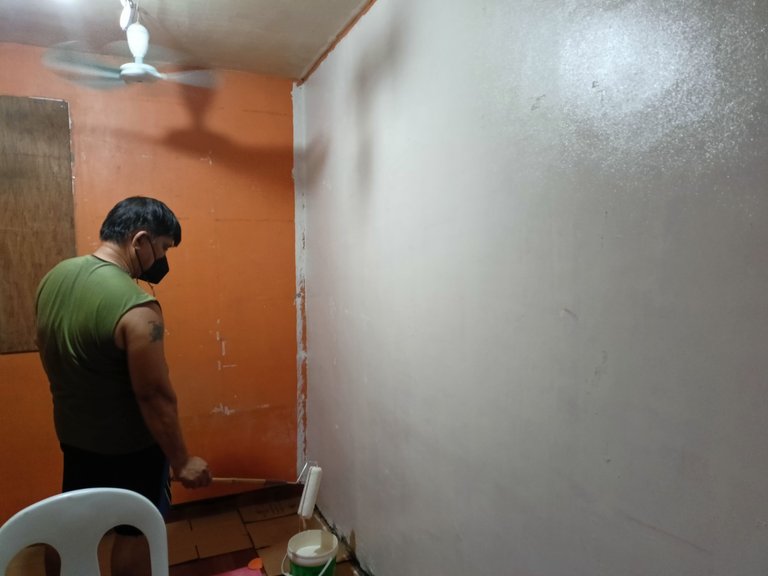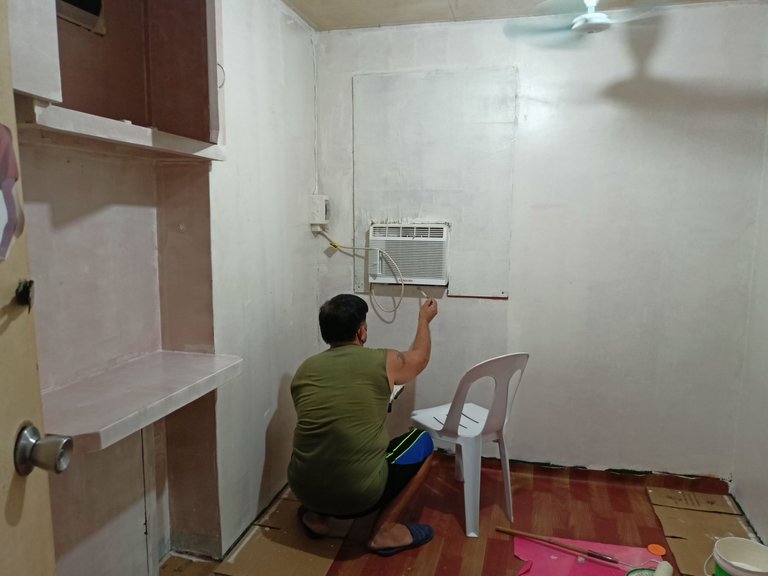 It was taking me longer than expected to paint. The cabinet has a lot of parts, corners and edges, so after lunch, papa decided to help me out with the painting as well. The wall was so much easier and faster to paint. haha, but I gladly accepted his helping hand. <3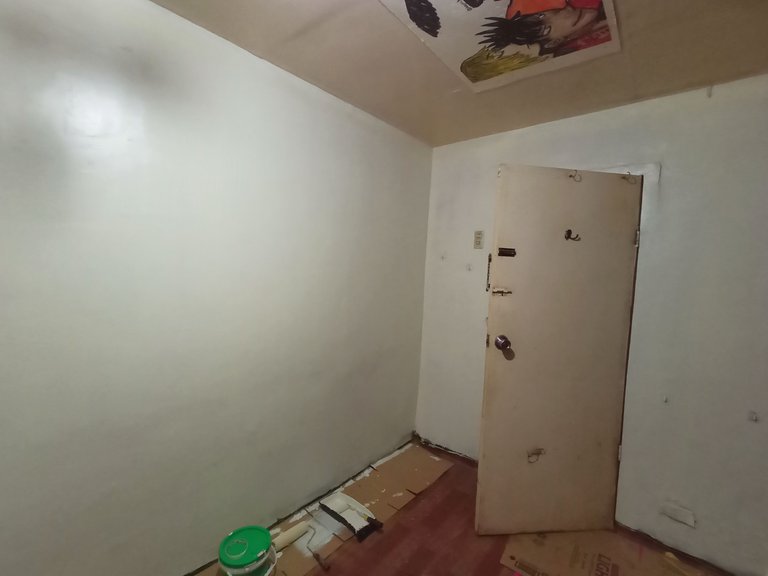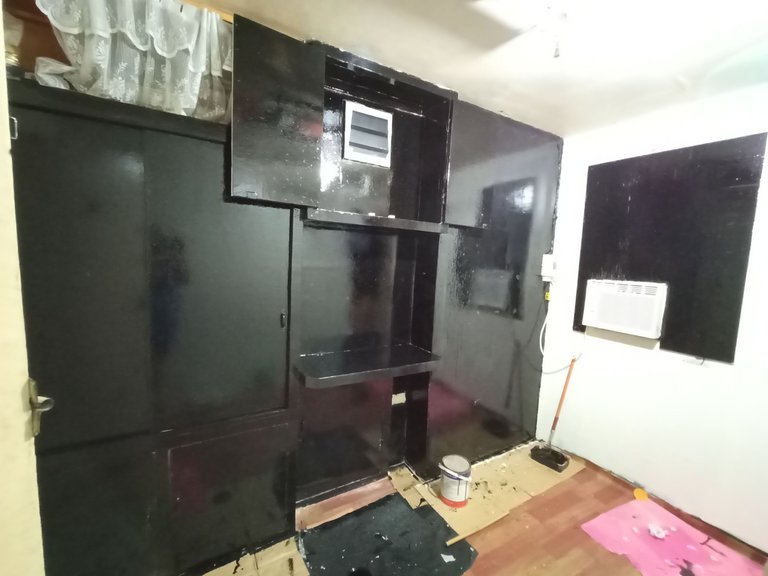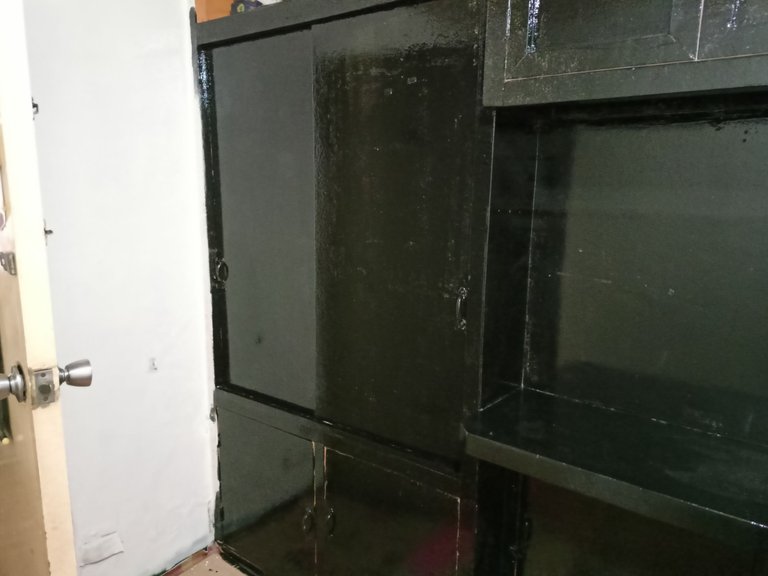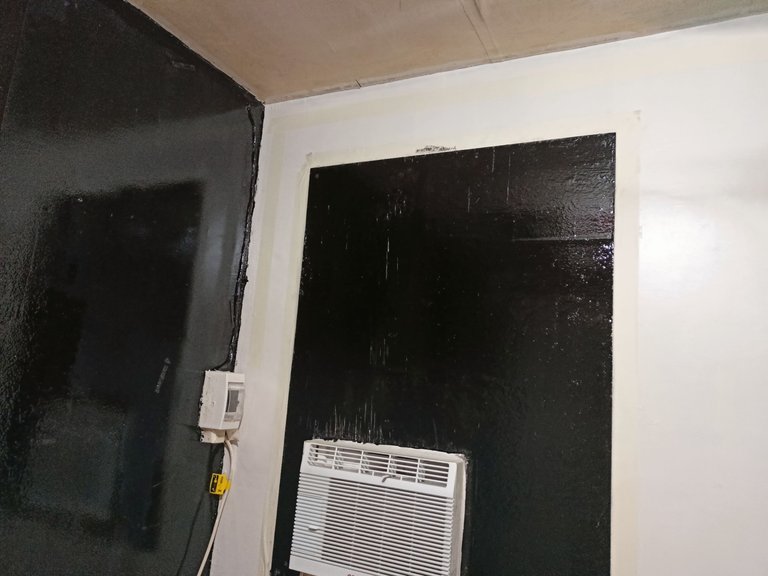 It was already around seven in the evening when I took these pictures. It's not only because it took us a lot of time to paint, but we had an unexpected visitor. I actually registered to another Internet Service Provider, so I can have a backup internet in case my main one is crazy again. I only processed it a couple days before the date of repainting my room and then they came. Really fast and good service!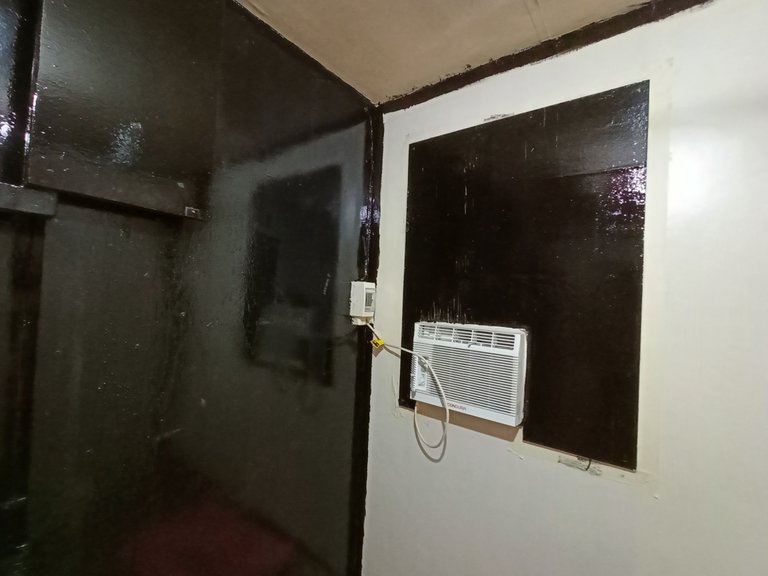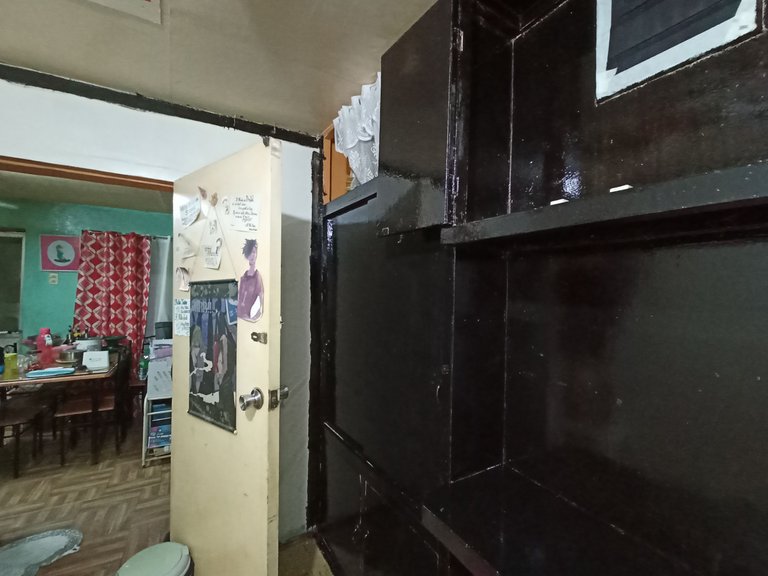 We did some final touches after dinner and finally finished it around ten in the evening. I had to sleep in my parents room that night because the paint was still wet and it was still quite smelly. I don't have a window because I'm trying to make my room as soundproof as I can for my classes. I just opened the door overnight to air it out.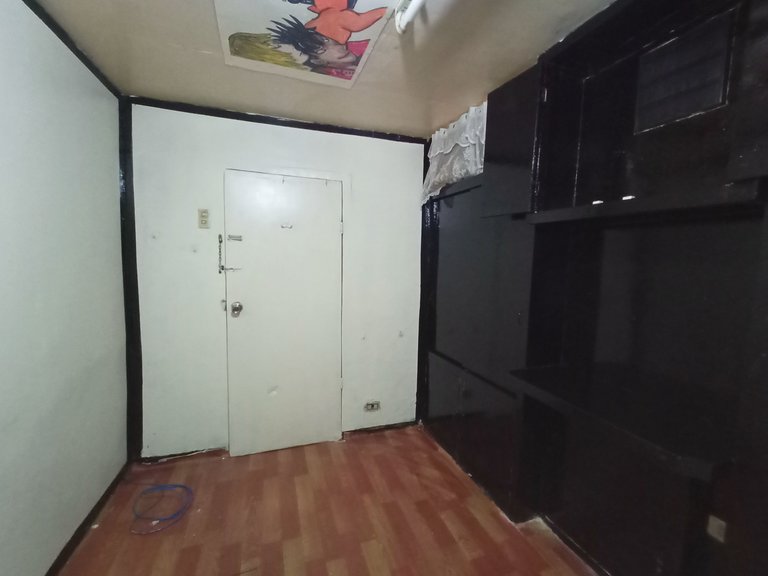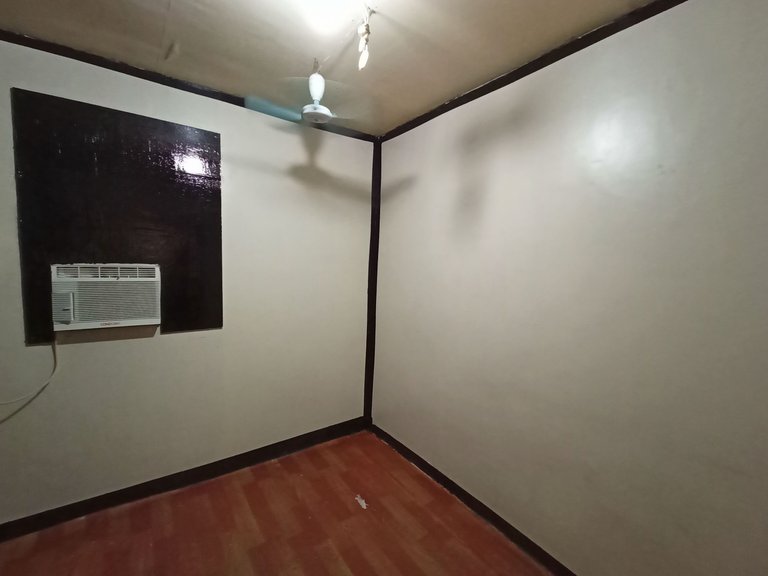 In the afternoon of the next day, I cleaned the room and got it ready for my things. I have already pictured out how I wanted my room to look like, so I arranged my things differently as well.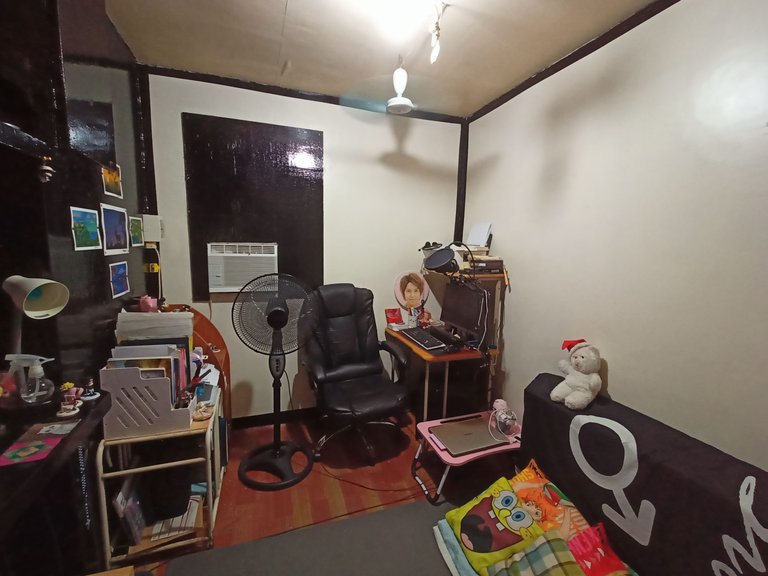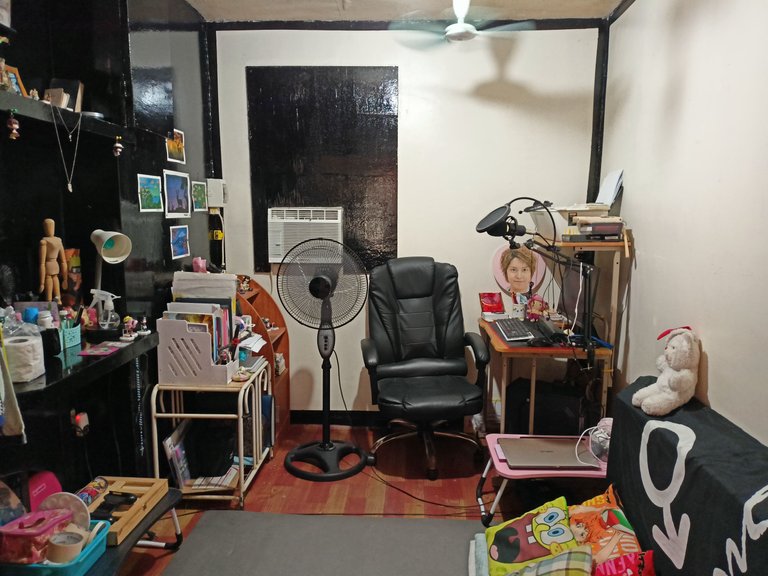 I wanted to keep "the office part" of my room in one corner. Since the room is newly repainted, the background for when I use my camera during my classes is already very pretty, so I need not use any curtain.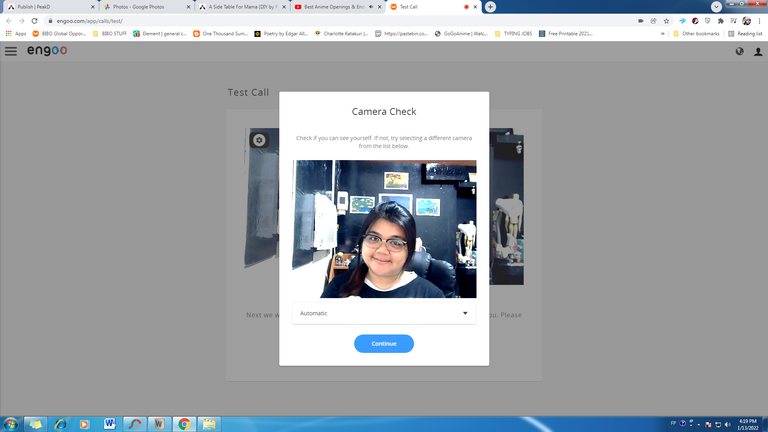 Screenshot of myself and my background. This is basically what my students can see during our lessons. :)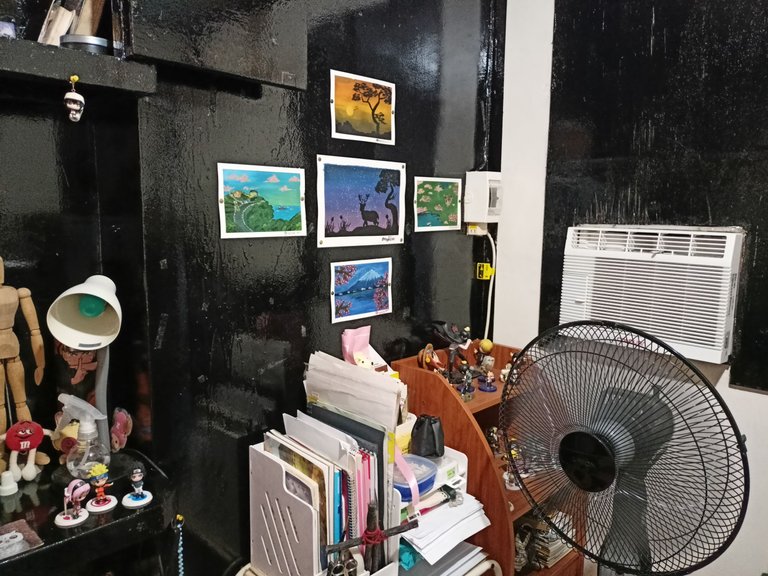 I chose some of my paintings last year and use them to design my background. I'll add more paintings in the days to come. I'm also going to put some artworks on the black wood covering my window. I'll add more anime-related artworks in that part. <3 And ohh, the fan won't be there. I just temporarily placed it there because I was getting rid of the paint smell that time.

Two-thirds of my room is the actual bedroom. In the morning, it's empty making my room look larger than it actually is and at night, I'll lay down my foam. :) Since the space is now bigger, my cousins and I can stay in my room overnight together soon.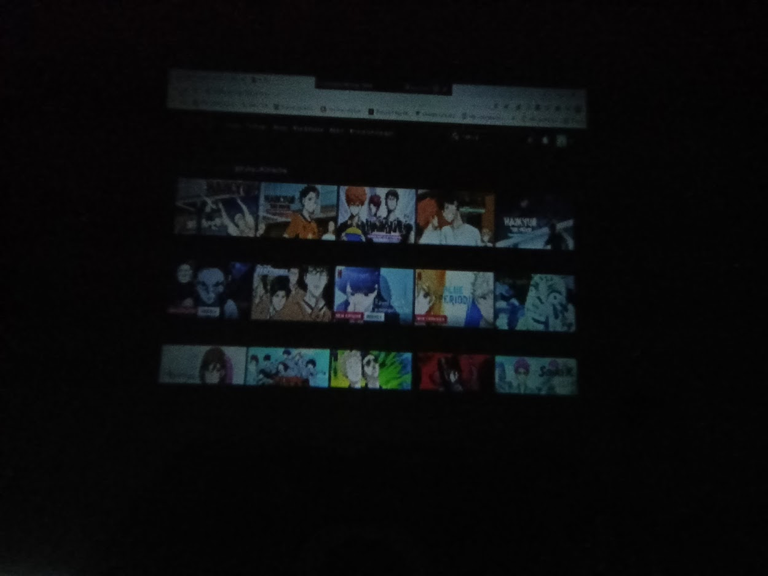 Another reason why I painted my wall white is for this! Movie nights with my cousins would be much more exciting. I can use our mini projector inside my room now. We used to use the mini projector outside near the store whever we do the laundry at night. haha However, it's impossible to do so during rainy nights. But my room is perfect for it now. I can't wait to do it with my cousins soon! <3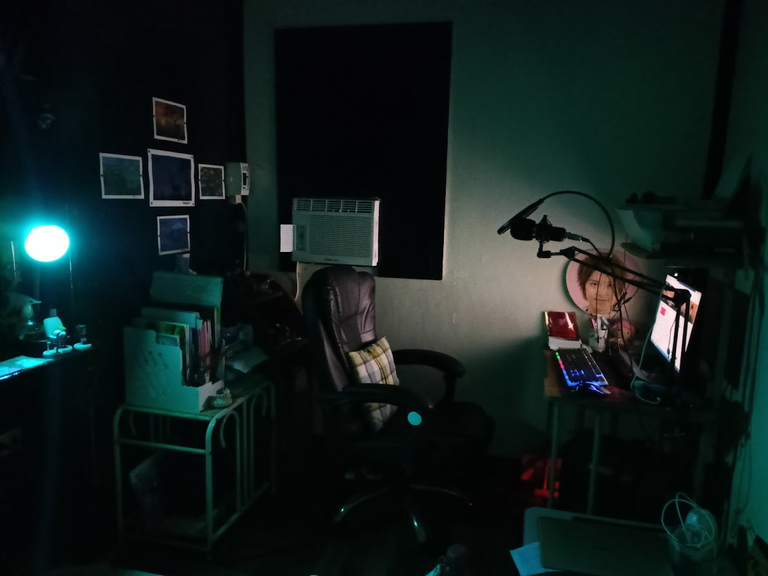 Here's how my "office part" looks like in the dark. I'm planning on putting some LED strips here someday. It would be awesome for when I'm blogging or doing other stuff on my PC at night. The vibes would be awesome.

Since my body clock has changed after the typhoon, I plan on working (class) from the morning until the afternoon. I'll dedicate my night for blogging or preparation for whatever content I want to share like artworks, movie reviews, etc... in addition, I also have most of my special classes (classes with some of my previous students from the academy outside my current company) at night, so I can focus on them as well.

Repainting my room gave me a much better and clearer view on how I want my 2022 would be. I'll continue to strive hard and enjoy at the same time. Life balance is important afterall.

Let's make this year much better than the previous ones! Have a great one and see you around! Until next time! (^_^)/
---
---