Historia: Petra, la gallina chismosa [ ESP– ENG ]

Petra era una gallina que tenía la mala costumbre de repetir todo lo que decían, y no solamente lo repetía, sino que además añadía muchas palabras de más, le agregaba sus propias opiniones y juicios, y ella siempre estaba pendiente de todo lo que hacían y decían los demás, así pasaban los días y Petra hacía comentarios de aquí para allá y de allá para acá, estaba metiendo en problemas a todos los animales de la granja, e incluso había creado grandes divisiones dentro de los miembros de su misma comunidad.
Petra was a hen who had the bad habit of repeating everything that was said, and not only did she repeat it, but she also added many extra words, she added her own opinions and judgments and she was always aware of everything that others did and said, so the days went by and Petra made comments back and forth, she was getting all the animals on the farm in trouble, and she had even created great divisions within the members of her own community.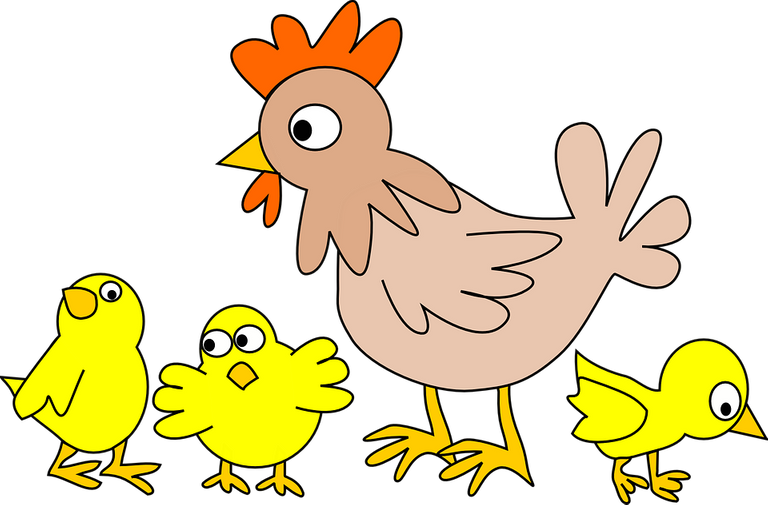 Pixabay de OpenClipart-Vectors
Parecía que Petra no tenía remedio, porque siempre estaba comentando y pendiente de todo, para después poder tener algo de que hablar y sus acciones siempre perjudicaban a los otros animales, pero no lo suficiente como para hacerla reflexionar. Un día ella escuchó al dueño de la granja decir que iba a cocinar a todos los animales, y que un gran banquete se iba a dar, pero lo que Petra no sabía era que el dueño de la granja solamente estaba cantando una canción muy popular.
It seemed that Petra was hopeless, because she was always commenting and hanging on everything, so that later she could have something to talk about and her actions always hurt the other animals, but not enough to make her think. One day she heard the owner of the farm say that he was going to cook all the animals, and that a great feast was going to be given, but what Petra did not know was that the owner of the farm was just singing a very popular song.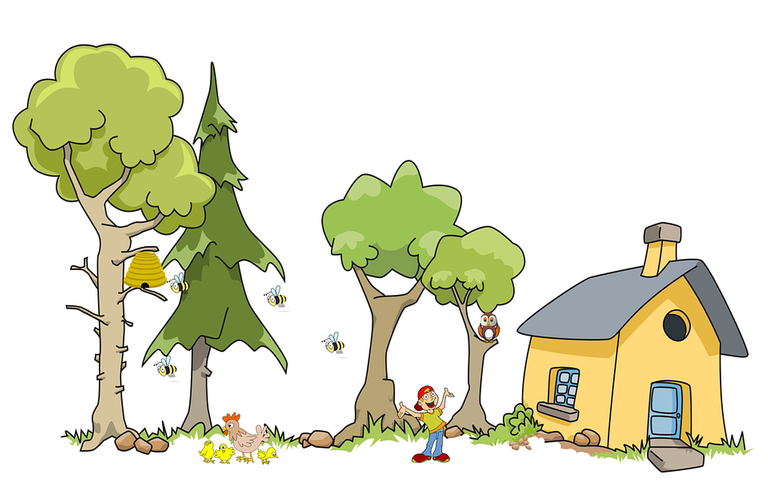 Pixabay de randheersingh99
Así que Petra salió corriendo y se puso a abordar a todos los animales, diciéndoles que había oído al dueño de la granja decir que a todos los animales los iba a matar, que además iba a comérselos y venderlos a otros miembros de la comunidad. Como vemos, Petra no solamente se conformó con llevar el chisme, sino que le añadió algunas palabras más, y lo más importante no verifico si lo que estaba diciendo el dueño de la granja era verdad, solo comenzó a correr el comentario y a crear el caos en todo el lugar.
So Petra ran out and started to approach all the animals, telling them that she had heard the owner of the farm say that he was going to kill all the animals and that he was going to eat them and sell them to other members of the community. As we can see, Petra was not only satisfied with carrying the gossip, but she added a few more words to it, and most importantly she did not verify if what the farm owner was saying was true, she just started spreading the comment and creating chaos all over the place.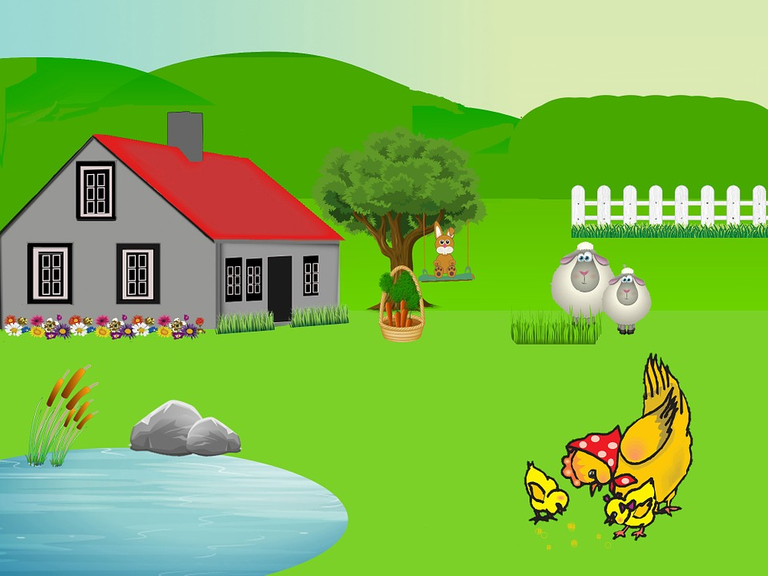 Pixabay de louda2455
Al principio ningún animal quiso creerle, pero la tensión empezó a apoderarse del lugar, las ovejas ya no querían comer, y los conejos no podían descansar, no podían dejar de pensar en lo que Petra había dicho y esto les robó la tranquilidad.
Al día siguiente todos estaban dispuestos a escapar, pues habían pasado una noche muy amarga, pensando en lo que Petra les había dicho y dudando si era mentiras o verdad, las ovejas salieron del campo y esa mañana ya no fueron a pastar, los conejos salieron de sus madrigueras y las gallinas se escaparon del corral, un gallo, todo asustado gritando dio la señal y todos comenzaron a correr como locos, porque querían escapar del lugar, no querían perder sus vidas, pero huyendo de un supuesto peligro muchos tuvieron un triste final.
At first no animal wanted to believe her, but tension began to take over the place, the sheep no longer wanted to eat, and the rabbits could not rest, they could not stop thinking about what Petra had said and this robbed them of their peace of mind.
The next day everyone was ready to escape, because they had spent a very bitter night, thinking about what Petra had told them and doubting whether it was lies or truth, the sheep left the field and that morning no longer went to graze, the rabbits came out of their burrows and the chickens escaped from the pen, a rooster, all scared screaming gave the signal and everyone began to run like crazy, because they wanted to escape from the place, they did not want to lose their lives, but fleeing from a supposed danger many had a sad end.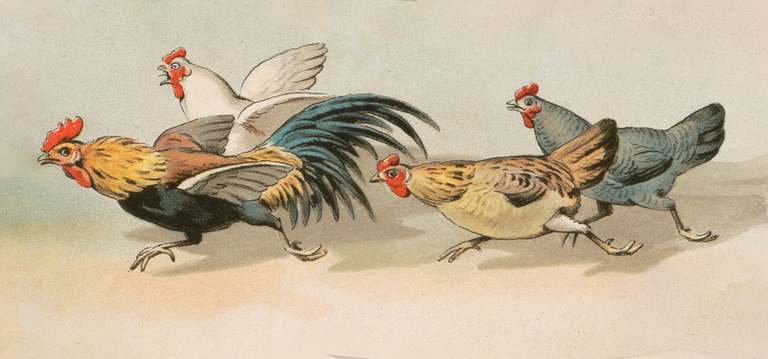 Pixabay de Prettysleepy
Un gavilán que volaba en el cielo vio el revuelo que había en la granja y supuso que él era el principal comensal, se puso manos a la obra, porque según él ya era hora de desayunar. El gavilán sabía que, si no aprovechaba este revuelo, no podría volver a intentarlo jamás, así que se dispuso a cazar y de un rápido salto, a la granja llego con gran velocidad, iba a matar a todas las gallinas, pues tenía que aprovechar la oportunidad.
A sparrowhawk flying in the sky saw the commotion at the farm and thought that he was the main eater, he got down to work, because according to him it was time for breakfast. The sparrowhawk knew that if he did not take advantage of this commotion, he would never be able to try again, so he set out to hunt and with a quick jump, he arrived at the farm with great speed, he was going to kill all the hens because he had to take advantage of the opportunity.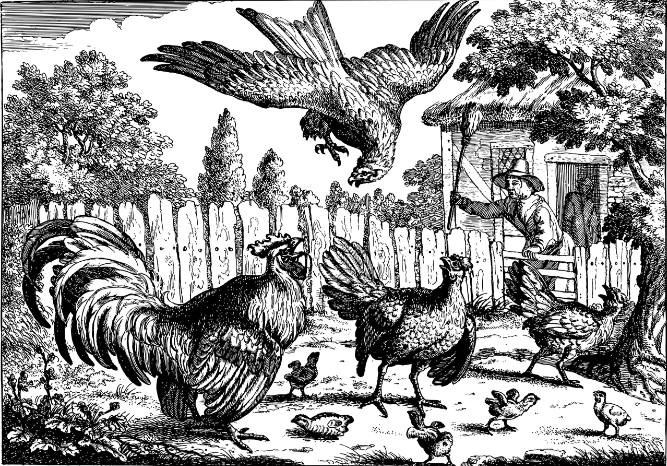 Pixabay de GDJ
Que gran conmoción se produjo en aquel sitio, ahora todos gritaban, porque estaban en peligro, porque el gavilán se los iba a desayunar, por suerte salió el dueño de la granja, quien no entendía nada de lo que estaba pasando, pero al gavilán empezó a corretear, logrando espantarlo y a la mayoría de sus animales pudo salvar, algunos estaban malheridos y otros no podían ni caminar, y el pobre dueño de la granja tuvo que curarlos a todos y volverlos a encerrar.
What a great commotion occurred in that place, now everyone was screaming, because they were in danger, because the sparrow hawk was going to eat them for breakfast, luckily the owner of the farm came out, who did not understand anything of what was happening, but the sparrow hawk began to run around, managing to scare him and most of his animals he could save, some were badly wounded and others could not even walk, and the poor owner of the farm had to cure them all and put them back in jail.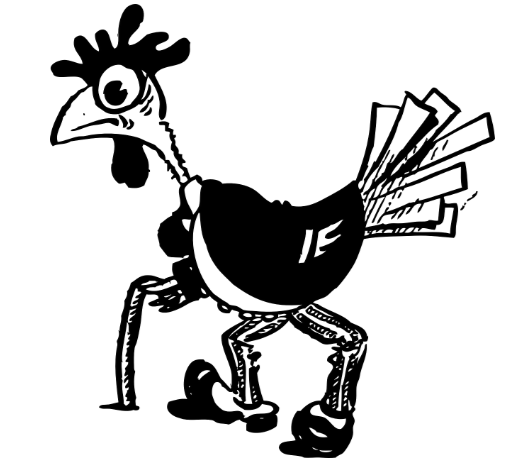 Pixabay de Clker-Free-Vector-Images
Petra por fin se dio cuenta de la tragedia que acababa de provocar por repetir cosas que no sabía si eran verdad, además aprendió que estaba mal andar repitiendo lo que decían los otros animales y ni hablar de añadir palabras, esto afecta terriblemente la integridad, Petra se dio cuenta de que había sido una gallina chismosa y decidió cambiar, porque su mal comportamiento le iba a quitar la vida tanto a ella, como a los demás.
Petra finally realized the tragedy she had just caused by repeating things she did not know to be true, she also learned that it was wrong to go around repeating what other animals said, not to mention adding words, this affects her integrity terribly, Petra realized that she had been a gossiping hen and decided to change, because her bad behavior was going to take her life, as well as the lives of others.
---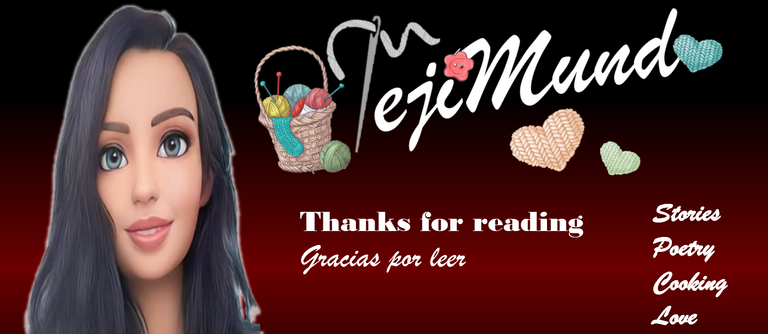 Editado en PowerPoint utilizando ToonArt
---
---