CROSSROAD OF OPTIONS
ME:
Hard is life for me to live,
Stressful and difficult to ever receive,
Far is the dream I choose to live,
The will to fight now turning a deceive.
MEPHISTOPHELES:
I came from hell to offer my help,
Oh you resisted with the greatest of yelp,
Why lament your hardship while the water runs free,
You know what to do with the littlest of fee.
ME:
What then is life worth for a bull with no horn?
When dignity is lost to a thief with no gun,
Life might be worth it but troubles would come,
Where then do I turn when reality turn dumb?
GUARDIAN ANGEL:
In thorns is the pathway to the life that you seek,
Softness is so useless through a forest so thick,
Fulfilment is a must but lessons should be learnt,
With time, the sorrows would take a huge dent.
ME:
"When is the time?" is the question I own,
Till meatloaves are made off the skin of my bone?
Time on its own doesn't wait to be seen,
When then is the moment to ditch the unclean?
LIFE:
Be hasty all you want but no lake can be jumped,
Endure if you must but no phase shall be dumped,
The world in its form is a maze full of mice,
Where the strongest of all should be so cold as ice.
ME:
Crossroad of options are the scenes in my head,
Where should I turn for the future ahead,
Perturbed is my conscience to the choices in wait,
To the test is the nature and the strength of my faith.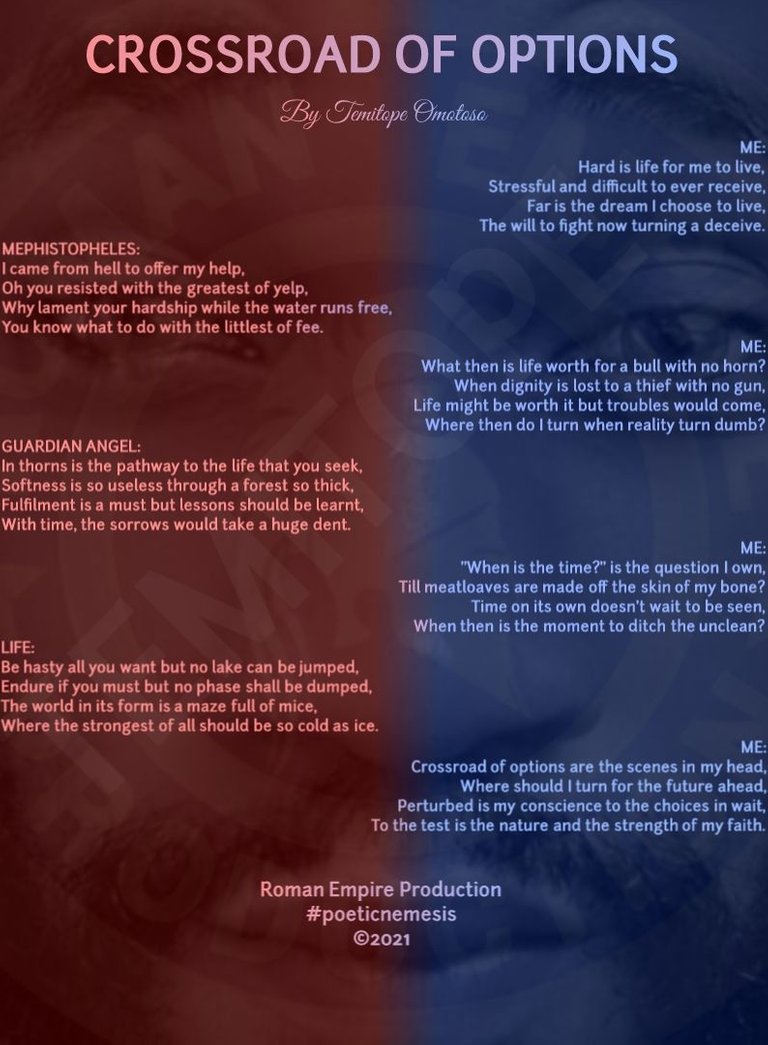 ©Roman Empire Production
Thanks for reading
---
---