FRIENDSHIP FRIGHT, CHOICES
FRIENDSHIP FRIGHT
Mind the hearts of those you trust,
Friends most times are not a must,
Make not of me as bias and unjust,
Ashes in the air are friends like dust.
True some seem so flawless and meek,
With them lies solutions to all you seek,
Forget not that imperfections make them weak,
Predictable are their traits at its utmost peak.
Safety over acquaintance is a priority,
Beware the odds within bonds seeking superiority,
Herds so meek they seem to reality,
Ambush predators they are away from visuality.
Watch your herds as much as you want,
Within are wolves looking out to hunt,
Under your nose hide the fire to get you burnt,
Camouflage amongst all is their potent stunt.
Bonds are all they seek to create,
Unaware you are to troubles at the gate,
Love you see amidst the hate,
Ignorance to the truth would seal your fate.
Pain is better when not from within,
Hard to take are toxic bonds so mean,
Some from all are envious of everything,
Not all you meet should make up your inn.
Good is friendship for the world to grow,
Amidst the bubbles you study down low,
Bright are the smiles that deals a blow,
Risk not your life for bonds so hollow.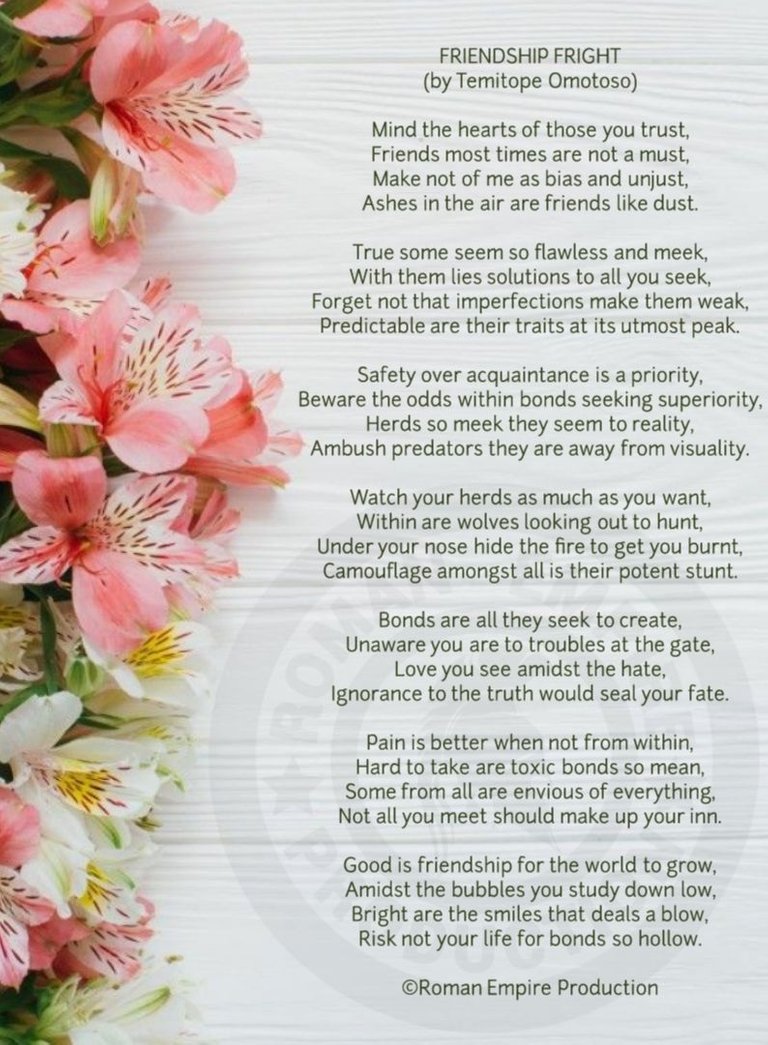 CHOICES
Quit if you must,
Vanity is all like dust to dust,
Consider though the reasons you began,
Journeys so unfinished could hit like a speeding van.
Gloat around if necessary,
Choice of lifestyle surely tends to vary,
Consider though the consequences attached,
Embrace your choices even when hopes are dashed.
Blame not choices for your excuses,
Hard is life so filled with deuces,
One way guarantees not a mindset,
The ability to choose is more like a risky bet.
Not all being chosen goes well as planned,
Indifferent is life like a magical wand,
Your purpose to live lies deep on your choices,
Portal of knowledge are choices to help locate our voices.
Learn a lot before you choose,
Unplanned events are avenues to lose,
Your preference should stand whether wise or not,
A time to decide and choose does come with its own worth.
Judge not none for their distinct decisions,
Respect kindly individuals with their actions,
Decisions do matter whether right or wrong,
The choice you make remains your most favourite song.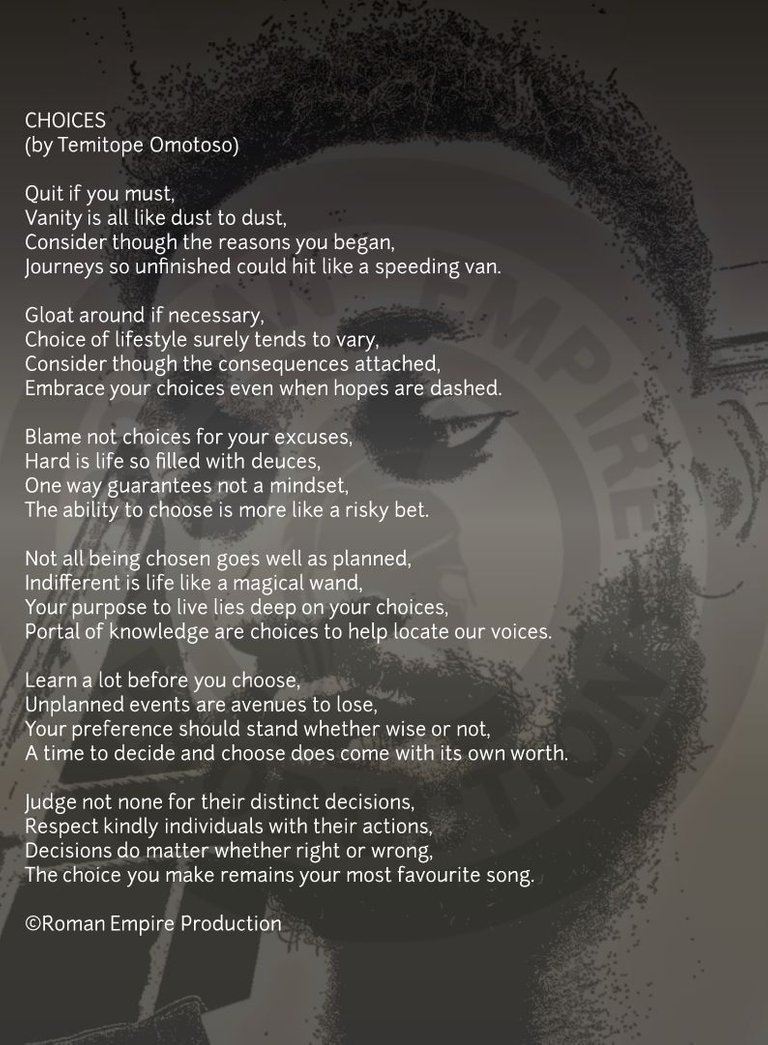 Thanks for reading ❤️❤️❤️
© Roman Empire Production
---
---