MORTIFICATION, IGNORANCE OF OLD
MORTIFICATION
Most like me have died with dreams,
Some through fate and others through haste,
Buried are goals with the brightest of beams,
Being humble to help is never a waste.
Give while living when you have the means,
Derive not delight at a capsized vessel,
Learn to save from the darkest of inns,
The humility to help doesn't make you a fool.
Smite not the rock with foundation in crumbs,
None is to blame for the space that they claim,
Condemn not the fallen with more can of worms,
Pride with no humility is a beast out to maim.
Live by lifting others to advance in the game,
Cheating lasts long but not longer to life,
Help heal the world with the boldest of aim,
Humility with purpose means a defeat to strife.
Humble the mice so confused in a maze,
Not by hate or mockery in disguise,
Fuel their morales through the bustle and race,
Be not the villain so frosty like ice.
Days when darkness engulfs the light,
Lift all affected with the channels you have,
The zeal to help makes reward a delight,
Be careful through life with the meals that you serve.
Hard is life so don't kindle it more,
Reach out to those well within your reach,
Mind the ways your mockery does pour,
Tables do turn all to serve back your dish.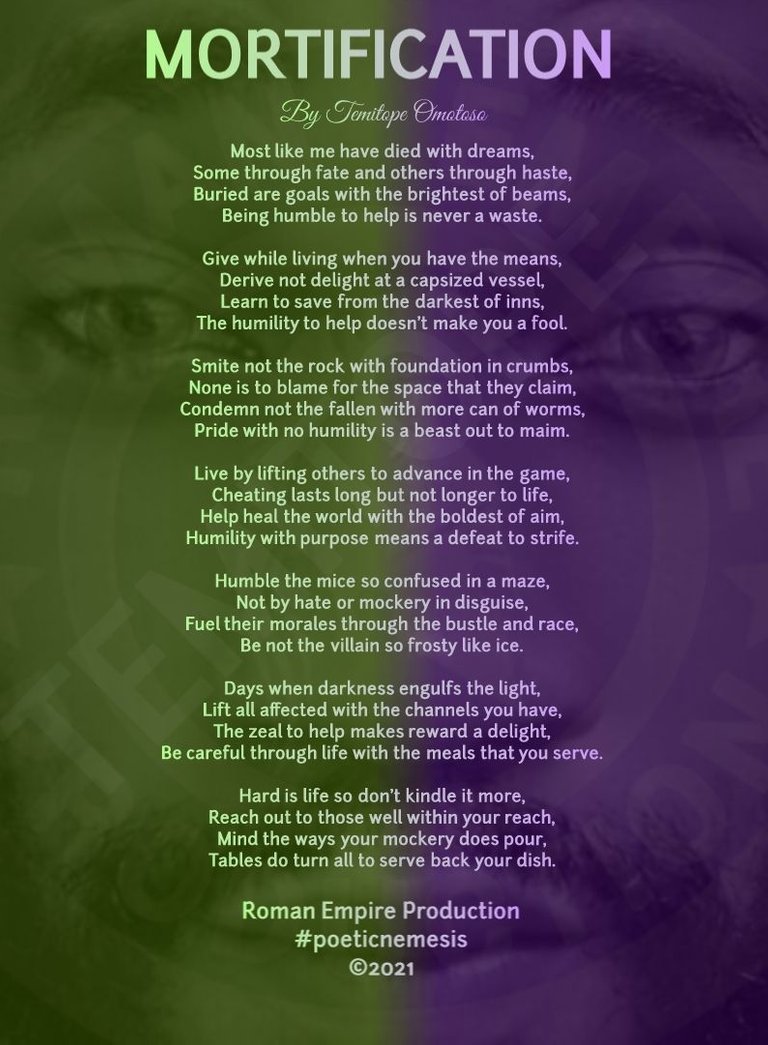 IGNORANCE OF OLD
The coast we trail, others have sailed,
Yet none warned of the danger ahead,
The storms and rubbles could have turn out to fail,
The ignorance upfront is the pain that we serve.
In silence we wait through the pummel of greed,
Where hardwork laments and dubiousness succeed,
Ahead are the pioneers so mute on alerts,
Today is the fate none chose as a path.
The battles we face are not ours to debate,
The ships before us had all failed to update,
Legacies are created for followups to reign,
Yet none was produced to help us ward off the rain.
Narrow is the hole that had turned out a pit,
Hideousness today has assumed the top seat,
The calmness of mind has been lost out at sea,
Seen were these days yet ignored to be faced.
Grasses we've turned to be trampled upon,
Nothing is safe no matter how much we mourn,
Tallness or short, elephants care not for grass,
Unseen are the dangers like the airflow of gas.
No matter the brute force, buffalos will still fall,
Preys they remain to the tyrants that roam,
In unity they conquer but in division are maimed,
Our problems today have been seen but ignored.
The carcass of blame should be left to decay,
Though hurtful is the thought that the tale could have changed,
Our battles today are for our canoes to know,
A legacy that failed through the ignorance of old.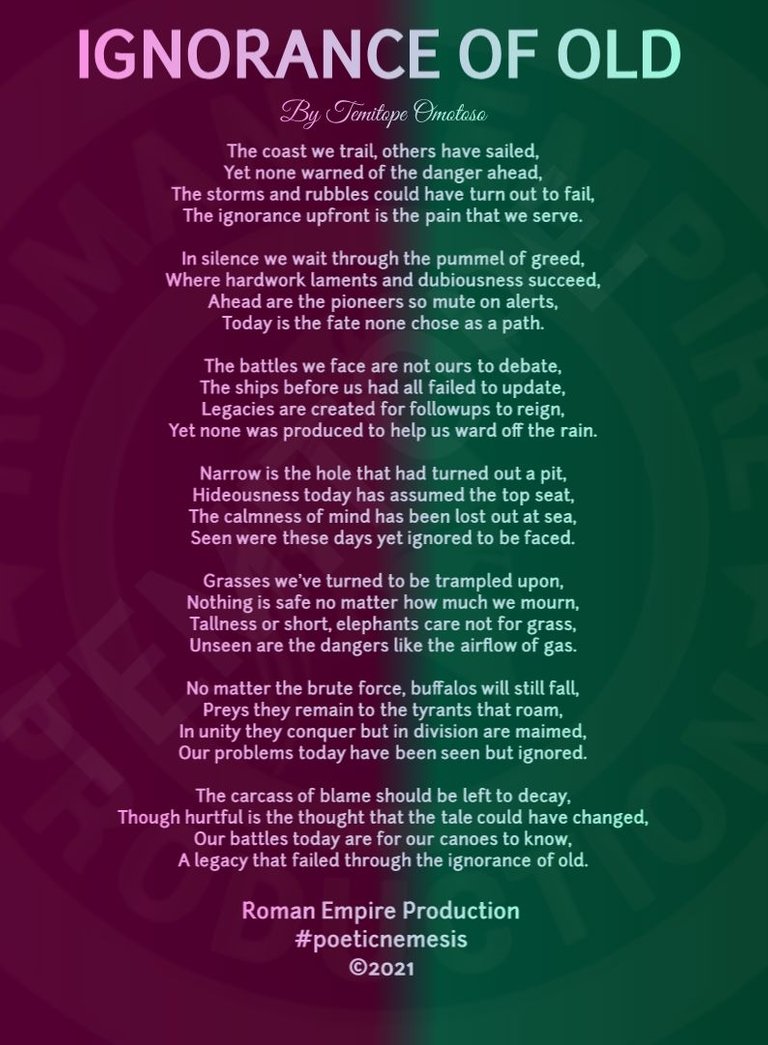 ©Roman Empire Production
Thanks for reading
---
---