All about NFTs on Episode 20 of Talk Time with Tengo
Hello Hello all Hivians on The Interwebby!
Tuesday is tomorrow and that means #tengotuesday and of course Talk Time with Tengo
It will be Episode 20!
Can you fluffing believe that!
It's going to be a bit of a Special show and it will also be the Season Finale. What with the holidays coming up and the alleged summer on its way, Tengo and Matilda need a break to recharge their batteries. Planning and researching of guests and their projects believe it or not is quite time-consuming, something which will be in short supply for me over the summer.
So in the meantime ....
.... let's see who or what is on the show...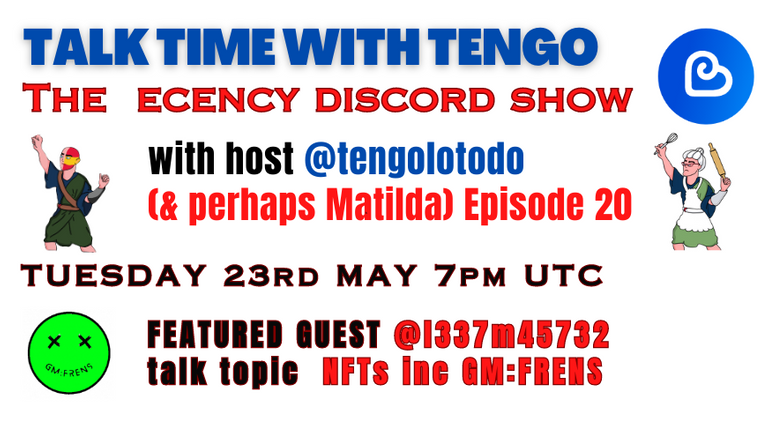 Talk Time with Tengo this week will be about NFTs
Last week we ended the show talking about NFTs.
@pvmihalache was kind enough to give away some of his Humble Tractors and @stresskiller wanted to know how to create NFTs for his photography work.
@ravenmus1c explained a little about WAX and some of her current NFTS
@l337m45732 was one of our first guests here at Talk Time with Tengo and am hoping he is free to pop back and talk about WAX and GM:FRENS and his latest NFT which was minted on nft showroom!
Of course nftshowroom is Hive based, however, the volume is very low at the moment, do you use it?
I know @shadowspub has just minted some NFTs there, including some cool AI generated art in her latest Animals Taking Over the Long Weekend
You can mint NFTs all over the place, and I would think that WAX is the most popular offchain place for Hivians to mint.
Do you mint anywhere else?
I know that @djynn is going to be minting their Wilders NFT Project / ワイルダーズNFTプロジェクト on mooar.com
from AI generated images using GNT on Solana.

Shout out and big cheers to @liotes for sponsoring this episode with @achim03 and also to @ph1102 for being such a pro with moving pictures to keep Matildaoff the gin for five minutes!
I just wanted to thank all the amazing sponsors that have supported the show over these 20 episodes😁👏
Thank you, everyone, for all the support, it is appreciated.
So why not appreciate those sponsors by visiting their feeds!

Don't forget to tune in and if you have questions for ecency support communities or have posted recently then bring them along tonight at 7pm UTC!
To join the show ....
Scroll down in Ecency Discord to where you see VOICE. You can listen in at #chat-voice and use #event-chat to type comments.
Again the link for Ecency Discord is here
The link to the show is here
If you have a project that you would like showcased or you would like to be a guest on the show, do let us know in the comments below or in discord!
I would like to say a big thank you to @good-karma for letting us host the show in the @ecency discord server.
Grab a drink, bring your party hat and let's chat Tuesday at 7pm UTC!
Thanks for visiting and enjoy the rest of your day!


All images and ramblings are from me, the mad Scotsman TengoLoTodo and lead image created my me in canva.

@tengolotodo May 22nd 2023

DO WHAT YOU LOVE AND DO IT OFTEN
Haste Ye Back!
---
---