Do you like bad manners too TIna
Hello Hello to all music-loving Hivians
It is Tuesday and that of course that means it is #ttt or #threetunetuesday and so it's time to share some tunes!
(For those of you Talk Time with Tengo fans, we are on a break tillafterthe summer)
The songs you will hear today have been picked by me! It all started from reading a tweet from @ravenmus1c asking what we like for motivation Monday music,well I like fun and bouncy so whi sprang to mind ...
Buster Bloodvessel himself and Bad Manners
Source Image by Gerd Altmann from Pixabay modified by me
The formalities
This week is week 105 of ttt and if you wish to participate then follow the rules laid out by @ablaze in his post from last week Rory Gallagher for Three Tune Tuesday - Week 104 - 10 HBI shares to be won!
Do Go support @ablaze as without him we would not have this mental fun musical activity that you can win HSBI from! I am happy to be one of the NINE sponsors and it is kinda fun checking out music from all over this world of ours!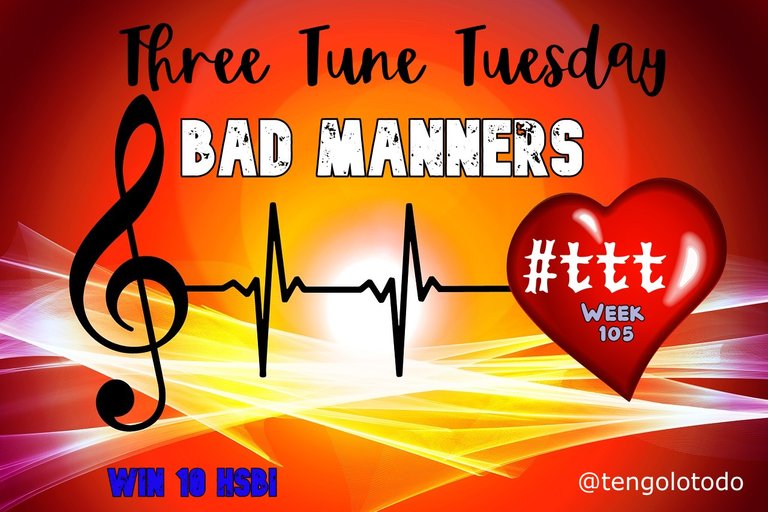 This is week 105 did I mention that already!
Formalities over, let's get down to it
This is a band I saw many many years in Hammersmith in London and get drenched .... in beer! Now that was a mosh pit and a half!
I am a huge ska and 2 tone fan and it always puts me in a cracking mood, I just love the sax too!
So let's get down to it!
Bad Manners - Walking In The Sunshine
Nuts they are just fluffing nuts and this video I had to play to kick off this playlist. Very British and as I live by the seaside it is very apt to play.

Bad Manners - Can Can
Have you ever seen a singer like Buster dancing the Can Can like that?
And the band in their wigs, just class and a timeless classic for me.

Bad Manners - Ne Ne Na Na Na Na Nu Nu
That was mental trying to choose only three, I love them all and tried to pop in three cool videos.
There you go @deraaa I do like my music mad too!

All music lovers will be aware that the legend Tina Turner passed away last week, and of course I thought about a ttt post for her but I paid my respects with RIP Tina Turner for me you will always be Simply The Best
I leave you with my favourite song sung by her in 2000 at a concert I was at ... can you see me haha not a chance!
Can you believe she was 60 here? I couldn't!
Bonus Tina Turner - The Best - Live Wembley (2000)

I hope that you enjoyed these tunes from Bad Manners
Which was your favourite (if any) ?
Note: The three YouTube videos that I have shared are not owned by me, I am simply spreading great music on Hive.
I wish that you all have a brilliant rest of your week, and until we meet again enjoy your tunes 🎶🎵🎶


All images and ramblings are from me, the mad Scotsman TengoLoTodo unless otherwise stated.
DO WHAT YOU LOVE AND DO IT OFTEN
Haste Ye Back!
@tengolotodo 30/5/2023

---
---