Hive fpl ~ The BIG reset! Did it work...
Hello Hello Hivers and especially to all my fellow hivefpl fans and players!
It is back ⚽️ after the International break that is.
Well played Scotland 🏴󠁧󠁢󠁳󠁣󠁴󠁿 who topped the group and got promoted to the top tier in The Nations League and got revenge over Ukraine! And eh England 🏴󠁧󠁢󠁥󠁮󠁧󠁿 commiserations lads I am sure you will be back up in the top tier again soon.
Talking about England, I can see the debate starting again about limiting the number of non English players in the premier League teams, so that England can win a tournament.
Enough of the international bollocks let's get back to the real ⚽️⚽️⚽️ at hand 👏👏👏

If you read this post of mine about a month ago 👉 Hive fpl ~ Rip it Up and Start Again ~ The BIG reset! 👈 then you will have known that after GameWeek 5 I said Fluff it and played my wild card.
🪓 I sacked all but 2 players 🤣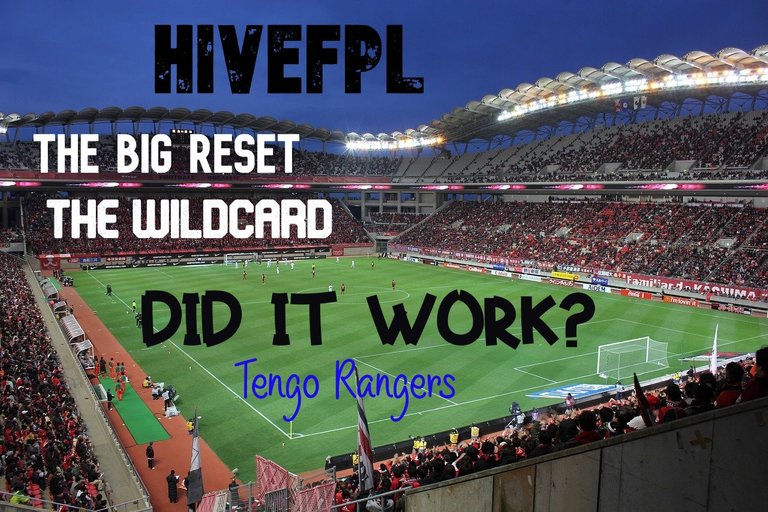 source Image by David Mark from Pixabay modified by me in pixlr.com
Who did I keep? Who Were The Survivors!
Cancelo from Man City, I just had to keep him...

Mitrović from Fulham, I am so glad he is proving his doubters wrong. So survive the axe is exactly what happened.

What happened in GameWeek 6?
I was wtf! That was what happened in GW 6!!!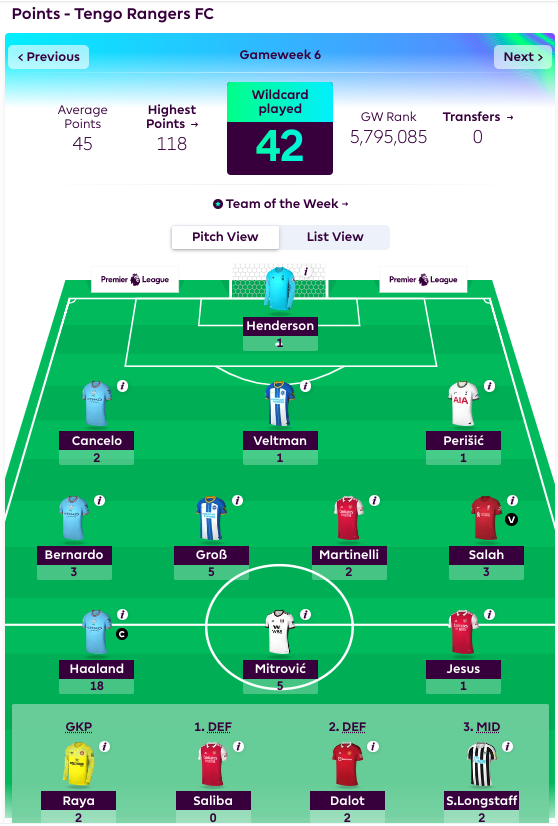 The Average was 45 points and I ended up with 42 points, It seems my big reset had backfired...
I axed Son and brought in Salah, I even put Salah as vice-captain, you have to have Salah in your team said everyone!
Fluffing liars!
To be honest I also captured Haaland so I was not complaining, there were some strange results in GW 6...


What happened in GameWeek 7?
If you remember this was the week that Her Majesty Queen Elizabeth II passed away, and as a mark of respect there was no football played in the UK 🇬🇧

What happened in GameWeek 8?
Okay then, footy was back albeit for one week before another break for International football.
This is how Tengo Rangers performed in GW8...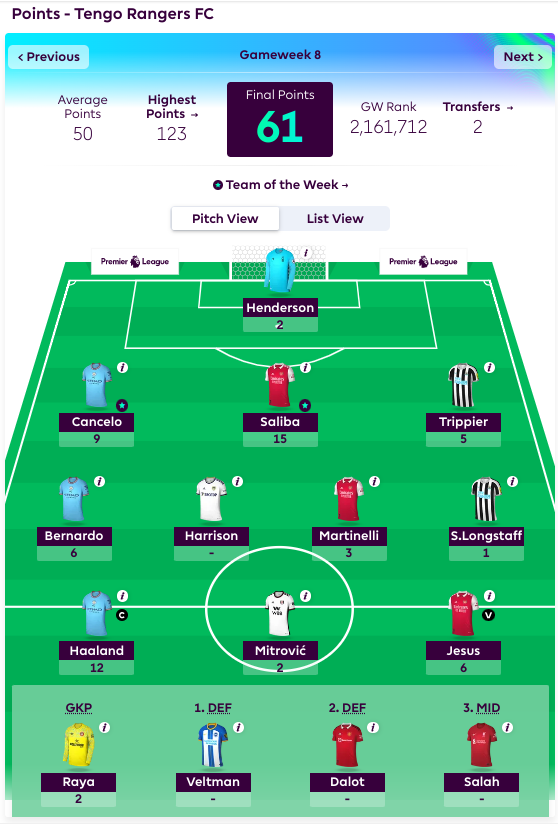 Liverpool, Manchester United, Brighton and Leeds had their games postponed with the mourning for the Queen, in addition Brighton became managerless as Graham Potter left toutefuckingsuite and joined Chelsea.
Will he last the season? I doubt it, but heyho he will be set for life with the payoff he gets, so I am sure he will not give a shit.
Scores on the doors, I scored 61 and the average was 50 so in theory it was a successful week.

What happened in the International Break?
First of all, I am a selfish bastard and only intested in my players!
Norway lost to Serbia and Haaland did not score but my man Mitrović did score. Although it appears he took an ankle knock and is doubtful for the Fulham match against Newcastle.
That is a shame as I fancied Fulham to turn The Toon over at the Cottage!
Did you see my Man United defender Dalcot? Well he scored a couple for Portugal, but they play Man City, otherwise I would put him in my team for this weekend.

GameWeek 9 Matches
The matches this week and my forecast and comments, feel free to ignore and/or give me pelters in the comments...
| Match | Forecast | Comment |
| --- | --- | --- |
| Saturday 1st October | | |
| Arsenal 12:30 Spurs | 1 | Jesus 1 Kane 0 |
| Bournemouth 15:00 Brentford | X | Scoring draw Toney to get one |
| Fulham 15:00 Newcastle | 1 | See my striker comment above |
| Liverpool 15:00 Brighton | 1 | Potter gone Must win goal fest for the Pool |
| Southampton 15:00 Everton | X | Could be a borefest |
| West Ham 17:30 Wolves | X | The Hammers are a spent force and Wolves can't score |
| Sunday 2 October | | |
| Man City 14:00 Man Utd | X | Potential banana skin for City |
| Leeds 16:30 Aston Villa | X | Could be 4-4 |
| Monday 3 October | | |
| Leicester 20:00 Nott'm Forest | X | Rodgers last match if they lose? |

So this is my current set up for gameweek 9.
What do you think?
It sure as hell is a fluffing improvement on my GW 5 team🤣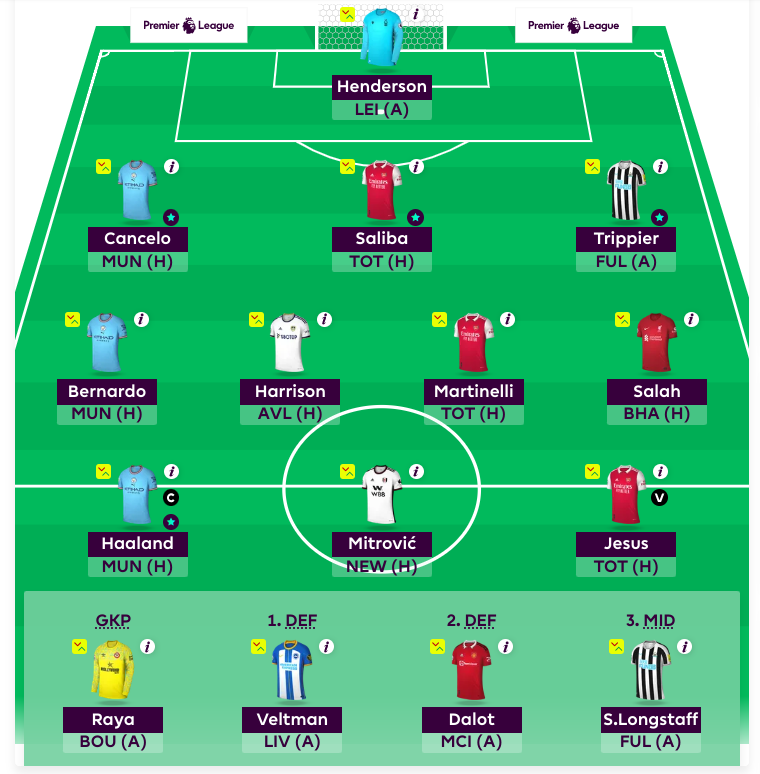 This could be the last week for Salah, freeing up his money could mean a better replacement for Longstaff and possibly Veltman if Brighton go off the rails after Potter leaving...
Also I am keeping my eye on my striker's ankle knock. do I swap him out for Dalot...?
I can still make changes to my squad until 11am Saturday morning!
But I think this is as good as I can do!
I would love to hear your thoughts so....
Many thanks for reading, and if you are playing hivefpl good luck!

In the meantime have a great weekend!

All images and ramblings are from me, the mad Scotsman @TengoLoTodo unless otherwise stated (screenshots are from my fpl account.
DO WHAT YOU LOVE AND DO IT OFTEN
Haste Ye Back!

@tengolotodo 29/09/2022
---
---