RIP Tina Turner for me you will always be Simply The Best
Hello Hello Hivians
If you know me, then you know I support Rangers Football Club, indeed my normal Hello Hello greeting is from a Rangers song.
I rarely goto matches now, I leave for the younger ones to enjoy the atmosphere that comes from going to Ibrox Park and being amongst the other fifty thousand fans.
I had a season ticket in the nineties and that was our most successful spell.
Before the big TV money and the English Premier League became number one.
Do you know we signed the goalkeeper of the England national team, their centre half and captain and on and on.
Yeah the glory years, nine domestic league triumphs in a row.
This is what I saw during these years and this is what I heard, have a listen
I think I have listened to twenty maybe more versions of Simply The Best and Tina Turner since I learned last night she passed away, and I am sure I will be listening to 20 more.
Do you believe in fate, or coincidences or something ... I definitely believe in the something, and when I saw a comment from my wonderful fellow night owl @beeber saying that she had posted Tina Turner Memorial in her community then I just knew I had to write my own wee memorial for someone that brought me so many memories and will continue to do so long after she has passed.
Ladies and Gentleman ... Miss Tina Turner
I am listening to this Greatest Hits album as I type this, and it is so apt that The Best is opening the album.
Goosebumps as I trawl through YouTube seeing so many matches I was at where she is on the big screens and we singing along with her.
A true legend and the accolades for her will keep rolling in.
83 years young Tina Turner thank you for the memories.
Fate well for the @dreemport challenge I was not going to do them, but this happened and so I am writing this and watery eyes. Mrs T will tell you I don't cry, she only has seen it two times. Both in 2011 at my parents funeral, so yes Tuna Turner is now someone on History that had a profound affect on my life.
Now thanks to Tina, right now I am thinking of the matches I was at with my father and even he was singing along with her.
Thank you Miss Tina Turner :)
RIP Tina Turner for me you will always be Simply The Best
The Queen of Rock'n Roll November 26, 1939 – May 24, 2023
Thumbnail image source Wikimedia details Les Zg , Tina Turner , CC BY-SA 4.0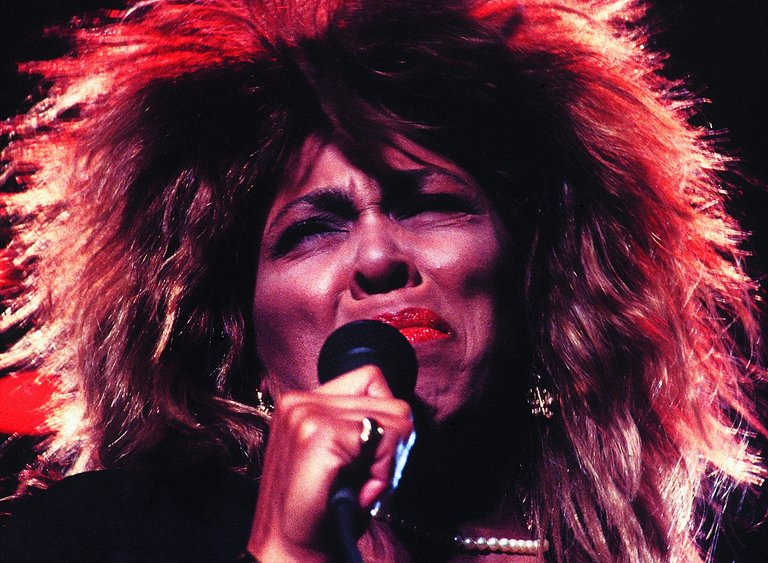 title="Creative Commons Attribution-Share Alike 4.0">CC BY-SA 4.0, Link
---
---