Tengo's show Recap and giveaway winners
Hello Hello and thank you to everyone who joined in with the first ever show today.
Last week I was asked by @melinda010100 if I would like to host a show in English in the ecency discord server.
Why not!
Thought I🤶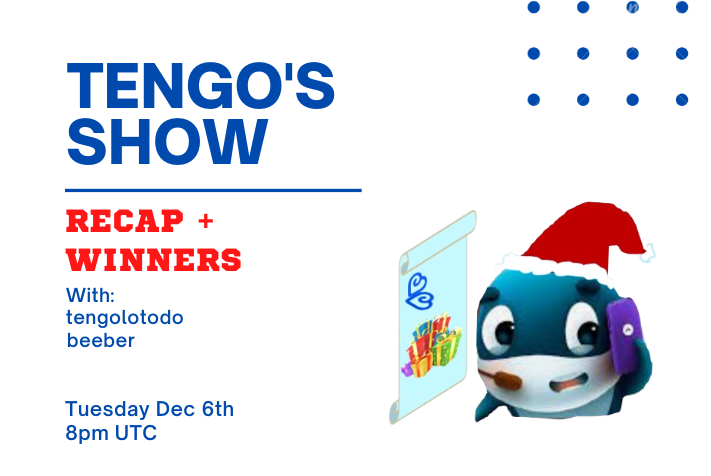 Banner made in canva by me, the ecency image from @rosmiapure
So we had the first episode tonight, and I will say that it was a rip roaring success! Well I think so, and I matter hehe
We sort of agreed on a format for the future, namely that it will start and that it will finish!
There might be a 82 years young lady who makes an appearance and there will be more often than not be a representative or three from a community or a tribe or a fun project.
Tonight we had the pleasure of not one but three core members from the Smart, Stylish & Sexy magazine for Hivians that is @hiq or @hiq.magazine in English.
With smooth German (and Austrian) efficiency they told us about HiQ, their voting bots, INK, CraftInk and heap of other cool stuff, that you should have been there to heard it!
And yes the, and, they told us about upcoming giveaways and the fact that the white paper for INK is being written as we speak, although there may be a delay as I hijacked them to appear on my show LOOL
Thank you @mary-me @smooms and @quekery for giving us your time.
They were also extremely generous and bestowed 1000 INK and 5 HIQS tokens to the following winners:
@edwing357
@mypathtofire
@yenmendt
@ydaiznfts
@beeber
@tengolotodo
@melinda010100
We also talked about delegations and the LEGION token and courtesy of the @stickupboys were able to giveaway 2 LGN tokens each to:
@ydaiznfts
@mypathtofire
@mary-me
@quekery
@smooms
@samsmith1971
@pravesh0
@melinda010100 @tengolotodo and @beeber
But it didnot stop there!
Oh no, @melinda010100 gave out the following @ecency tokens
300 ecency points giveaway each:
@mary-me
@quekery
@smooms
100 ecency points each:
@ydaiznfts
@mypathtofire
@samsmith1971
@pravesh0
@sacra97
@edwing357
@yenmendt
A fun time was had by all and don't forget to look at the following ....
HiQ - The Hivestyle Magazine .... the new website!
https://ecency.com/@hiq.smartcast the new podcast account for HiQ
Vote @hiq.witness for Witness!
and also to vote for the latest proposal for Ecency!
Ecency development and maintenance #3
I just want to say thank you to @beeber for cohosting this show and for wondering what on earth she had let herself in for, when asking for plans for the show she would get a blank answer!
If you were not there...
Why the fluff not!
Joking aside, it was fun, and we shall be doing this weekly, so set your alarms, 8pm UTC on a Tuesday...
You never know Matilda may just surprise you with a giveaway prize!
One last thing before I go....
We never realy decided on a name for a show,
So drop a comment with a suitable name for a show and you might win some Ecency points!
---
---