SOund Music - Pupus by Dewa 19 (Cover) By Teofilus Sinaga
---
Hello, dear #Hive community friends. Introduce, my name is Theophilus Sinaga. I come from Indonesia, the city of Medan to be precise. In this #soundmusic community, I want to share a cover song that I played called Pupus, in English "Faded" by Dewa 19. This song was released in 2002 on the album Cintalah CInta. Dewa 19 is one of the famous Indonesian legendary bands of the 1990s. Dewa was originally formed by Ahmad Dhani (keyboards, vocals), Erwin Prasetya (bass), Wawan Juniarso (drums), and Andra Junaidi (guitar) in 1986 in Surabaya, East Java.
Hola queridos amigos de la comunidad #Hive. Presente, mi nombre es Theophilus Sinaga. Vengo de Indonesia, de la ciudad de Medan para ser precisos. En esta comunidad de #soundmusic les quiero compartir un cover que toqué llamado Pupus, en español "desteñido" de Dewa 19. Este tema fue lanzado en el 2002 en el disco Cintalah CInta. Dewa 19 es una de las famosas bandas legendarias de Indonesia en la década de 1990. Dewa se formó originalmente por Ahmad Dhani (teclados, voz), Erwin Prasetya (bajo), Wawan Juniarso (batería) y Andra Junaidi (guitarra) en 1986 en Surabaya, Java Oriental.
A week ago, Dewa 19 Band held concerts in several big cities in Indonesia. My city was also included in their concert tour list. But unfortunately, I couldn't attend their music concert because the ticket price was quite expensive. My money is not enough to buy their concert tickets. Even though I want to watch this cool musical performance by the band Dewa 19. So, I can only watch their music concerts on Youtube. One of the personnel in the Dewa 19 band that I admire is Ahmad Dhani. He is a genius musician that I admire to this day.
Hace una semana, Dewa 19 Band realizó conciertos en varias ciudades importantes de Indonesia. Mi ciudad también fue incluida en su lista de giras de conciertos. Pero desafortunadamente, no pude asistir a su concierto de música porque el precio de la entrada era bastante caro. Mi dinero no es suficiente para comprar sus entradas para el concierto. Aunque quiero ver esta genial actuación musical de la banda Dewa 19. Entonces, solo puedo ver sus conciertos de música en Youtube. Uno de los integrantes del grupo Dewa 19 que admiro es Ahmad Dhani. Es un músico genio que admiro hasta el día de hoy.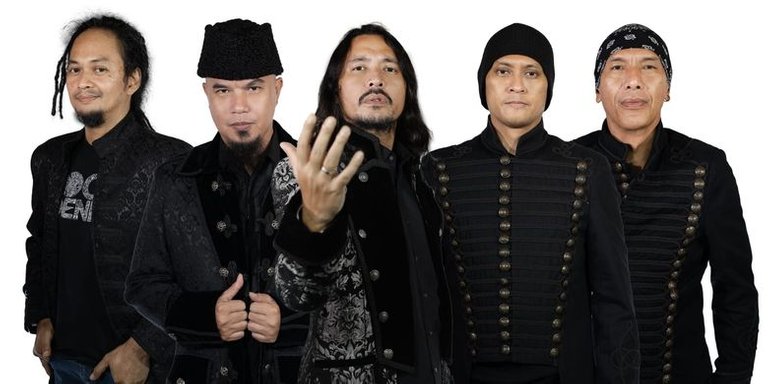 image source
The song I'm bringing today tells a story about a person's hope for the person he loves. But this love must be one-sided because the one he loves chooses someone else. Have you ever felt it? When you have strong feelings for someone who doesn't feel the same way for you, it must hurt, right? Even so, this kind of love is not so bad for me. After all, we can't control how much we like someone or force people to like us. Precisely by experiencing one-handed love can find true love in the future.
La canción que traigo hoy cuenta una historia sobre la esperanza de una persona por la persona que ama. Pero este amor debe ser unilateral porque el que ama elige a otro. ¿Alguna vez lo has sentido? Cuando tienes sentimientos fuertes por alguien que no siente lo mismo por ti, debe doler, ¿verdad? Aun así, este tipo de amor no es tan malo para mí. Después de todo, no podemos controlar cuánto nos gusta alguien o forzar a la gente a que le gustemos. Precisamente al experimentar el amor con una sola mano se puede encontrar el verdadero amor en el futuro.
Below are the lyrics of the song and its translation / A continuación se muestra la letra de la canción y su traducción.
---
Indonesian Lyric
Aku tak mengerti, apa yang kurasa
Rindu yang tak pernah begitu hebatnya
Aku mencintaimu lebih dari yang kau tau
Meski kau takkan pernah tau
Aku persembahkan hidupku untukmu
Telah ku relakan, hatiku padamu
Namun kau masih bisu, diam seribu bahasa
Dan hati kecilku bicara
Baru kusadari cintaku bertepuk sebelah tangan
Kau buat remuk sluruh hatiku
Semoga aku akan memahami sisi hatimu yang beku
Semoga akan datang keajaiban hingga kaupun mau
Aku mencintaimu lebih dari yang kau tau
Meski kau takkan pernah tau
Letras en español
no entiendo lo que siento
Una pérdida que nunca ha sido tan grande
te amo más de lo que sabes
Aunque nunca lo sabrás
te dedico mi vida
He dejado ir, mi corazón a ti
Pero sigues mudo, silencioso en mil idiomas
Y mi corazoncito habla
Me acabo de dar cuenta que mi amor no es correspondido
rompiste todo mi corazón
Con suerte entenderé el lado congelado de tu corazón.
Ojalá llegue un milagro hasta que lo quieras
te amo más de lo que sabes
Aunque nunca lo sabrás
---
That's all I can say in today's post, I hope you all like my version of the acoustic cover. btw, I'll also provide the original version of the song from their youtube channel below. Thank you for stopping by my post and nice to meet you.
Eso es todo lo que puedo decir en el post de hoy, espero que les guste mi versión del cover acústico. Por cierto, también proporcionaré la versión original de la canción de su canal de YouTube a continuación. Gracias por pasarte por mi post y encantada de conocerte.
---
---