Der Fall Collini | Review (Eng- Esp)

Hello to all movie lovers! Today I want to tell you about a movie I saw over the weekend Der Fall Collini.
This great movie is the result of a German-Australian-Canadian-Canadian-French-French-Italian-Japanese-American collaboration that was released in 2019, under the direction of Marco Kreuzpaintner.
Hola a todos los amantes del cine! Hoy quiero hablarles sobre una película que vi el fin de semana "La historia de un crimen" en su doblaje para Latinoamérica.

Esta grandiosa película es el resultado de una colaboración alemana-australiana-canadiense-francesa-italiana-japonesa-estadounidense que se estrenó en 2019, bajo la dirección de Marco Kreuzpaintner.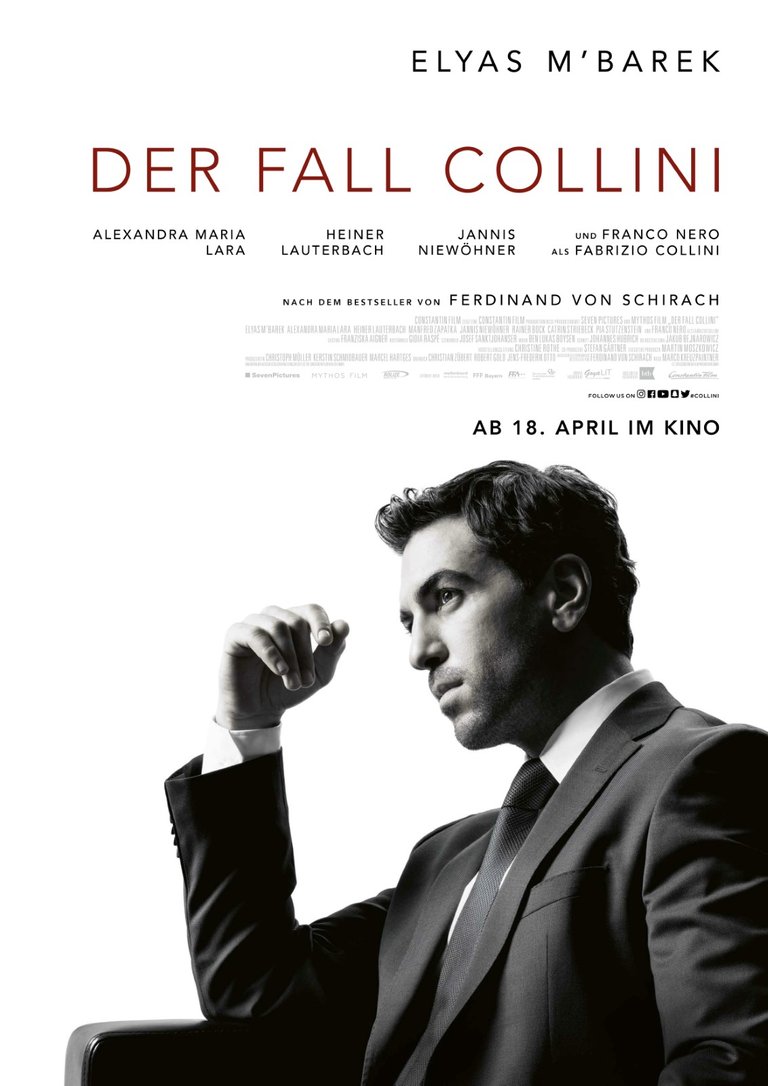 Source/Fuente
English
Plot of the film.
Caspar Leinen, is a newly graduated lawyer who accepts for his first trial, an important case. Caspar never imagined that the man he had to defend against murder charges was the murderer of the man he saw as a father.
His client, Mr. Fabrizio Collini, an Italian living in Germany, one day enters the suite of a businessman, capitalist, owner of large properties and a multinational company, and shoots him to death.
Caspar finds himself in a great conflict of emotions, mixing the professional with the personal and trying to give up the case. But his opposing attorney and defender of the victim's family happens to be his criminal law teacher at the university and encourages Caspar to pursue the case.
Caspar finds himself between a rock and a hard place when he interrogates Collini and Collini refuses to answer. He has no information and the case seems to get murkier and murkier, so Caspar must do a thorough investigation to defend his client and to find out what happened to the man who had been so supportive of his life since he was a child.
Like all Nazi films, it is loaded with scenes of pain that provoke the viewer's anger and anguish and sadness.
Cast
This film has an excellent cast, which make it very professional.
Elyas M'Barek, plays the lawyer Caspar Leinen, a foreign boy who was abandoned by his father and raised by his mother alone. He found refuge in the father figure provided by the victim and was able to feel that he was part of this family, as he spent a lot of time at the victim's house.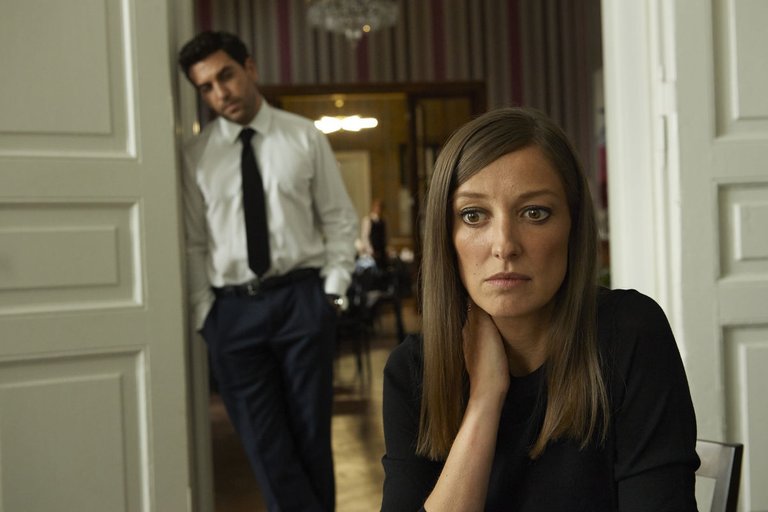 SOuRCe/FUENTE
Alexandra Maria Lara, playing Johanna Meyer who is the victim's granddaughter, from the beginning tries to persuade Caspar to give up the case. Caspar is confused as he has feelings for Johana.
Heiner Lauterbach, who turns out to be Professor Dr. Richard Mattinger, makes Caspar's life miserable by pursuing some evidence that puts the trial in jeopardy. But Caspar does not give up easily and fights to the end.
Manfred Zapatka, plays Hans Meyer who is Collini's victim.
And the excellent Franco Nero, as Fabrizio Collini, a victim who only wanted justice for his family and all the victims of Nazism.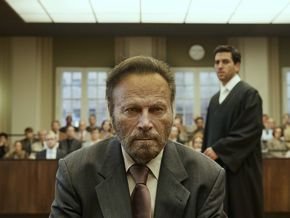 Source/Fuente
The screenplay by Christian Zübert and Robert Gold is based on the novel by Ferdinand von Schirach. It is set in Germany in 2001 and takes us through 3 stages of the characters' lives. When the murder victim was young, in his adult life and after his death.
This movie can be enjoyed with the family, is available on Netflix and has a rating of 7.3/10 from
IMDb and a 4.7/5 from Amazon.es. I definitely recommend it and yes, have some tissues handy because these types of stories always bring tears to your eyes.
I hope you like my review and leave your comments. Thanks for visiting my blog.
---

Español
Trama de la película
Caspar Leinen, es un abogado recién graduado que acepta para su primer juicio, un caso importante. Caspar nunca imaginó que el hombre que tenía que defender de los cargos de asesinato era justamente el asesino del hombre al que él veía como a un padre.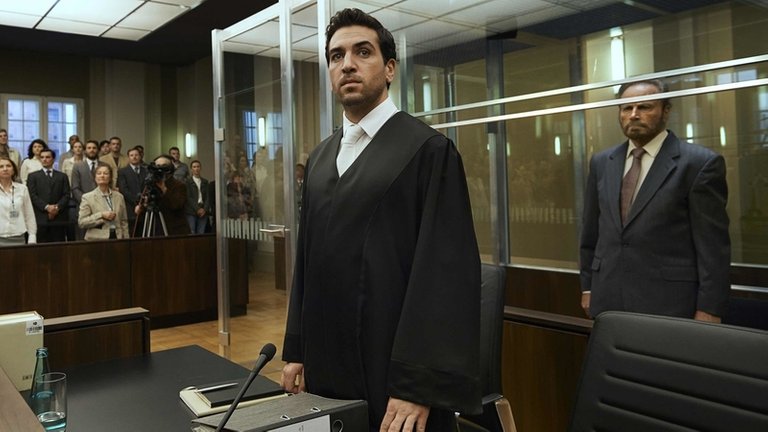 Source/Fuente
Su cliente, el señor Fabrizio Collini, es un italiano residente en Alemania, entra un buen día a la suite de Un hombre de negocios, capitalista, dueño de grandes propiedades y una multinacional y lo asesina a tiros.
Caspar se ve en un gran conflicto de emociones llegando a mezclar lo profesional con lo personal y tratando de renunciar al caso. Pero su abogado contrincante y defensor de la familia de la víctima, resulta ser su maestro de derecho penal en la universidad y anima a Caspar para que prosiga con el caso.
Caspar se ve entre la espada y la pared al interrogar a Collini y este negarse a responder. No tiene ninguna información y el caso parece ponerse cada vez más turbio, por lo que Caspar debe hacer una exhaustiva investigación para defender a su cliente y para sabe r que fue lo que paso con el hombre que le dio tanto apoyo en su vida desde que era niño.
Como todas las películas de nazismo, está cargada de escenas de dolor que le provocan al espectador ira y angustia y tristeza.
Reparto
Esta película cuenta con un reparto excelente, que hacen que sea muy profesional.
Elyas M'Barek, interpreta al abogado Caspar Leinen, un muchacho extranjero que fue abandonado por su padre y criado por su madre sola. Encontró refugio en la figura paterna que le brindaba la víctima y pudo llegar a sentirse que formaba parte de está familia,ya que pasaba mucho tiempo en la casa de la víctima.
Alexandra Maria Lara, interpreta a Johanna Meyer quién es la nieta de la víctima, desde el principio intenta persuadir a Caspar para que renunciara al caso. Caspar se siente confundido ya que tiene sentimientos por Johana.
Heiner Lauterbach, que resulta se ser el profesor doctor Richard Mattinger, que le hace la vida a cuadros a Caspar persentando algunas evidencias que ponen en jake el juicio. Pero Caspar no se da por vencido fácilmente y lucha hasta en final
Manfred Zapatka, interpreta a Hans Meyer que es la víctima de Collini.
Y el excelente Franco Nero, como Fabrizio Collini una víctima que lo unico que quería era justicia par a su familia y todas las víctimas del nazismo.
El guión de Christian Zübert y Robert Gold esta basado en la novela de Ferdinand von Schirach. Se desarrolla en Alemania en 2001 y nos pasea por 3 etapas de la vida de los personajes. Cuando la víctimas de asesinato era joven, en su vida de adulto y después de su muerto.
Esta película se puede disfrutar en familia, esta disponible en Netflix y tiene una valoración de 7.3/10 de
IMDb y de 4.7/5 de Amazon.es. definitivamente la recomiendo y eso sí, tengan a la mano algunos pañuelos porque este tipo de historias siempre te sacan las lágrimas.
Espero que les guste mi reseña y que dejen sus comentarios. Gracias por visitar mi blog.
---


La traducción fue hecha con deepl.com. Post de mi autoría.
_
The translation was done with deepl.com. Post of my authorship.

---
---