Liverpool fc ended 2022 in style as they got Leicester city defeated 2 vs 1
We all knows that when it comes to the English premier league title competition or rather still let me say trophy race, there is never a dull moment. There is no way you will watch any match that you won't get entertained especially if it all relates to the English premier league title competition. As for my team Liverpool fc, we all knows that this year, i.e the year we are about ending which is 2022, I must admit that it has been a very slow and poor one for the Jurgen Klopp side. We all knows that under his watch this is the first time that the Liverpool fc team have performed so poorly like this. Ever since Jurgen Klopp took over at Liverpool fc, this is worst form we have seen the team on. The thing that I am so glad about is that above everything, the Liverpool fc team still manage to end the league and chasing of the English premier league trophy in a good note.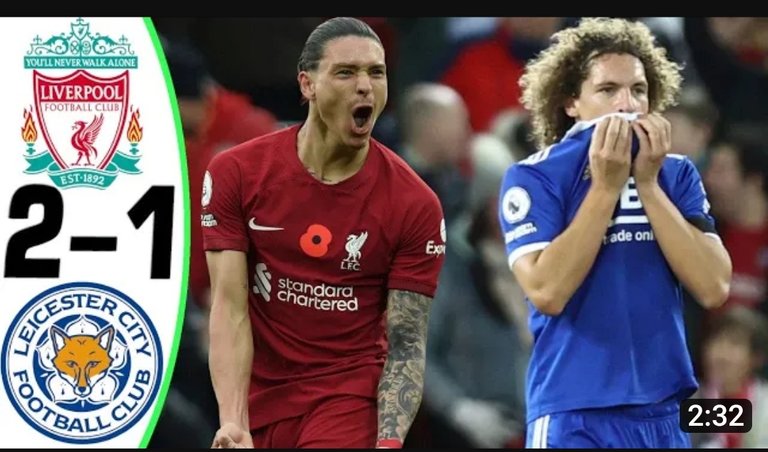 Before I digress further about this post I must say that despite all odds, if you are watching closely you will see that Liverpool fc team are not doing bad in terms of match play or rather still game play, their issue is that they are struggling with finishes. They are struggling to convert changes which has been something that the team needs to try to improve on come 2023. Taking into consideration and proper observation, if you have been observing properly or rather still let us take the match yesterday as a case study, do you knows that the Liverpool fc side played good football against Leicester city yesterday at Anfield. We all knows that when it comes to soccer and the English premier league at large, the Leicester city team irrespective of anything happening to them are really big side that you should not play with no matter what.
Whether the Leicester city side are struggling or not, they will always surprises any big name team. If you noticed them properly you will see that the Leicester city team are one team that has been causing the Liverpool fc team more stress when ever they are playing against each other. They don't take it soft on Liverpool fc any time any day, that is why I have grown to love them in all ways. For them to be consistent in that field alone is something to be proud of I must admit. I am just wishing the Brendan Roger side success as they goes about looking from bouncing from the position they are currently occupying to a good point. This prayer is not for the Leicester city side alone but also for my team Liverpool fc, we got to be on our best form. We got to bounce back into the tile race sport and that is one thing we will achieve come 2023.
If you have been following up closely you will see where I stated it clearly that Liverpool fc issues is not about their game play when it comes to the English premier league trophy competition. It is not about their fixtures or new faces, but rather still it is all about their finishes. If you take a proper look at Darwin Nunez you will see that he is a good player but the issue with him is simply because he has not found the scoring form which I am very positive that he will start getting very soon. Darwin Nunez has already settled into the Liverpool fc team and that is something we should be happy about. Not all players signed to various team last year or the year beyond is doing well. I so much love Darwin Nunez because of his speed, the moment he got the ball just bid him farewell. If we have Darwin Nunez and Luiz Diaz all up front that is definitely going to be a disastrous day for our opponent I must admit.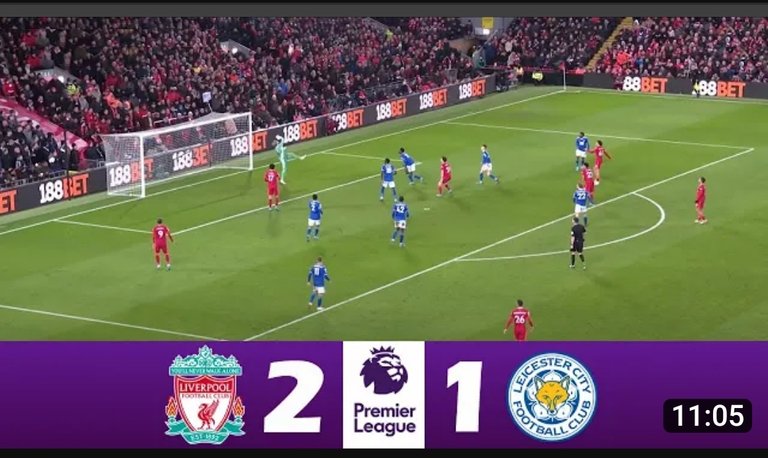 Well, despite injuries playing their own part I am eagerly saying that the Liverpool fc side/team have also improved well. We have bounced back from the position that we are occupying some months back to 6th position and with some consistency we will get back to our very best form which is entering the top 4 and if at all winning this year episode of the English premier league trophy. For those doubters just knows that when it comes to soccer and the football game at large, there is nothing that we can't achieve.
As from the match that happened yesterday, between my team Liverpool fc and the Leicester team we the Liverpool fc fans should say we are lucky with the win as the two goals came from the Leicester city defender called Wout Faes. It all happened in 38th minute and 45th minute respectively. This goal came in after K. Dewsbury-Hall scored in the 4th minute for his side Leicester city through assist from Patson Daka. I was thinking that with that early lead they will be able to win the English premier league trophy but they failed to capitalize on that goal as the two own goal from Wout Faes got them devastated at the tail end. Although the Liverpool fc side are lucky but it is because of their pressure that resulted in the win for them. Anyway, congratulation to the Reds as they walks into 2023 with a positive win.
Photos from YouTube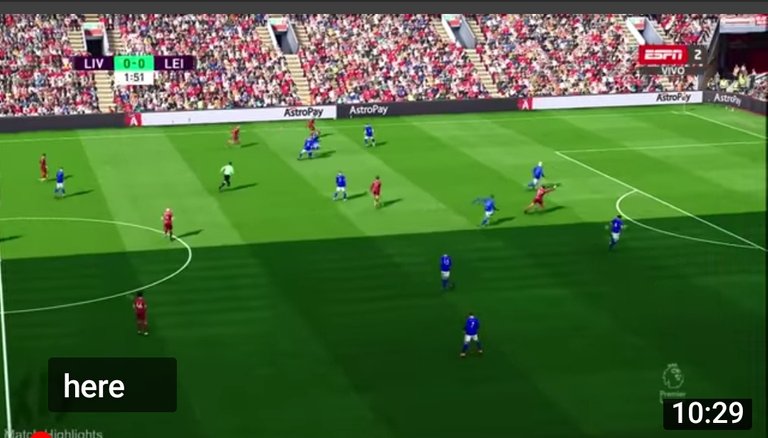 I will end the post here, if you have anything else to say please air your view by commenting under this post.
Posted using SportsTalkSocial
---
---