I am newbie I don't get any vote What should I do??

Hello my friends
A warm well come to my blog meant specially for newbie like me.
At first, let me introduce to you. I, @th4488, joined hive long ago(approx 3 years). I have deep love for sports. I never thought, I can be a blogger 🤣. HIVE is helping me out in this regard.I was unaware of thing mentioned in the title. It's been just a year am quite active in hive and gradually improving to suit myself here. Believe I knew no one here and knew nothing about hive. Now the situation is very different.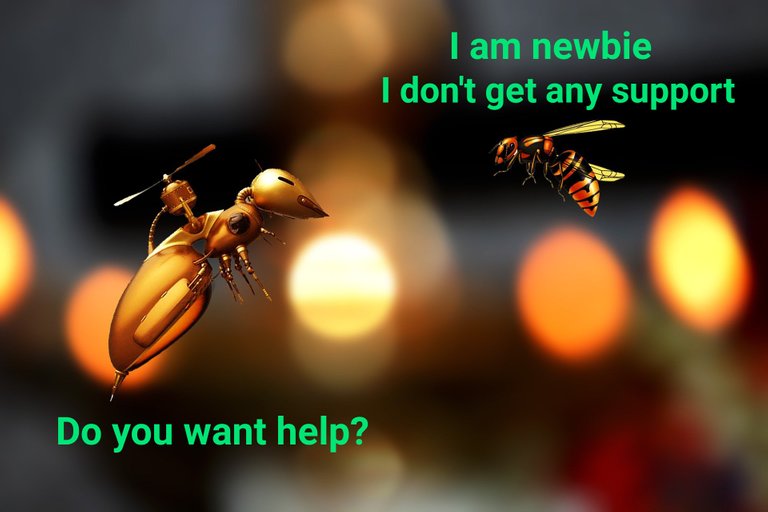 Source edited by me
Let me remind you the very basic but the most important realisation. Nothing comes for free here in this world and the truth also ture for hive also. If you won't contribute to hive, you won't get anything. It may seems harsh but it's the reality. But my friend don't worry about contribution. One can contribute in many ways and it is not a tough task at all, you will know it soon.
Initially, I wouldn't get any vote except a few from bots. The condition may be same for you if you are invited by your friend who also has little experience in hive. Gradually I have learnt and still I am learning. I won't say, I am earning a lot.Actually I am not here to earn some cash and go away. I am here for the future and so, I want hive to thrive.If hive survives, we do so. If everybody earns some dollars, cash them out and then go away, there will be no HIVE in future. So, none here will give you a chance to do that. If you have patience and always ready to explore the unknown, success is not far from here.
If you want to get something from hive , at first you need to believe in it. My friend without believe , you won't survive for sure. Don't worry, I don't want to scare you. I am just trying to give you basic sense for that you can do better here. I want your betterment because hive itself is nothing; people who join hive and have a faith on it , are true assets of hive.
Why Should I believe in hive?
You are here on hive; I'll say, you are very lucky; not everybody has a chance to join HIVE. Most probably you were invited by your friend who has already joined hive. People join here for free of cost. I am sure time will soon come when people will fight to join hive at any cost.
We are in the era of digital transaction and future gonna be more digitalised. Now, think a digital currency, this crypto stuff like hive, can be huge assets in near future.I haven't seen any crypto currency which can be earned so easily. Besides, HIVE is a platform where almost everything is fair. People of hive are generous, you won't see nepotism, bribery etc that corrupt a system.People here to fight that corrupt system.Belief is a thing which can't be provided by anyone. You are the person to feel it. I won't say anything more.
Now, if you have a little believe after hearing my words, please continue to read. This information is for beginners and the people who have joined here long but still struggling
I don't want to use here terms of hive. If I do so, my article will not meet its purpose as many of you unaware of those terms. So I want keep it simple for you.
No Big voter will vote you unless you prove yourself dedicated to hive. To prove your self, you have to keep contributing to hive with regular activites on hive.Don't worry about support. It will reach you for sure. Many of you may not be aware of DISCORD. If so, download discord as soon as possible. Search it on your browser. It is the most important tools to survive on hive. I know you don't get it. But for now you have to listen to me🤣🤣. It is necessary for you learning purpose. I guess Every people of hive is familiar to it and use it regularly.
What should do with DISCORD?
There are many communities on HIVE and every community has its own discord server to perform their work and to help out others for free of costs. As you thrive, hive do so. So, it is a duty for everyone of us to lend a helping hand for the new-born. Unless you know DISCORD a little bit, we can't help you.🤣🤣 so, do the primary task and then join us there.
TheTerminal (Discord)
For any query related to HIVE, CRYPTO, DISCORD etc will be answered by TheTerminal, a discord server of hive community TheTerminal. From here you can find other servers to join them. You may worry about how do I get vote in your post. If you join them and be active there, you will be given support. You will have every answer of your every question in The terminal. After gathering knowledge , I am sure you will do better and will continue to thrive on hive. Keep in mind, if any question aries, ask in Terminal and get answer free of cost.. don't wory it's just voluntary work. Join TheTerminal discord here
Ecency (discord)
For beginners it is the best dapps. Oop! sorry you may not know about dapps. You can post on hive using ecency Android app, ecency web site and ececny dextop app. It is one of many other frontends( apps, websites based of block chain to perform work on hive). If you use ecency for your post, it has many advantages. I won't confuse you elaborating them. I just want tell you one thing you will surely get support(vote). How? Terms and conditions? join ecency discord here
Indiaunited( discord)
This another discord community of hive. Though it may seems, the community is for Indians only. No my my friend.It is just the name of community created by Indians but it is meant for everyone 😄. For any kind of support , you should be there. I don't wanna talk about getting votes evey time. It harsh.. you are smart enough. Join indiaunited discord here
Ther are many others communities like hivelearners, ocd, visualblock and many others but I haven't explore then all.I am member of all the communities I mentioned above.You can find me there also. I know a little better than you.I am always there for you. I don't know everything but I am sure your every query will be answered. If not by me, I will fetch you the the person who can answer.
Links to join discord servers are also given below 👇 along with banners. You can join other servers after joining my suggested servers. I hope you soon join us on the discord. We will learn , enjoy and thrive together.
If you like my article, please follow me for that I can see👁️ what and how are you doing on hive. Also reblog it please for that it reaches to every new comer to meet it purpose.
What I have discussed here is my personal experiences.It may contradict others' perspective.Use your wit and knowledge, listen to everyone but always do yours.
Thank you so much for going through my article.
If you are still here, it means you have patient and that is key to success.
All the best my friend.
Have a great day.
Regards: @th4488 https://images.ecency.com/p/54TLbcUcnRm4Bw8fmw3Y3deXChf9UQSDSsMgDEZRowkE7RY3Y5s7jkwJfEDkvqkh2pNVDAhTvtrbRM2765DEMLvjX83Pznf2xYn3aRGp4J8yS9eqr23vMCUmFhnSTQkDYadN65BVQ.webp?format=webp&mode=fit join my discord here
Here are the links of the discord communities I mentioned above. Without them I wouldn't be here to write this article. Feel free to join them.
https://images.ecency.com/p/54TLbcUcnRm4Bw8fmw3Y3deXChf9UQSDSsMgDEZRqX43EzACp3EvKd4HuQzj2NcxDEMe8KmqqFMPn7Jo8gqBMfgvx8ZjqzwzD37Df2BP84Wtqcq3KXkSUtF34PduqiTY9tyxXE5PL.webp?format=webp&mode=fit join TheTerminal discord here
https://images.ecency.com/p/54TLbcUcnRm4Bw8fmw3Y3deXChf9UQSDSsMgDEZRoZCgQuz5aLJAcPhdWf9cAYDUvWdq3sVGCj3781v9cVm6ZuN19UMPHsb1xTtZXAwKJ8uLb6q8YAV8cpCqCwYNyQVFKBN97KUhU.webp?format=webp&mode=fit join indiaunited discord here
https://images.ecency.com/p/JvFFVmatwWHT5Fvr9KYC2ckcJeTNPxSHwBGG4zr8fq3uyXKEjH8NgsGj28NTxvoPPg3UnPBMcd9ZVzVmFArqyKuuD18rWJT368Ko3UKiMcvdPVp131dK7LYgKtCc7yv2FHnHCk4syg.webp?format=webp&mode=fit join ecency discord here
       Stay safe , stay healthy
---
---