You can now buy Still Here! apparel with crypto thanks to Hivelist!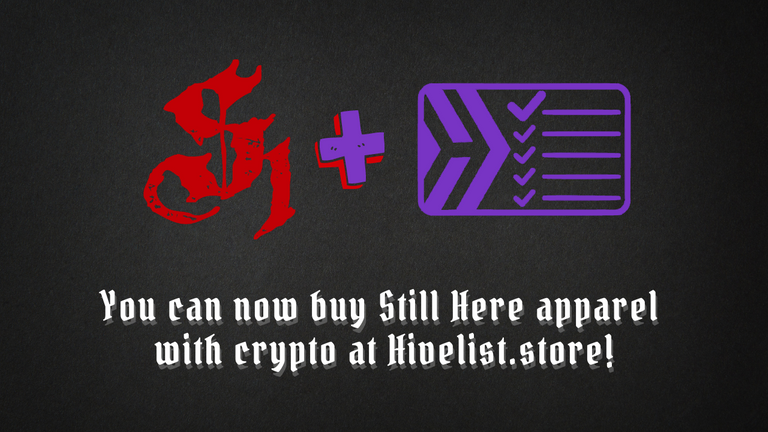 I recently made a post about refocusing my apparel brand to a managed dropshipping format. I've put my designs on a few print-on-demand websites like Redbubble and Teespring, but those platforms don't accept or payout in crypto, and I find that lame.
Thanks to @hivelist, that's all changed!
You can now purchase Still Here! products with HIVE, HBD, and other cryptos/hive-engine tokens (full list of accepted coins below)

Click the banner to visit my Hivelist store and view all currently available designs!
---
I create designs that I would personally wear. I've even ordered many of my own shirts to fill my wardrobe. I'll likely never buy T-shirts from anyone else, to be honest...
Some of my designs are intentionally offensive, others are based on my interests, jokes/memes, and opinions I hold. I'm a fuckin' weirdo and have an incredibly dark sense of humor. Most of the designs in my Hivelist store are only available on T-shirts, long-sleeve shirts, and hoodies, but my latest design (pictured on the right) is also available on coffee mugs:
---
If I were asked to define my "niche", I'm not sure I'd have a clear answer. I create designs as they come to me without regard for how they may fit into a category or label. I have such a wide range of interests that my designs could be about anything from crypto and stocks, to drugs, to politics, to morbid jokes...
---
Payment Options:
You can purchase anything on Hivelist.store with the following coins/tokens:
HivePay (for HIVE and Hive-Engine tokens):
Hive (HIVE)
Hive Backed Dollars (HBD)
Hive Pegged (SWAP.HIVE)
HBD Pegged (SWAP.HBD)
Bitcoin Pegged (SWAP.BTC)
Litecoin Pegged (SWAP.LTC)
Bitcoin Cash Pegged (SWAP.BCH)
Dogecoin Pegged (SWAP.DOGE)
Ethereum Pegged (SWAP.ETH)
Tether Pegged (SWAP.USDT)
CUB Pegged (SWAP.CUB)
Leo (LEO)
Pizza (PIZZA)
Dark Energy Crystals (DEC)
Splinterlands (SPT)
Splintershards (SPS)
This is honestly fuckin' awesome to me. Giving extra function to other HE tokens can help bolster the platform as a whole.
You can also Pay with BTC, ETH, LTC, BCH, USDC, DAI, and DOGE via Coinbase, or with a credit/debit card via Stripe.
---
So what are you waiting for?
Click the banner below and use your digital currencies to grab a t-shirt or hoodie that will make your grandmother want to slap the piss out of you!

I'll get more of my designs up on Hivelist as time goes on, but if you'd like to see more of what I have to offer, visit my shop on Redbubble, but know that they only accept fiat...
---
---