You didn't win anything, and you should never click random links
I just noticed a new phishing scam on Hive/Leofinance...
I was browsing posts on my feed and noticed a weird comment accompanied by a nice red present. I didn't even click into the link at the bottom, but I'm sure it would take me to a page that asks me to login to my Hive account or something in an attempt to steal my keys.
The account spamming this same comment on dozens of posts all at once makes me feel it's an account that got stolen via the phishing scam and a bot is now spamming comments through their account trying to steal more accounts. Notice in the screenshot below that they don't actually tag the @leofinance account when promoting something that is allegedly from the official group.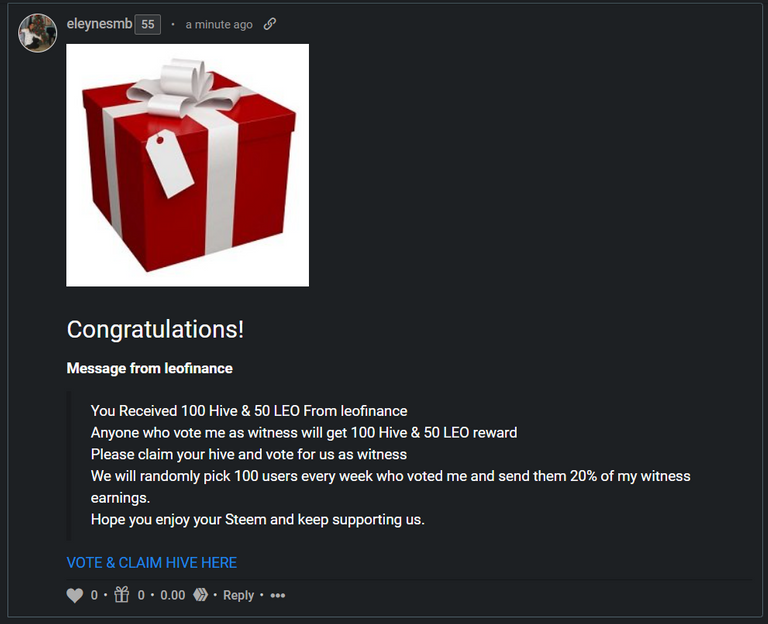 It should go without saying that you should NEVER click a link like this. You didn't win anything, and someone who would actually pay you to vote for them is up to no good in one way or another anyway.
The account in question has already been dealt with it seems, and has been downvoted to a -5 reputation, which hides all post previews from the author. You can still go in and manually see comments/posts that have been hidden via downvotes, and I love that about HIVE for anti-censorship reasons, but again I would advise against doing so lest you end up like poor @eleynesmb here...
The internet is a crazy place, and as more and more people learn about what we've got going on over here on the Hive blockchain, we're going to see more and more of these sort of schemes to try and rob you of your hard earned post rewards and investments.
THIS plan is an obvious and lazy one, but scams are getting more elaborate by the day, and there's always someone out there looking to make a quick buck off the backs of those who earn theirs.
Stay smart, stay safe, and don't click random links thinking you won a prize out of the blue.
Thanks for reading.

Get your own custom follow banner HERE!

---
---