7-14 PIZZA Power-Up Day Recap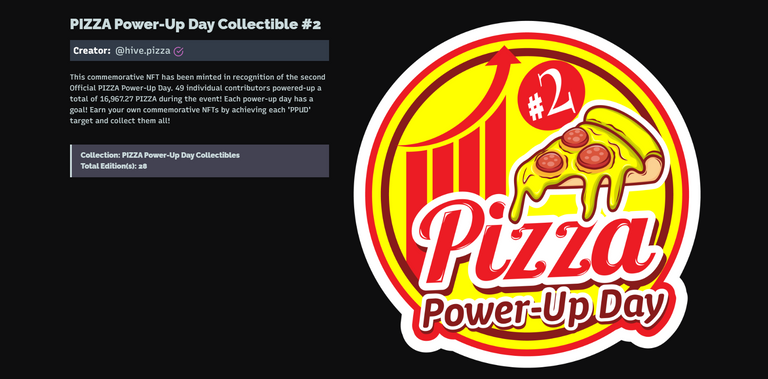 Happy Weekend everyone! We saw another very awesome PIZZA Power-Up Day (PPUD) event this month and have sent out all Collectible PPUD NFTs!
PIZZA Power-Up Day occurs on the 14th of every month in honor of our beloved Pi-Day and is an opportunity to both foster strong culture within the HIVE PIZZA community and to create awareness of the project and all of the amazing things we are doing on the HIVE blockchain!
This month we had 49 individual PIZZA holders participate during the qualification time in powering up a grand total of 16,967.27 PIZZA (that's around 663 HIVE at time of post) throughout the day! As usual, it was an awesome and action-packed day as we all celebrated together and watched as notifications came through for each power-up. The PIZZA community has some back-end automation to assist us in observing and monitoring the event from right within the Discord community.
Here is a screenshot of the bot action:

Each month we have a challenge for anyone who powers up at least 300 PIZZA tokens. Each participant who qualifies will be receiving commemorative NFT honoring the power-up event with all of the details and numbers! These are limited edition and none will be sold directly by the PIZZA team! Each Power-Up day there will be a commemorative collectible NFT released for those who hit the set target!
The top contributor also received an additional collectible NFT to sell or to keep! Enjoy @cooperclub!
You can check out this months commemorative NFT by scrolling to the top of this post or by checking out the gallery link here: https://nftshowroom.com/hive.pizza/collection/hive.pizza_pizza-power-up-day-collectibles_pizza-power-up-day-collectible-2
All commemorative tokens have been sent out! If you feel you were missed in error, please DM me on Discord so we can check into the situation. If there are not discrepancies submitted by 7-25-22 the remaining 3 printed to cover system issues we did not foresee will be burned.
Congratulations and thank you everyone so very much for participating in this wonderful event! You guys continue to drive me every day to continue doing what we do!
@cooperclub 3,000
@dkid14 1,158.48
@dibblers.dabs 1,001.15
@bacon-dub 957.86
@taco-pizza 844.2
@thebeardflex 835.52
@h3m4n7 829
@thinkrdotexe 812.17
@cryptoniusrex 530
@elianaicgomes 510.62
@creodas 500
@hurtlocker 448.64
@traciyork 444.44
@gwajnberg 410.16
@nane-qts 366.6
@dadspardan 358
@trentonlundy1 355.35
@jfuji 333.33
@marcinxyz 308.77
@theacks 306.2
@anikekirsten 305.81
@bitcoinflood 302.45
@tengolotodo 300.03
@blitzzzz 300
@bcarolan639 277
@candnpg 210
@hive-199275 150
@huzzah 150
@chechostreet 149.65
@hivetrending 147.4
@diecinueve 121.4
@engilhramn 56.74
@misterc 48.15
@angelinafia22 25.3
@surien 23.83
@indiebandguru 23.61
@wittyzell 20.06
@cobaltum 15.12
@epic-fail 8.68
@edusan 4.36
@definethedollar 4.21
@killerwot 3.66
@taintedblood 1.98
@nastyforce 1.62
@familyhistory 1.5
@nofefe 1.25
@ligayagardener 1.04
@szmobacsi 1
@linlove 0.93

EARN PASSIVELY BY DELEGATING TO PIZZA
Consider helping our onboarding and curation initiatives by delegating your HP to our @hive.pizza curation account. Not only does it help our project grow, but you will farm your share of the daily $PIZZA delegation rewards pool! Delegation rewards are paid out in liquid form to your wallet each day.



We're almost 5,000 members strong
Are you a part of the Pizza Guild yet?
Join the
Pizza Guild Discord Server
Visit the
Pizza Guild Website

Join our curation trail here
Vote for us as Hive-Engine witness here


Vote for us as HIVE WITNESS HERE
---
---