hive.pizza | Community Events & Staker Giveaways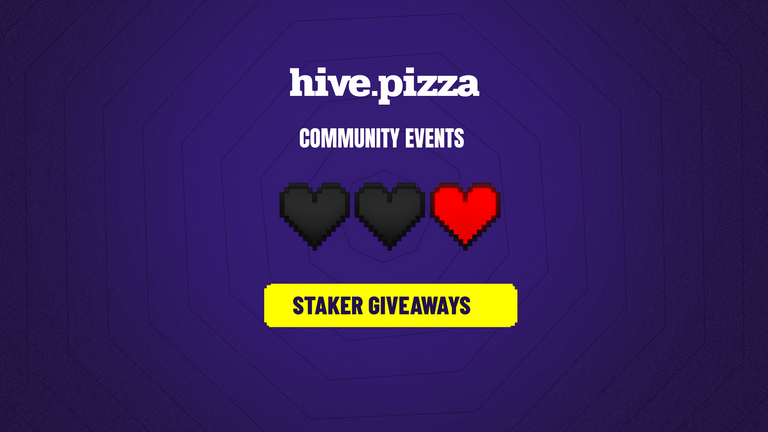 Hey everyone!
We have built quite the active community over at PIZZA and we've been throwing some pretty awesome and consistent events! We wanted to put together a more formal schedule so that you can plan to join us!
We also have some pretty awesome giveaways going on again this week for our PIZZA stakers!
Here are some of the cool things going on and some of the giveaways happening in the community Discord server this week!
Chinese Checkers Tournament
Friday December 3rd
2:00 PM PST
Come join Hive.Pizza for a Chinese Checkers tournament hosted by @TacoPizza. Tournament will progress in rounds of 6 players! Brackets TBD based on interest. Games will be played at https://www.chinesecheckers.online/ please register early!
3 Rings of ZA (PIZZA Exclusive Release) NFTs will be awarded to the top 3 players along with additional prizes!
PIZZA & Movie Night
Saturday December 4th
3:00 PM PST
PIZZA crew picks a movie and watch it together! Hosted by @Creodas
Movie is determined the day of the viewing by the community by vote! Open to all movie suggestions! Check out the #NovemberMovies channel in our Discord server and make sure you grab the movie role if you want a ping before the movie goes live!
hive.pizza Bi-Weekly Chess Tournament
Sunday December 5th
1:00 PM PST
Bi-Weekly Chess Tournament organized by @cryptoniusrex. Expect Pizza Prizes for Podium Places and Exclusive PizzaChess NFT's!
Matches and Brackets TBA in Discord Channels or on lichess.org.
Play Trivia Win PIZZA
Friday December 10th
2:00PM PST
Play a few rounds of trivia with us in our Discord server! Banter about some of the questions and WIN some PIZZA tokens! We have a blast!
Bi-Weekly hive.pizza Hold'em Poker Tournament
Sunday December 12th
1:00 PM PST
Join Our Community Sponsored Pizza Poker Tournament here in Discord! 100 PIZZA in prizes- additional prizes based on sponsorship!
We will build out brackets when everyone arrives in the voice channel and start games by 4:10 PM EST!
DM @dibblers.dabs if you are interested in contributing to the prize pool!




Staker Giveaway
All giveaways have an engagement requirement as well unless otherwise noted. All this means is that you need to chat in the community a little or play some of the bot games before you can enter. We love engagement, guys!
1 Exode PIZZA bike Rising Star NFT

Rank Required: 200 PIZZA Staked
1 Exode Tom Settler Buddy in Space - Smooty AIO NFT

Rank Required: 200 PIZZA Staked
1 Exode Tom Settler Your Buddy In Space - Friendly Eyes XY - 6 NFT

Rank Required: 500 PIZZA Staked
1 Random Steam Game Key Worth At Least $10

Rank Required: 500 PIZZA Staked
1 Random Steam Game Key Worth At Least $15

Rank Required: 500 PIZZA Staked

DELEGATE TO PIZZA
You can also delegate your HP to our @hive.pizza curation account and farm your share of the daily $PIZZA rewards pool! Current APR is between 18-20% paid in liquid PIZZA to your wallet every day!



You can also check out the HIVE.PIZZA website here.
Buy $PIZZA
Leodex
Tribadex
Hive-Engine

Join the Discord and $PIZZA NATION

Join our curation trail here
Vote for us as Hive-Engine witness here
Vote for us as HIVE WITNESS HERE
---
---