hive.pizza | Witness Updates, Servers, Community, & More!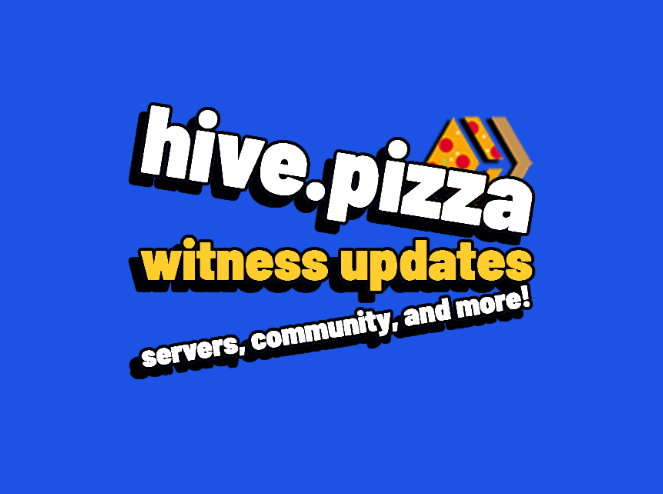 Hey everyone! We hope you've had a wonderful week! The weather is finally nice up here in the Pacific North-West and while hard at work, I've been trying to get out and take in the fresh air a bit. I may start writing some new posts and sharing my photography a bit! We'll see, I still need to find more time to write about all the awesome things we're doing at PIZZA!
Let's jump in to some of the latest happenings:
Witness Update
Rank: 62 / 60
We saw support for the @pizza.witness account grow since our last post and we're excited to say we're getting close to our goal of top 50 Witness! Thank you to everyone who has cast your support for the project and for what we do. We work hard every day to build an onboarding experience for new and existing HIVE blockchain users and we've growing to almost 5,000 members in the community. We're not slowing down and have so much more to come. Thank you again!

Burning ZA Board increased and leaderboard added
We're excited to announced that both NFTs produced by the PIZZA Paint Burning Za game located at https://arcade.hive.pizza that we have been building have sold out! With this milestone we felt it appropriate to introduce not only a larger board, but a leaderboard to go along with it!
Players will not only have a larger board to work with but can also keep track of their stacks during the current snapshot.
Each snapshot produces a rare NFT. The top three players each snapshot receive the NFT for free! For those wondering how to play the game, there are no rules and YOU decide how to play! Some people work together to create epic pieces of art while others are here simple to troll or to create advertisements for their project. In the end only those still present during the snapshot get stamped into history on the HIVE blockchain!
Join the PIZZA Discord server to coordinate with others, ask questions, talk smack, or even just to watch the PIZZA log as actions occur in the Burning Za game on the HIVE blockchain in real-team.
Come play here: https://arcade.hive.pizza
Node Updates
We are now helping to support, running nodes, and building tools for:
@pizza.witness (Hive)
@pizza-engine (Hive-Engine)
@pizza.spk (SpkNetwork)
@pizza.duat (Ragnarok)
@pizza-dlux (DLUX)
PIZZA On-Chain Community Updates
The PIZZA HIVE Community has continued to grow and has really started to see some awesome activity! From great gaming posts to music reviews to incredible works of art, we're starting to really see some amazing content. With that said, we felt it was time to give things a bit of an overhaul and reworked some of the roles, titles, descriptions, and images on the page and even built in some automation to assign your role when you join the community!
Wrote new app to handle back-end automation
Created new titles/role
Updated Community Description
Added new banner
You can join the community here:
https://peakd.com/c/hive-185582/created
Here is a sneak peak of the roles in action: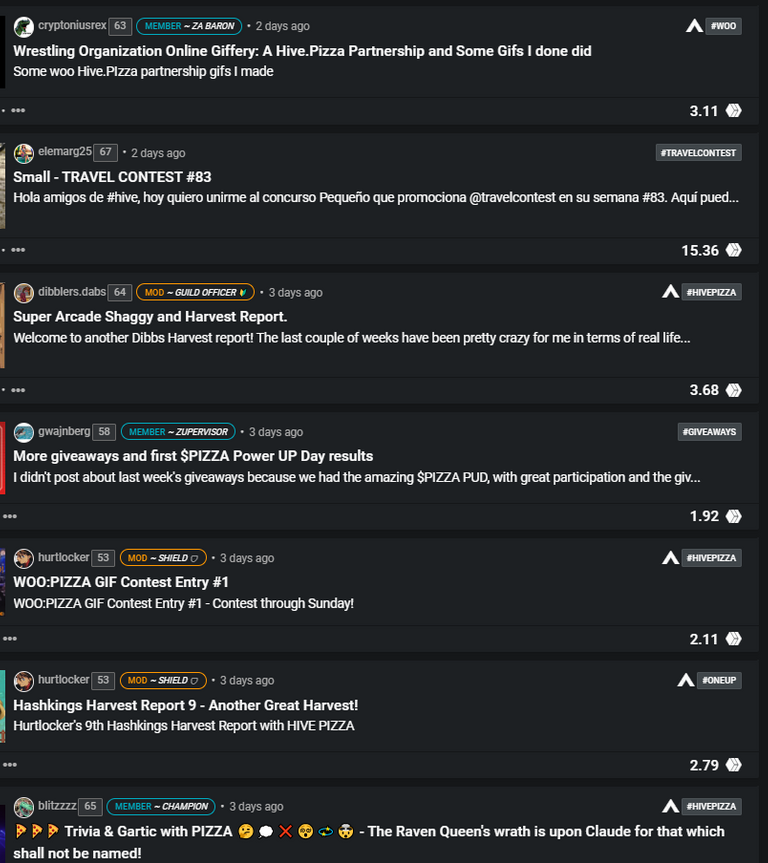 PIZZA on RUST
We have a PIZZA Community RUST server up and running with a large emphasis on HIVE. For those who own RUST on PC you can connect with the following information:
Connection: When you login press F1. Type connect rust.hive.pizza:28015 and hit enter
We've made a few adjustments to the current build that allow players to stack crates, access skin modifications, and to setup their Rust + phone app for HIVE PIZZA Rust integration.
To customize your items in-game, type /skinbox at any time and drag the item to the inventory on the right. If there are skins available for that item they will load after a few moments. If there are multiple pages you can use the arrows on the right to change between them.

To stack crates, simple place the first crate and then equipment the second box of the same type in your hands. Hover the box over the previous box and even though it is red, click the right mouse button. This should snap your boxes and stack them together. After this most recent restart you should now be able to stack up to 4 crates.

Rust + integration will allow players to receive notifications to their phone from actions that happen in-game. For example, you could wire up a raid warning system that sends a notification to your phone if your base is being attacked. Pretty cool! You can enable this easily by downloading the Rust + app, logging into the Rust + app, then logging into the HIVE PIZZA Rust server. Hit escape, tap on Rust +, and click on Pair this Server. You will then be up and running, be able to see the map on your phone in real time, and even talk to your teammates if you have a team!

Discord and HIVE integration. We're working on getting some integration setup that will allow those who stake PIZZA on the HIVE blockchain to earn perks by joining the HIVE PIZZA Rust server and helping us spread the word about HIVE. We finishing setting up integration today that lets us talk between the game and Discord. Next step, setting up the ranks! Barons get ready for some neat perks!


Here is a teaser of the Rust + app integration in action: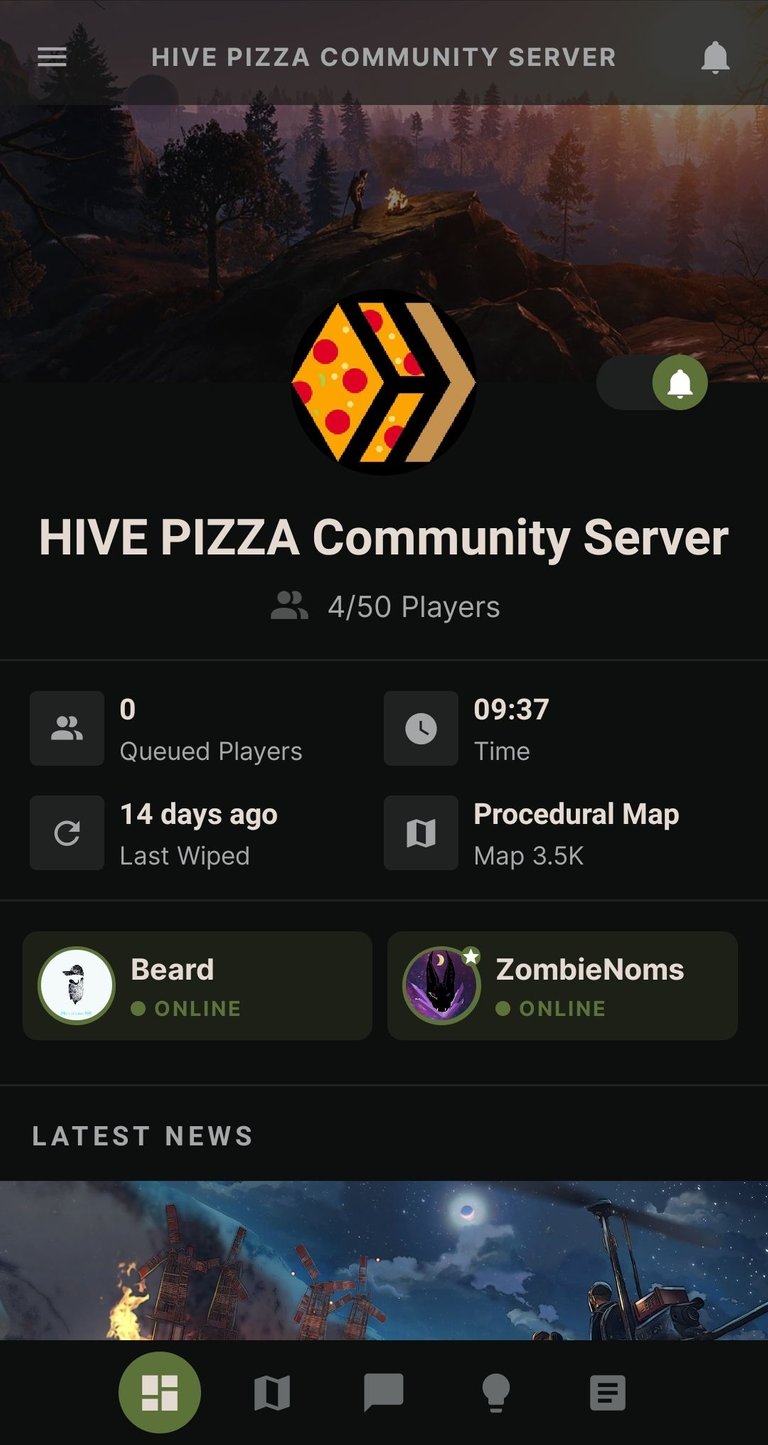 PIZZA on HiveLand
If you hadn't heard, the folks over at @hiveland.dapp have been building an awesome front-end that tracks active tokens on the HIVE second-layer. We're excited to not only see this awesome HIVE development that should be familiar to those who enjoy coingecko or other market tracking websites but to also see PIZZA listed recently. You can read more about the PIZZA project and see a few details in their early release version available here:
https://hiveland.live/token.php?token_id=367
Here is a photo teaser of the PIZZA page: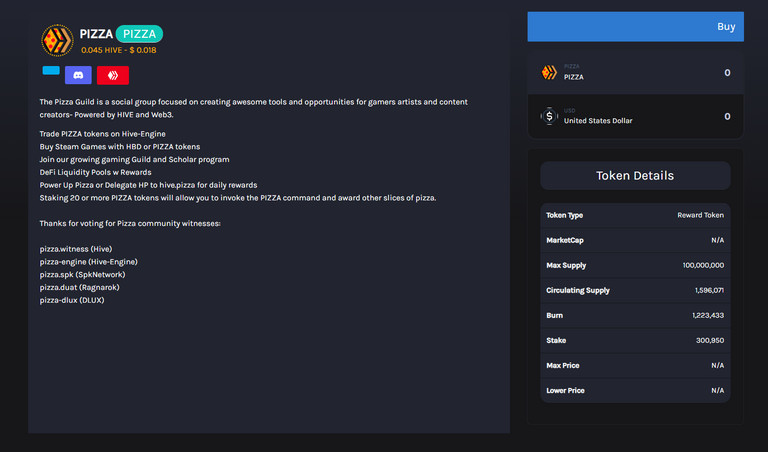 Updated Website Information
A few updates were made on https://hive.pizza to reflect changes in some of the data displayed on our website landing page. For example, did you know PIZZA has organically found itself into almost 12,000 wallets on the HIVE blockchain through engagement.

I'm almost at a point where I can start rebuilding the shop to be a bit more visually pleasing, responsive, and to offer more things to spend your PIZZA on. I have so many ideas in ways we can expand here, I just need to dedicate the time for it once I clear a few of these current projects.



We have a few slots available for advertising on the https://hive.pizza website and on the store page. We currently partner with several projects such as BROm CINE, Rising Star, and CARTEL. If you would like to see your HIVE based ads on the HIVE PIZZA website please let @thebeardflex know so we can discuss our rates.


Here are some examples:
We have been successfully running multiple breakaway community front-ends to allow communities that do not already have a front-end setup to have a home special to them. You can check these community front-ends out over at https://writing.pizza and https://scholarandscribe.com! If you're interested in having your own front-end for your special interest HIVE community, please let us know as we can help for a super affordable rate that will see you up and running with no effort. All proceeds from helping setup front-ends goes directly to burning PIZZA.


Community Front-End Examples:
WOO-PIZZA GIF CHALLENGE & EXTENSION
We are starting to see some great submissions coming in for the WOO-PIZZA GIF Challenge! We know there are several of you who were wanting to participate but were unsure how to get started. In the spirit of our tag-team challenge we're going to go ahead and extend things out until July 3rd at 11:59 PST. We'll also be scheduling a "How-To GIF Session" in the PIZZA Discord server to help everyone out!
We have a ton of prizes available for people who participate, so don't miss this opportunity to grab up some WOO Alpha Packs and PIZZA tokens!
You can read more about the GIF Challenge with $200 in PRIZES here:
https://peakd.com/hive-185582/@thebeardflex/the-pizza--woo-gif-tag-team-challenge-over-dollar200-in-prizes
Awesome How-To Post by @wrestorgonline here
https://peakd.com/hive-102223/@wrestorgonline/step-by-step-woo-pizza-guide
Here are some amazing entries that have been coming in! Check them out if you need some inspiration!
https://peakd.com/hive-185582/@bacon-dub/woo-pizza-gif-contest-entry-98f5ff1f2a0eb
https://peakd.com/hive-185582/@marcinxyz/pizzawoo-gif-contest-entry
https://peakd.com/hive-185582/@cryptoniusrex/wrestling-organization-online-giffery-a-hivepizza-partnership-and-some-gifs-i-done-did
https://peakd.com/hive-185582/@hurtlocker/woopizza-gif-contest-entry-1
https://peakd.com/hive-185582/@bacon-dub/woo-pizza-gif-contest-entry
https://peakd.com/hive-185582/@davot/the-contest-woo-gifs-vol2
https://peakd.com/hive-185582/@bacon-dub/woopizza-gif-contest-entry-3
https://peakd.com/hive-185582/@bacon-dub/woopizza-gif-contest-entry-2
https://peakd.com/hive-185582/@davot/the-contest-woo-gifs
https://peakd.com/hive-185582/@bacon-dub/woopizza-gif-contest
https://peakd.com/@randumb/the-pizza--woo-gif-tag-team-challenge-entry

EARN PASSIVELY BY DELEGATING TO PIZZA
Consider helping our onboarding and curation initiatives by delegating your HP to our @hive.pizza curation account. Not only does it help our project grow, but you will farm your share of the daily $PIZZA delegation rewards pool! Delegation rewards are paid out in liquid form to your wallet each day.



We're almost 5,000 members strong
Are you a part of the Pizza Guild yet?
Join the
Pizza Guild Discord Server
Visit the
Pizza Guild Website

Join our curation trail here
Vote for us as Hive-Engine witness here


Vote for us as HIVE WITNESS HERE
---
---