hive.pizza | Witness Updates, SPKCC Communities, & Servers!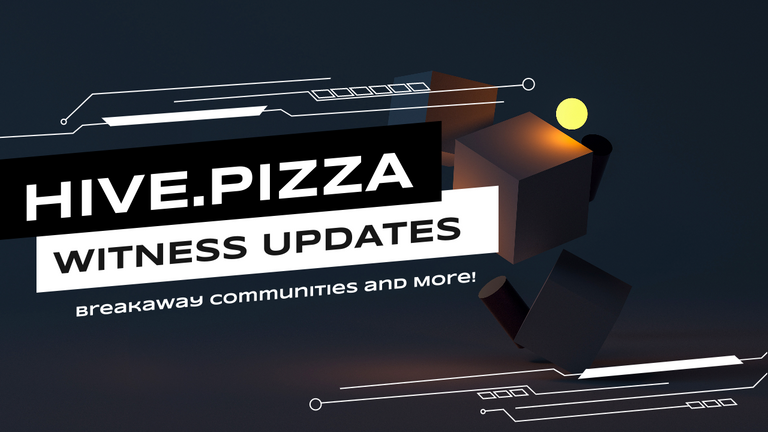 Hey everyone!
We have so much going on that I think I need to break this update up into multiple posts. Expect another one in the next few days! I wanted to take a few moments today to share some of the work we've done recently to scale the project and our back-end capabilities and some information about a service we're offering!
Witness Update
Rank:
We are still working extremely hard to reach out goal of Top 50 HIVE Witnesses by the end of 2022! We want to thank each and every one of you for your continued and growing support as we champion for HIVE together through the PIZZA project. If you have an extra vote and have not considered the PIZZA project, please do and reach out if you have any questions!

Server Updates
We have several physical servers racked in data centers and have been working to expand PIZZA resources and back-end development environments. This includes provisioning a new Xeon server to facilitate scaling some of our services and increasing speed and response times. We're excited to be able to step up our total monitoring game with more power available and to dive further into areas such as DLUX and SPKCC which we've been assisting with in various ways.
We are now helping to support, running nodes, and building tools for:
@pizza.witness (Hive)
@pizza-engine (Hive-Engine)
@pizza.spk (SpkNetwork)
@pizza.duat (Ragnarok)
@pizza-dlux (DLUX)
Now Setting-Up Community Front-Ends
These updates and changes allowed us to increase focus in some of the services areas we hoped to explore this year such as hosting or initial setup services.
One of the areas we dove into was breakaway communities and are now successfully running several breakaway community front-ends based on SPKCC for hive.pizza and for Scholar & Scribe. If you're familiar with Ecency, you will be super familiar with the style and options available to you including Keychain functionality and wallets.
If you have a HIVE community and would like to have your own dedicated place for it similar to Ecency, please reach out to @thebeardflex to discuss our incredibly reasonable / competitive rates and options available to get your community front-end online.
You can view and test the PIZZA and S&S community front-ends here:
https://writing.pizza
https://scholarandscribe.com
Game Server Updates
We also took this time to rebuild our core game server and redeploy some instances that needed a freshen-up if you will.
We've launched a fresh instance of the new Minecraft 1.19 "Into the Wilds" update on a pure vanilla server.
We've also relaunched our RUST server with no mods, offering a pure vanilla experience.
While we will definitely roll our mods back out we wanted to enjoy the vanilla experience for this rotation!
Connection Info:
We've updated the domain for Minecraft to mc.hive.pizza
Join our Rust server by:

Hitting F1 when your game fully loads
Type connect rust.hive.pizza:28015 and hit enter!
We hope to see you guys online and have a few community events scheduled for each server in the next week or two! You can learn more about our community events by joining our Discord server!
HIVEISBEAUTIFUL
Those of you who know the PIZZA team are probably familiar with our favorite saying, "HIVE is beautiful". Some of you have probably even seen the visualizer tool @hivetrending created to showcase just how beautiful HIVE can be! You can now find that tool easily located over at https://hiveisbeautiful.com! There are a few additional updates since we last mentioned it along with a legend at the top to assist with a few unknown abbreviations! Let us know if you'd like to see any updates!

EARN PASSIVELY BY DELEGATING TO PIZZA
Consider helping our onboarding and curation initiatives by delegating your HP to our @hive.pizza curation account. Not only does it help our project grow, but you will farm your share of the daily $PIZZA delegation rewards pool! Delegation rewards are paid out in liquid form to your wallet each day.



We're almost 5,000 members strong
Are you a part of the Pizza Guild yet?
Join the
Pizza Guild Discord Server
Visit the
Pizza Guild Website

Join our curation trail here
Vote for us as Hive-Engine witness here


Vote for us as HIVE WITNESS HERE
---
---