PIZZA-WOO GIF Challenge and WOO Kickoff Celebration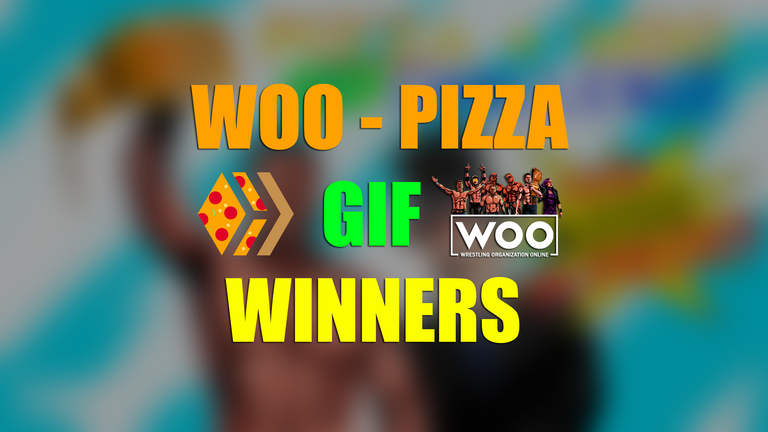 We're happy to announce the winners of the WOO-PIZZA Tag-Team GIF Challenge! If you missed this one, don't worry! We're already planning the next battle that will come in the near future with our tag-team partners over at WOO! So keep an eye out!


Special shoutout to the @wrestorgonline team and @hive.pizza teams for all of the time they spent looking over and judging the entries! We had some amazing participation this round! Thank you everyone!


We would like to extend an extra congratulations to the WOO team and to Booker for the amazing job they have done with WOO. The airdrop was a complete success and we're excited to have been a part of it! We threw a party over in the PIZZA Discord with a WOO Alpha Pack Opening, dozens of Giveaways, and an AMA with Booker and a few other members of the WOO team!
You guys are welcome any time!


After some serious effort and thought, we've narrowed down our winners after accumulating points for votes per GIF. Each time a judge votes for a GIF, that creator earns a point. At the end of judging, the creator with the most points wins first place etc!
Alright, drumroll please!



WINNERS
PRIZES
@randumb will receive:
$32 in WOO Packs & $33 Value PIZZA Tokens
@bacon-dub will receive:
$15 in WOO Packs & $15 Value PIZZA Tokens
@theacks will receive:
$8 in WOO Packs & $7 Value PIZZA Tokens
All other participants will receive the following:
@davot @hurtlocker @cryptoniusrex @marcinxyz @stekene
$4.00 in WOO Packs & $4.00 Value PIZZA Tokens
SOME FAVORITES
Some of these may take a few refreshes before they load in full!


THE POSTS
You can view each GIF at your own pace by visiting each participant's submission post below!



EARN PASSIVELY BY DELEGATING TO PIZZA
Consider helping our onboarding and curation initiatives by delegating your HP to our @hive.pizza curation account. Not only does it help our project grow, but you will farm your share of the daily $PIZZA delegation rewards pool! Delegation rewards are paid out in liquid form to your wallet each day.



We're almost 5,000 members strong
Are you a part of the Pizza Guild yet?
Join the
Pizza Guild Discord Server
Visit the
Pizza Guild Website

Join our curation trail here
Vote for us as Hive-Engine witness here


Vote for us as HIVE WITNESS HERE
---
---