Silver gaming token from The Venetian, Las Vegas / Re-blog lottery for a chance to win 3 HSBI!
Over the years one of my favorite destinations has always been Las Vegas. There is just so much to do day or night even if you don't gamble. There are so many shows and attractions everywhere you look. I remember when I was younger staying in Vegas was not all that expensive, but times sure have changed. You can get into some of the less expensive places for around $100 US a night, but the high end places start at $400+ US a night. Getting way too rich for my blood!
On one trip I stayed at The Venetian Hotel which is one of the higher end places on the strip. I travelled with some friends and got we an incredible deal. It truly is an amazing place, spacious and luxurious rooms and very comfortable. The only problem is you don't want to eat there if you can avoid it because the restaurants were way overpriced! Even the casino was expensive, the minimum bet to play blackjack was $25. So great place to stay if you are stinking rich!
I picked up a souvenir token while I was there, but not in one of the gift shops (expensive.) I got it at a pawn shop off of the strip and the prices there were much more reasonable! It caught my eye because it was a millennium edition and also had the Doge's Palace on the reverse. The Doge's Palace is a beautiful building in Venice, Italy for those not familiar with it. I love to collect these silver tokens because they are most importantly silver. Plus some gain high premiums over time especially if they were very limited runs. Some of these tokens from the 1950's or 60's are pretty expensive. Take a look!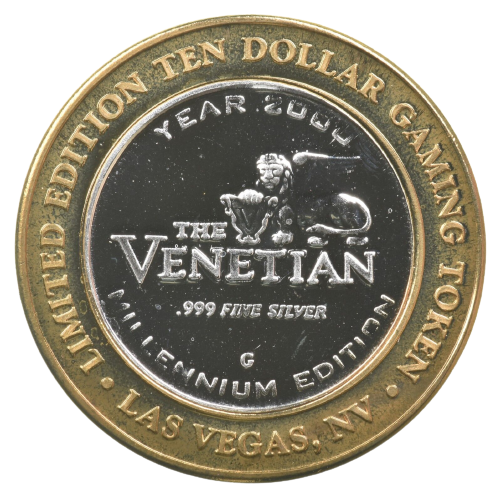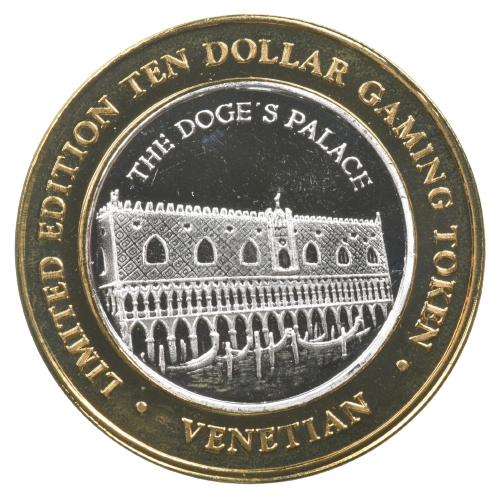 photos mine
About the token:
Edition: Millennium Edition
Silver: 99.9% fine silver
Casino: The Venetian, Las Vegas, Nevada, US
Weight: About 0.6 troy ounces
These are just so much fun to collect! Once you get hooked you start buying more and more... Most casino's produce their own varieties so there's almost no way you could ever collect them all. So next time you are in Las Vegas make sure to pick up a few of these to keep as souvenirs.
The #silvergoldstackers have an upcoming raffle open to everyone for the chance to win some very cool silver prizes. I believe there is more than 44 ounces of silver prizes already in the pot! Make sure to follow @buggedout to keep up with the details!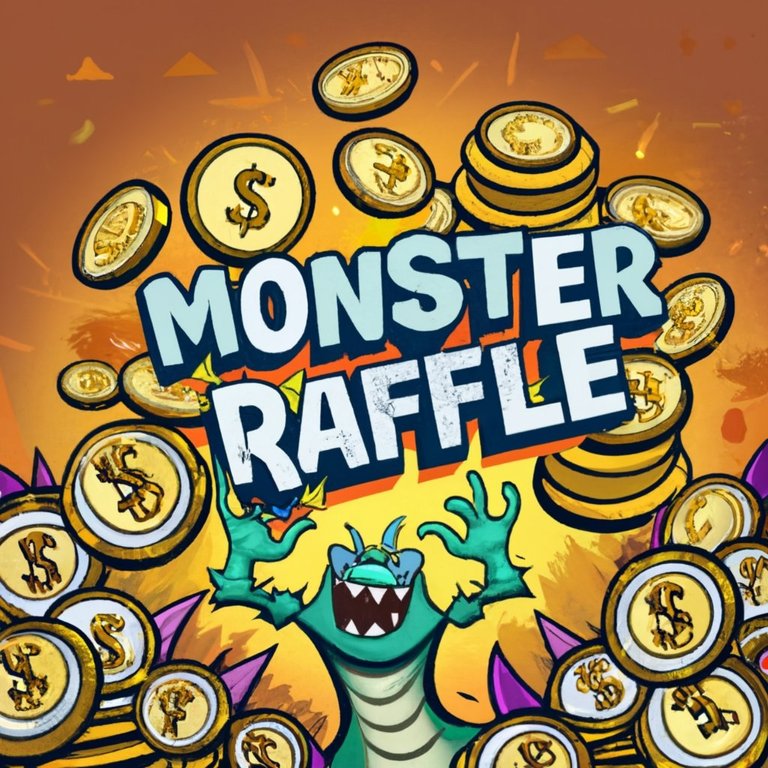 generated with ideogram.ai
Thanks for taking the time to stop by and read my post. I really appreciate everyone's kindness and support. If you have any suggestions, comments, or questions please feel free to leave them below. Thanks again!
And my disclaimer: Gold and silver stacking can be a fun hobby but isn't for everyone. You can lose money. I'm not a financial advisor and this isn't financial advice, please always do your own research before spending your hard earned money.

If you enjoyed today's post you might also enjoy:
Caesars Palace Atlantic City, New Jersey Lincoln Memorial Silver Chip
Silver Morgan dollar from 1887
The Forrest Fenn treasure, millions found by a lucky medical student

Now for the winner of the re-blog lottery! Today we had 20 people re-blog my post, thank you so much! The people who re-blogged were: @blitzzzz @esbat @flaxz.alive @ganjafarmer @happy411 @henruc @hjrrodriguez @irfanmustafa @ladymisa @middle-earthling @mirroredspork @olaf.gui @shasta @silvercoins @stekene @trautenberk @trumpman @vrezyy @pepe-voter @vaynard86
Voluntary daily reminder list for those who request to be on it: @ganjafarmer
Thanks everyone! It really helps my engagement which I'm working hard to improve! If you have any recommendations or suggestions please feel free to let me know.
Good luck to everyone!
And the Wheel of Names results: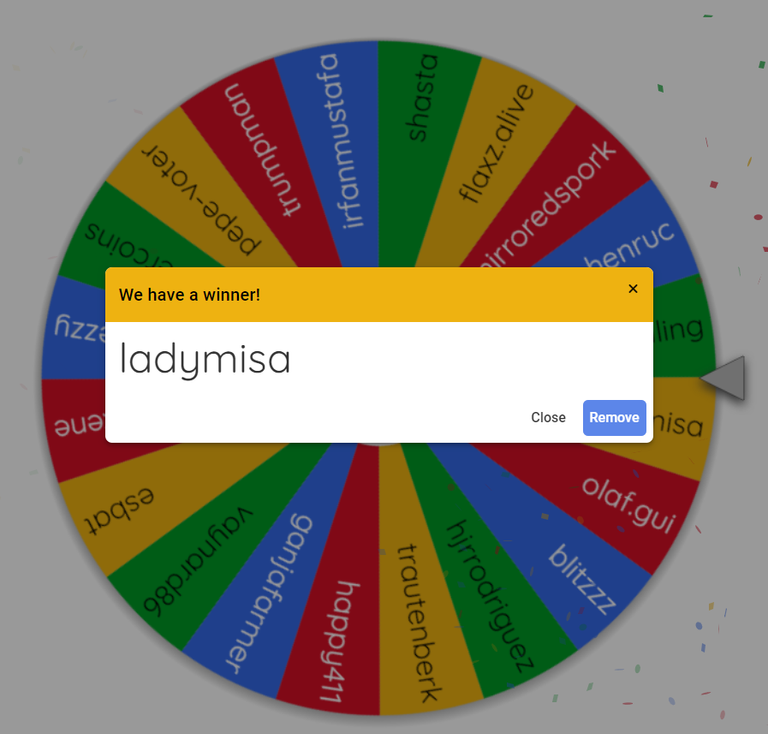 Congratulations @ladymisa !
I just sent over the funds for your 3 HSBI units!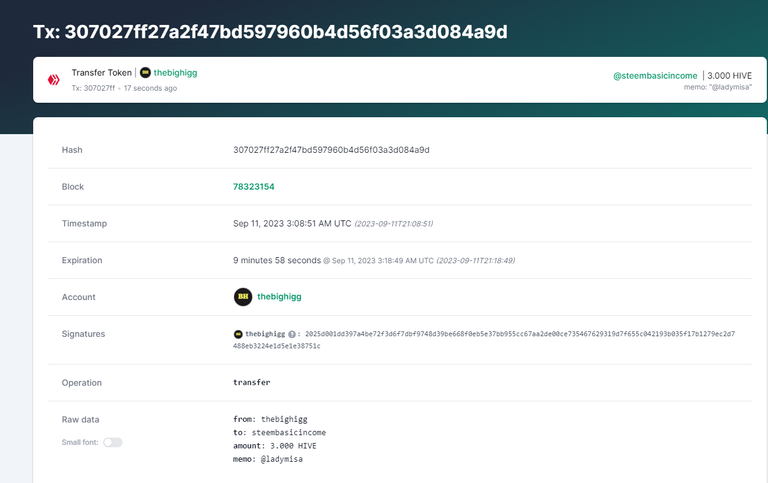 Now for today's re-blog lottery! You just need to re-blog my post you will be placed on the Wheel of Names for a spin to possibly win 3 HBI units! Just one prize for the lucky winner. Bots aren't allowed to enter please. Contest ends at 14:00 (2 PM) California Pacific time tomorrow. If I somehow missed your re-blog please let me know and I'll add you to the next draw.
What are HBI units? They are units that you can purchase to sponsor someone and you in turn receive a unit as well. This way we both benefit! They give you occasional upvotes on your posts for a lifetime, and the more you accumulate the more often you receive upvotes and the bigger they can be. You can read some more here:
https://hive.blog/hive-189312/@steembasicincome/hive-sbi
If you have more questions feel free to ask.

---
---