Silver Heraeus bar from Hanau, Germany! / Monster Raffle/ Re-blog lottery for a chance to win 5 HSBI!
Years ago I used to frequent a jewelry shop in Phoenix, Arizona that has long since been out of business. The owner would buy gold and silver and send in most of the items into the refiner to be melted down. After several visits we became good friends and whenever he would come across something he felt was special he would hang onto it for me to see if I wanted to buy it. On one of those occasions he had this particular one troy ounce silver bar which I bought from him.
I knew a little about Heraeus at the time but not a whole lot. So I did some research and it has a fascinating history. From 1660 to 1850 it was a family run pharmacy in Hanau, Germany. It's located some 25 kilometers east of Frankfurt. At some point in the late 1600's one of the sons started to supply gold as part of the business. Then in 1850 the family became involved in smelting platinum, goldsmith workshops, supplying gold for dentistry and any other conceivable application. Since then they have become one of the largest suppliers of precious metals not only in Germany but around the world.
They continue to produce silver and gold bars to this day though the designs change from time to time. This one appears to have some age and isn't one of the current designs they produce. Still it's a very pretty bar, and one of my favorites. It's a shame my old friend the jeweler retired, he always came across some of the coolest stuff like this bar!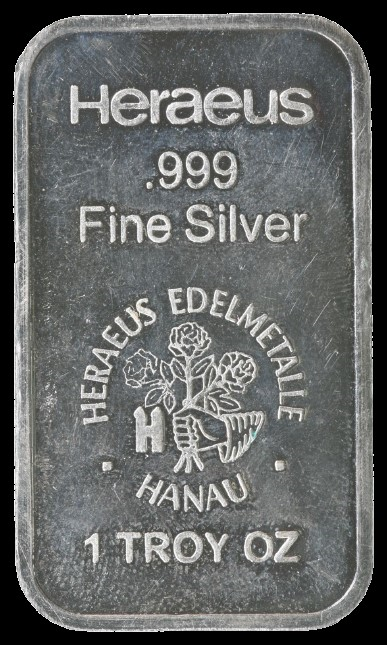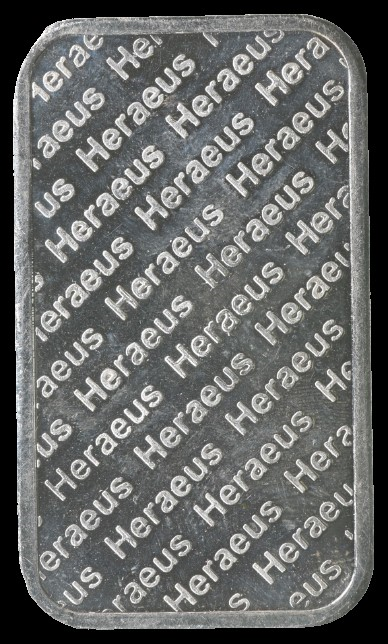 About the bar:
Produced by Heraeus
Date unknown
Weight: One troy ounce
Well that is my story for the day, and I always recommend to any silver or gold collector to make good friends with independent jewelers because they will often come up with some very cool items. Stay away from the big chains, they usually aren't willing to sell anything they buy.
That's about it for today. Thank you so much to everyone out there for your kind support and help. I'm trying my best to pay it forward! Please feel free to leave any suggestions, comments, or questions below and thanks for stopping by!
Don't forget to buy tickets for the Monster Raffle! Lots of silver prizes are waiting to be won! There are many that I would like to win myself!



Check out @buggedout post on information on how to purchase raffle tickets: https://peakd.com/hive-136819/@ssg-community/monster-raffle-tickets-now-on-sale
And my disclaimer: Gold and silver stacking can be a fun hobby but isn't for everyone. You can lose money. I'm not a financial advisor and this isn't financial advice, please always do your own research before spending your hard earned money.
References:
https://www.heraeus.com/en/hpm/precious_metal_trading/precious_metals_as_investment/bars/productdetail/87893031.html?timestamp=1695668641644

If you enjoyed today's post you might also like:
Silver 1853 Seated Liberty half dime
Sterling silver bar from The Franklin Mint
Silver one ounce bar by U.S.V.I. Ingot Company!

Now for the winner of the re-blog lottery! Today we had 25 people re-blog my post, thank you so much! The people who re-blogged were: @bitandi @blitzzzz @booboohabibi @flaxz.alive @florakese @ganjafarmer @henruc @hjrrodriguez @koleso @kungfukid @kunschj @ladymisa @ninahaskin @olaf.gui @pepe-voter @silversaver888 @stekene @stevenseagull @tengolotodo @trautenberk @trumpman @vaynard86 @vrezion @vrezyy @suriclicksmedia
Voluntary daily reminder list for those who request to be on it: @ganjafarmer
@ganjafarmer make sure you are re-blogging the post to be eligible to win!
Thanks everyone! It really helps my engagement which I'm working hard to improve! If you have any recommendations or suggestions please feel free to let me know.
Good luck to everyone!
And the Wheel of Names results: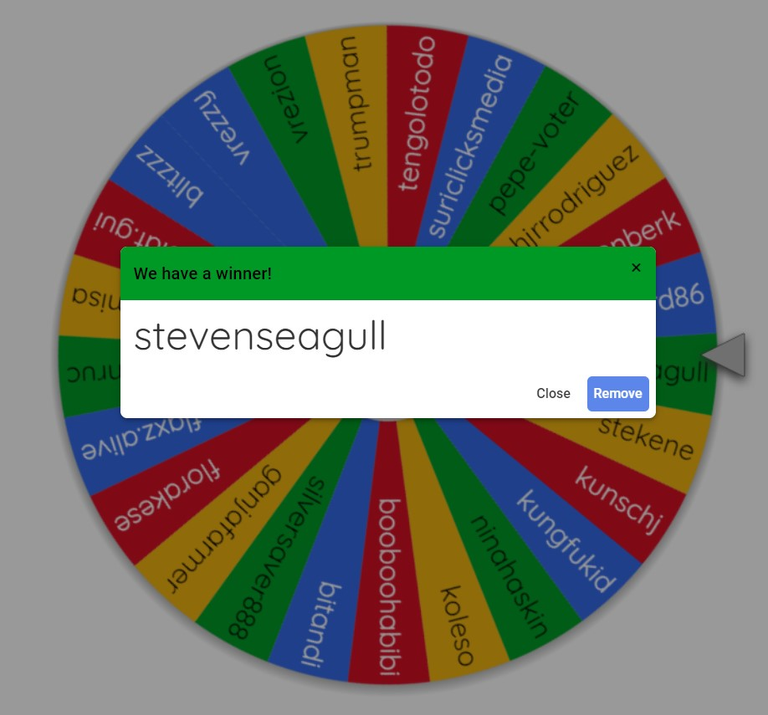 Congratulations @stevenseagull !
I just sent over the funds for your 3 HSBI units!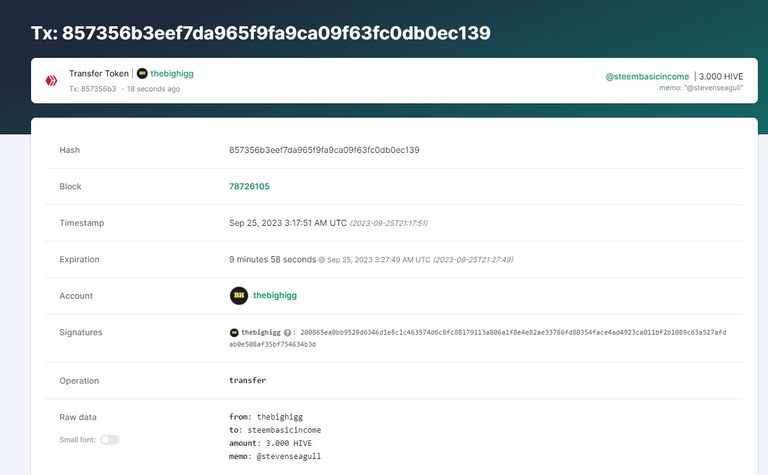 Now for today's re-blog lottery! You just need to re-blog my post you will be placed on the Wheel of Names for a spin to possibly win 5 HSBI units! That's right, today 5 to celebrate picking up over 100 followers! I know it's a bit late but better late that never! Just one prize for the lucky winner. An upvote is not required but is always greatly appreciated to help me fund higher prizes in the future. Bots aren't allowed to enter please. Contest ends at 14:00 (2 PM) California Pacific time tomorrow. If I somehow missed your re-blog please let me know and I'll add you to the next draw.
What are HSBI units? They are units that you can purchase to sponsor someone and you in turn receive a unit as well. This way we both benefit! They give you occasional upvotes on your posts for a lifetime, and the more you accumulate the more often you receive upvotes and the bigger they can be. You can read some more here:
https://hive.blog/hive-189312/@steembasicincome/hive-sbi
If you have more questions feel free to ask.

Posted Using LeoFinance Alpha
---
---