3 Healthy Reasons Why I Adopted a Rabbit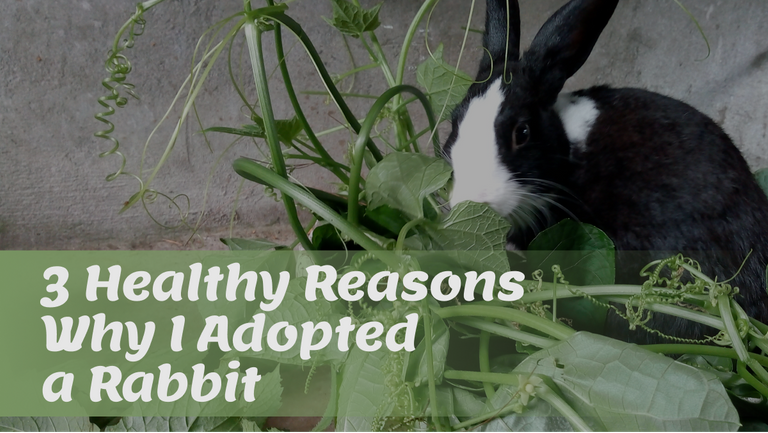 In a remote community where grew up as a kid, dogs and cats are the most common pets. Dogs are the most useful and popular as they are very useful in hunting and driving snakes along the path. We also had some exotic pets captured from the nearby mountains, but most of them will not last long as they will take any food given by humans.
Personally, dogs have been the best pet I have ever had. They had been my playmate and best friends as a kid. I had very beautiful memories of them. However, since all of the dogs that I had are not trained to hunt, they usually end as a sacrifice for the spirits. As a kid, I cannot do a thing to prevent the faith of what I considered my best friends. I just cried and walk away. This repetitive sad experience made me realize of not getting too emotionally close to animals.
I now live in a highly-populated town close to a city. We have a dog but I am not as close as I used to back when I was a kid.
A few months ago, a neighbor of ours was giving away some of their rabbits as they are rapidly increasing, and they have no place for all of them. After giving it a brief thought, I decided to adopt one of them. I just call him rabbit as I am afraid of getting too emotionally attached to it.
---
Here are the 3 healthy reasons that made me adopt one.
1. A Healthy Distraction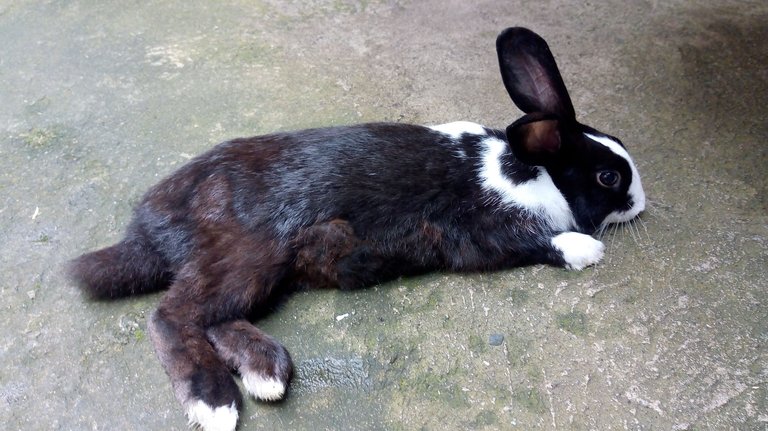 My pet rabbit feeling relaxed after I pet him. He is still laying down waiting for more. 🙂
The main reason that I adopted a rabbit is to distract me from sitting for too long in front of the computer screen. I usually spend most of my time facing and doing things in front of a computer to the point I can now feel body pains. It also made my eyes weaker. I certainly don't want this.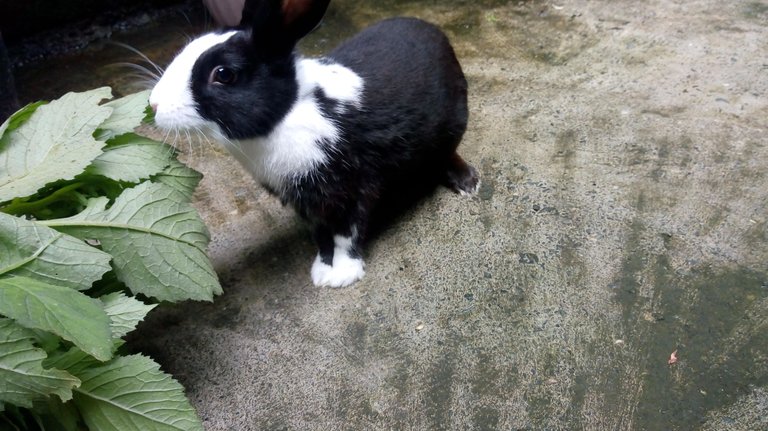 My rabbit is checking out the ragleaf plants I picked along the way.
When I usually want a break, I will get up from my seat and go play with the rabbit for around 5 to 10 minutes. I usually give it food and or pet its back. There are also times that I let it out of its cage. It's relaxing to watch it run and jumps around happily. Our dog is also jealous when he sees me playing with our rabbit which makes me smile.
There are also times that I forgot to take a break where I will only be reminded when I hear it stomp its feet. It's like intentionally calling for my attention.
---
2. Foraging Exercises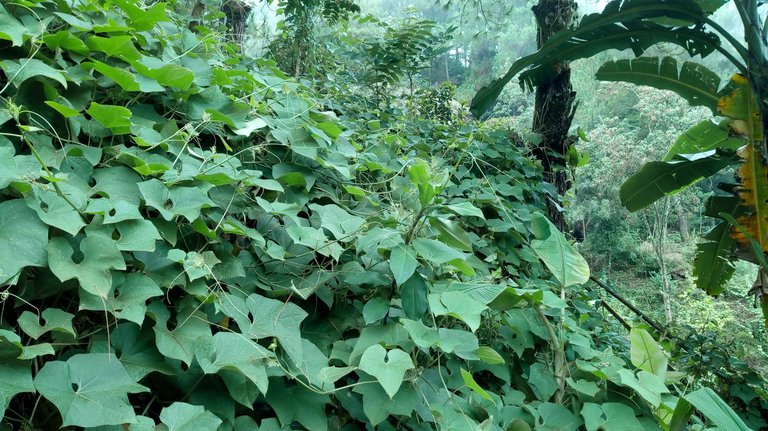 A bunch of chayote plants on the side of the mountain where I usually get leaves and fruits for my rabbit.
My rabbits' diet is mainly chayote leaves and fruit. I give it pellets but it far prefers the leaves and fruits. Some people say that I only need to give it food once a day, but whenever it asks for food, I give it some. I feed it 2 to 4 times a day. 🙂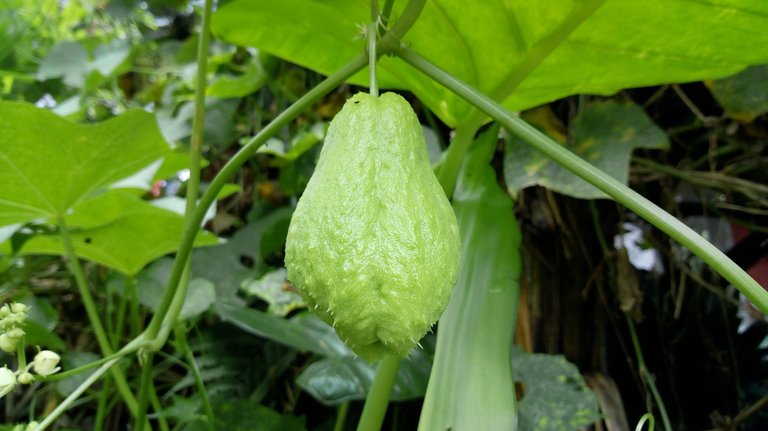 A young chayote fruit. My rabbit loves young fruits such as this but I will let this grow a bit bigger before I will pick it. 🙂
This forces me to leave my desk and go out to forage for its food. I usually go to the side of the nearby mountain or on the side of the road where some of our neighbors had planted chayote. It would usually take me at least 30 minutes to look for food.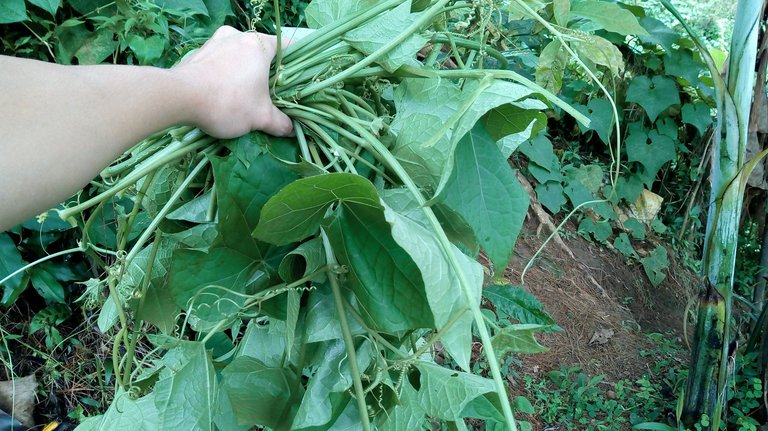 A bunch of freshly gathered chayote leaves for my pet. This will last a day. This are the same leaves in the image above where the rabbit is.
I was not able to pick any fruit as the ones I found are still too small.
---
3. Taste and Health Benefits
My mother told me that people she knows in Israel told her that rabbits are packed with rich nutrients. According to her, the taste is somewhat similar to that of a chicken. This made me curious about how a rabbit would taste. If you think of the added health benefits, my pet looks more delicious. 😋
Aside from the two previous reasons I stated above, another reason that keeps me from devouring my rabbit is that the kids love playing with it. This made me consider getting another for my palate. 🙂
---
Final Thoughts
While it's true that I am not as close to my pets as I used to be when I was a kid, I still highly value them. I love playing with them which makes me relax a bit when I am stressed out. Also I can't rest easy if I know that they are hungry. This is one of the reasons why I can't stay out of the house for a long time without appointing someone to look after them.
---
Thank you for taking the time to read my post. I appreciate it very much.
Please let me know your thoughts regarding my post in the comments below.
---

Unless otherwise stated, all images used in this post are mine.
ListNerds logo is from ListNerds.
---
---