Boating and Cycling plus Street Art - A Weekend Experience (06 Nov 2022)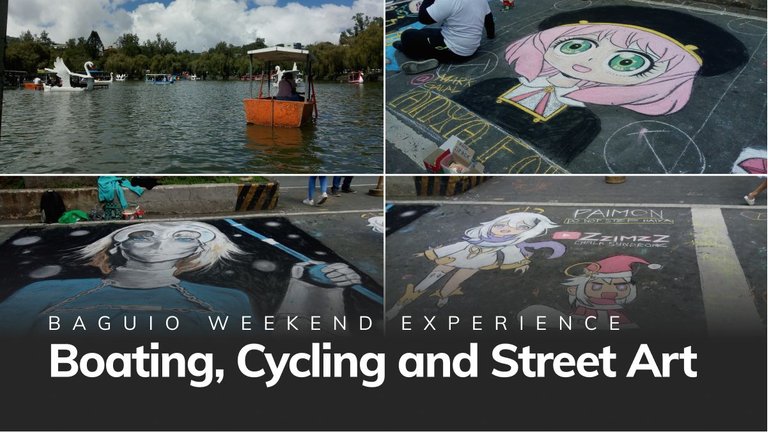 It's been months since the last time that I went out to relax and I am starting to notice a drop in my work productivity. This made me decide to take a break last Sunday. And since it has been around 2 years since I went to the nearby city (Baguio City), I decided to go there and try something I rarely do – biking and boating.
The Journey
The plan was to go there in the morning as it might rain in the afternoon. I got out of the house at around 8:45 AM and arrive at Burnham Park (one of Baguio City's famous parks) at 10:00 AM. The travel can last 30 mins or less but I have to wait for more than 10 mins for a jeepney (the Philippines' main public transport) plus some short traffic along the road. I also had to walk around 1 km from the drop-off point to the park.
Biking
The first thing on my itinerary is biking. The reason was the sun is not that strong and the trees around the area can still provide a considerable space of shade.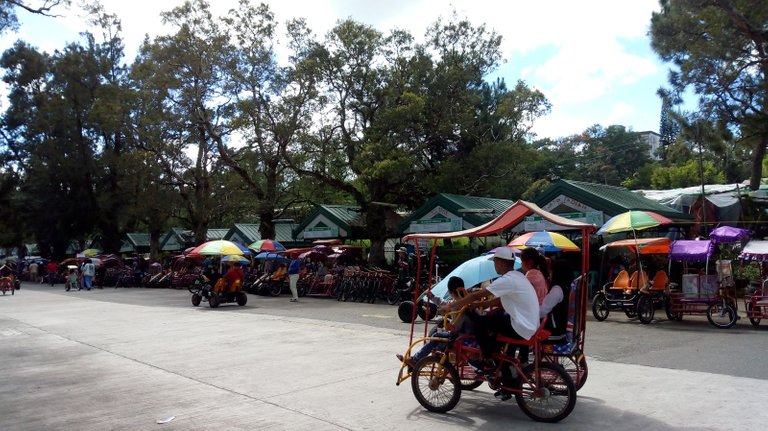 This is my first time going for a bike ride in the park on my own so I don't know which stall is renting out the best bikes. I just chose a random stall. I also just recently learned how to ride a bike so I don't know how to spot a good one.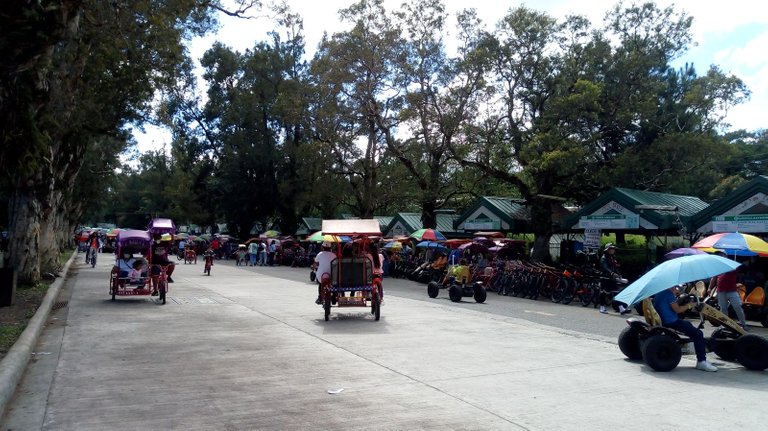 I am a bit lucky as I started while there are few bikers despite that it's Sunday and it's already 10:00 AM. Unfortunately, the first bike that I rented doesn't have smooth gear. I don't know the proper term, but I keep experiencing an abrupt shift of gear - it feels as if there is a missing tooth on one of the gears.
The brake handles are also very hard which makes me nervous that I might not able to precisely control it and bump into someone. There are a lot of kids who abruptly stop or turns and bumping into them is the last thing I want to happen.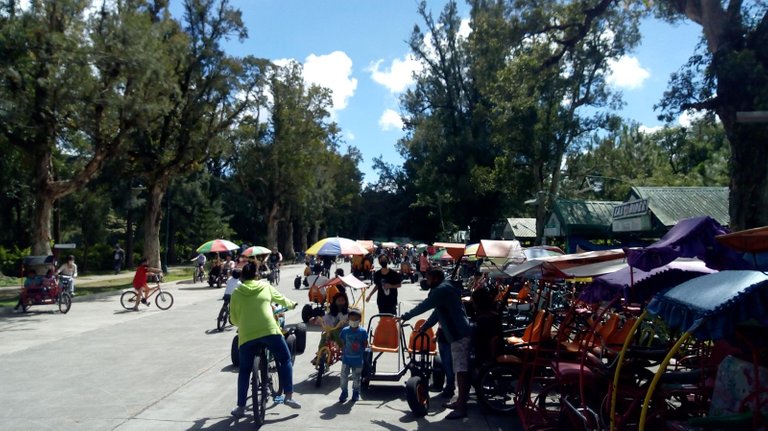 The second bike has some problems too but I didn't bother to replace it. I already expected this as the rent is cheap (50 PHP or 0.86 USD per hour) and the bikes look like they've been rented for years with minimal maintenance.
I've been looking around for someone who can take a photo of me riding a bike but I'm afraid they might run away with my phone.
When I noticed an increase in the number of bikers (mostly tourists), I decided to return the bike and move on to the lake – boating time.
Boating
My initial objective is to look for a boat with paddles that can be operated by a single person but I can't find one. I ended up renting a pedal-type boat. I don't know if the rent is cheap, but it costs 250 PHP or 4.29 USD an hour.
I was occupied thinking of how to operate the boat that I forgot to take a photo of how the whole boat looked like before boarding it.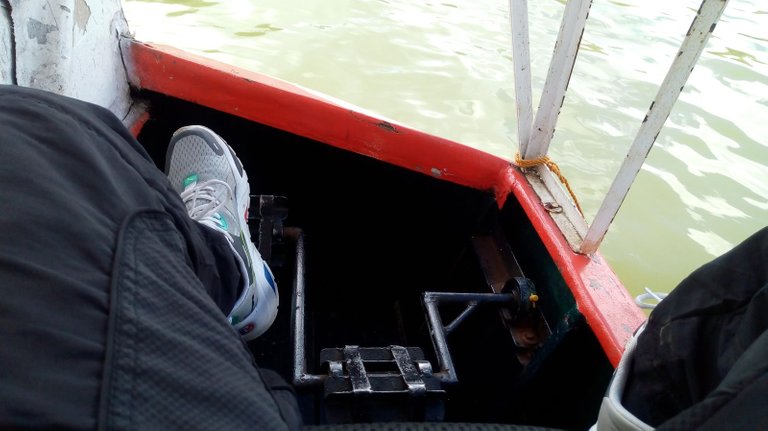 This is my first time riding this type of boat but the rudder control stick seems very straightforward. From the quick tutorial, all I have to do is twist it left to go left, twist it right to go right, and center it if I want to go straight.
Unfortunately, it is easier said than done. For a few minutes, the boat just keeps on circling as I can barely control it. Within that time, I find out that the control is actually the reverse of what I understand.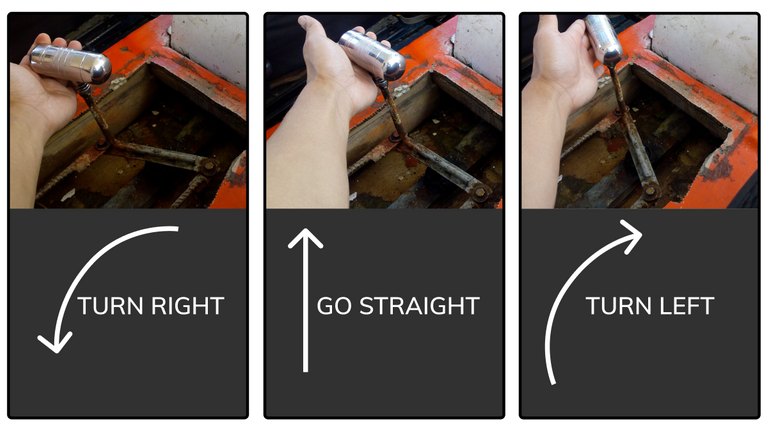 The actual control is to twist it right to go left and right to go left. It took me a while to figure this out and even then, the intuition to twist it left to go left and right to go right keeps on happening.
I am guessing that the control is directly connected to the rudder at the back of the boat. I just wished they have some sort of a "reversal" mechanism in between so that the control would be more "natural".
Anyways, I managed to control the boat roughly, and here are some photos that I took somewhere from the center of the lake.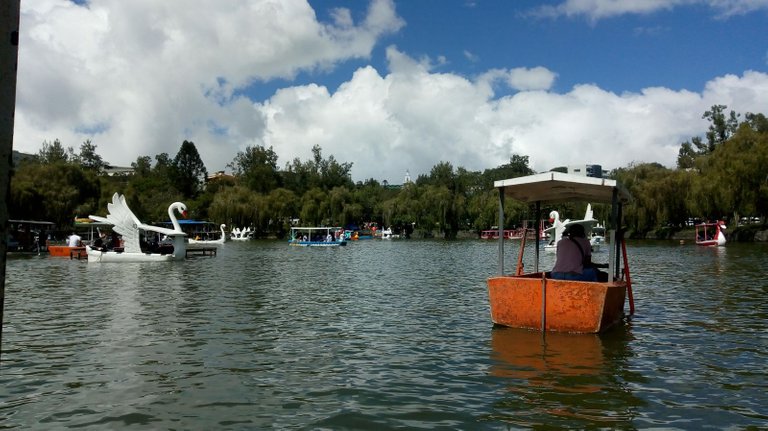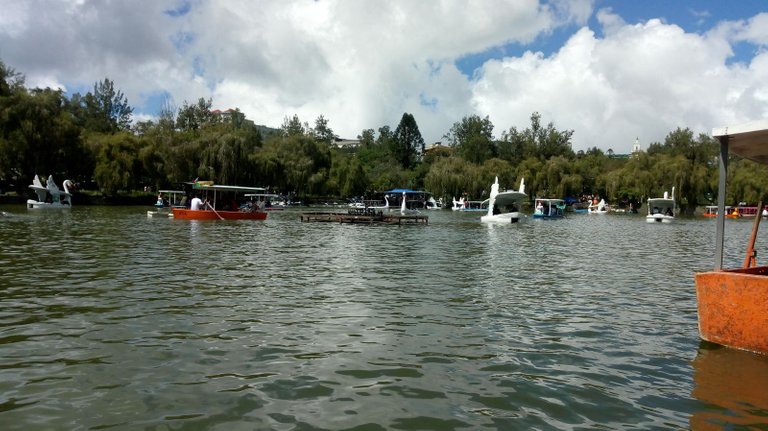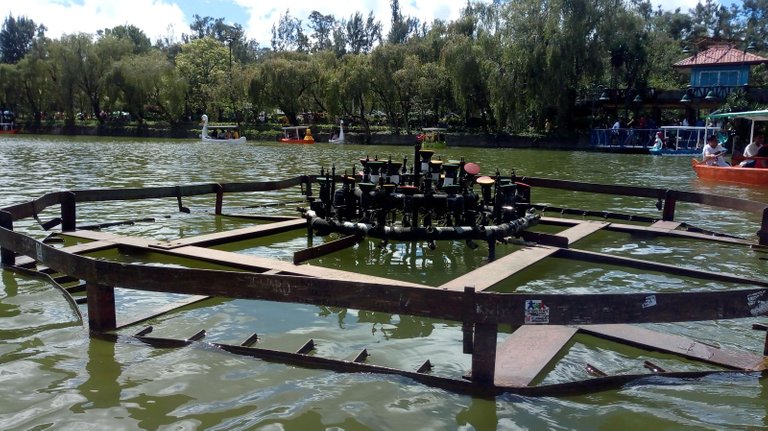 The fountain currently turned of at the very center of the lake.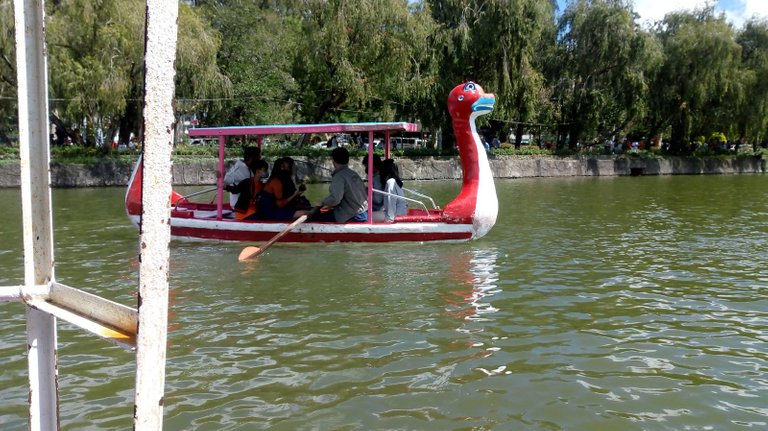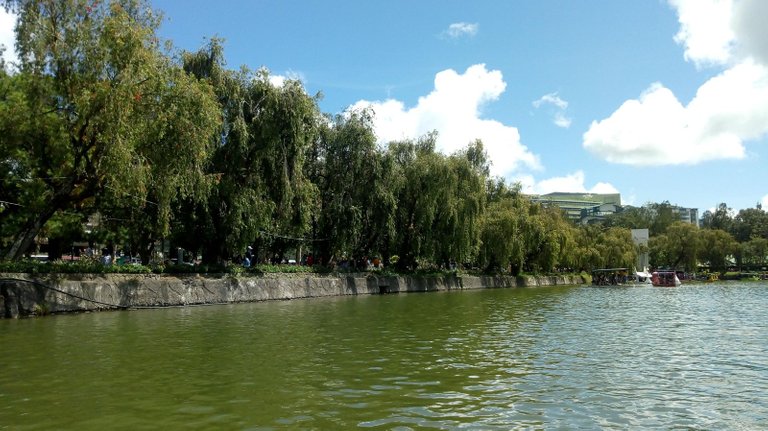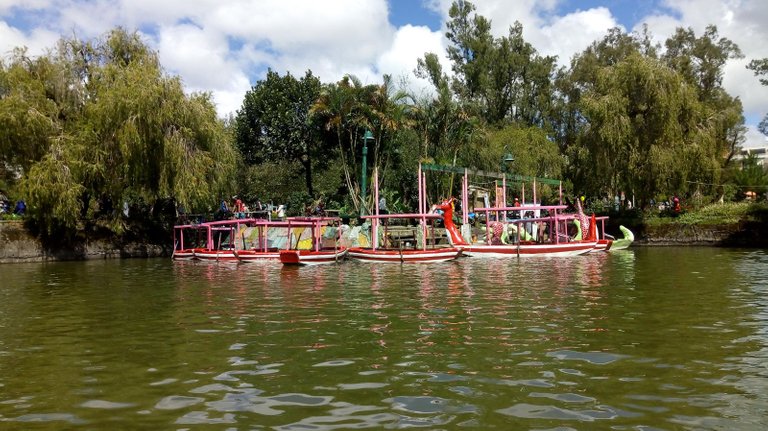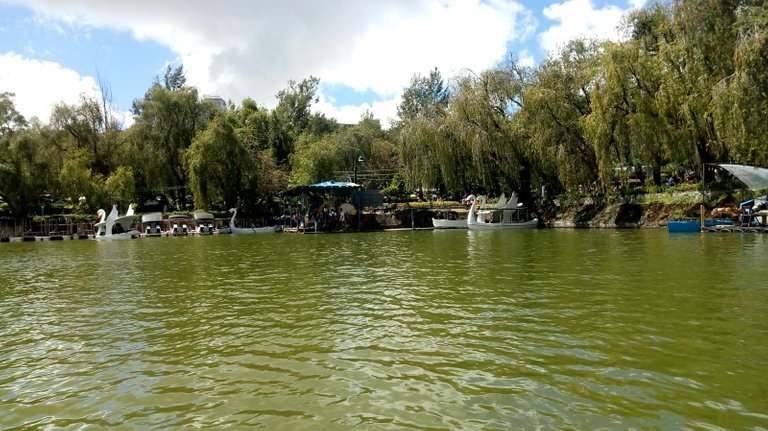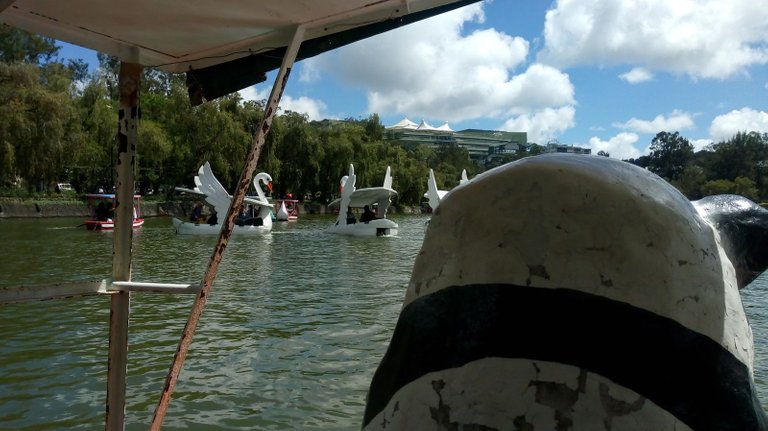 The boat that I rented has actually a "face" of a bear. This is how it looks at the back.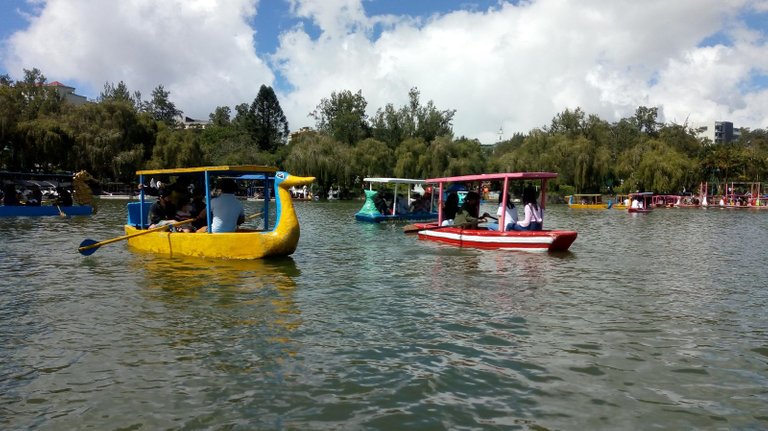 After almost an hour, I feel tired and hungry so I decided to conclude my boating and go to my favorite eatery.
Street Art
On my way to eat, I came across drawings on the road. I don't know what exactly the event is but the city decided to close the road (Session Road) for vehicular traffic for the people to showcase their drawing skills. The event seems to be open to everyone interested. I see both kids and adults participating.
I thought of showcasing my artistic skill but I was tired and already too hungry that I hurried to one of my favorite eateries after taking these photos: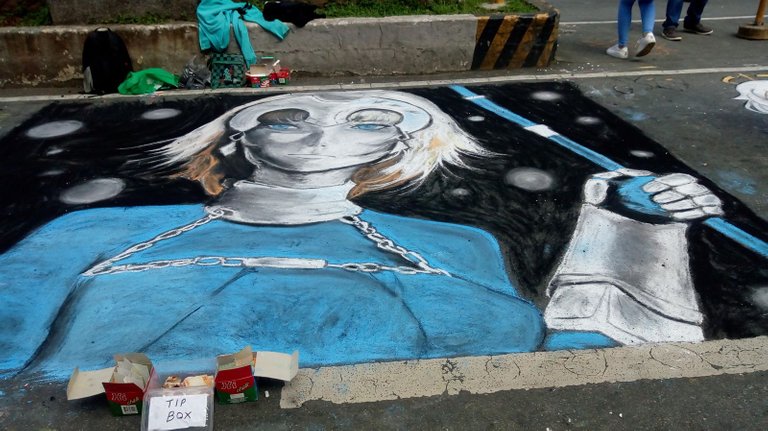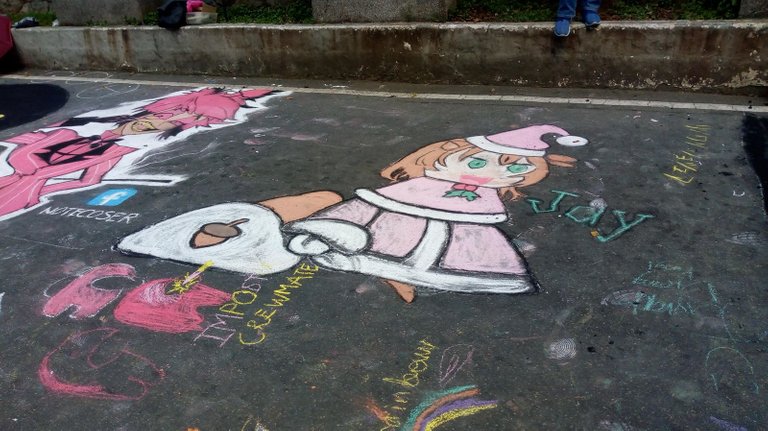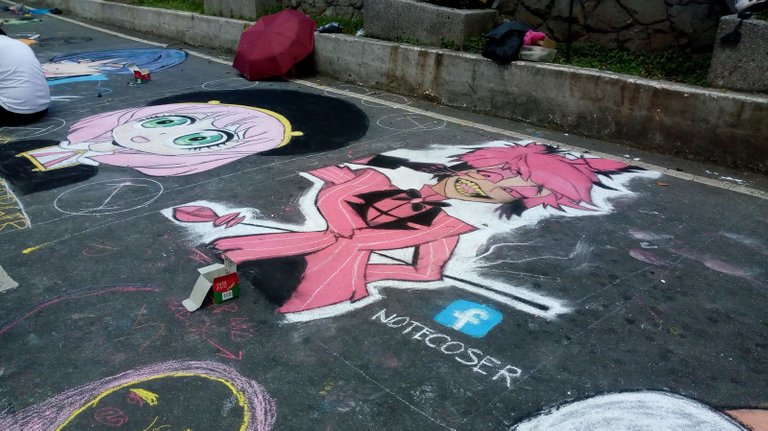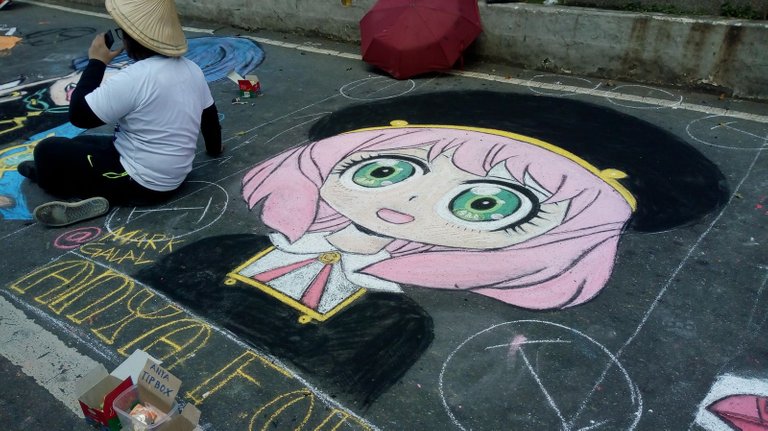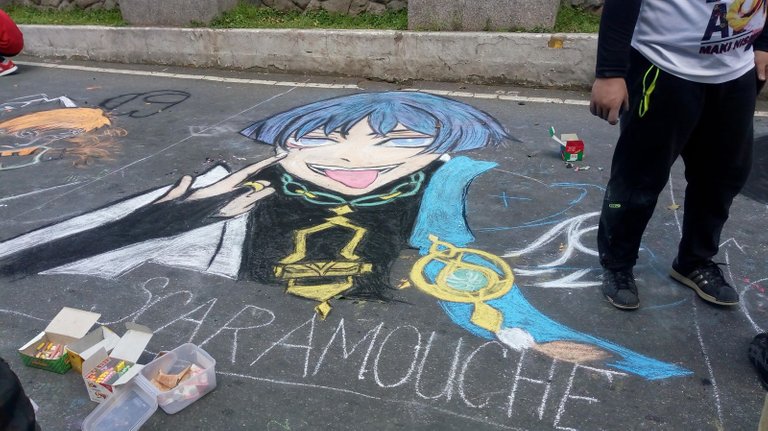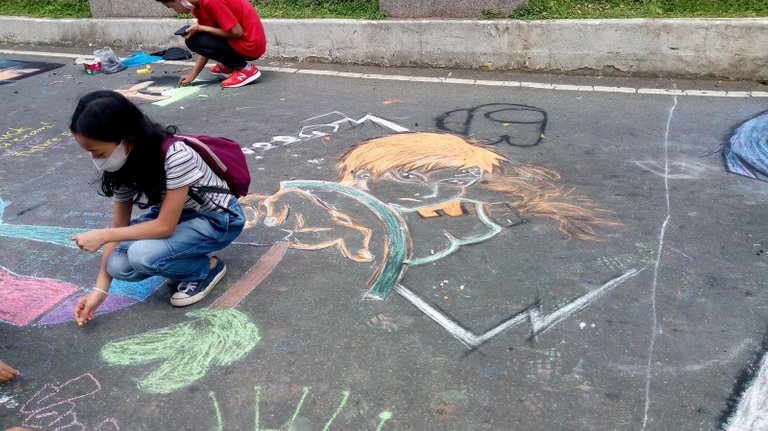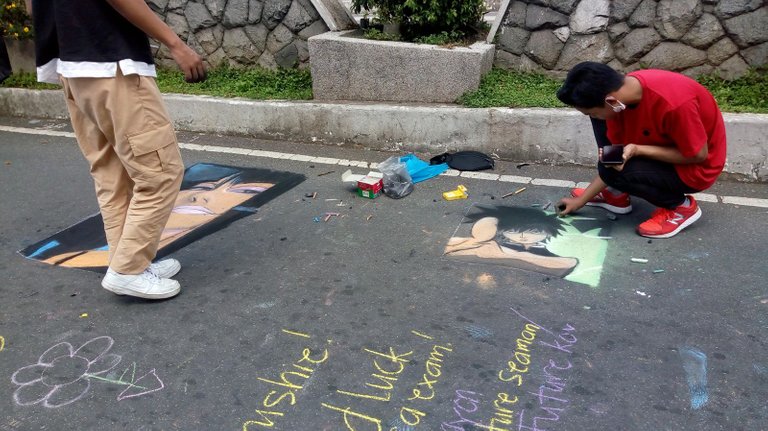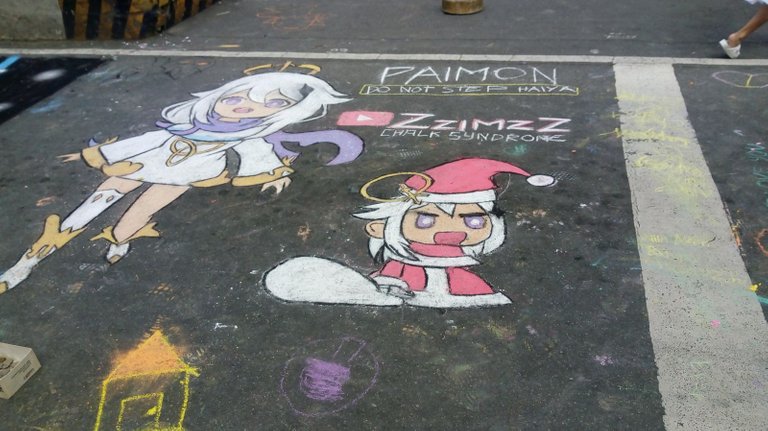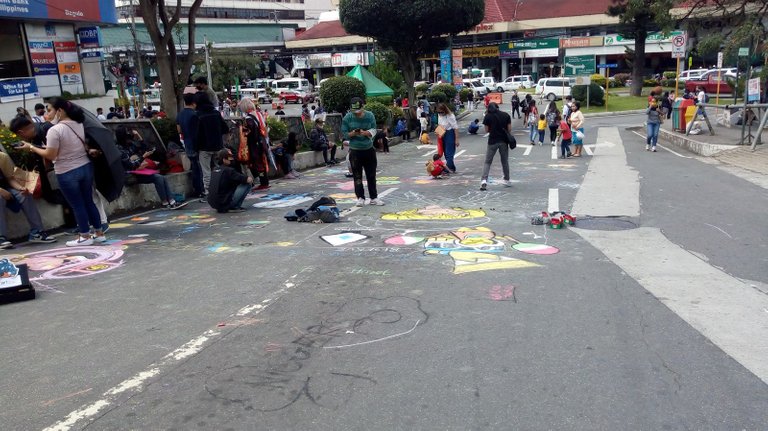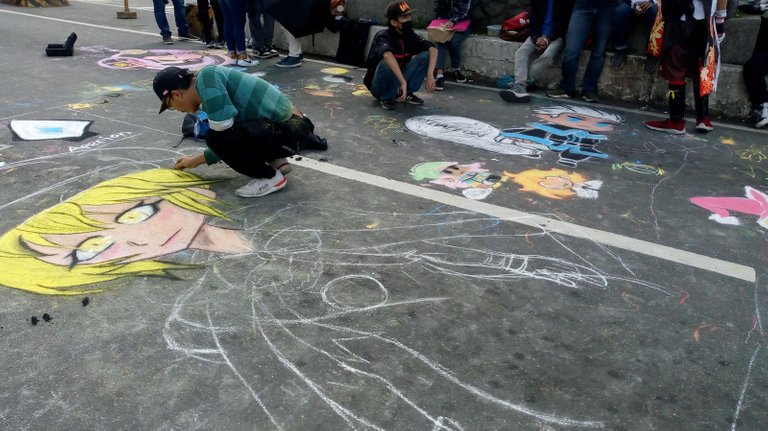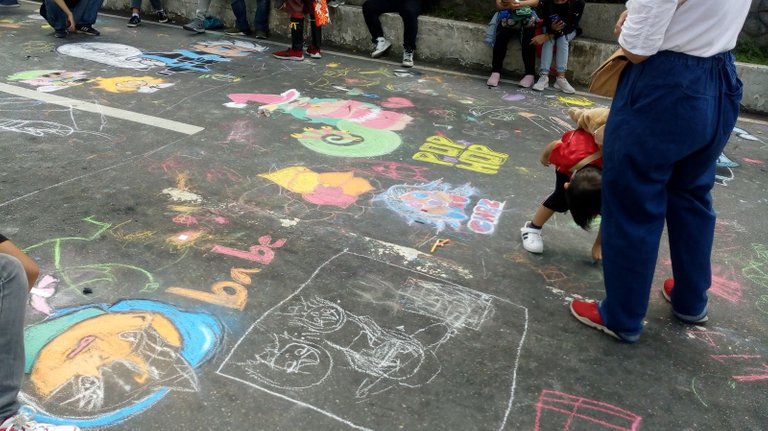 Lunch Time
I rarely go to one of those fancy and big restaurants whenever I am in Baguio. These bigger restaurants usually take a long time to serve my order. I cannot afford that when I am short on time or when I am really hungry.
There is this one small eatery that I usually go to as they offer larger servings for a lesser amount of payment. Their waiters are also very accommodating making the food even tastier. 🙂
I ordered Lechon Tausi this time. It comes with free soup and a simple side dish made of chili & calamansi.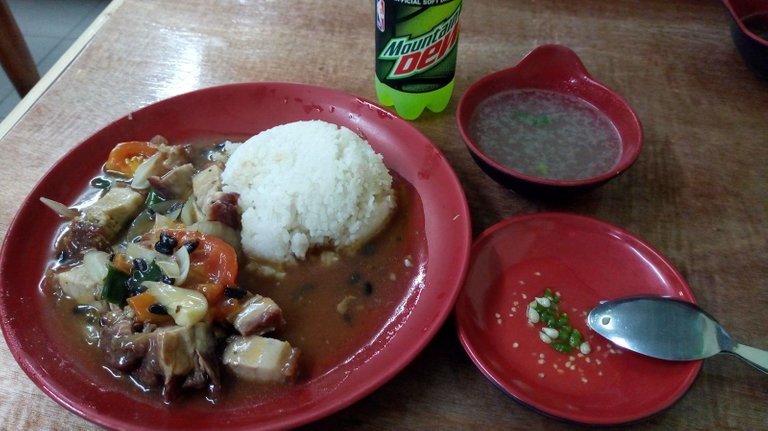 The food is so good that I ended up cleaning the plate. 😁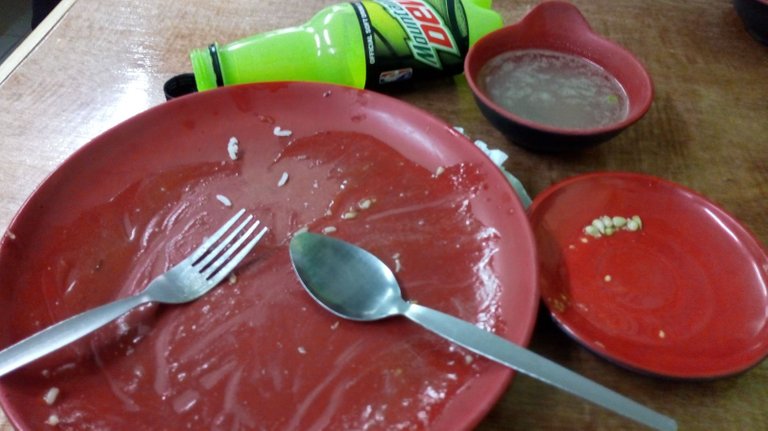 By the way, my lunch costs 165 PHP or 2.84 USD.
Final Thoughts
Thank you for joining me as I share my weekend experience.
I hope you enjoyed the photos.
See you on the next one. 😊
---
All photos are taken on my phone.
---
---