Supporting a local small business - Gameroom Essentials Arcade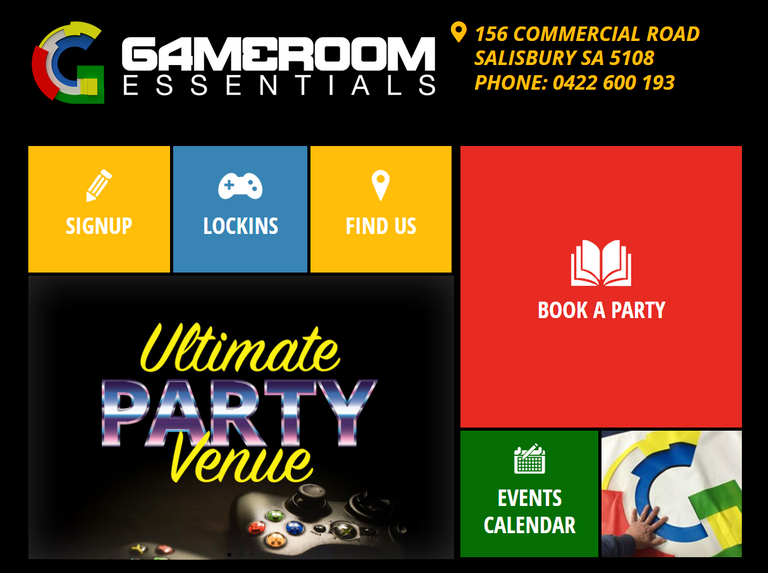 Note: All pictures I took myself with permission from Gameroom Essentials to share here on Hive so others could know about them.
A bit about the business
---
Gameroom Essentials is a local, small business in Adelaide South Australia in the suburb of Salisbury that has a focus on a variety of pinball machines, arcade cabinets including some classic ones, retro consoles like Super Nintendo, Nintendo 64 and others, plus things like newer consoles like Xbox and Daytona arcade racing machines etc.
They have the ability to host parties including private parties for up to 80 people with enough machines for 50 people (can play on some machines with multiple people at once) and there is a lot of variety and fun for people of all ages!
Being a small business and a family owned business it makes it more real and they are really nice, well worth checking out if you are able to make the trip to Salisbury or are in the area, not just to have a lot of fun there, but to support a small local business in these tough times who are the ones that need it the most.
You can find the website here for Gameroom Essentials which has the information on pricing, Pinball Club and more if you are interested.
Now onto the two areas they have
The pay-per-play area and a tribute to my dad
---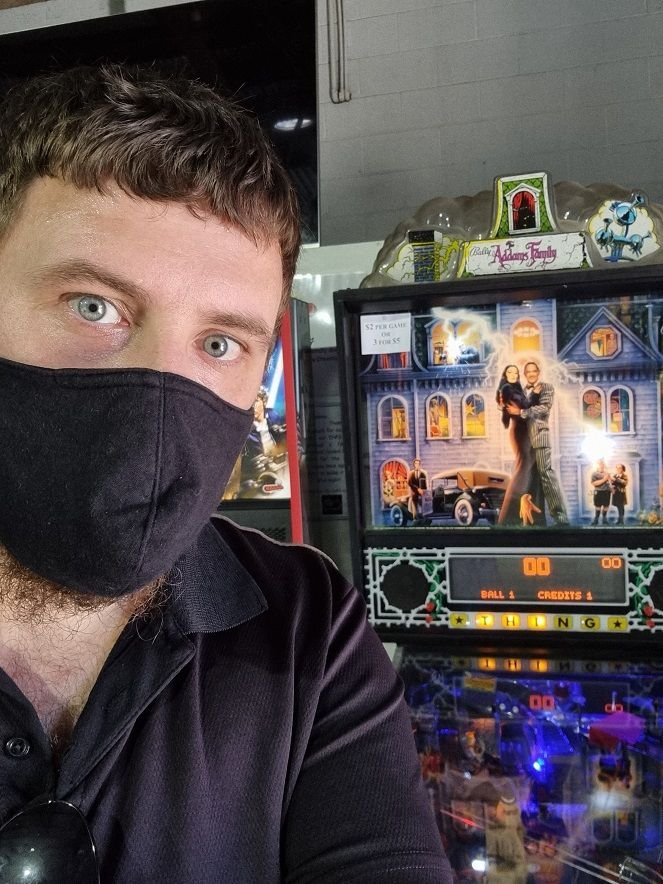 I am going to start off with talking about the pay-per-play area first and get to the lock-in section later, because this includes a tribute to my dad.
So Gameroom Essentials has one of the favourite pinball machines that my dad and I loved, The Addams Family, which was the main reason for this first visit due to his passing last Sunday and I wanting to pay a tribute to him by playing two games at once like if we both were there... The machines were still set to the harder difficulty used in the pinball tournaments, so I knew I wasn't THAT bad with some of my scores but now I know it was just because I wasn't used to that difficulty haha!
But it was excellent to be playing after about 16 years since the last time we played, to hear the sounds and watch all the excitement once again. We both also loved the show and movies, making the experience more memorable for me and I hope he was having a play and a laugh with me.
There are also I think it was about another 6 or 7 machines in that pay-per-play area but I wasn't looking to play those today. So if you are checking out the place you can see what else they have, in case you have any you love!
Not the best picture because of glare but you still get to see a bunch of it.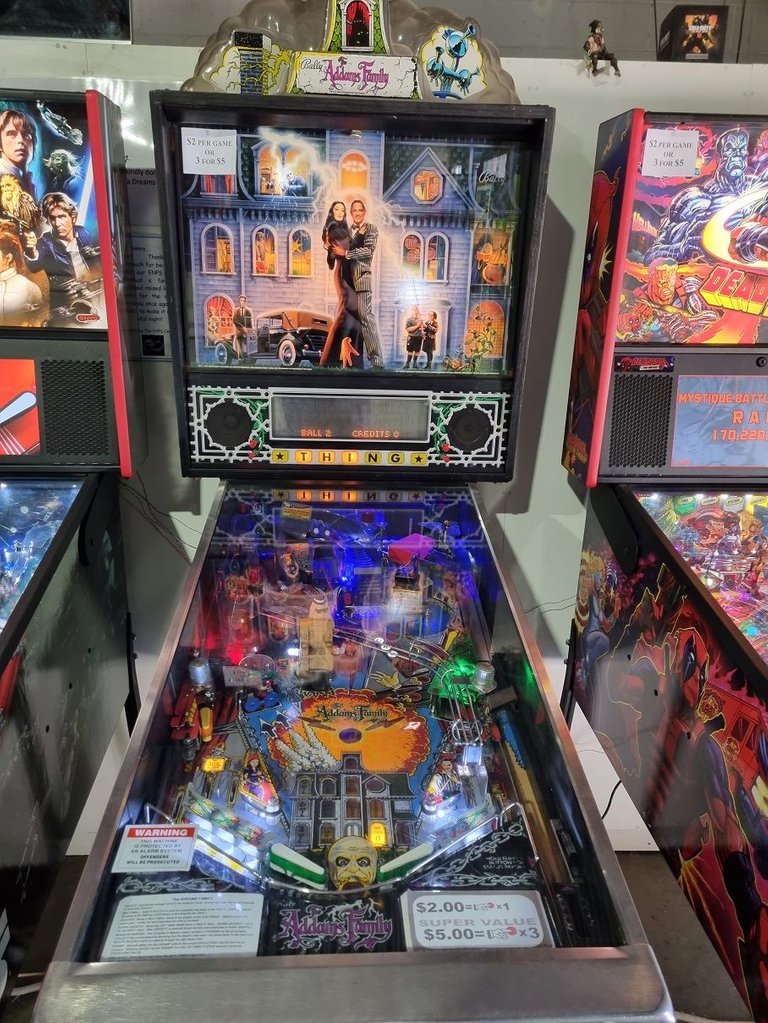 The lock-in section and what there is
---
Inside the lock-in section you will find the bulk of what is on offer which I didn't get to play quite a few things as I was getting in some extra pinball practice for when I join Pinball Club, but I had a lot of fun the whole time I was there!
You will find a variety of things to play on ranging from around 8 - 10 pinball machines so there are even more to enjoy like some classic older machines to newer ones. Then you will find a range of arcade cabinets to play on including Teenage Mutant Ninja Turtles, Donkey Kong classic and a top-down table with a bunch of games like Pac-man and Galaga etc.
These are 4 of the machines in the lock-in area, of course they have Fish Tales which as a young kid, it was my most hated machine as it was hard...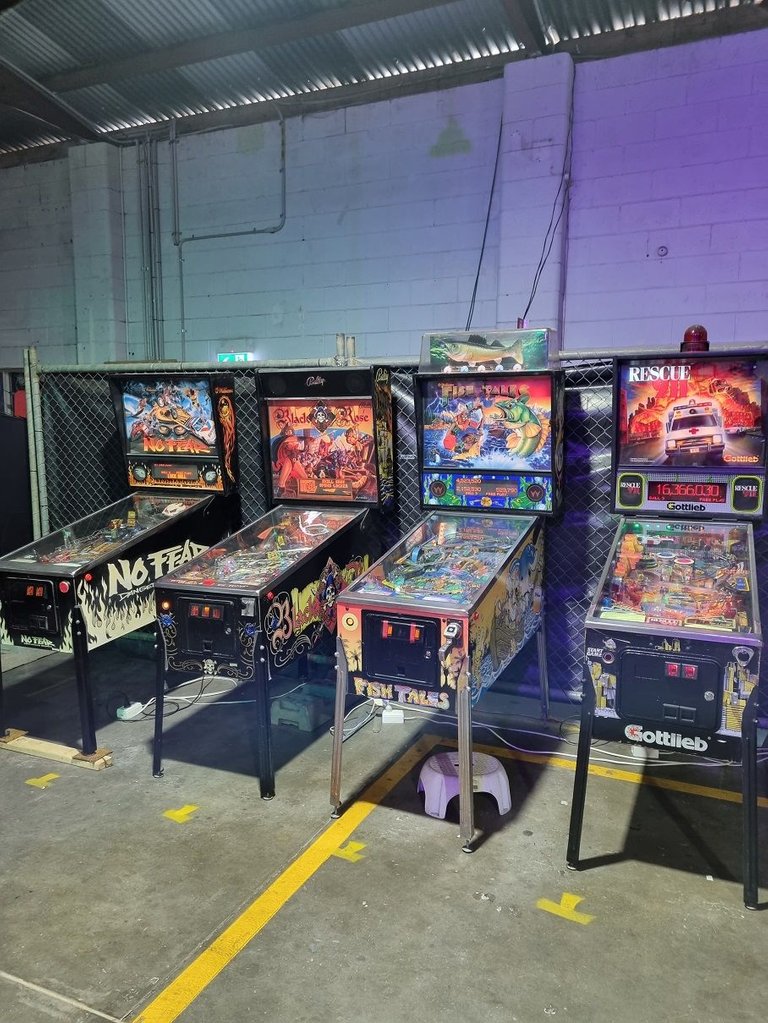 The Teenage Mutant Ninja Turtles arcade cabinet is a classic and a favourite when I was younger, the feeling playing the actual machine and not an emulator makes it even more amazing!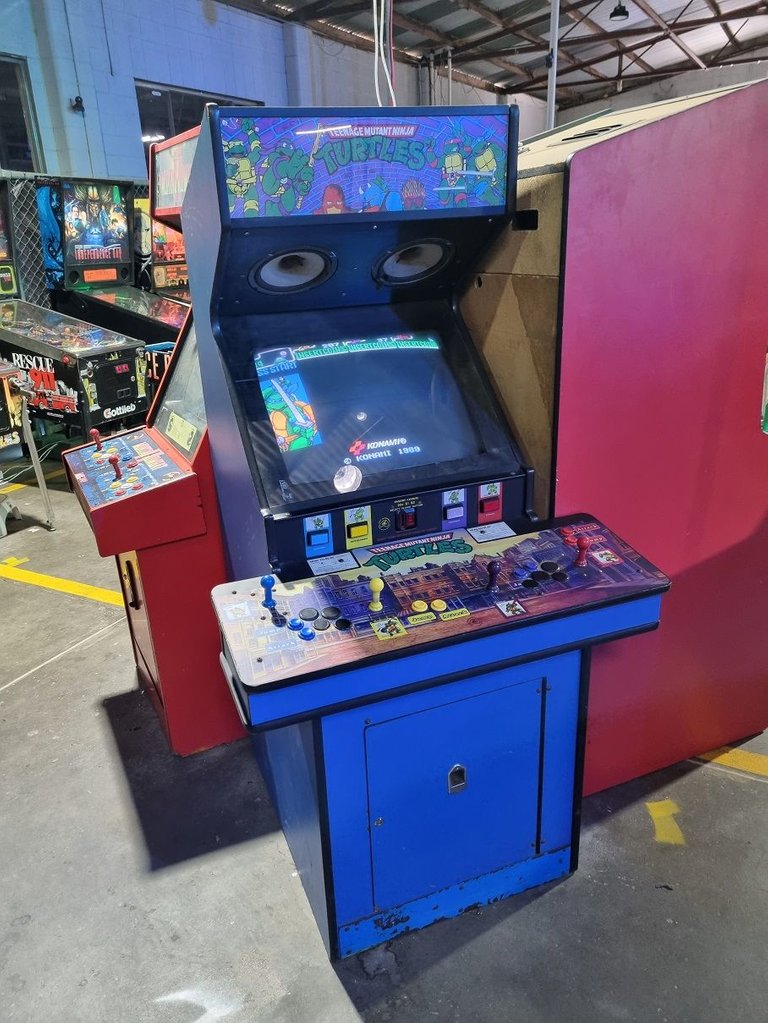 Ah classic Donkey Kong... I started playing the emulator version to practice due to there being a Kong Off competition that gets held and I would love to go into, when I don't suck at it so much since I never played it when younger.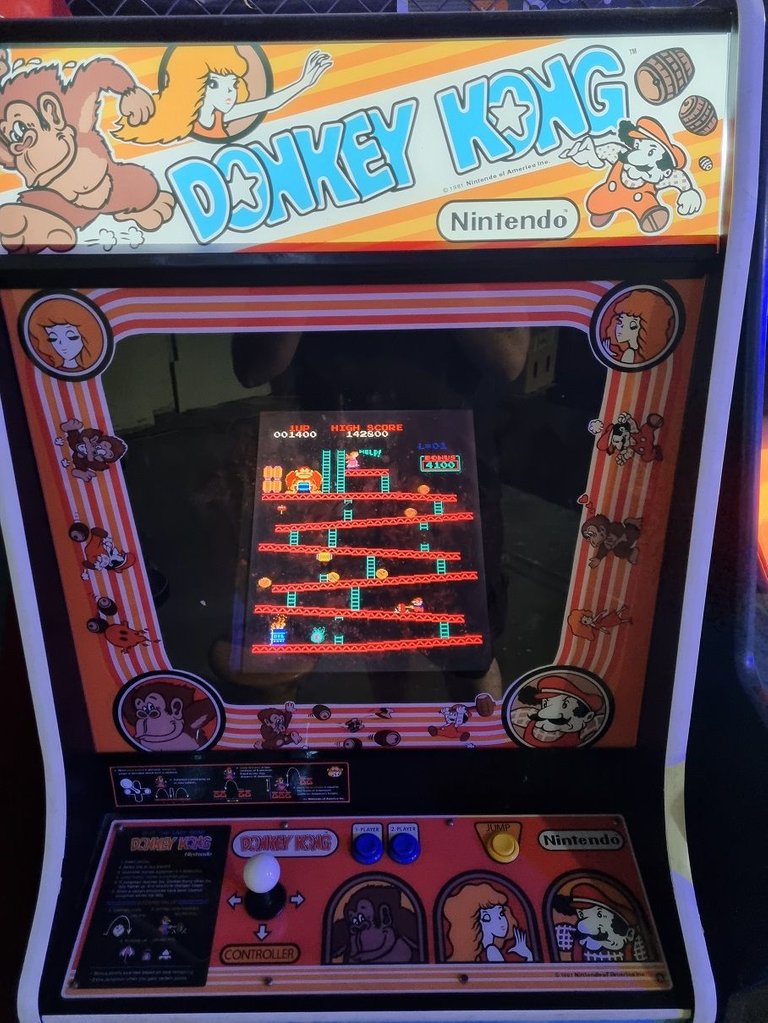 Almost played Galaga but then worked out they have I think 6 or 12 games maybe, saw Pac-Man and that is what I had a play of, didn't do the best but still passed the first 2 levels which was fun to play. Haven't played a top-down cabinet since I was a little kid!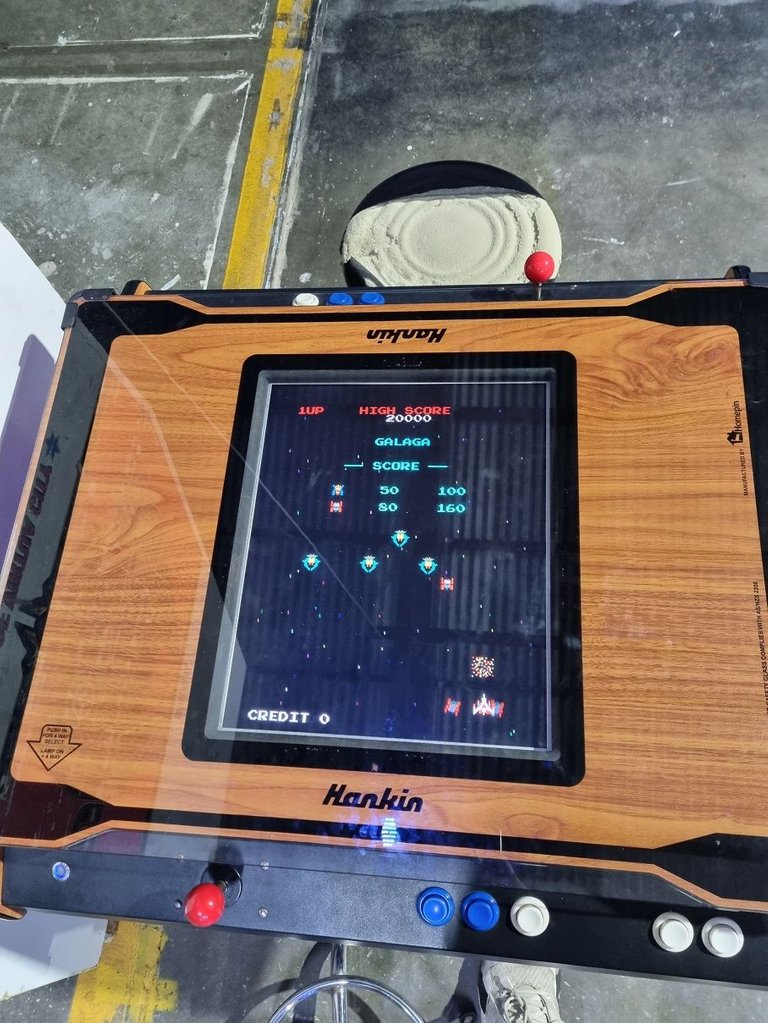 Next you have the consoles from old retro ones to the Xbox's etc. I wasn't sure if they currently run emulators inside some of the retro consoles as I was told with the Nintendo 64, it was damage when there were heavy rains and some leaking, but having the controllers there makes it feel so much more real and is the same experience if some of them do have emulators to allow people to keep playing the games offered!
Look at all of these Xbox's! A whole bunch of kids were there and at the time were playing while sitting next to one another, old school style where you get to have fun with friends on the same TV instead of being online, I didn't have interest in the Xbox's this time around but there may be times I will or if I have others to play with.
Last of all is the Daytona racing arcade machines so you and your friends can play together, play against random people or just play yourself to have fun. There are other things there as well but this was the bigger bulk of what I captured in my time there since I was moving about to enjoy playing a heap of games and pinball as well!
Had a quick play with the Nintendo 64 controller as Banjo Kazooie was there and one of dad's favourite games when I was about 15ish years old. Have ordered a USB N64 controller which I will use to finish Banjo Kazooie in memory of him!
These are all the setup retro consoles with original controllers but maybe emulators inside the shell so it will stop having all the games lying about, never got around to playing today but there is quite a variety from the Super Nintendo to the Atari.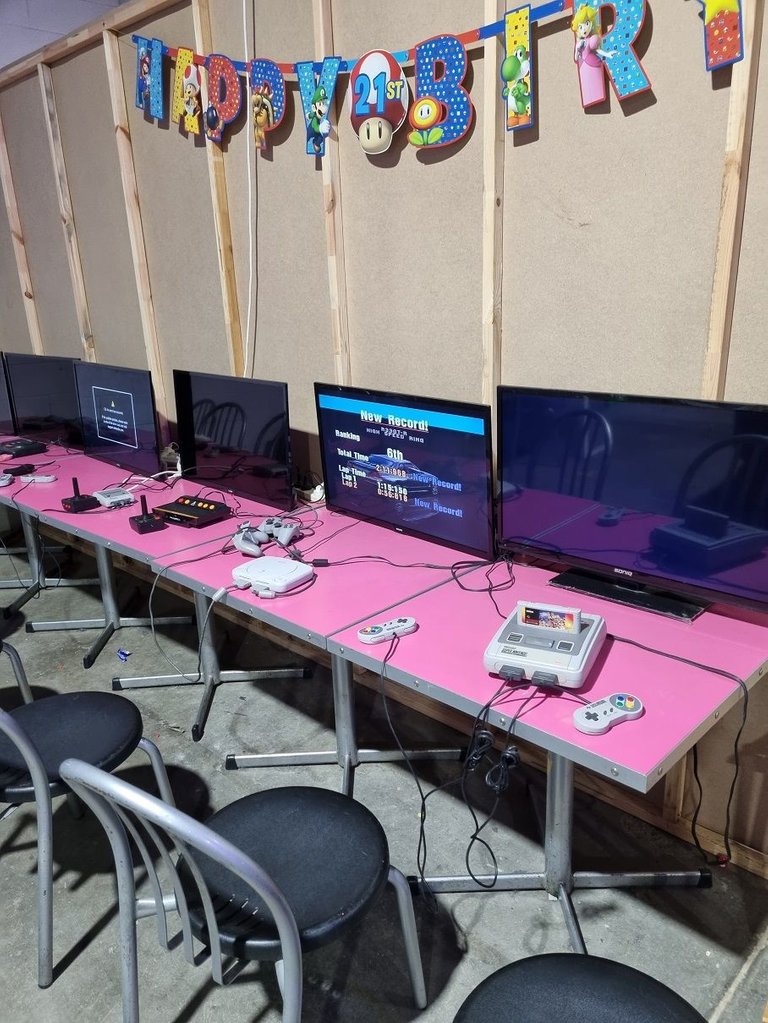 Look here, see them Xbox's? Yeah so many of them and there was another bunch over to the left of the picture. Great for many people to play together or play different games while being around friends and others.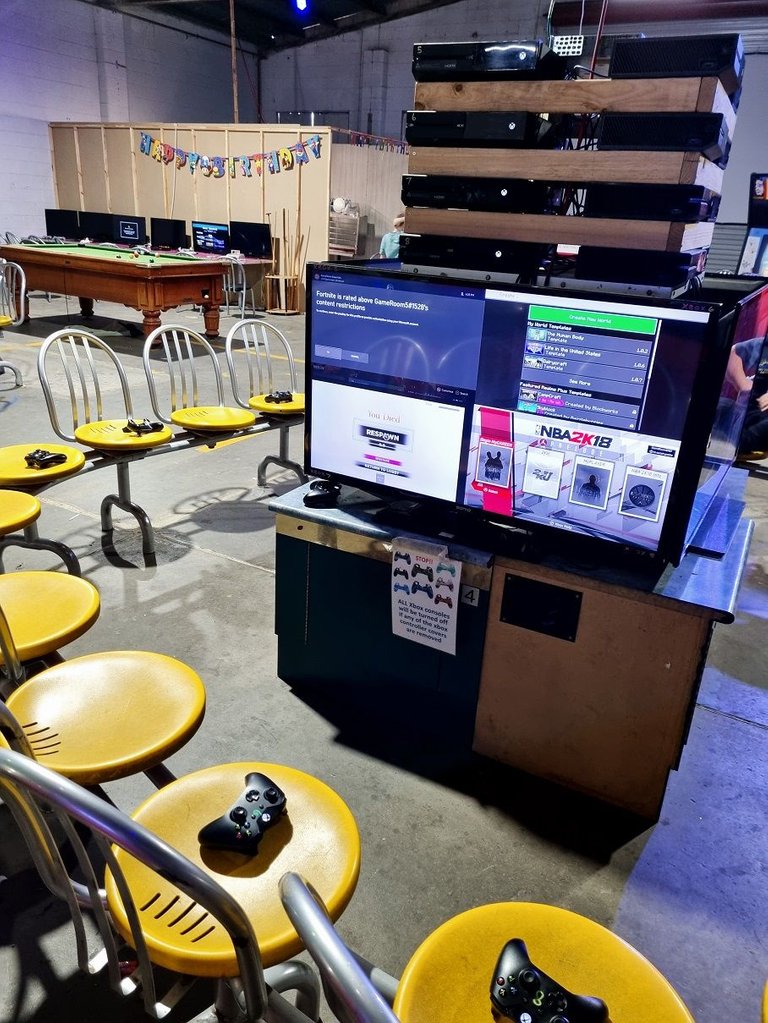 Lastly these Daytona machines you would normally see around modern age arcades, like Intencity and others which are focused more on ticket games while having some fun arcade machine, so you will get some modern day feels as well.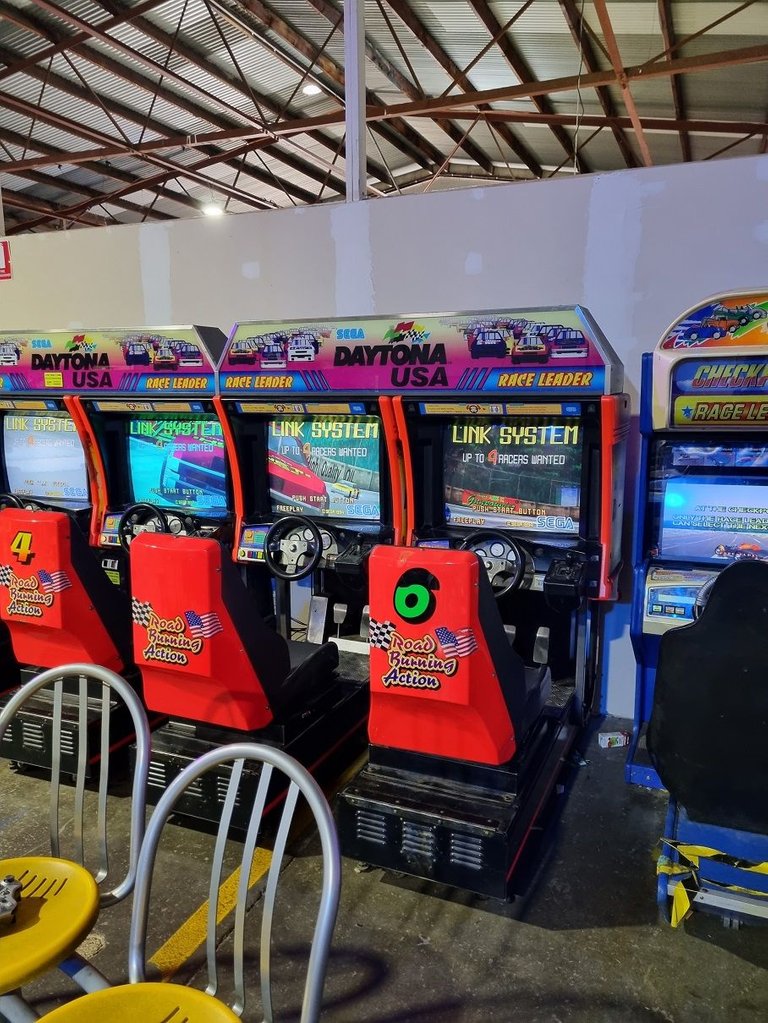 Thoughts on the place
---
Overall I think it is worth the visit and I know I will be going back there more times, as well as for Pinball Club when I can afford it, as it is a lot of fun and I know others would enjoy it. There is enough variety that people will get their monies worth in the low price paid and the longer you stay and get up to spending more hours there, the cheaper it becomes per hour!
Even just going by myself and chatting to them about the place and what there is etc, it was great while taking a break from the lock-in area to have a few more games on The Addams Family. Once again it is also great for me to want to go there, not just to enjoy the feeling of an arcade but doing my part to support the local small businesses as best I can.
So remember, if you are in Salisbury South Australia, nearby or can get there for some fun playing all the pinball machines, arcade cabinets and all they have to offer and you want to support them, then head on over and you can even let them know you were told about the place through a blogging site if you want to.
---
---