A Swap Bridge That You Need To "Bookmark"
Do you ever deposit or withdraw Hive/Swap.Hive from
Hive-Engine
? How much fee did you pay for these transactions?
According to my viewpoint, most Hive users neglect these fees. But they were huge (sometimes) & you can't avoid these fees. Moreover, these fees might vary between
0.2% - 0.75%
from your swapped fund until we introduce
HiveUpMe Discounted Bridge
.
---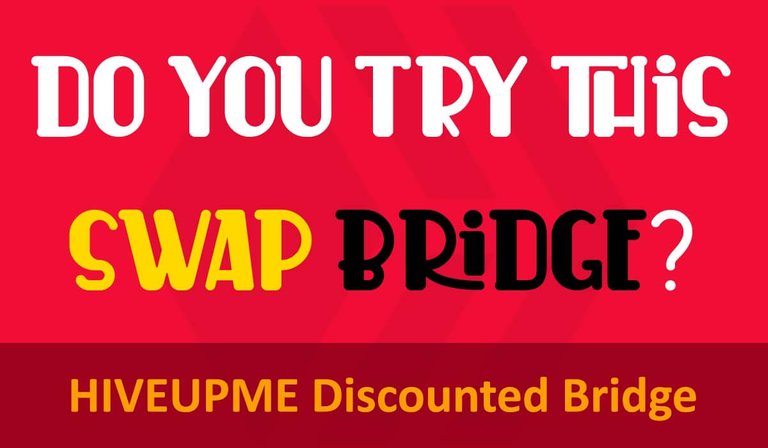 ---
The
HiveUpMe DB
is a swapping platform between HIVE & SWAP.HIVE tokens. The project owns by
@theguruasia
(it's me lol) & developed by
@theguruasia
&
@ali-h
(under the bot-factory developments). We introduced two front-ends for the project as follows:-
The project uses free hosting & domain features of
GitHub
. We know this might reduce validity & competitive advantage over other swap platforms. But we are trying to avoid unnecessary fees until the bridge reaches more user attention.
---
We are the lowest fee (0.1%) swap bridge on the Hive platform.
We provide free swaps & additional rewards (0.075% from swapped amount) until a certain level of bridge balance.
We share instant 10% profit back (from fee) in the Hive pegged VAULT token form.
---
What is the actual fee of hiveupme db?
Like we said earlier, we are the cheapest swap solution for HIVE, SWAP.HIVE holders and we charge a 0.1% (Max) fee for your next swap. But we again send you a 10% fee in the form of
VAULT
.
Question :- Why 10% refund on the VAULT?
Answer :- We are dealing with three decimals & fewer swap amounts (sometimes). So it's hard to charge a 0.09% fee. Therefore, we resend 10% profit from a 0.1% fee in the form of VAULT, which is hard pegged to Hive at 1 Hive = 10 Vault ratio.
Therefore, our actual fee is
0.09%
& even though you can have no fee charge if you send funds to the less balance side of the bridge. Moreover, we reward you
0.075%
of swapped amount +
10%
of the instant fee profit (no matter if we don't charge the fee).
---
Free swaps & rewards - Is this possible?
Yes, it's possible. Our ultimate goal is to provide the lowest swap fee & above. Sometimes you neglect these fees because they are tiny & neglectable. But in the end, it can be worth something.
Therefore, we invite you to try our services & your support will expand the liquidity & other services related to the bridge.
---
Copied from @hiveupme posts
Step 01 :- Check @HIVEUPME Liquidity Details



Step 02 :- Check Liquidity Requirements



Step 03 :- Check Your Liquidity Balances



Step 04 :- Swap Your Liquidity
Important :- Minimum Swap Amount is 1 HIVE / 1 SWAP.HIVE / 1 VAULT & "Swap" button only available if your account has equal or more liquidity to swap.
---
Lowest Fee Discounted Bridge Solution
Hiveupme Discounted Bridge
is the lowest fee (0.1% Max) swap solution for Hive <=> Swap.Hive. For more details, please refer to
@hiveupme official updates
.
---
Delegate Your Precious HP to @HIVEUPME Curator & Earn VAULT / UPME & Free UpVotes

Stay Safe & Enjoy
---
Contact Me [Discord Channel]
---
---